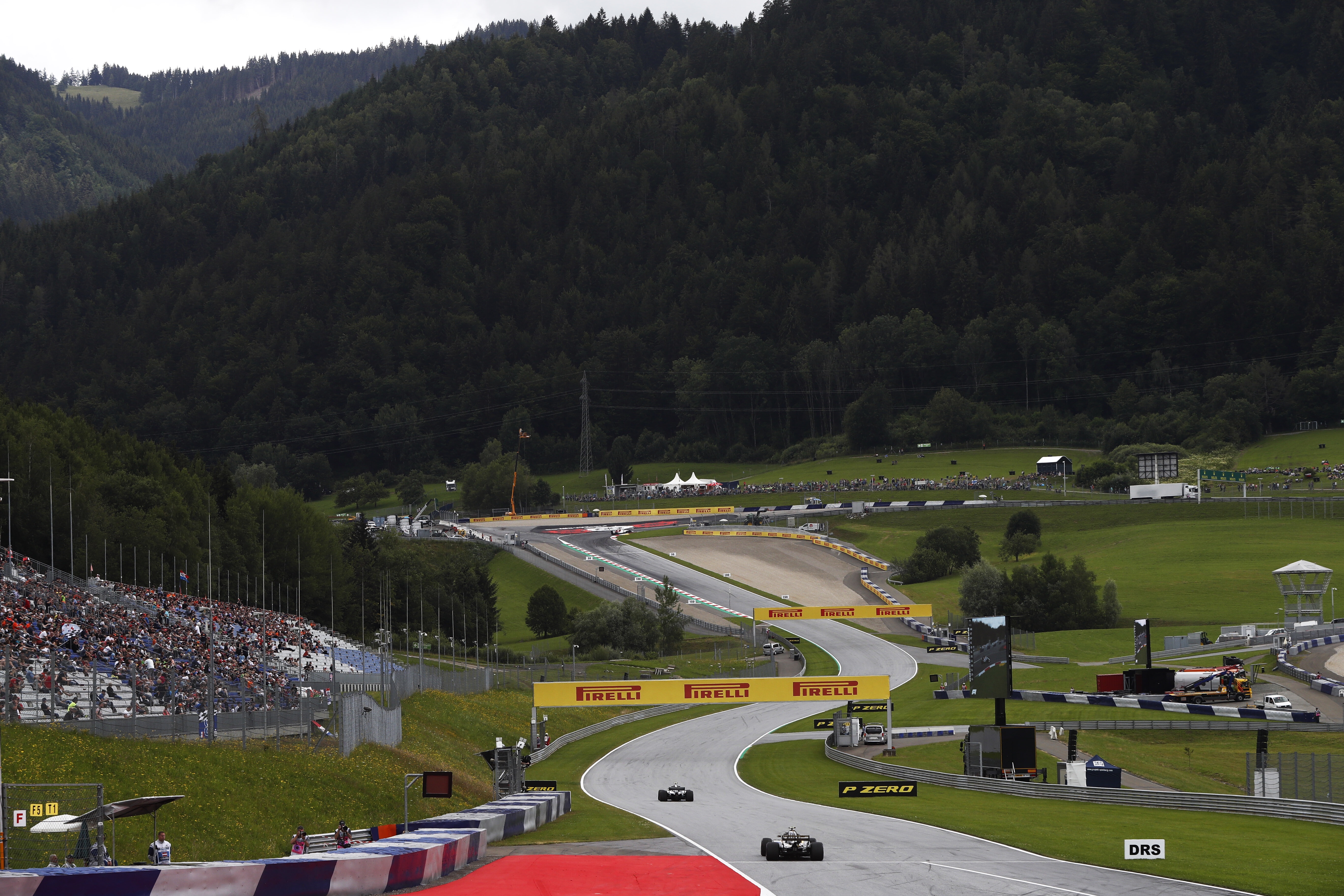 Image courtesy of Pirelli Motorsports
Valtteri Bottas has claimed his first pole position of the year, and leads a Mercedes 1-2 into tomorrow's Austrian Grand Prix.
Of the big-hitters, only Bottas and Ferrari's Kimi Raikkonen had a truly clean session. Both Lewis Hamilton and Sebastian Vettel made mistakes early on – at turn three and turn four respectively – and ended up relatively far back after the first Q3 runs had been completed. It took until the last couple of minutes for the pair to pull themselves back up the order – Hamilton ultimately qualified P2, and Vettel P3, with both pushing Kimi Raikkonen down into P4. Vettel was noted as being under investigation for allegedly impeding Carlos Sainz in Q2, but since Sainz did advance to Q3 it is uncertain whether Vettel will receive any penalty.
Red Bull had expected qualifying to be a struggle compared to Mercedes and Ferrari coming into the weekend. Max Verstappen may have qualified P5 but he was still two tenths behind Raikkonen, and Daniel Ricciardo ended up P7 behind the Haas of an impressive Romain Grosjean. Replays of team radio throughout the session indicated a certain amount of tension in the team, with Ricciardo frustrated that Verstappen did not follow orders to lead the Australian for a lap and give him a tow, as Ricciardo had done for Verstappen the lap before.
Kevin Magnussen and the two Renaults of Carlos Sainz and Nico Hulkenberg complete the top ten.
Further down the order, Charles Leclerc continues to impress in the Sauber. He qualified P13 but carries a five-place grid penalty due to his gearbox needing to be changed following a stoppage on track in FP3.
Force India's Sergio Perez had a nightmare of a session. The Mexican complained of running out of battery during his first run and of getting stuck in traffic during his second. He failed to make it out of Q1 and starts P17.
It was also a frustrating session for McLaren's Stoffel Vandoorne and Toro Rosso's Brendon Hartley. Both were looking to pull themselves out of the drop-zone and into Q2, but encountered yellow flags on their flying laps when Charles Leclerc ran through the gravel trap in the final moments of Q1.
Both Mercedes and Red Bull will start tomorrow's Grand Prix on the supersoft tyres, with all those around them starting on the ultras. Bottas will be hoping to convert pole position into a win, at the circuit where he claimed his second ever victory in 2017.
Austrian Grand Prix Grid
1. Valtteri Bottas – 1:03.130
2. Lewis Hamilton – 1:03.149
3. Sebastian Vettel – 1:03.464
4. Kimi Raikkonen – 1:03.660
5. Max Verstappen – 1:03.840
6. Romain Grosjean – 1:03.892
7. Daniel Ricciardo – 1:03.996
8. Kevin Magnussen – 1:04.051
9. Carlos Sainz – 1:04.725
10. Nico Hulkenberg – 1:05.019
11. Esteban Ocon – 1:04.845
12. Pierre Gasly 0 1:04.874
13. Fernando Alonso – 1:05.058
14. Lance Stroll – 1:05.286
15. Stoffel Vandoorne – 1:05.271
16. Sergio Perez – 1:05.279
17. Sergey Sirotkin – 1:05.322
18. Charles Leclerc – 1:04.979 *5-place penalty for gearbox change
19. Brendon Hartley 1:05.366
20. Marcus Ericsson – 1:05.479
Update – 17:30 – Sebastian Vettel has been given a three-place penalty by the stewards for impeding Carlos Sainz at turn one in Q2. The German will now start P6, promoting Kimi Raikkonen to P3, Max Verstappen to P4, and Romain Grosjean to P5.