Verstappen takes a dominant win in the final race of the season while his teammate misses out on vice champion by just three points to Leclerc after a split in strategies for the Red Bulls. Sebastian Vettel got driver of the day as he closed out his F1 career by finishing in the points.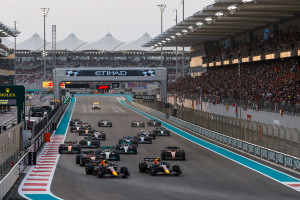 They lined up on the grid with last-day-of-term feelings echoing throughout the fandom. At lights out Perez got away well going side by side with his teammate into turn one but backing out before turn two. Behind them, Sainz had gotten a poor start allowing Hamilton past while Russell had let Norris through into turn one.
Hamilton did set his sights on the other Ferrari but was caught by Sainz towards the chicane at turn six. Sainz dived down the inside, and Hamilton went wide, bouncing over the sausage curb before getting ahead of Sainz again. The stewards noted the incident and after what sounded like some bargaining, eventually Hamilton had to give the place back.
This wasn't too last long as just one lap later Hamilton was all over the back of Sainz. Making a move around turn nine Hamilton made the move stick. He was expected to pull away, but it appeared that the lap one incident may have damaged the Mercedes as he began to lose a bit of power. By lap nine he had been overtaken by Sainz and his teammate.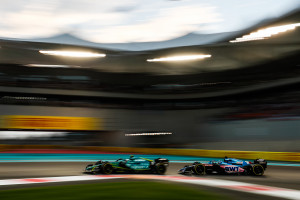 On lap 12 Vettel found himself in an Alpine sandwich, fighting hard with Ocon in front but not quite able to make a move stick. This allowed Norris to focus on his driving and strategy to stay in the fight for P4 in the constructor's championship.
This led to an epic three-lap-long battle between the drivers before Ocon went in for his first stop. This allowed Vettel to open up a gap to Alonso and was, at one point, in P4 on the track after others around him stopped for the first time during the race.
While these stops were happening, Russell came in but had a slow stop with an issue on the rear right. He eventually was released into the path of Norris which was immediately investigated. Russell ended up with a five-second time penalty which he had to take at his next stop.
Lap 28 is where it all unravelled for Alonso. He had pitted for a new set of hard tyres but sadly he wouldn't make it as he retired from the race with a suspected water leak. This would mark the end of his third stint at the Enstone-based team before moving to Aston Martin for 2023.
At the front, there was lots of discussion about strategy, with the teams opting to split between cars. By lap 34, when Perez pitted for the second time. Verstappen, Leclerc and Hamilton, the top three, were on one-stop while their teammates were being kept on two-stop strategies.
So on lap 38, Leclerc in P2 was a confirmed one-stopper, and Perez was now in P6 with a 15-second gap to his rival and 20 laps to go. However, he was catching the Ferrari at a pace of about six-tenths per lap, and with four cars between them, it looked like it would be impossible.
Just as we were about to settle in to watch Perez catch Leclerc, a yellow flag was waved in sector two for Schumacher and Latifi who had both gone for a spin. Schumacher tapped the back of Latifi who appeared to be braking early into the corner. Both cars got back underway so there was no safety car needed. Schumacher got a five-second time penalty and Latifi eventually retired from the race.
Towards the closing stages of the race, Perez had made his way back up to P4 with only Hamilton between him and Leclerc. Perez, with more speed, made a good move down the inside of the Mercedes into turn six, but Hamilton had DRS going down the next straight and took the place back. It wasn't too last long for the brit though as Perez made the move stick around turn nine. The Red Bull now had Leclerc in his sights with 10 laps to go.
In the final few laps, Perez was only three seconds behind Leclerc and it was going to be very tight. But at the same time, Hamilton's gearbox let go and he was forced to retire on lap 56 of 58. This was Mercedes's first and only mechanical retirement of 2022.
On the final lap, as Verstappen rounded the corner to take his 15th win of the year, Perez was not quite close enough to Leclerc meaning he had to settle for P3 while the Ferrari man celebrated taking vice champion status. This also meant that Ferrari kept their P2 place in the constructors.
In the battle for P4 between McLaren and Alpine, despite a car retiring, the French team kept ahead by 14 points. Norris did get an extra fastest lap point but sadly for them, Ocon finished P7 which was enough for Alpine.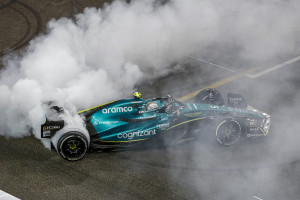 There were the now obligatory doughnuts at the end from Verstappen, Leclerc and Perez. Ricciardo did them at turn none and Vettel came down to the main straight after everyone else had finished completing their set. There was not a dry eye in the house after his interview with Jenson Button knowing that he has now completed his F1 career… although many drivers believe he will be back.
The 2022 season is over, 22 races officially complete… Only 105 days until Bahrain.