Max Verstappen took a lights-to-flag victory in Montreal to complete another dominant weekend for Red Bull Racing.
The win is Red Bull's 100th in Formula One since the energy drinks company bought Ford out in 2005, and also puts Max Verstappen level on wins with Ayrton Senna at 41.
Triumph at the Circuit de Gilles Villeneuve sees the Dutchman extend his championship lead over teammate Sergio Perez to 69 points, as Red Bull now head Mercedes in the Conctructors' Championship by a whopping 154 points.
Fernando Alonso in his Aston Martin held on for second ahead of a charging Lewis Hamilton for Mercedes, while the two Ferraris of Charles Leclerc and Carlos Sainz recovered to fourth and fifth respectively.
Perez ended a disappointing sixth from 12th on the grid, a point for fastest lap scant consolation for the Mexican who suffered a third disappointing weekend in a row.
As has been the norm in 2023, Verstappen led away from the start and controlled the race from the outset, briefly interrupted by a Safety Car brought out after 12 laps following George Russell's collision with the barriers.
From there, the two-time World Champion controlled the race, with Verstappen even able to laugh at nearly crashing at Turn Nine in the same way Russell did, such was his comfort five laps from the end.
The big fight was for second, as Hamilton passed Alonso off at the start and held station until shortly after the Safety Car returned to the pits, when Alonso outbraked his old nemesis into the final chicane and gently broke away.
In truth from there on, the Spaniard's main annoyance after surviving an early race brush with the Turn 4 barrier was having to lift and coast despite that Safety Car, owing to a brake wear problem.
Those two were closely followed by Russell until lap 12, the Norfolk driver clouting the wall after taking too much kerb at Turn 9.
He was able to carry on until 20 laps from the end, when a brake issue that was a legacy of that crash damage sustained from that early race shunt, having fought up to 8th from there.
Driver of the Day Alexander Albon was an excellent seventh in his much upgraded Williams, six points lifting the Grove team off the bottom of the Constructors' Championship.
That came courtesy of Williams' straight line speed, with Esteban Ocon, Lando Norris, Lance Stroll, Valtteri Bottas, Oscar Piastri and Pierre Gasly all within five seconds of the Thai driver at race end. A penalty dropped Norris to 13th at race end.
Aston Martin and Mercedes begin to close the gap?
In Alonso and Hamilton, Aston Martin and Mercedes have two world class drivers reinvigorated of late.
Alonso has been the closest thing to a challenge Red Bull has had all season, while Hamilton was in the fight for second all the way until the end, a huge upgrade package from Mercedes a introduced a month ago paying dividends.
This weekend it was Aston Martin's turn to bring upgrades, and in finishing eight seconds behind Verstappen the Silverstone squad will feel those improvements have worked, irrespective of whether Red Bull weren't exactly going flat out.
Further back, Stroll fought his way up to ninth after a poor qualifying session, a penalty and a compromised race strategy as Mercedes' George Russell was running well before his incident on lap 12.
More punishment for Perez
For Sergio Perez it was another lacklustre weekend as for a third straight race, the man second in the standings was punished for a poor qualifying performance.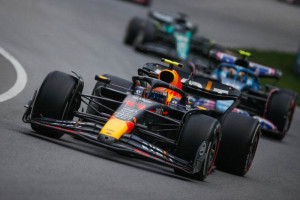 Starting 12th, he failed to make much of an impact on those ahead barring a first lap scrap with Sainz until the Safety Car saw him jump to sixth on the alternative strategy.
He failed to use the advantage of softer medium tyres against the Ferraris ahead later in the race having originally started on hard tyres, and was dropped by the Scuderia pair to a point where Red Bull elected to pit him for a go at the fastest lap, an extra point that will provide scant consolation.
The gap between he and teammate Verstappen is almost three full races, and it is now a question of when the two-time World Champion wins the 2023 Drivers' crown.
Any notion of a title challenge has long since disappeared.
Improvements from Ferrari.
Ferrari have been much maligned for their race management and strategy over the last two seasons, but they deserve credit for turning a poor Saturday into a good Sunday.
It looked as if old problems would rear their head again when Leclerc went out of qualifying early, and a penalty for Sainz drop the Spaniard to 11th on the grid.
The call to stay out on medium tyres looked bold when the Safety Car came out on lap 12, but both Sainz and Leclerc managed used mediums well until laps 39 and 40 before fitting fresh hards.
Sainz may have been a driver behind that decision after appearing to resist a call to pit on lap 32, but operationally this was much better for the Prancing Horse.
Awesome Albon 
The final word must be saved for Williams and Alex Albon.
It was a shock to see the Thai driver top Q2 on Saturday and he was expected to fall back from 10th on the grid.
It didn't play out that way and good strategy, good straight line speed coupled with a litany of upgrades on Albon's car this weekend saw him lead home a train two-stoppers for seventh place, which marks the best result for Williams since Spa's 2021 "race" when George Russell stood on the podium.
That lifts Williams off the bottom of the Constructors' Standings.
Images courtesy of Pirelli Sport