Kimi Raikkonen will contest his 349th and final race in this weekend's Abu Dhabi Grand Prix, and we take a look through a sparkling career for the Iceman.
Raikkonen began his career in 2001 with Sauber; he was identified by the team as he dominated through the Formula Renault UK as rookie winning seven out 10 races in 2000.
He had the experienced Nick Heidfeld alongside him who took a fantastic podium in Brazil, whilst Kimi took 6th on his debut then retired consecutively following on from that result. At Austria and Canada in the mid-Season he finished 4th – the highlight of the 2001 Sauber career. Others then began to take notice; another Finn Mika Hakkinen having a torrid having won two championships on the bounce. Mclaren talks were ongoing and it was agreed Hakkinen was walking away, and Raikkonen would replace him at the then-known Silver Arrows Mclaren Mercedes for 2002. Hakkinen, after this announcement in September, did manage to win once more with the pressure off.
The 2002 Season started off well for Kimi, earning his first ever podium with third at the opener Melbourne with the fastest lap. However, the car did have reliability issues which held up, the BMW-Williams also a strong contender for this Season. Mclaren finished third that year due to the reliability issues of the  MP4-17, and Kimi retired from 10 out of 17 races. The highlight of the Season for Kimi was P2 at Magny-Cours – his highest finish to date and double podium. Himself and David Coulthard finished P5 & P6 respectively in the Championship.
2003 was the year Kimi came into his own at Mclaren; Coulthard took his final win of his career at Melbourne but the ever-present Ferrari of Schumacher wasn't on the rostrom for the first-time since 2001. Mclaren then took victory again at Kuala Lumpur and Raikkonen finally took the first victory of his career, 39.286 clear of Rubens Barrichello in a dominant display. It took Ferrari until the fourth round before they won but Kimi was on the podium in second. He didn't win again in the year but was on the podium six times, unfortunately missing out on the title by 2 points to Schumacher, scoring 91 points.
In 2004, Mclaren unfortunately went back to MP4-17 levels of reliability. It was so poor that in the Summer we saw the reveal of the MP4-19B. Raikkonen's best finish was fifth in Canada, and upon returning to Europe Kimi got back on the podium at Silverstone with second. The highlight of 2004 came when he won the Belgian GP at Spa, and a strong end to the Season with a podium with F1's first venture to Shanghai and at Brazil.
In 2005, Kimi was the bridesmaid once again, but this much different in terms of how it came to fruition. Kimi had his most successful year with seven wins,  winning at Monaco and once again at Belgium. His most fought out win also came in this Season – a fantastic P17 to P1 – overtaking Giancarlo Fisichella on the outside of turn one on the final lap. Alonso won the title, but with new points system he ended up 21 points ahead of the Iceman.
In 2006, as per the previous Championship campaigns, development was slow, but better than 2004. He managed to score podiums in the first two races, and a further three in the first half of the season. Paddock rumours began to float round he was looking elsewhere to find that elusive Championship after those results. Those rumours came true; he was heading to Ferrari to replace Michael Schumacher at Ferrari, and it was announced at the Italian Grand Prix of all places. Kimi got his best result of P2 of the year matching Melbourne – a sign of things to come?
In 2007, Kimi headed into the scarlet red Ferrari, and it couldn't have gotten off to a more emphatic start, winning the Season opener in Australia. Two more podiums  followed at the so-called flyaways that start the traditional Season. After three rounds we had Kimi, and both Mclaren drivers of Alonso and upcoming rookie Lewis Hamilton all on 22 points. The Season headed to Europe and went to the Americas before heading to France and Britain where Kimi's challenge began; he was behind but won both races at Magny-Cours and Silverstone. Hungary onwards Kimi was not off the podium; he won again in Belgium, which has become a true favourite of the iceman as it was his third victory at the circuit. He was 17 points behind title leader Hamilton with two races remaining; he surely couldn't be the bridesmaid or lower again as Alonso was only 12 points behind. He won the final two races of the calendar whilst others faltered. Hamilton had his moment entering the pits at Shanghai, resulting in a no-score and a puncture at Brazil which allowed the 17-point swing, giving Kimi his first World title.
In 2008 the defence began woth a collision, with Kimi fortunate to score due to a race of attrition with P8 and Barrichello later disqualified. However, a spell on the podium thereafter included two wins in the flyaway run, before F1 headed back to Europe. The 2008 Season had its moment in the Canadian pit lane when Hamilton wasn't looking under safety car conditions, hitting Raikonnen which resulted in Kubica winning, leapfrogging both in the Standings.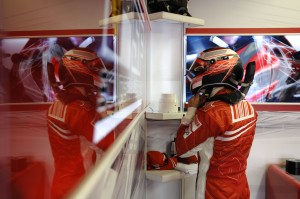 In France and Hungary Kimi took a further podium but a poor string of results at the normally favoured track Belgium and the new Singapore circuit mathematically ended the iceman's chance of retaining the title. His team-mate Felipe Massa and Hamilton fought that out, with Hamilton claiming his first championship. A further three podiums saw him finish third in the standings in 2008.
The 2009 Season brought in new regulations, and Ferrari seemed to be in the midpack and not at their traditional standards of the noughties era. Kimi scored four points in the first four flyaways before Europe began; the car development was rife this Season and we saw it with this car specifically. Prior to the Summer break at Hungary he took a fantastic P2, starting a podium streak and on returning to his trusted Belgium he took Ferrari's sole win of his season. However, he was still 5th in Standings, with half the points of Jenson Button, and rumours were appearing that Kimi was looking away from Ferrari. He took another podium in front of the Tifosi at Monza and a further two points scores, before it was then revealed the team he was speaking to was to actually Mclaren, but the talks broke down so nothing came to fruition. Ferrari then agreed deals with Fernando Alonso and Felipe Massa for 2010.
Kimi took  a two-year sabbatical and ended up agreeing to compete in WRC with Citroen with P5 Rally of Turkey 2010 best result. Agreements were made for Kimi to join Lotus F1, the former Renault program for 2012.
On his return to the Series with Lotus in 2012, Kimi finished a distant third behind the title rivals Sebastian Vettel and Fernando Alonso but on review had a successful campaign with seven podium finishes across the year, only failing to finish in the points in China. He claimed the team's first victory since Ayrton Senna in Detroit in 1987.
Kimi and Lotus looked like they built upon this as they won the Season opening race in 2013, and then took a further three second places, being ever consistent as he was in the black and gold machinery and was second in the standings after Spain. Upgrades begun to occur and Lotus weren't as quick to match, and a further four races passed until Kimi was back on the podium; he still scored points but not to the high level needed. Germany and Hungary saw him take two second places, and Ferrari once again came looking for a driver as rumours were floating that Massa was looking at alternate drives. The Italian GP was on the 8 September and on the 11 September it was confirmed that Raikkonen, ahead of the new era of F1, would again race for the Scuderia. He took a further two podiums at Singapore and Korea but his Season ended early as he required some surgery on his back, still finishing fifth in the standings.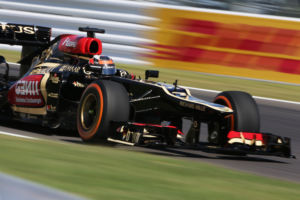 At the start of the hybrid era in 2014, Ferrari's machinery wasn't at the races, capped to a best of P7 in the early rounds of the year, getting lapped at Barcelona. While not being in the twilight years of his career just yet, albeit his 12th Season, Ferrari needed to improve. Results begun to pick up but no podium was yielded, with his best result coming at Belgium with a fourth-placed finish, scoring at 13 out of 19 races, ending just towards the bottom of the top 10.
in 2015 the Ferrari power unit was reviewed and had much more power but was still not on par with Mercedes. He had to retire from opener but matched his best result in the second race and saw the rostrum in the fourth round at Bahrain, generally being best of the rest in this Season as the two Mercedes battled it out. Second at Bahrain was the highlight of the Season but two further podiums at the night races of Singapore and Abu Dhabi also came, and he would finish fourth in the Standings – near enough trebling the points from the year before.
Further podiums for Kimi in 2016 saw the win get closer, finishing second twice in the year, behind Verstappen in that record breaking win at Barcelona. He had four podiums in the Season all very early on, with Austria being the latest.
2017 nearly matched Kimi's points record of 207 points as he was on the podium seven times this . A nice spell of three consecutive podiums in the Americas late in the Season gave him the push to finish 4th. Hungary and Monaco were the highlight of the Season with second place finishes.
In 2018 Kimi took his final victory, setting a new record of 113 races between his previous win, as he made a one stop strategy work in Texas, COTA. The win was his first since Lotus in 2013 but also his first for Ferrari since 2009. He also took 12 podiums in his final Season for the team as it was agreed he would move back to his routes and Alfa Romeo which were born from Sauber where it all began from him in 2001. He finished third with 251 points, best ever points haul.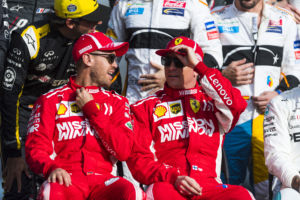 The twilight years started for Kimi and Alfa's car was well prepared, a midfield contender, finishing in the points nine times in the Season of 2019, beginning with four consecutive finishes. In Brazil towards the latter end he managed to get a P4 with team-mate Antonio Giovinazzi P5, taking advantage of penalties and incidents to reel in the team's biggest points haul to date since their return.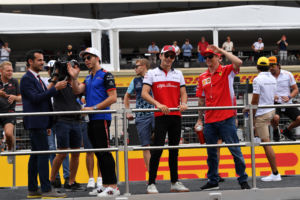 Developments for cars came in 2020 at a different pace and levels. Alfa Romeo dropped to a certain extent, and while Raikkonen might not have been able to be a consistent scorer he was enjoying himself. In the shortened Season he scored two points finishes through the year at Mugello and Imola.
The swansong Season which we didn't know until halfway through the Season began and was very much the nearly man in this Season until Baku, finishing P11-P13. He finished P10 at that race, along with Hungary. Kimi unfortunately did miss two races mid-Season due to COVID-19 and returned with an instant best result of P8 in Russia with the same result in Mexico. Points finishes might look likely in Abu Dhabi which would be a good way to end his career.
Kimi throughout his career in F1 had 19 Seasons, claimed 21 wins and 103 podiums with 18 pole positions. He has been involved in 349 Grands Prix which is the official record. The man of few words will be remembered for his wit, his nonchalant communication but, most of all, as a Formula One World Champion.