Prema's Robert Shwartzman took his first Formula 2 win in the Styria feature race, taking advantage of a team radio problem for longtime race leader Yuki Tsunoda.
With the track drenched the race began after a lengthy delay with four laps behind the safety car. When the safety car pulled into the pits and the race began in earnest, polesitter Tsunoda got away from the pack cleanly and commanded the race in its early phase, building a gap over Guanyu Zhou with each lap. After two laps of racing the Carlin driver was 1.6s ahead, which increased to 5.5s by lap 21 as Zhou's wet tyres started to overheat.
Zhou pitted on lap 21 along with Shwartzman. But when Carlin called Tsunoda in to cover the UNI-Virtuosi, he was unable to hear the message over team radio and stayed out for another three laps. All the while, Tsunoda's pace compared to Zhou on the fresher tyres continued to drop off.
Tsunoda eventually came in on lap 26 after seeing the team's pit board, but lost so much time on his older tyres that he lost the lead to Zhou and rejoined the track in a net third position.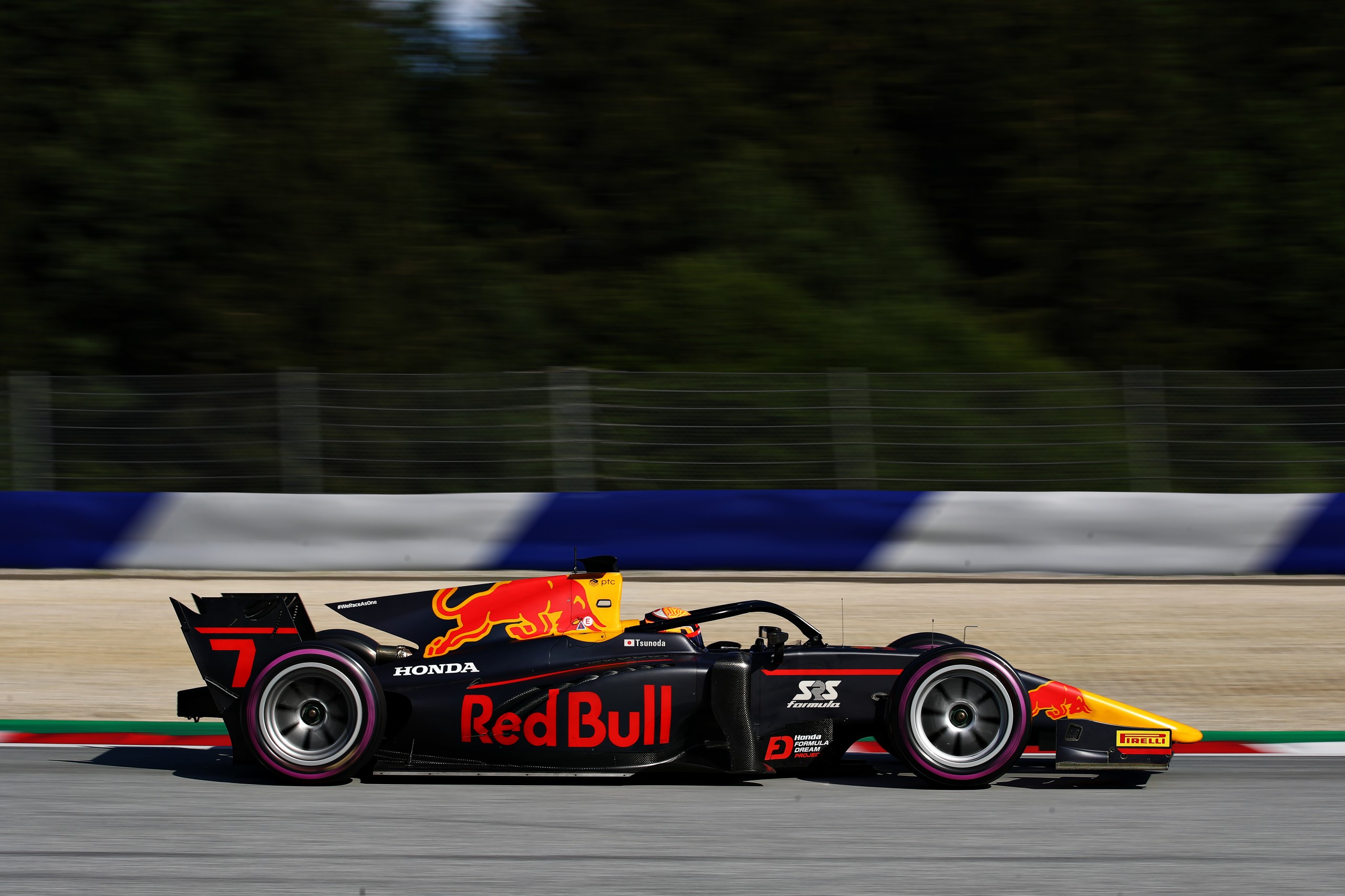 Meanwhile, Shwartzman had been making progress through the field after initially losing a position to Christian Lundgaard on the second racing lap. On lap 14 he passed Luca Ghiotto for sixth, then took fifth from Jack Aitken on the following lap. When Lundgaard had a slow pit stop on lap 21, Shwartzman moved into fourth behind Tsunoda, Zhou and Callum Ilott.
Shwartzman demoted Ilott off the podium after both drivers had made their respective stops, and on fresher tyres he started reeling in Zhou with a series of fastest laps. On lap 27 Shwartzman passed Zhou for the lead of the race and began building up a gap as Tsunoda rejoined them after his own stop.
In the closing laps Zhou began to struggle with overheating tyres again and Tsunoda passed him for second on lap 30. With much younger tyres, Tsunoda then started eating into Shwartzman's gap out front, reducing it by over two seconds across the next three laps.
But although he closed in to within half a second of Shwartzman, Tsunoda's pace wasn't enough to complete a move on the Prema in the final laps and Shwartzman held on to the victory. However, Tsunoda was able to earn another two points for setting the fastest lap.
Zhou continued to struggle and dropped back from the two leaders. He came under threat from Mick Schumacher in the closing laps, who had taken fourth from Ilott after starting ninth on the grid, but managed to defend his place on the podium and finish third.
Schumacher and Ilott finished fourth and fifth respectively, with Lundgaard and Marcus Armstrong behind them. Dan Ticktum finished eighth and took pole for Sunday's reverse grid, and Aitken and Sean Gelael closed out the top ten.