From Spa to Zandvoort we move to the home Grand Prix of Max Verstappen who won in dominant style at Spa. The fast banking of Zandvoort is unlike any other track on the calendar so it will be a real test to see who can match RedBull's pace.
Ferrari problems… again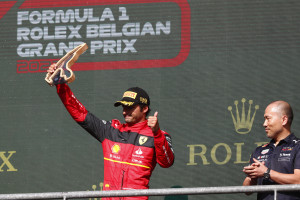 At Spa, it was not Ferrari's weekend. The RedBulls were just too fast for them to keep up so could only get a P3 and P6. Whilst the P3 for Carlos Sainz was the best they could have hoped for, Charles Leclerc had a very unlucky weekend.
Having started P15 with various engine penalties, he managed to make his way up to P9 until he was forced to stop when it appeared a tear-off from Verstappen got caught in his brake duct. Having managed to make his way back up to P5 throughout the race, Ferrari pitted him to put on soft tyres and take the fastest lap from Verstappen.
However, another Ferrari strategy didn't quite work because he came out behind Alonso with only two laps to go. This meant he had to overtake Alonso and didn't achieve the fastest lap. To add insult to injury he was speeding in the pitlane by 1km/h on his last stop and was given a 5-second time penalty at the end of the race. Putting him back to P6.
Ferrari will want to put that behind them and try to gain points on the RedBulls in Zandvoort. Leclerc may be able to keep up with a new engine at his disposal, however, with the pace of Verstappen, it is difficult to see how Ferrari can bring their way back into this championship fight.
Mercedes crashing back to reality
After a successful outing in Hungary and a competitive run before the summer break, it was expected that the new regulations would help Mercedes be even closer to the top two teams. This was not the way it worked out.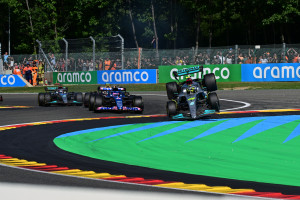 They were 1.8 seconds slower than the pole lap in qualifying, struggling to get the cold tyres to work for them. When it came to the race Hamilton had a first-lap clash with Alonso, forcing him to retire from the race early.
George Russell on the other hand had a reasonably solid performance if you ignore the pace of Verstappen. He finished a respectable P4 which showed once again Mercedes's race pace is better than their qualifying pace.
The last thing Mercedes need now is to go back to the unpredictability of their car before Silverstone, but Zandvoort may not be in their favour with the high-speed banking. The key for them on Saturday will be tyre management to prevent the large deficit they had in Spa.