Well, that wasn't what we were expecting, was it? I for one am a little shocked at the somewhat disappointing round for the insanely dominant McAMS Yamaha team. I expected a Yamaha 1, 2, 3 in every race with Bradley Ray in 3rd but it just goes to show that Cadwell is the Monaco of BSB.
Qualifying is everything and with round 7 trailing the Superpole method (just one flying lap to set your time) it goes to show how your weekend can go to s**t before the lights even go out for Race 1. Seems the season has fallen apart for a few names this weekend too. So where do we start?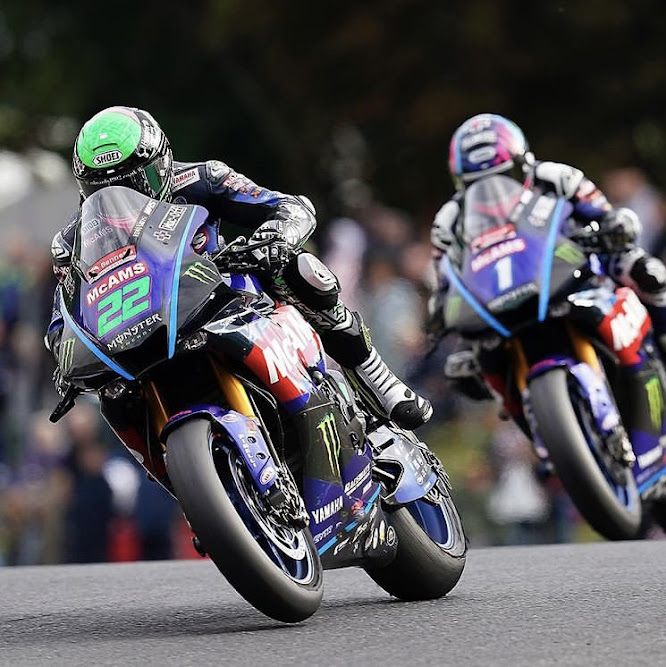 I said on a podcast recently that I thought Bradley Ray wouldn't be able to turn up the pressure on Yamaha counterparts Jason O'Halloran and Tarran Mackenzie. I (WRONGLY) claimed that Jason and Taz would turn the amplifier up to 11 where Brad would be at 10 due to the pressure of having never fought for a BSB title. How wrong was I? Where Jason and Tarran seemed to let the races slip away from them for one reason and another, Brad Ray was there to pickup a win and a couple of second place finishes to seriously stick it to rival Jason O'Halloran. Even going as far as to swap the positions in the championship standings. Bradley has moved from second in the standings to 1st overall. Ray now also sits on 46 podium credits v O'Halloran on 48 credits meaning not only has Ray taken the lead in the overall points in the build-up to the Showdown, but he has also closed the podium credits to 2 points. Meaning if the Showdown started tomorrow, O'Halloran would be in 1st place on 1048 points to Ray in 2nd place on 1046 points.
It couldn't be closer if it was engineered. It makes me very nervous for O'Halloran as he also saw his season slip away in 2021 in the Showdown rounds. Fingers crossed this is not a repeat of that. The positive for O'Show to take is Tarran Mackenzie also seemed to have a somewhat disappointing round buy his own high standards. Were it not for Ray's dominant performance, we would have said Cadwell Park clearly isn't a Yamaha circuit this year, as surprising as that sounds due to it being a circuit rewarding of the best handling bikes.
Race 1 started with contact between Danny Buchan on his Synetiq BMW and MCE Ducati's Tom Sykes. Both riders starting further up the grid than they are used to this year and a move by Buchan in the hairpin at the penultimate corner saw him line up for the inside of Sykes, only for Tom to tip in and close the door to Danny meaning a rear wheel to front wheel collision sent both riders on to the grad re-joining much further down the field. However, a lifeline was thrown to both riders in the form of a serious collision on the mountain section involving Dan Jones and Lee Jackson's stricken FS3 Kawasaki motorcycle. Dan crested the mountain, unsighted to the Kawasaki ZX10 and ultimately collided with the bike. The race was red flagged, Dan was transported to hospital by Air Ambulance. Luckily for Dan a bruised lung, some internal bleeding and a broken collar bone were the worst of it. He considers himself lucky to be alive after a big one.
The race was re-started with everyone in their original positions, barring the riders that were unable to make the restarted race. Ray, Rory Skinner and Danny Buchan were able to lead off from the front of the grid. Cadwell Park doesn't create the same racing spectacle as we saw, for example at the previous round at Thruxton. Cadwell is a very tricky place to overtake and it can be a bit of a procession. Hence my earlier remark as to it being the Monaco of BSB.
Rory Skinner was able to pull off a strong aggressive move under Ray at Chris curve, a long right-hand corner leading into a right / left flip flop chicane called the Gooseneck. Ray was able to take the position back and tick off the laps down to a race win and a very impressive 2nd place podium finish by Rory by just under a second with Danny Buchan rescuing a podium from the jaws of a top 10 finish that would have been prior to the red flag earlier. The biggest surprise of Race 1 was the lack of pace shown by the reigning British Champion, Tarran Mackenzie. Although not a great weekend for him, he remained positive while bemoaning a lack of rear grip but saying he just needs to look to the next round at Snetterton.
Race 1 Podium: – Bradley Ray, Rory Skinner, Danny Buchan. O'Halloran finished 4th with Mackenzie in 11th.
Race 2 on Sunday was slightly different in terms of a great start off the grid saw Buchan lead off with Bradley Ray and Tommy Bridewell chasing. Such was the lead the front three were able to clear, they were the only riders to make it to lap 16 when the race was red flagged due to a DNF for 'King of the Mountain' Josh Brookes when he slipped off his MCE Ducati over the mountain section leaving his V4 Panigale in the middle of the track. Race Direction were quick out with the red flags to ensure we didn't have a repeat of the Dan Jones crash, and fair play to Josh Brookes, he was up on his feet straight to the bike to do his best to remove it from the racing line.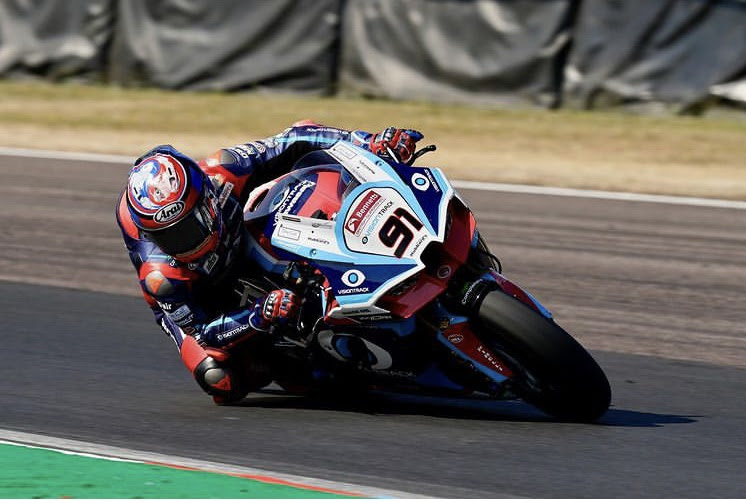 Race 2 was somewhat rejuvenating for riders such as Leon Haslam on his Vision Track Kawasaki and Andy Irwin on his Synetiq BMW. In desperate need of some form, Haslam, Buchan, Hickman and Irwin were able to bring their bikes inside the top 10 to a better run of results finishing in front of both 7th and 8th place current holders in the overall championship standings, Tarran Mackenzie and Kyle Ryde. Based on Thruxton and Cadwell Park, suddenly it doesn't look such a shoe in for Mackenzie to be in the showdown and if I were Kyle Ryde, I would be very nervous indeed. It could be that if Taz and Kyle have a bad weekend at Snetterton, any of Buchan, Hickman or Haslam could find themselves in the Showdown at their expense.
Race 2 Podium: – Danny Buchan, Bradley Ray, Tommy Bridewell. O'Halloran finished 8th with Mackenzie in 11th again.
Race 3 was quite simply a belter. Not so much in terms of the win. The front running riders were showing so little signs of being able to put a move on each other that most of the TV time went to covering the fight for 4th downwards. Stars of the show? Leon Haslam and Rory Skinner. They must have swapped positions 10 times. Skinner kept slinging it up the inside of Haslam at Chris Curve, which had quickly become his signature move while Leon kept out-dragging Rory down the Park Straight into Park Corner for Rory to turn a tighter line and cut back in front. It must have been frustrating for both riders to keep putting the manners on the other, only to have them chomping back again at the first opportunity with Haslam ultimately taking the honors again for 4th place over Skinner in 5th. Another strong finish by Peter Hickman and Andy Irwin bringing up the tail end of the top 10 with O'Halloran in 9th and Mackenzie in 10th.
Race 3 Podium: – Buchan, Ray, Bridwell.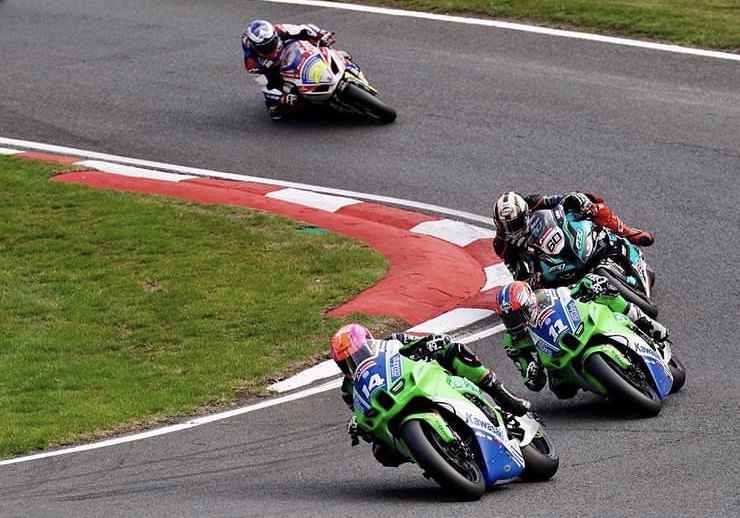 MCE Ducati had another poor weekend with Sykes not finishing Race 1, 10th in Race 2 and 18th in Race 3 while Brookes finished 10th in Race 1, crashed in Race 2 and finished 11th in Race 3.
Neither of Paul Bird's bikes are in the Showdown this year for the first time since it's incorporation. A tough season for the Cumbrian team but rumours are circling around whether Paul Bird will continue to run a team with his interests lying elsewhere with his son racing cars and other family members taking up other competitive sports outside of motorcycles. Paul said himself recently on a podcast he cannot do this forever. Only time will tell on this one as Paul Bird has made no secret of the fact he expect his riders to win races and compete for the British Superbike title and there's no doubt he will be disappointed with how 2022 has gone.
Other riders / teams/ thoughts of note at Cadwell…
A disappointing weekend for Lee Jackson of FS3 Kawasaki after a DNF in Race 1, which meant a poor race qualifying position for race 2 battling back to 13th place, and a 10 second time penalty in race 3 for jumping the start meaning he finished the race in 12th place. Not what Lee needed however due to his strong season so far, he has only lost out to his team mate in the standings and now finds himself in 4th place overall behind Skinner, but we are now at the point where the podium points are more important than ever and finishes outside the top 10 are not going to help this underdog story come to the publishing table.
Crowe Performance BMW's Chrissy Rouse had 2 crashes in the races and a 21st place finish over the weekend. A tough round for the popular Northeast rider on his privateer bike. Fingers crossed for a strong Snetterton round in 2 weeks.
Buildbase Suzuki's Christian Iddon picked up a time penalty after wiping out MCE Ducati rider Tom Sykes on the run downhill into the Mansfield corner with a late move for the inside. Christian tried to pick the bike up and get out of the move but unfortunately it collected Tom Sykes causing the Ducati DNF while Christian was able to re-join after quite the excursion on to the grass which looked more like a hare and hounds scramble than a BSB race. These things happen in racing and Cadwell Park is a very difficult circuit to pass on, so any move can end up in such a position when riding on the limit. Luckily for Christian he has a reputation for being one of the safest riders on the grid. Tom didn't have much to say on the incident and the weekend in general, barring a disappointing result after a positive Superpole session, he's looking forward to Snetterton.
Shout out to Ryan Vickers of FHO BMW for 3 points finishes. Just what the doctor ordered for re-building confidence after quite the run of race DNF's. Hopefully Ryan can build on this positivity now and continue this on to Snetterton and beyond.
Special mention to Tito Rabat too. Seems he took one look at Cadwell Park and said 'no thank you'. I wish I wasn't correct in my assessment of Tito being another big name to turn up at BSB and do nothing. Thruxton and Cadwell was never going to be the way to do it though. I feel very vindicated in my opinions before the Thruxton round. Shame to see him go though. The ever smiling, popular Spaniard could have brought a lot of publicity to the series on foreign soil. I wonder if he was smiling after doing a lap of the circuit or whether he had turned green?
Finally… Where has Kyle Ryde gone? Can someone please send out a search party? After such a strong start to the year, Ryde's confidence has taken such a knock which seemed to start at Brands but really kicked in at Thruxton. Ryde has never ridden a Superbike at Cadwell Park and, in fairness, he was only 1 second a lap from the leader's pace but in superbike racing that is a country mile. Kyle needs a strong round at Snetterton or I fear he will find himself demoted from the showdown positions and that would be a great shame.
So there we have it. Not the most exiting of rounds in terms of the actual racing, but certainly an impressive venue on the calendar and one that has turned the championship on its head in terms of the results. Remember we hand out the points for the finishing positions, not the show or excitement created.
Snetterton in 2 weeks time. The final round before the Showdown positions are locked in. Who will step up to the claim those final positions in the race for 2022's crown?
Thanks for reading. Hope you enjoyed it.