Theo Pourchaire became the first double winner of the 2020 Formula 3 season at the Hungaroring feature race, seeing off championship leader Oscar Piastri through numerous restarts.
Starting in slippery conditions, the race opened with several incidents at the first corner bringing out the first safety car. Polesitter Aleksandr Smolyar was spun out of the race by Logan Sargeant, while behind them Frederik Vesti and Calan Williams came together to partially block the corner.
With Smolyar out and Sargeant driving a damaged car, Pourchaire moved up into the lead with Piastri second ahead of Sargeant. When the race resumed after a lap behind the safety car, Pourchaire immediately opened up a second over Piastri to protect against the DRS.
Piastri responded on lap five to bring the gap down to half a second. But before he could try a move on Pourchaire the race was interrupted once again when Liam Lawson pulled off with an engine fire, leaving a trail of oil throughout Turns 1 and 2. After one lap behind the safety car, the race was red-flagged to properly clear the track.
When the race resumed after a start behind the safety car, Pourchaire again bolted from Piastri and within two laps the Frenchman had broken out of DRS range again. From there Pourchaire kept improving, setting a series of fastest laps to add almost a second per lap on Piastri.
By the chequered flag, Pourchaire crossed the line more than twelve seconds clear of Piastri to take his second consecutive win of the season, and become the first double winner of the year.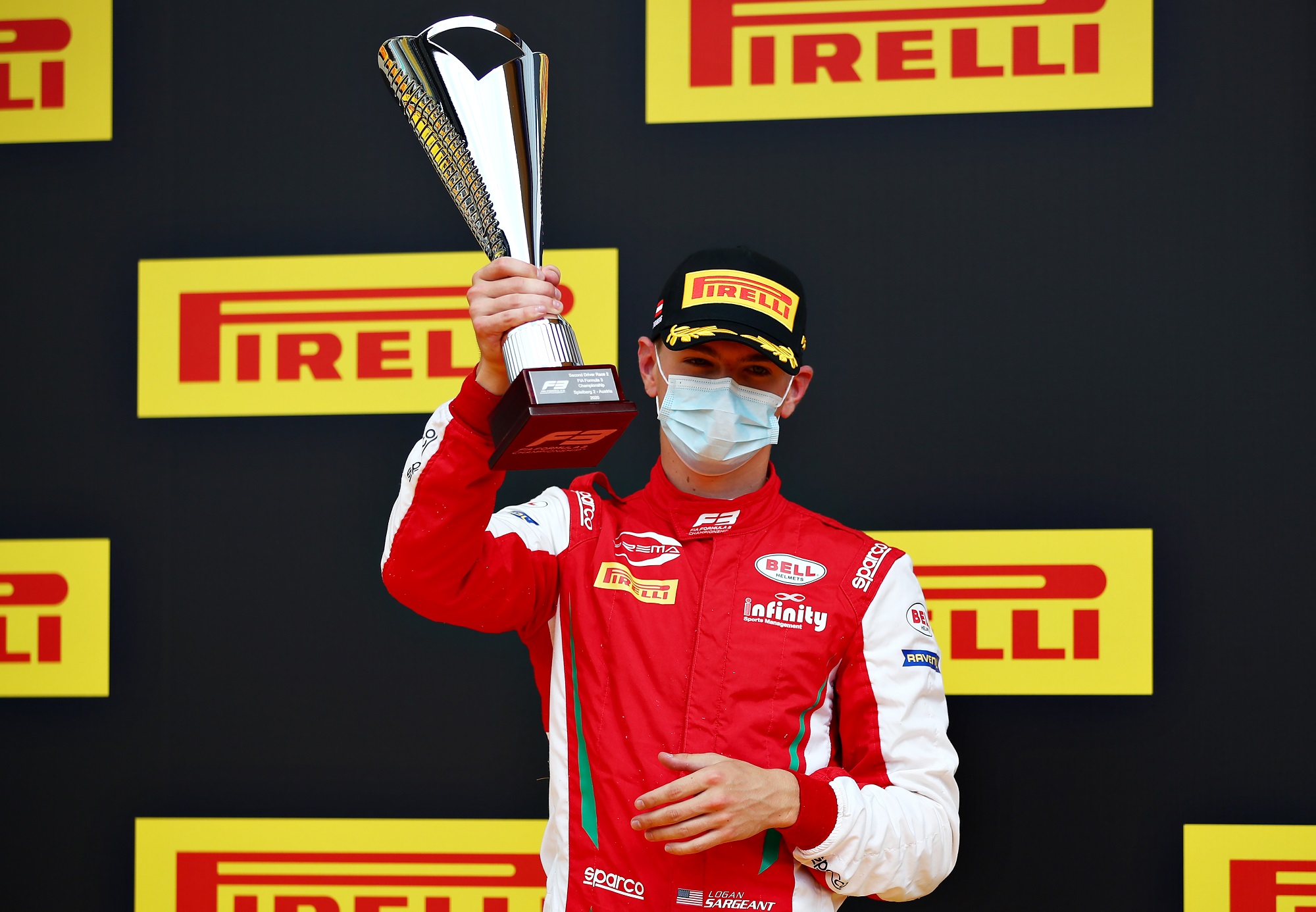 Sargeant finished third behind Piastri to make it two Premas on the podium. Nursing damage throughout from the first corner collision with Smolyar, Sargeant was under pressure from both Lawson before his retirement and Sebastian Fernandez after the final safety car restart.
The American's struggles were clear as he ran wide multiple times. However, he managed to hold onto the position until lap 15, when Fernandez's tyres dropped off and he dropped behind the MP Motorsport pair of Richard Verschoor and Bent Viscaal.
As Verschoor and Viscaal then battled between themselves for fourth, Sargeant was able to pull away and comfortably keep his podium position. Behind, Viscaal came out on top with a last lap move through Turn 2, taking fourth place and his best F3 finish to date. Verschoor finished fifth and Fernandez was behind in sixth.
Alex Peroni finished in seventh, returning to the points for the first time since his podium in round one. Red Bull junior Dennis Hauger took his first F3 points in eighth place ahead of Clement Novalak, who rose 17 places from his grid position, and David Beckmann took the final point in tenth as well as pole position for tomorrow's sprint race.