After the aborted start at Qatar (ok the Moto2/3 guys whipped around the moonlit track), for the MotoGP fraternity, the 2020 MotoGP season reboots and hits "home" at Jerez from the 17th to 19th of July.
Any of the Spanish circuits could be classed as "home" but Circuito de Jerez – Ángel Nieto giving its full titles, usually provides some great racing with some brilliant passes.
The tower and the spaceship building over the start-finish line provide some great scenery yet also gives the riders some great reference points during the race.
Jerez is a 4.4km, 2.75 mile circult, with Marc Marqez winning last years MotoGp event and also holding the fastest lap of 1:38.051. The MotoGP race consists of 25 laps, Moto2, 23 laps and Moto3 22 laps.
You can watch a lap onboard from 2018 here:
MotoGP
Ever since Marc Marquez sat on the Repsol Honda, one saying started to come out "Only Marquez can stop Marquez", typically that meant him to crash. But that now is in the form of his Brother; Alex. Jorge Lorezno left his contract early, after a horrendous year at the Honda works team, which ended up with him injured and he is now the Yamaha test rider. It will only be a matter of time before we see Lorenzo racing – body permitting.
Repsol Honda, with the Marquez brothers, have a family feel to it but that can quickly turn into a family feud as Alex has the ability to match his brother. Of course we have to mention the RC213V, will that still be as extreme as it was in 2019 which nearly became the Bronco Billy of 2019.
Yamaha SRT had a brilliant first year beating the Yamaha works team. Fabio Quartararo's first year was equally outstanding, with six poles and five second places, which resulted in being fifth in the championship last year. The bike, whilst being kinder to the tyres than the works team, still has the issues that the works team has – lack of power. Franco Morbidelli, whilst being a star in the Moto2 championships, hasn't set his debut year in MotoGP on fire. He can justifiably say that the combination of the bike, and having Quartararo as a team mate, may have been worth saying. Excuses wear thin, though.
Yamaha Racing, the works team, do not want a second year of embarrassment, especially with it being Valentino Rossi's last year with the team. Maverick Viñales will be hoping that the lack of straight line speed will be less of an issue this year. Rossi will be hoping for the same, along with tyre wear, not to be a consistent issue with his front starts leaving him 7th or 8th by the end of the race in 2019.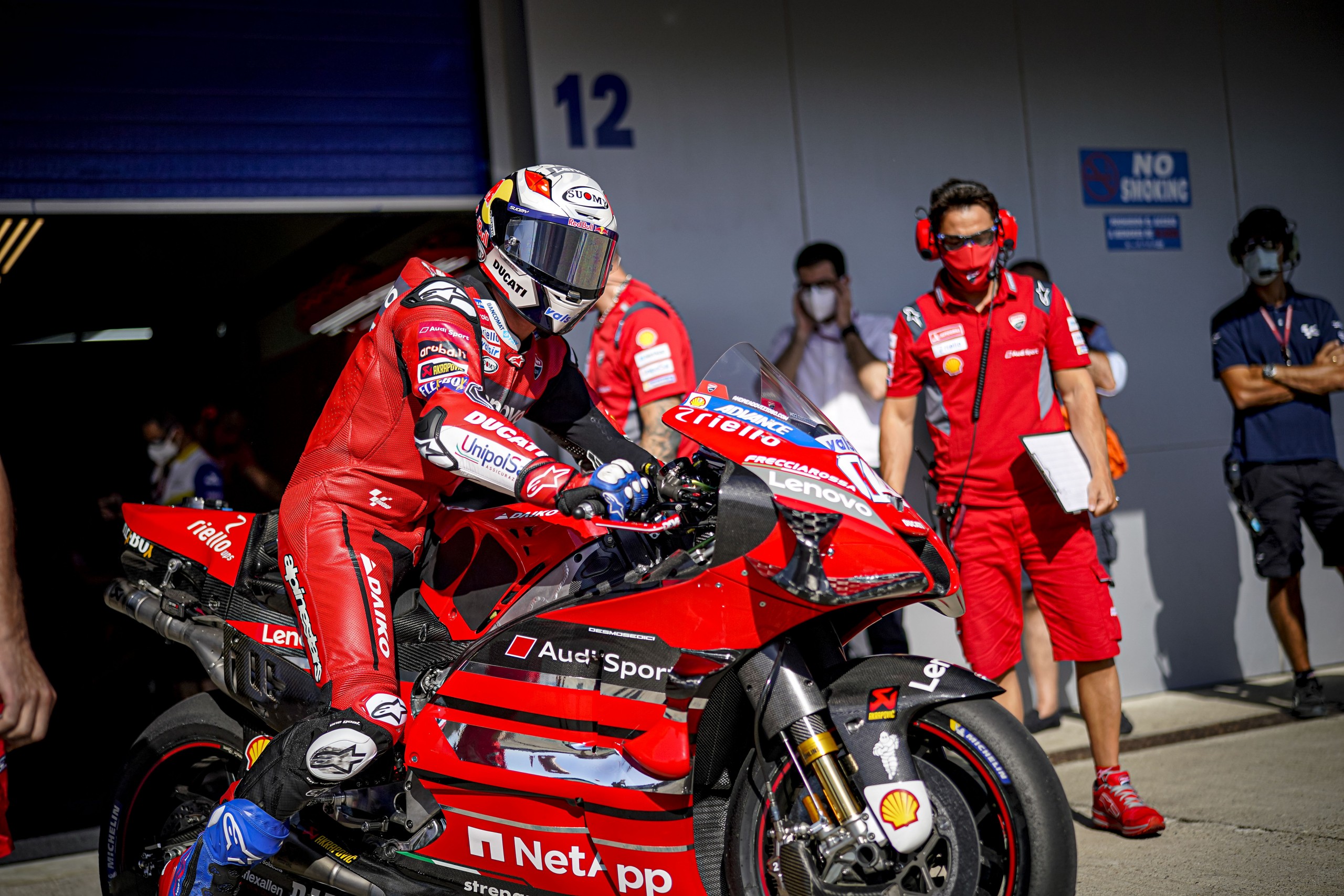 Ducati, Andrea Dovizioso having been runner up in the championship for the last three years running, must feel frustrated and yet happy that his form has been consistent. From 6 wins in 2017 down to only 2 last year, but collecting 8 more points (2017: 261 points; 2019: 269 points) has been the weak point for the team. So Dovizioso will be hoping that 2020 will be one of less frustration, and also winning his first MotoGP championship. Danilo Petrucci will be wanting to increase on his 2019 haul of one win and two 3rd places.
KTM, having mixed fortunes in 2019 in all 3 classes, they have finally made the decision to dump Moto2. Probably the right thing long term, as they have under performed since coming to MotoGP. Hopefully in doing so, Pol Espargaro will have a chance to fight for race wins.
Rest of the bunch.
Álex Rins will be wanting further wins this year. Team Suzuki Ecstar, have shown they can produce the goods, but the consistency isn't there yet. Zarco is another one to watch – in the Moto2 class, he trailblazed but once in MotoGP, that came to a sudden halt. Jack Miller is in exactly the same boat. Of course, you can never rule out anyone in MotoGP in winning a race. One person missing is Cal Crutchlow. The LCR Honda, was not to his liking in 2019, after coming back from an injury which hindered his progress in 2019.
Moto2
Both the Moto2 and Moto3 classes completed one round at Qatar back in march with Tetsuta Nagashima wining round one. Both the top two riders from 2019 have moved to MotoGP: Marquez and Brad Binder. The loss of the 2019 top two will not result in any loss of quality. Far from it. Lüthi, Baldassarri, Navarro, Marcel Schrötter, Jorge Martín, Fabio Di Giannantonio and of course Marco Bezzecchi will all be fighting for the championship. To suggest a favourite for the championship would be crazy at this point.
Moto3
Albert Arenas, won Qatar Moto3, with John Mcphee 0.053 seconds behind. That sets up a great 2020 season with Mcphee, Masia, Foggia, Fernandez, Arbolino, Toba and of course Romano Fenati racing for the title. Fenati will want the racing to do the talking and not his explosive emotions.
Featured image courtesy of Box Repol