Dan Ticktum took his second win of the season in the Sochi F2 sprint race, surviving the difficult conditions while drivers behind him fell afoul of the damp track in an assortment of incidents.
The race got off to a dramatic start before the grid had even formed, as first Guanyu Zhou spun on the lap to the grid and stalled his engine, then his teammate Felipe Drugovich spun into the wall and wrecked his car. As a result neither UNI-Virtuosi was able to take the race start.
With the track still wet in places the race began with a rolling start after two formation laps behind the safety car. Ticktum made the most of that rolling start to get a good gap over second-placed Juri Vips across the line, while Christian Lundgaard was the only driver in the field able to pull off a lap 1 overtake as he passed Marcus Armstrong for tenth.
Although Ticktum got the jump on Vips at the start, Vips responded through the opening lap to be just two tenths behind the Carlin at the start of lap 2. But Ticktum then put in his own answer with a fastest lap to open the gap up again, which began a game of trading lap times between the two of them.
Just a few tenths behind Ticktum and Vips, Liam Lawson was defending third place from Robert Shwartzman. Shwartzman appeared to have the better pace than Lawson and looked at a move out of Turn 3 on lap 3, but with the track still wet outside the racing line he couldn't get alongside the Hitech. Shwartzman then ran wide through Turn 18 and lost several tenths to Lawson.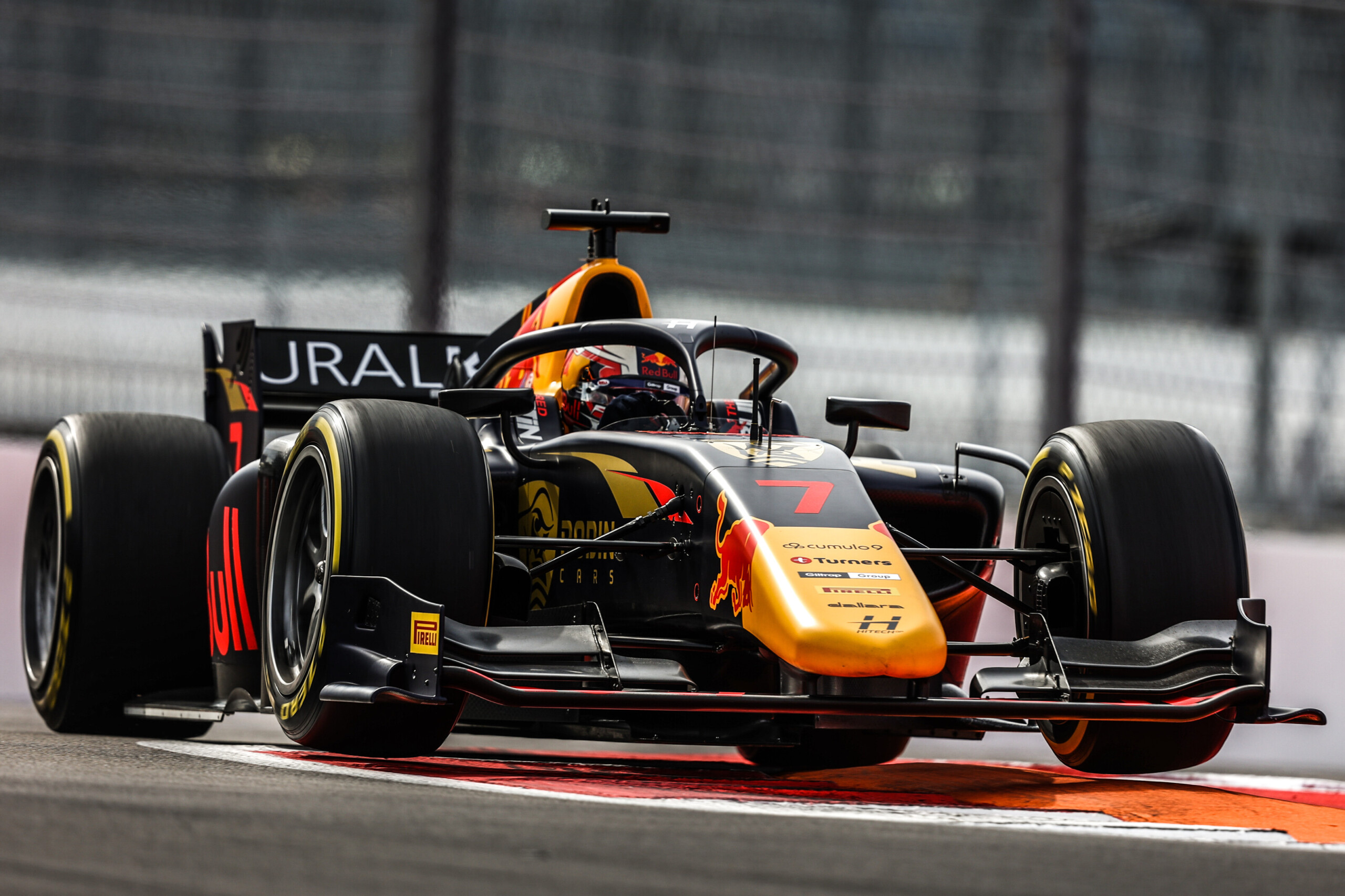 On lap 4 Bent Viscaal spun out at the Turn 15/16 chicane and brought out the Virtual Safety Car. When it was withdrawn on lap 6 Oscar Piastri tried to overtake Jehan Daruvala for eighth place, but he immediately lost tyre temperature when he moved out to the wetter part of the track and instead fell to 12th behind Lundgaard, Armstrong and Richard Verschoor.
The VSC then made an immediate reappearance when Lawson, lacking brake temperature from the first VSC, couldn't get his car stopped heading into Turn 13 and damaged his left rear suspension on the exit wall. With Lawson out, Shwartzman moved up to third place ahead of Jake Hughes, Ralph Boschung, Theo Pourchaire and Daruvala.
Once again, the VSC restart caught out several drivers. Shwartzman ran wide through Turn 10 with cold tyres and was passed down the straight by Hughes, although Shwartzman was able to regroup and take back third into Turn 13. Meanwhile Boschung was slow to react and was passed by both Daruvala and Pourchaire, with Daruvala coming out on top in fifth.
Daruvala then set the fastest lap shortly after and joined the battle for third at just half a tenth off Hughes and Shwartzman. But despite his speed he also couldn't find a way past, and on lap 15 Daruvala then spun at Turn 15 and dropped all the way down to 12th place.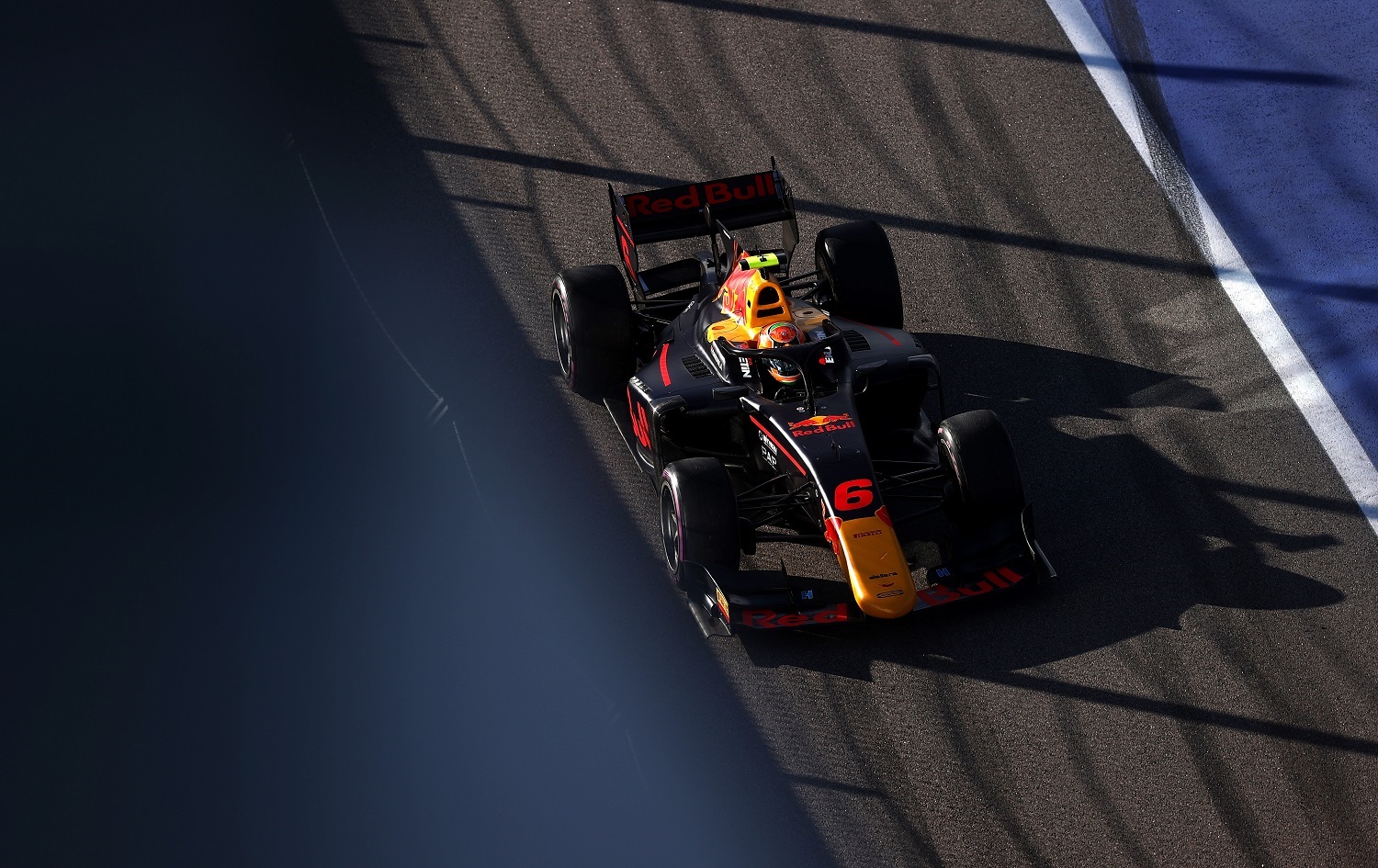 Back at the front Ticktum had come out best over Vips in both of the VSC restarts and had a four-second lead by the start of lap 10. Vips started to come back at the Carlin with a series of fastest laps and brought the gap down to 2.5 seconds by lap 13.
But Vips also ran wide several times as he struggled to keep temperature in his brakes and tyres, and so he was never able to get on the back of Ticktum. He managed to close to within two seconds on lap 16, but with only two laps remaining there wasn't enough time to challenge for the lead.
After Vips had a few more offs in the final laps, Ticktum crossed the line to take victory with 4.5 seconds in hand over the Hitech while Shwartzman finished third.
Hughes took his first F2 points with fourth place ahead of Pourchaire, who also recorded the fastest lap late on for an extra two points. Boschung survived a pair of lockups late in the race to finish in sixth place over Lundgaard, and Verschoor come home in eighth to deny Piastri the final point.