Esteban Ocon took his first Formula 1 victory and the first for the Alpine team in a chaotic race at the Hungaroring, after multiple drivers were taken out at the first corner.
15 minutes before the race start, rain started to fall on the track. Adding to the anticipation, it started light but was due to continue for the first 30 minutes of the race and get heavier before mostly drying out by the end of the race. Intermediate tyres on to start, Lewis Hamilton indicating on the radio he was ready for the fight in the rain. Hamilton and Max Verstappen are both known for performing well in the wet, possibly a leveller but definitely exciting!
Lights out and all eyes turned to Verstappen and Hamilton. Both got a great launch, but Valtteri Bottas had an absolutely dreadful start with wheel spin from third. Lando Norris got in front of him off the line but was tapped by Bottas from behind who had missed his breaking point. Norris then crashed into Verstappen and Bottas hit Sergio Perez. Norris and Verstappen managed to carry on with significant damage, but Bottas and Perez were out.
Further back in turn 1, Lance Stroll tried to avoid some cars by heading towards the apex, but ended up on the grass and collected Charles Leclerc who hit and spun around Daniel Ricciardo. Unfortunately, that was the race over for Leclerc.
Ricciardo kept going and Stroll was able to keep driving after damage to the front of his car. A red flag was called to gather the debris left around turn 1. This allowed the Red Bull team to fix Verstappen's car, potentially saving him from retirement. Norris and Stroll then had to retire due to the damage from the incident.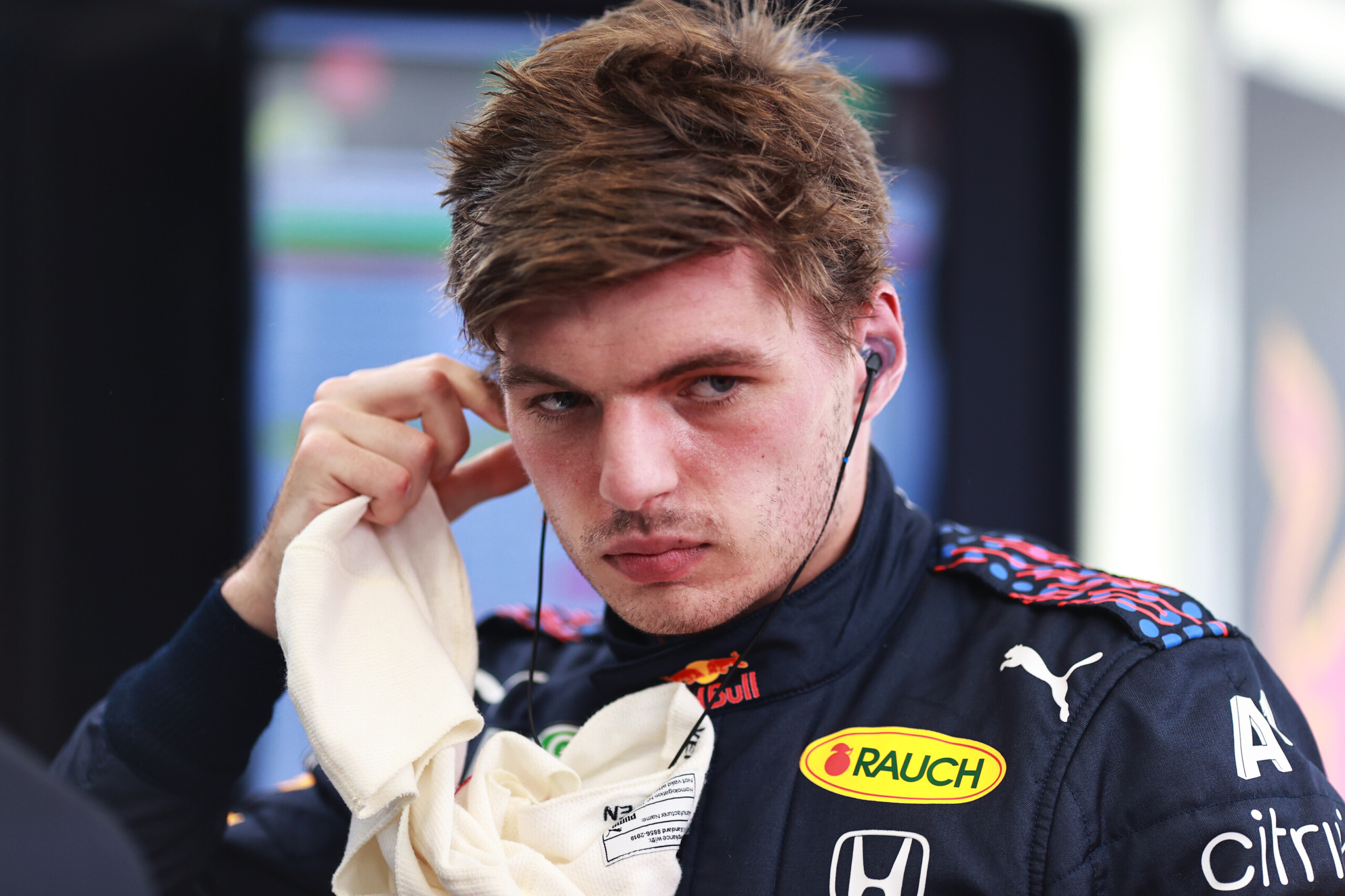 Hamilton was still in P1, but others had benefited from a high attrition first corner. Ocon and Sebastian Vettel were the biggest winners, starting P2 and P3 respectively. Yuki Tsunoda was in P5, Carlos Sainz P4 and the Williams' were P6 and P8 whilst Verstappen had really lost out and started in P13. A fight from the back was on after quick recovery work by Red Bull. There was a standing re-start as the sun came out to a now quickly drying track, but the question then was slicks or inters?
Hamilton was the only one starting on the grid, so the race was in the pits with everyone coming in for slicks. George Russell came out on top, and with Hamilton pitting after it looked like Russell would lead the race, but Russell was told by the FIA to give back the places he'd taken in the pitlane. Mercedes didn't come out well with Hamilton boxing after the restart and ending up last and importantly behind Verstappen. So, on lap 5 Ocon was leading the race, with Vettel P2 and Nicholas Latifi P3. Hamilton was catching Verstappen who still had damage, so the race was on!
Verstappen managed to get past Pierre Gasly but then became stuck behind Mick Schumacher for five laps before passing him with a daring move through Turns 1, 2, 3 and 4. They did touch but both were able to carry on. Meanwhile Hamilton was struggling behind Gasly, locking up a few times but both Gasly and Hamilton managed to pass Schumacher in the next two laps.
Hamilton stopped for hard tyres on lap 20 in an attempt to change the strategy and go longer. Red Bull and Verstappen responded so made the stop just one lap later. Ricciardo pitted at the same time as Verstappen, and he came out in front of the Red Bull. Hamilton was coming down the straight as the pair came out of the pits. Hamilton took advantage and got past not only Verstappen but also Ricciardo, putting a vital car between the Championship rivals.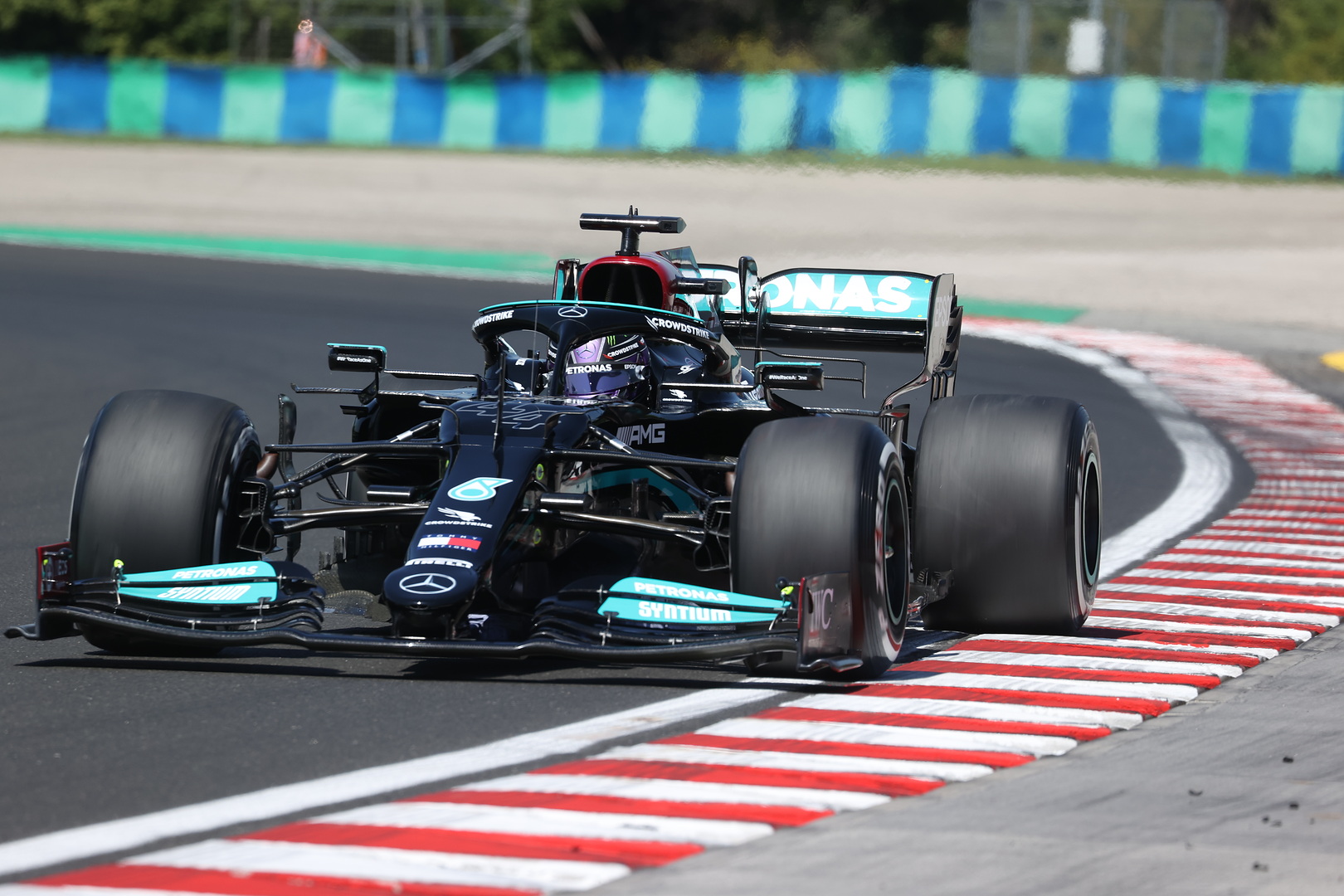 On lap 32, Hamilton was the fastest car in the race passing Tsunoda into P5 with a fantastic move while Verstappen was still behind Ricciardo in P12. This move caused Ferrari and Sainz to react, and with enough gap Sainz pitted and came back out in P4 with fresh tyres ready to defend against Hamilton.
Meanwhile Schumacher was doing a great job in the Haas to keep 4 drivers behind him. However, after many laps of battling, Russell finally made it past Schumacher on lap 33 with a brave move on the outside of Turn 2. Schumacher then begun to lose places rapidly to Ricciardo and Verstappen on the next lap, very important for Verstappen in terms of the championship.
From the front, Vettel pitted with a slow stop but came out in P3, ahead of Sainz and Hamilton. Ocon told to push but Alpine appeared to have the advantage with both cars in the podium places fight. A good stop meant Ocon came out ahead of Vettel, but Vettel tried to fight it into Turn 4. Sadly for him nothing came of it and with only Fernando Alonso in front of Ocon it looked to be an Alpine win from lap 39.
It wasn't over at the front though. Sainz and Hamilton in P3 and P4 were catching the leaders at a rapid pace. However, Hamilton pitted on lap 48 for the mediums. He came out behind Alonso, but this would mean he could push to the end of the race, with flashbacks to Hungary 2019 and Spain 2021. Vettel got closer to Ocon through the back markers in an attempt to pass him for the lead. On lap 50 the fight was not over with Vettel having DRS and the pressure piling on Ocon.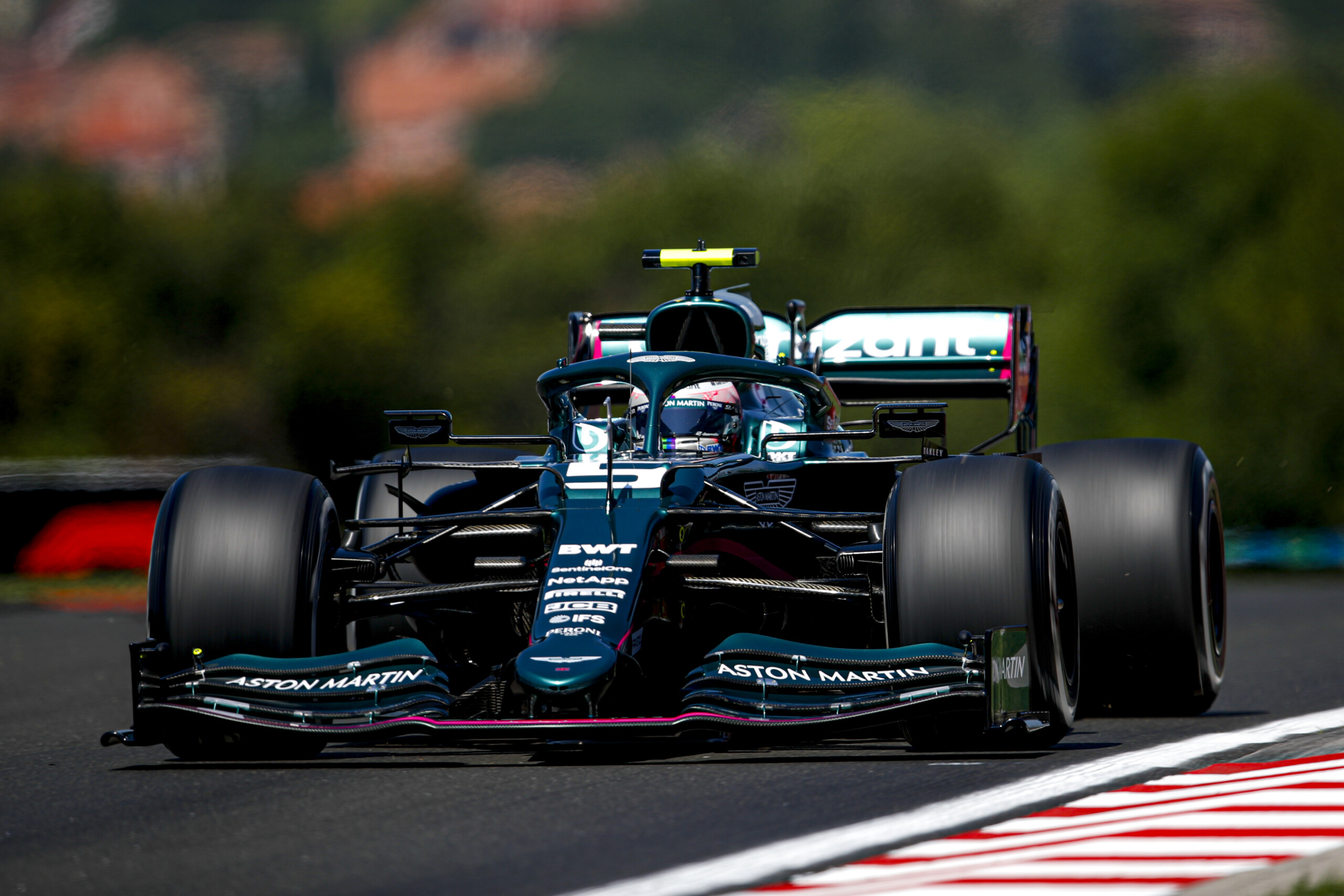 Verstappen finally made a move on Ricciardo for P10 on Lap 61 and the final points position. This could be an important point for the championship and impressive driving considering the significant damage still on his car from lap 1.
On lap 57 a brilliant battle between Hamilton and Alonso began, Alonso defending and making the Alpine the widest thing on the track. This epic battle continued for over 10 laps, but Hamilton was eventually close enough when Alonso made a rare mistake and locked up into Turn 1. This did create problems for Hamilton though, who was on a mission to get to the front. However, catching Sainz on older tyres in P3 meant that just two laps later, Hamilton was in the podium places, but the gap was too big for Hamilton to catch Vettel in P2.
Esteban Ocon won the Hungarian Grand Prix! The first win for him and a great turn around since a relatively poor run of form. Vettel was in P2 after a great drive from the restart. Sainz was P4 ahead of Alonso, Gasly sneaked in a fastest lap right at the end in P6, and Tsunoda was P7. Both Williams finished in the points with Latifi P8 and Russell P9, which is vital for the constructors and their first double points finish since 2018. Russell finally managed to get those illusive points in a Williams!
For the championship Hamilton gained points on Verstappen, who finished P10, and leads going into the summer break. This has been a real swing in momentum after the British Grand Prix in the favour of Mercedes and Hamilton. It is all to play for as the teams regroup and look to improve for Spa at the end of August.