We're in the final stages of the 2018 season, and as F1 entered round 19 of the calendar for the Mexican Grand Prix, another chance emerged for Lewis Hamilton to become a five-time world champion, with his rival Sebastian Vettel 70 points behind and just three races to go.
Qualifying was once again very close, with Daniel Ricciardo stealing pole from team-mate Max Verstappen by just 0.026 seconds. Behind them, it was close as well, with Hamilton, Vettel, Bottas and Raikkonen making up a very interesting grid.
On Sunday, Hamilton got an amazing start and got past pole-sitter Ricciardo, but didn't quite manage to get past Verstappen. Ricciardo dropped to third, with Vettel and Bottas still in fourth and fifth.
It took only five laps before the Virtual Safety Car (VSC) was brought out, after Fernando Alonso pulled over having had his car damaged by some flying debris from Esteban Ocon at the start.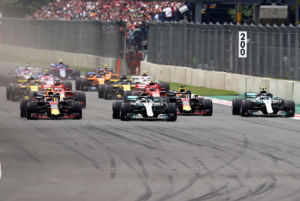 Hamilton started losing time to Verstappen once the green flag was shown, allowing Ricciardo to close to within DRS range by lap eleven, although he wasn't quite close enough to attempt an overtake.
On lap twelve, Hamilton came in for his first pit stop along with Bottas just seconds after, and Ricciardo and Verstappen pitting on successive laps, all opting for the supersofts. On lap fifteen, Verstappen used his DRS to overtake Raikkonen, the winner of last week's United States Grand Prix
With Raikkonen's tyres fading, he dropped into the clutches of Hamilton and Ricciardo, with the former pulling off an overtake in turns two and three.
On lap eighteen both Vettel and Raikkonen finally made their pit stops, switching onto the supersofts and making Verstappen race leader once again, this time by a margin of eight seconds.
A second Virtual Safety Car was brought out on lap 32, with Carlos Sainz having parked his Renault at the side of the track.  When the green flag was shown once more Vettel saw a chance to get past Ricciardo and, on lap 34, he  finally overtook the Australian and set about closing the gap to Hamilton. By lap 38 he was within a second, and the following lap he overtook his rival on the main straight.
He now had a thirteen second gap to Verstappen he needed to close down, but more interesting was the fact that Hamilton was losing almost a second per lap to Ricciardo. The Brit would still become World Champion even if he got overtaken, but that wouldn't be in style as he was now at risk of losing a podium place.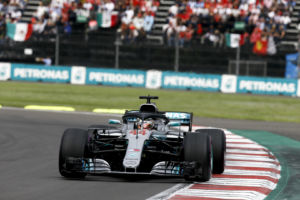 In an attempt to overtake Hamilton, Ricciardo tried the move on the main straight but Hamilton braked way too late and overshot the first corner, going across the grass. Unsurprisingly, he pitted at the end of the lap for a set of used ultrasofts.
With 22 laps to go, both Vettel and Verstappen pitted. Vettel went to the ultrasofts, whilst Verstappen opted for a new set of supersofts. This promoted Ricciardo into second place but, with him being on older tyres, Vettel soon closed the gap again.
On lap 62 Vettel's job was made a lot easier when Ricciardo once again retired due to an engine problem. The Virtual Safety Car was called out for the third time, and Bottas took the opportunity to pit.
After 71 laps it was an outstanding drive from Max Verstappen, who took the chequered flag and claimed his fifth win in F1. Following him home were the two Ferraris of Vettel and Raikkonen.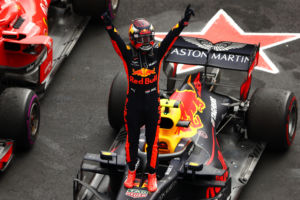 Verstappen's victory, however, was somewhat overshadowed by the fact that Lewis Hamilton finished in fourth place, which was enough for him to be crowned the 2018 Formula One World Champion. He gave the crowd a bit of a show by doing some doughnuts in the stadium section of the track. Even Will Smith left a radio message for him, and Vettel showed his sportsmanship by congratulating his rival.
There are still two races left of the season to go. Sure, the tension of the championship is now over, but that doesn't mean the upcoming races will be any less interesting. The Brazilian Grand Prix is up next, which always makes for a great race, especially as the weather gods always play their part there. But, for now, the party mode can be turned on at Mercedes.
Featured image: 2018 Mexican Grand Prix, Sunday – Steve Etherington