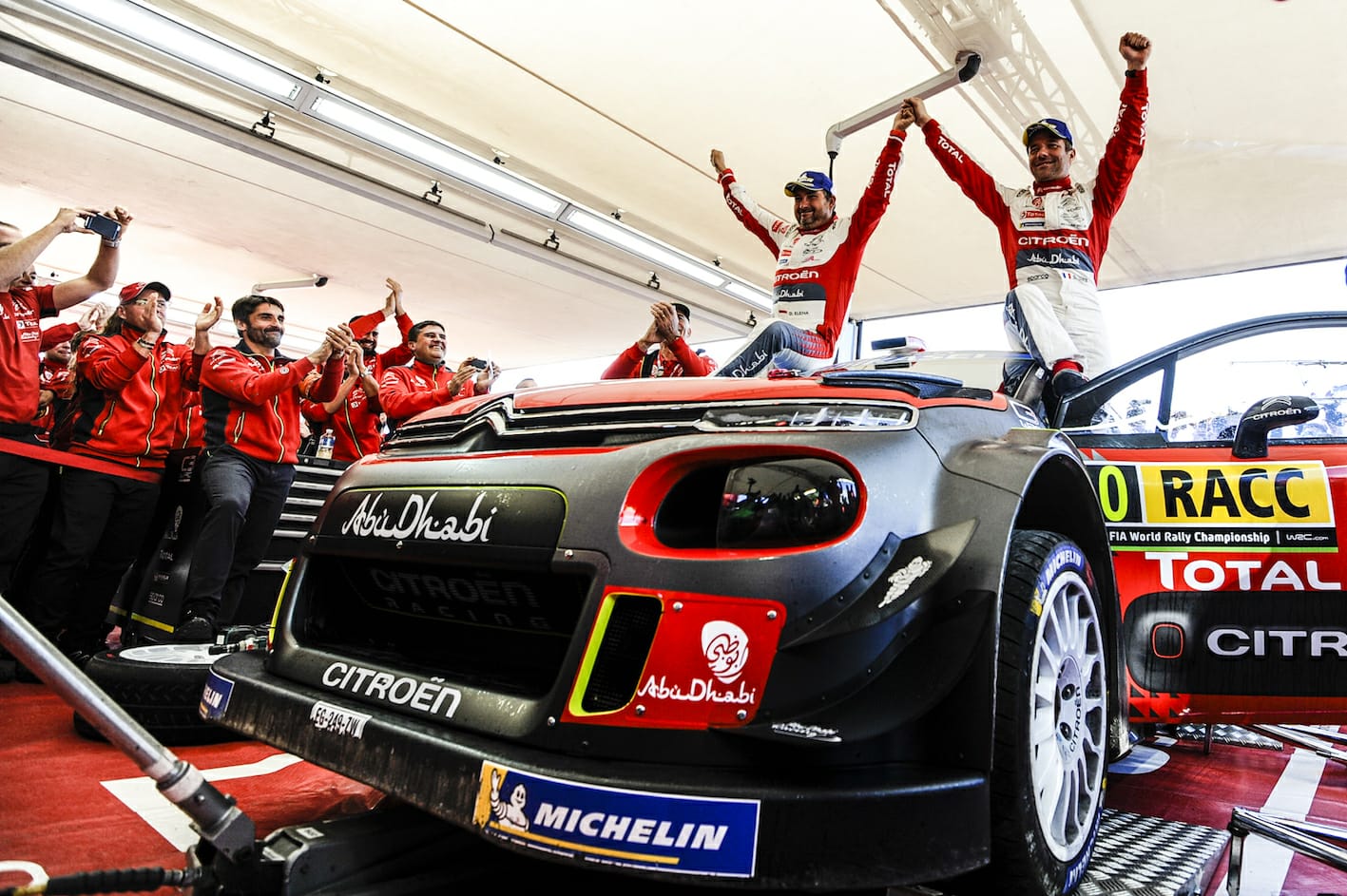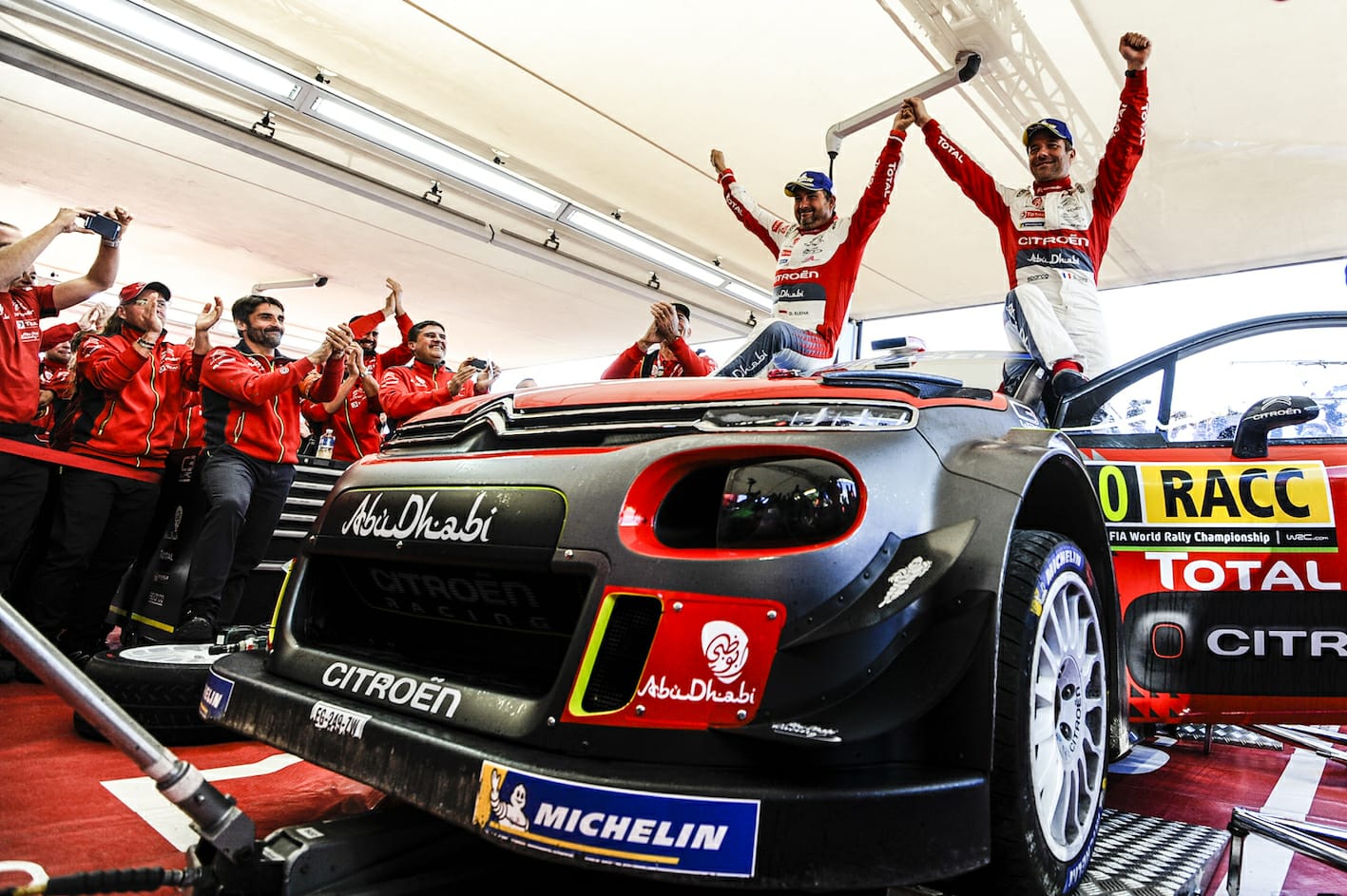 In the middle of a titanic battle for this year's championship between Thierry, Seb and Ott, nine-time world champions Seb and Daniel took Citroen's first victory of the year. Here's the story of how it all happened.
On Thursday evening, the short SS1 was won by Seb Ogier, with his title rivals, Thierry and Ott just a few seconds behind. Seb Loeb meanwhile had a spin and was 15.9 seconds off the lead. As always it seems during these short stages, there were three WRC2 cars inside the top ten, with Eric Camilli giving the Polo GTi R5 a first stage win in that class.
Friday
Friday would dawn a nice warm and sunny day. The first day always features gravel only stages, and there would be six stages in total, the longest being 38km's. The starting order looked like this – Neuville, Ogier, Tänak, Lappi, Latvala, Mikkelsen, Sordo, Breen, Suninen, Evans, Loeb, Al Qassimi, Block.
Ott Tanak put a charge on in SS2, winning the stage from Jari-Matti, with the welsh wizard Elfyn third. Seb Ogier was 4.1 seconds slower than Ott, the gap reduced to just a tenth of a second at the end of the seven-kilometre test. In the WRC2 class, it was another very good time from Eric in the Polo, keeping him in the lead of that class.
Into SS3 then and Jari-Matti set the fastest time, with Ott and Elfyn second and third fastest. Seb Loeb was quick too, with fifth fastest and climbing into the top ten as a result, despite being a bit nervous with the wet parts of the stage. Seb Ogier had fallen to sixth overall after only being tenth fastest in the stage, with the loose gravel not giving him the chance to really challenge. The top three was now Ott, Jari-Matti and Elfyn, with the young Welshman showing when things go well, he'll be right at the front.
Into the longest stage of the day then, SS4 and Jari-Matti lost time, dropping down the order to tenth. Andreas set the fastest time, with Ott and Seb Loeb just behind, meaning he'd passed Craig and moved into sixth overall.
After the service break, SS5 was won by Dani Sordo and Jari-Matti started his climb up the leaderboard, moving into eighth at the expense of Esapekka Lappi. Meantime, in the Citroen camp, Craig closed on Seb Loeb, in their battle for sixth. Ott remained in the lead, with Elfyn and Dani second and third.
Into SS6 then and Jari-Matti won it, with Craig and Ott sharing the second fastest time, four seconds behind the Finn. Seb Loeb and Craig were moving up too, moving into fourth and fifth at the expense of Andreas and Ogier who were now in sixth and seventh.
After SS7, there were a few position changes. Jari-Matti again won, with Loeb and Tanak sharing second fastest. Dani Sordo moved ahead of Elfyn into second overall, whilst Loeb was now in fourth overall. Jari-Matti moved up from eighth into fifth too!
Here's the top ten then after Friday's stages.
STANDINGS AFTER DAY 1
Tänak / Järveoja (Toyota Yaris WRC) 1:34:27.4
Sordo / Del Barrio (Hyundai i20 WRC) +26.8
Evans / Barritt (Ford Fiesta WRC) +29.7
Loeb / Elena (Citroën C3 WRC) +30.2
Latvala / Anttila (Toyota Yaris WRC) +37.6
Mikkelsen / Jaeger (Hyundai i20 WRC) +39.1
Ogier / Ingrassia (Ford Fiesta WRC) +39.4
Breen / Martin (Citroën C3 WRC) +44.7
Neuville / Gilsoul (Hyundai i20 WRC) +59.7
Lappi / Ferm (Toyota Yaris WRC) +1:07.4
The thought's then of the drivers- top three first.
Ott Tanak
"Overall, I would say we have had a very good day, particularly from our position on the road as everybody starting behind us in the order had better conditions. I had a good rhythm this morning, particularly the first two stages which were quite nice and flowing. In the beginning of the afternoon I had a really good feeling with the car. We lost that feeling a bit in the middle stage, but I was still able to keep pushing and now we have a good gap. Nothing is finished yet though: Tomorrow we have a new rally and it looks like it will be wet."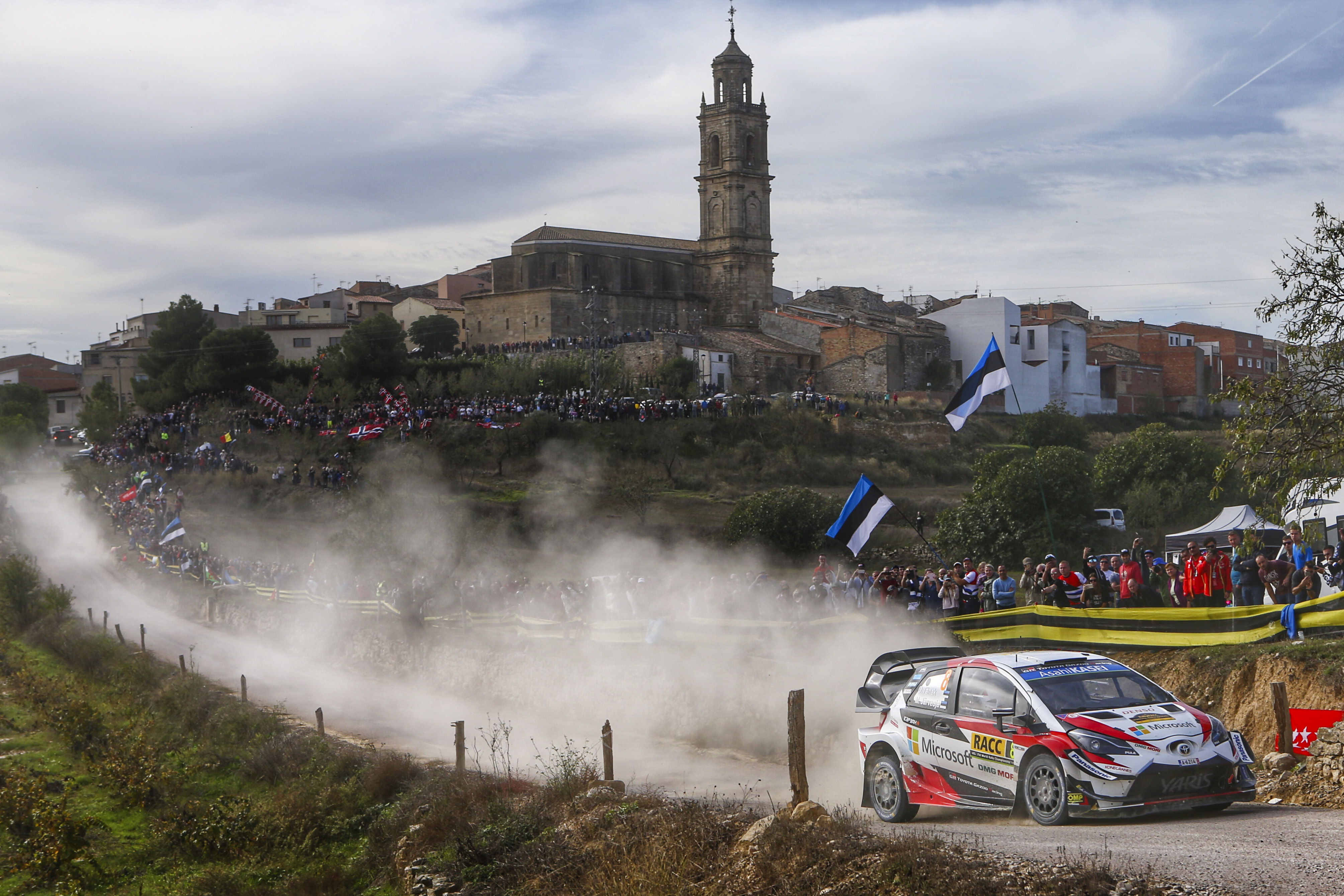 Dani Sordo
"I am very happy to be back with the team for my home rally. It is always a pleasure for us to compete in front of the Spanish crowds. I am quite satisfied with my day and to be in a position to fight for the podium. It's very competitive and there are lots of crews who are fighting for the top-three. If we want to remain in the battle, we have to push hard and show what we are capable of. The feeling inside the car has been good today but we will see what we can do when we move onto tarmac on the final two days."
Elfyn Evans
"It's been a pretty strong day for us but I was disappointed to have given so much time away on that last stage – I would have preferred not to have done that! But tomorrow is another day and the gaps are so close that you could almost start a new rally – it's going to be interesting for sure.
"It looks as though the weather could be fairly challenging and coming from Wales I'm used to a bit of rain, but we don't have so much Tarmac so let's wait and see what happens. The gaps are really small throughout the field so nothing can be taken for granted and it's all to play for."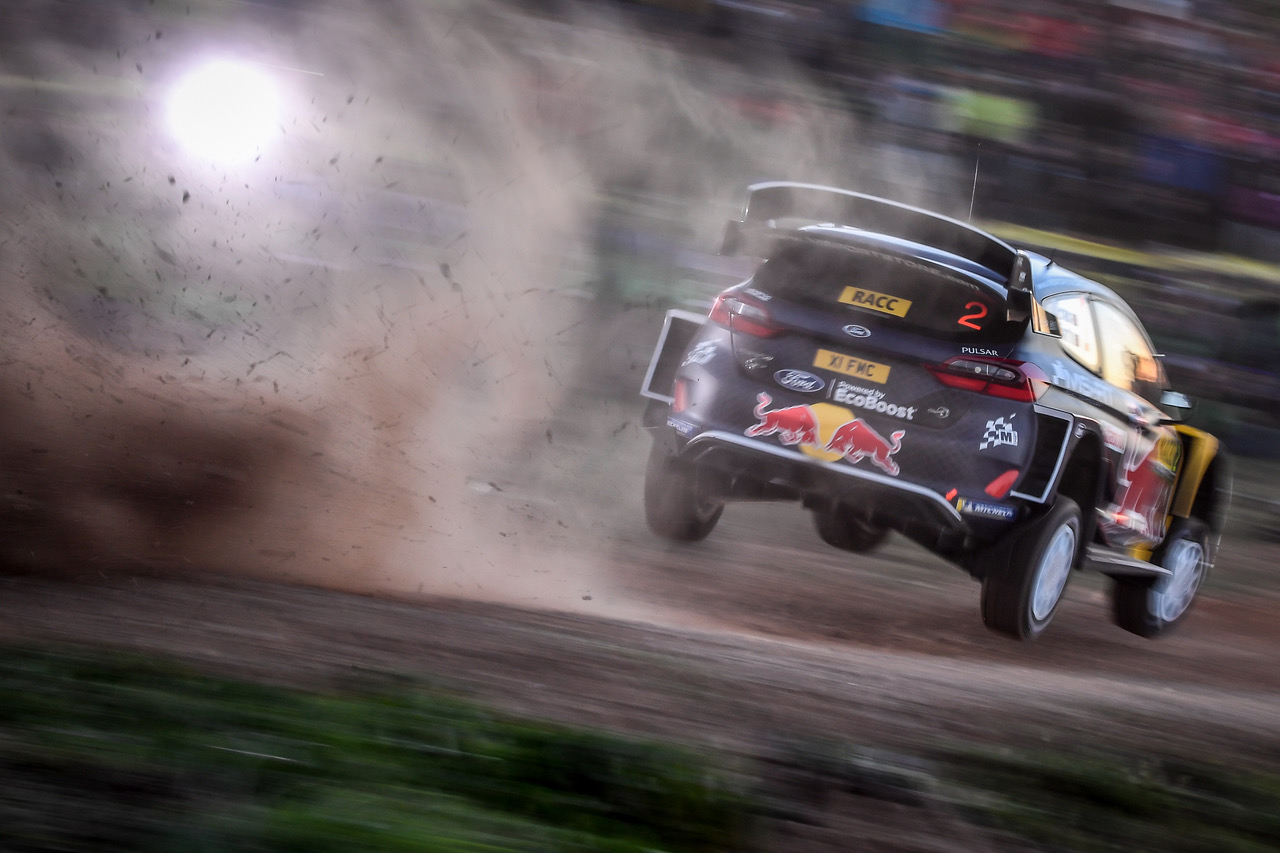 Citroen Abu Dhabi Racing WRT
Sébastien Loeb (4th)
"After suffering a bit of understeer this morning, we made some changes to the set-up of my C3 WRC, and I felt full of confidence this afternoon and could really express myself. That meant we were able to close in on the battle for the podium, and now everything's to play for. I haven't driven on tarmac stages in the wet for six years so if we do get rain, that'll be quite a big challenge!"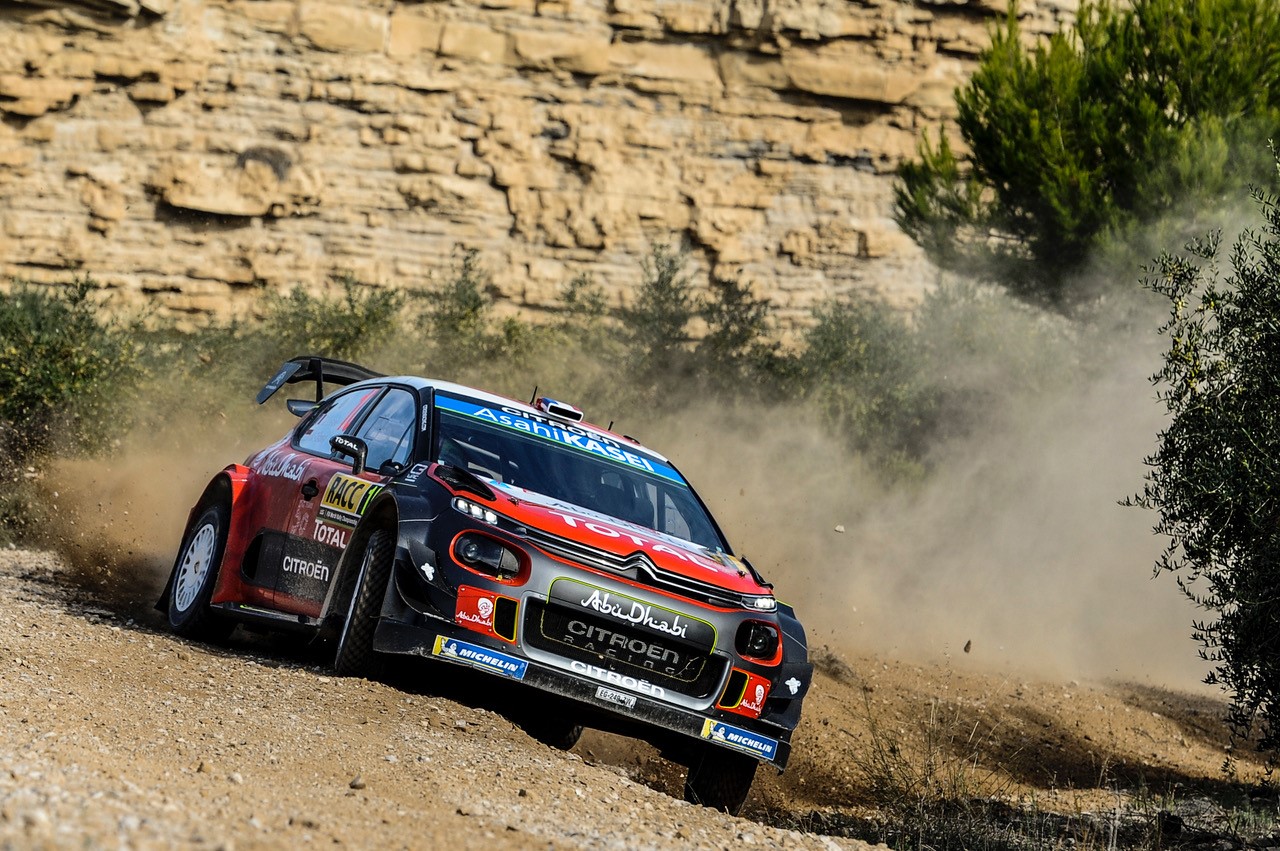 Craig Breen (8th)
"It's been a bit of an up and down day. We set several good times but we also had a fair bit of misfortune. We lost almost twenty seconds with a spin this morning, then we lost part of the spoiler this afternoon. Without those issues, we'd be a lot closer to the fight for the podium. I love tarmac and I'm determined to make the most of one of the rare opportunities that we have in the year to drive on it and try and make up some ground."
Khalid Al Qassimi (23rd)
"After not being comfortable this morning, we managed to find the solution with the technical team so that I could drive with confidence in the afternoon and really enjoy myself in the car. With very little competitive experience on wet tarmac, I'm expecting tomorrow to be a massive challenge for me!"
Hyundai Motorsport
Andreas Mikkelsen (6th)
"In the opening stages this morning, I struggled to find any control from our Hyundai i20 Coupe WRC. Each time braking into a corner I lost the rear and you really need to position the car at the right angle. We made a few changes, including the roll bar position, and the feeling was then suddenly there. I could push and we were fastest in the long stage before lunch, which was a nice feeling.  We took a gamble in the afternoon with six tyres, but the conditions were cooler and the tyre wear was a lot less so it didn't really pay off. It's very close in the podium fight so we'll aim to get ourselves further up the order tomorrow."
Thierry Neuville (9th)
"We have been absolutely on it all day, and could not have given any more. We have gone as fast as we could but it has been hugely disappointing to struggle so much in the loose conditions, especially as first on the road. This morning, we just couldn't find the rhythm and also made a mistake towards the end of the loop; it's difficult to do much more from that starting position. A tricky day but we are not too far behind Ogier, so have to remain positive. Tomorrow we will face different conditions on tarmac. We'll keep pushing."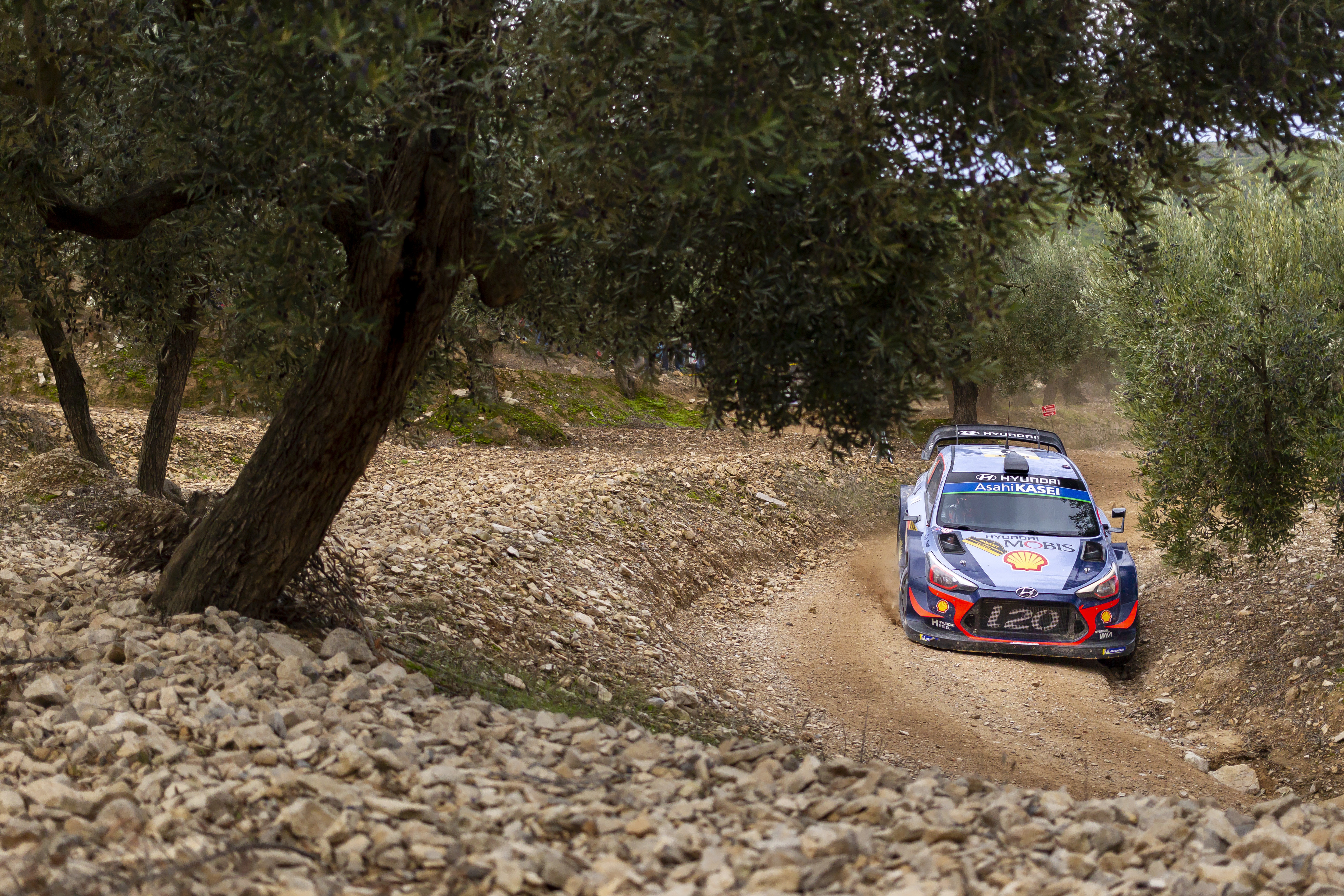 Toyota Gazoo Racing WRT
Jari-Matti Latvala (5th)
"I had a very good feeling with the car and with the driving from the very beginning today. The first two stages went well, and the third one was going really nicely too, even on the asphalt where I've struggled in the past. Unfortunately, we then got the puncture, which was incredibly frustrating. But we were able to keep the same speed in the afternoon, and this is the most important thing. The driving has been easy and I haven't had to think about it too much."
Esapekka Lappi (10th)
"It has been a really challenging day to be honest. We had some little issues here and there, but at least we were able to keep going. On the last stage we showed that when everything is right we can do a nice time, but we need to try and improve. Now we switch to asphalt and I am looking forward to that. Rain would obviously make it very challenging, as I haven't driven in those kinds of conditions on these roads before, but let's see."
M-Sport Ford WRT
Sébastien Ogier (7th)
"It's been a tough day for us as there was a lot of cleaning out there. I tried everything I could, but it was so difficult running near the front of the field. The only one who made a difference out there today was Ott – he managed to set some incredible times!
"I gave it everything and only made one very small mistake this morning when I ran a little wide into a field and lost a couple of seconds. I wasn't in full attack mode first thing this morning which probably cost us another couple of seconds, but other than that we have pushed very hard all day.
"The positive is that we are only 12 seconds behind second place which is definitely what we need to fight for tomorrow when it will be a completely new rally."
Teemu Suninen (11th)
"It's been a really tough day for us and we were struggling to get into the right rhythm. I was struggling to stay on the line and carry the speed through the corners. We have a good idea what the problem was, and the afternoon was a bit better, but there wasn't so much we could do after one service. Tomorrow will be like a new rally so we will focus on setting some better times on the Tarmac."
Saturday
It was raining on Saturday morning, giving the crews a lot to think about. The cars had been changed into tarmac mode with major changes to suspension and brakes. The start list looked like this – Al Qassimi, Suninen, Lappi, Neuville, Breen, Ogier, Mikkelsen, Latvala, Loeb, Evans, Sordo, Tänak. Seven stages would make up Saturday's action. Unfortunately, the first stage of the day, SS8 was cancelled due to safety reasons.
The day would therefore start with SS9. Ott would pick up from Friday and win the first stage of the day from Latvala and Sordo. With such a fast time from the Finn, he moved ahead of Loeb into fourth place, just a couple of seconds from Elfyn. Andreas was the biggest loser though, dropping to tenth overall. He just struggled with confidence in the super slippery stage. Showing how remarkable rallying can be, Craig spun in the stage, losing part of his rear wing, yet he gained one position. Ott Tanak set a great time and his lead an incredible 32.9 seconds
It was all change though at the top come the end of SS10. Jari-Matti won the stage from Lappi and Neuville, but Ott picked up a puncture in the stage, and lost 1 minute 43 seconds! He was now in ninth place. Dani was the new leader, with Latvala in second place, just three tenths off the lead. Elfyn was now back into third, showing great composure.
Following the service break, Latvala took the lead from Dani who could only manage the ninth fastest time in SS11, but it was Thierry who won the stage from Ott who was now eighth overall and a minute from the lead and Esapekka.
Into SS12 and the wet conditions were challenging indeed, with Craig suffering a spin. Loeb though showed great pace, winning the stage and passing Elfyn for third overall. Thierry also drove a great stage, a full seven seconds faster than Ogier and halving the gap as such.
Neuville and Ogier were hard to separate at the end of SS13, just nine tenths of a second between them and they both moved up the overall leaderboard as a consequence, with Ogier moving into second and Thierry into fifth place.
The short SS14 stage completed the day and the top three was Ott, Kalle Rovanperä and Ogier. Yes, the WRC2 Skoda Fabia was just one tenth of a second behind the Yaris!
It was all to fight for then, with just ten seconds covering the top four going into Sunday's stages.
STANDINGS AFTER DAY 2
Latvala / Anttila (Toyota Yaris WRC) 2:35:01.8
Ogier / Ingrassia (Ford Fiesta WRC) +4.7
Loeb / Elena (Citroën C3 WRC) +8.0
Evans / Barritt (Ford Fiesta WRC) +9.8
Neuville / Gilsoul (Hyundai i20 WRC) +12.7
Sordo / Del Barrio (Hyundai i20 WRC) +16.5
Lappi / Ferm (Toyota Yaris WRC) +46.5
Tänak / Järveoja (Toyota Yaris WRC) +1:00.7
Breen / Martin (Citroën C3 WRC) +1:37.9
Mikkelsen / Jaeger (Hyundai i20 WRC) +2:07.3
Here's the thoughts of the drivers after day two – Top three first.
Jari-Matti Latvala
"To be leading after our issue yesterday is a great feeling and shows why you should never give up. The conditions were very demanding all day with the rain and lots of mud coming onto the road. The car was working well though and I think our tyre choices were good. In the last two stages I was a little bit cautious and we lost some time but we are still leading. It is going to be a big fight tomorrow. I have a five-time champion and a nine-time champion right behind me, but I will just focus on my own driving and keeping it relaxed: this will be the key."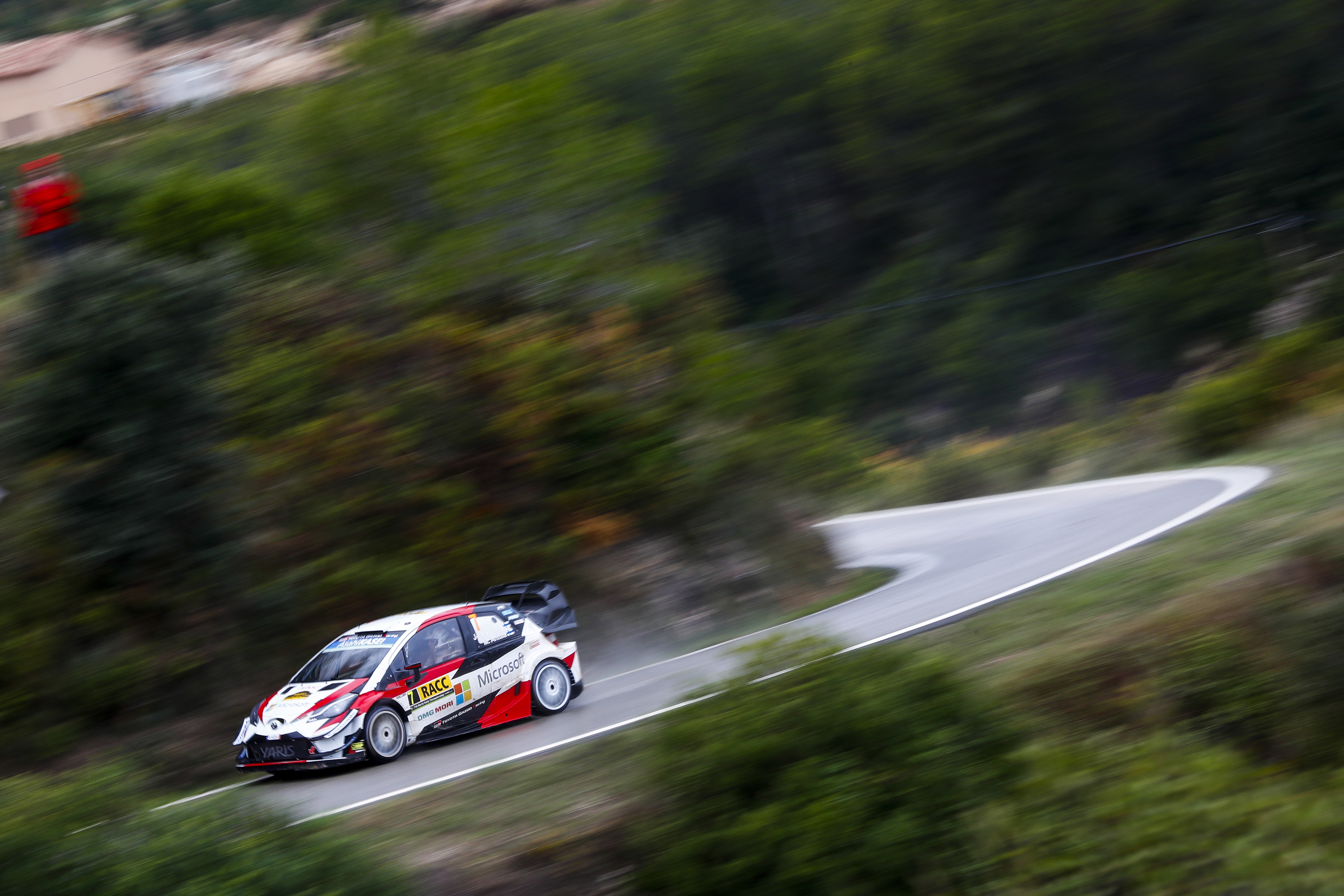 Sébastien Ogier
"It's been a tough day with the conditions and I don't think we made the right tyre choices, but we did the best with what we had. I tried to minimize the time loss as much as I could, but it was difficult. Some stages this afternoon were very dirty and really tricky. It's all very close now, and we're still in a position to fight for the victory tomorrow. It's going to be a really close battle, but our main target is to stay ahead of Thierry."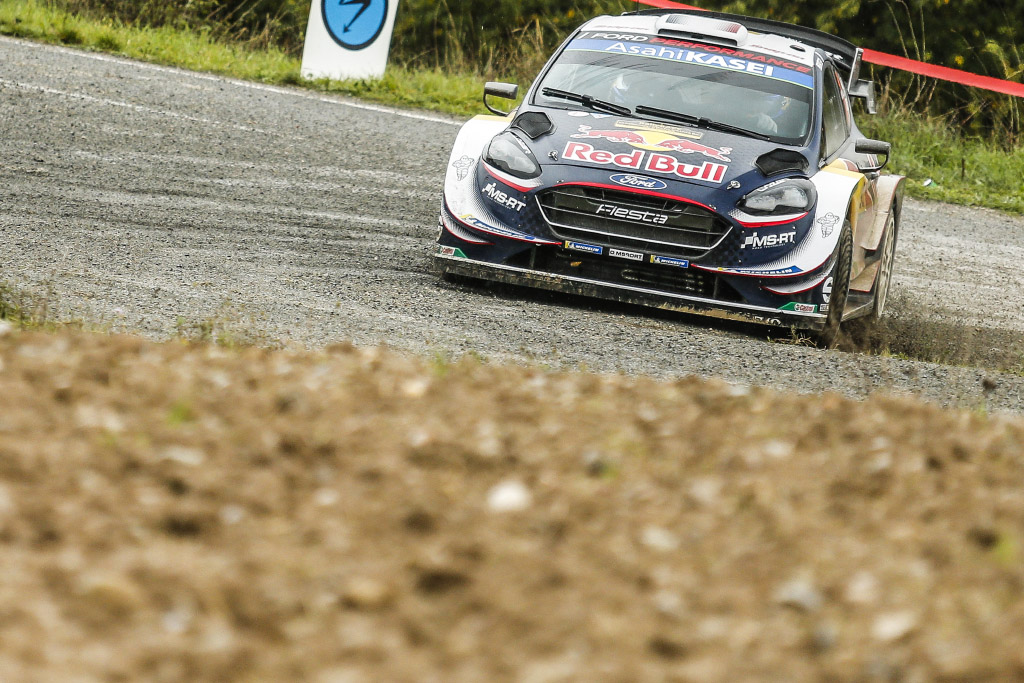 Sébastien Loeb
"Obviously, I'm pleased with my day, even though it was stressful and pretty complicated because we had expected the roads to dry out more. But, I'm pleased with my driving, although it took me a bit of time to get back into the swing of things this morning. I gave it my all throughout the leg, without making any mistakes despite the really tricky conditions. We're still right in the mix and that's the main thing. We're going to keep pushing because it's so tight at the front that anything can happen."
M-Sport Ford WRT
Elfyn Evans (4th)
"It's been another challenging but rewarding day. The conditions made for some fairly tricky stages, but we delivered a clean and tidy drive and are in a good position going into the final day. It's so close out there and it really is anyone's for the taking. We're still in the hunt and we'll keep pushing to bring home a strong result."
Teemu Suninen (11th)
"It's been another difficult day for us. This was our first time driving on wet Tarmac with this car and there were a lot of new things for me to learn. We also had some issues with the brakes in the middle stage this afternoon [SS12]. But then on the last long one [SS13] I was able to set quite a good time and I was happy with that. Of course, there are still some seconds to find, but we showed some improvement which was good."
Hyundai Motorsport
Thierry Neuville (5th)
"It has been a very strong Saturday for us. We have had a great feeling from within the car and we have been able to really push throughout the entire day. The tyre choice this morning was not easy with the wet conditions but we had to find a compromise. It was perhaps not the fastest but we made it through. We took two stage wins this afternoon and have climbed up to fifth place overall, just 12.7 seconds from the lead. It's really close, and anything is possible. I can say for sure that we will continue to fight hard. There's all to play for on Sunday."
Dani Sordo (6th)
"I would summarise the day as one of two halves – a positive morning and a trickier afternoon. We had a promising Friday and we continued in that way on the opening loop today. We could set some good stage times and moved into the lead of the rally by lunchtime service. It's always nice to lead a rally but even more so in front of our home fans. Sadly, we couldn't maintain that pace on the muddier stages this afternoon, losing time to the leaders. However, we are still in touch and there are four stages on Sunday to get ourselves back towards the podium."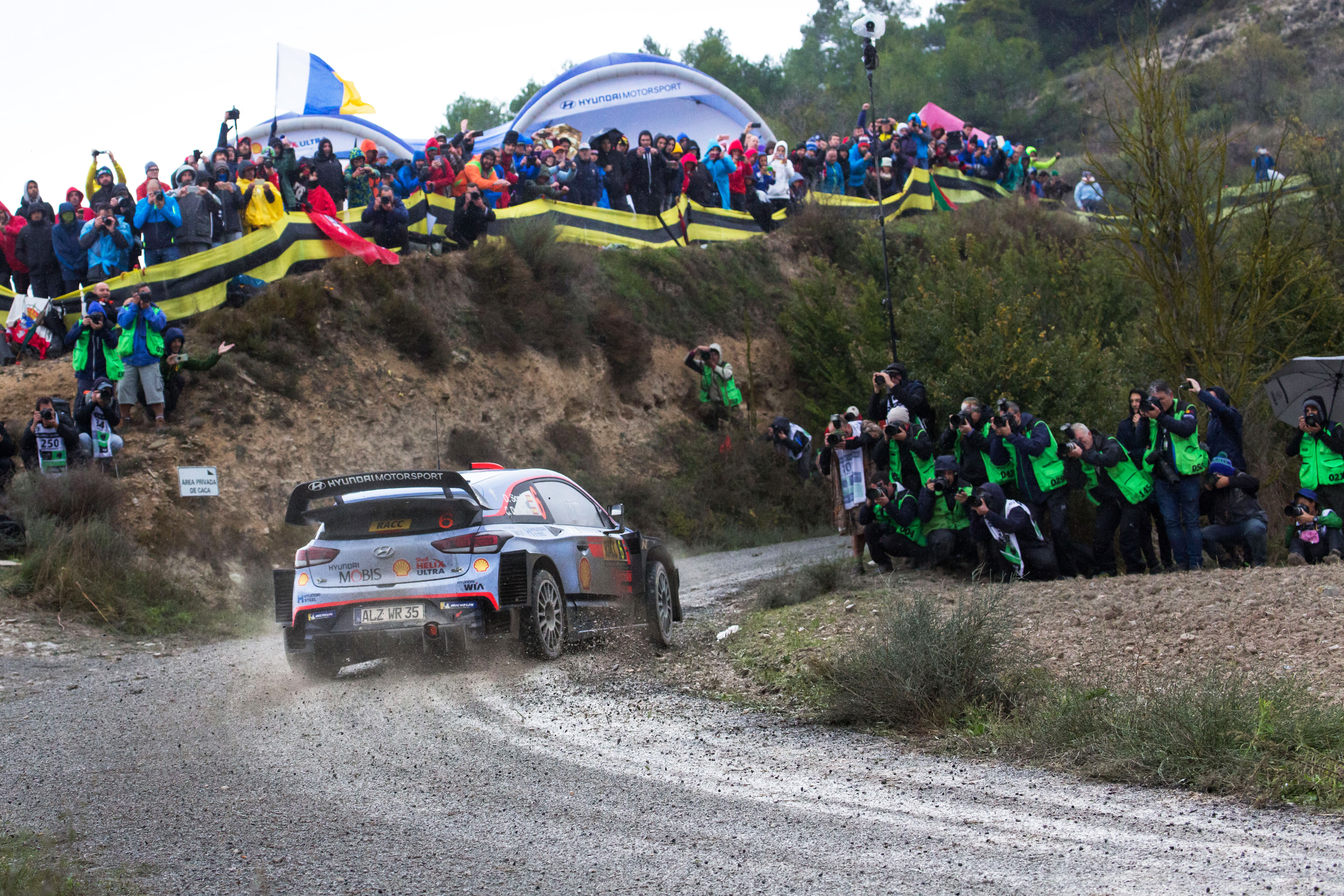 Andreas Mikkelsen (10th)
"Not a good day for us. We didn't really understand why we struggled to get a good feeling. It is the first time we've really tackled competitive stages with this car in such conditions. The afternoon loop didn't go much better so we will have to analyse what we've done today to see if there's anything we can do before the final stages on Sunday morning."
Toyota Gazoo Racing WRT
Esapekka Lappi (7th)
"I am pretty happy with today. We had a good tyre strategy in the morning, and it wasn't too bad in the afternoon either. On the long stage, SS13 this afternoon we had a small mistake on a really muddy corner and that lost us a lot of time. But otherwise the speed was there. Overall it was definitely more positive than yesterday. Tomorrow we can't really catch those ahead but we will try to reach the finish and enjoy it."
Ott Tänak (8th)
"Obviously it has been a tough day. It started fine but then we got the puncture and lost a lot of time.
This afternoon we had the worst position with all the dirt on the road. I made a mistake myself – we had a spin in the long stage, SS13 – but otherwise we did all we could. Let's see what the weather brings tomorrow, as it looks like it will be another challenging day. In the drivers' championship there is not much we can do now, but we are also fighting for the manufacturers' championship and this is still looking good, so I will give my best for this."
Citroen Abu Dhabi Racing WRT
Craig Breen (9th)
"We haven't had the day we were hoping for, even though the pace was there again. Unfortunately, our two spins have proven very costly. But I'm going to give it everything to try and finish on a positive note tomorrow."
Khalid Al Qassimi (19th)
"It was quite tricky this morning, driving in the wet on soft slicks. I was more comfortable this afternoon with rain tyres, even though the mud in places didn't make my job any easier. I'm pleased to have avoided making any mistakes and I feel like I have learned more things today."
Sunday
We had just four stages to complete the event, totalling 61.70km's of action. The start list had been changed again – Al Qassimi, Suninen, Mikkelsen, Breen, Tänak, Lappi, Sordo, Neuville, Evans, Loeb, Ogier, Latvala.
The first stage of the day was damp, but drying. Loeb won SS15 from Dani and Thierry and this was good enough for him to take the lead from Latvala! This was after deciding to change to the hard compound Michelin. Thierry also closed the gap to Elfyn in their battle for fourth overall.
Into SS16 and Loeb increased his advantage over Latvala to 7.1 seconds. After going second fastest in the stage, Ott passed Esapekka for seventh overall. Meanwhile, Elfyn had found that he got passed by both Thierry and Dani and dropped to sixth overall.
Just two to go then and Ogier won SS17 from Evans and Sordo. Loeb suffered a spin, but maintained his lead over new second placed man, Ogier. What had happened to Jari-Matti? He'd clipped some Armco in the stage and broken his wheel. He lost 48 seconds as a result and was now in sixth place. Evans was now just two seconds behind Neuville and M-Sport wanted him to get the podium to take more points away from him.
Well, the final stage then and the power stage too. Who would fill the top five places and gain those points? Well, the top five looked like this. Tanak, Ogier, Loeb, Evans, Sordo. No power stage points for Neuville.
Well, Seb Loeb had won his first world rally championship event since Argentina 2013! Meantime, Seb Ogier had finished in second and Elfyn Evans secured third place, beating Thierry Neuville by just half a second! All of this meant that Thierry had lost the championship lead and was now three points behind Ogier.
Here's final finishing positions.
FINAL STANDINGS
Loeb / Elena (Citroën C3 WRC) 3:12:08.0
Ogier / Ingrassia (Ford Fiesta WRC) +2.9
Evans / Barritt (Ford Fiesta WRC) +16.5
Neuville / Gilsoul (Hyundai i20 WRC) +17.0
Sordo / Del Barrio (Hyundai i20 WRC) +18.6
Tänak / Järveoja (Toyota Yaris WRC) +1:03.9
Lappi / Ferm (Toyota Yaris WRC) +1:16.6
Latvala / Anttila (Toyota Yaris WRC) +1:26.4
Breen / Martin (Citroën C3 WRC) +2:07.0
Mikkelsen / Jaeger (Hyundai i20 WRC) +2:48.2
The final thoughts then – Top three first.
Sébastien Loeb
"It was an almighty scrap, right to the bitter end. When I saw that I had won on the display at the end of the final stage, it was a truly incredible feeling! It's really nice to have managed to be on the pace again after all these years, because the guys haven't stood still whilst I've been away and they really pushed hard every inch of the way. I couldn't afford to drag my heels in getting my bearings back on the gravel on Friday, or on the wet tarmac yesterday either. We were quick this morning after making the right call on tyres and then we held on, despite a minor error on the penultimate stage. Right now, given how the rally panned out, I'd be tempted to say it's perhaps my greatest win and I'm delighted to secure what is a richly- deserved result for the team."
Sébastien Ogier
"It's been an eventful weekend but we're feeling good at the end of it. We knew that it would be difficult starting second on the road and the wet conditions made it really challenging as well. But we never gave up and gave it everything we had. You're always a little frustrated when you miss the victory by such a small margin, but we tried everything we could and it's still been a positive weekend as we regained the lead of the championship. Starting first on the road in Australia will be difficult, but I prefer to have the points in hand. It will be a tough rally and we will have to give it everything we have if we want to regain the title."
Elfyn Evans
"We came here to secure a good result and that's what we got. The speed has been up there for the past few rallies now, but for various reasons we've come away empty handed. It's good to finally see that speed rewarded and to show that we had the pace on both surfaces here in Spain."
Hyundai Motorsport
Thierry Neuville (4th)
"This has been a crazy and intense rally, which summarises the highly competitive nature of this entire championship. I am obviously disappointed not to have had the chance to finish on the podium today and to score valuable extra points in the Power Stage. We were unlucky; there was a stone in the road that I couldn't avoid and it damaged the right rear wheel rim. Yesterday, we caught back up with the front- runners by taking some risks. Today we had hoped to compete with the Fords but we just weren't able to manage it. The title fight is wide-open heading to Australia – both drivers and manufacturers – which is a great advert for WRC! We won the rally from second on the road last season so everything is possible."
Dani Sordo (5th)
"I am not entirely happy with the weekend or the result but at the same time I'm not too disappointed. We have lost some time over the rally due to difficult tyre choices but it's not been an easy event to read from a strategy point of view. I have done my best and also set some competitive stage times too, so it's not all bad. We were in the fight right until the end and it was definitely an exciting rally for all of the fans. As always, it's a pleasure to compete in my home rally and I hope we have given the spectators the entertainment they have become used to watching."
Andreas Mikkelsen (10th)
"Once again, we have not come away with the result we were expecting or know we are able to achieve, but we've tried our hardest. I can't quite explain why the feeling or the pace is not there. Today's final stages allowed me to get some drier running and to try out a set-up that worked well in testing. It still wasn't perfect so we just have to keep working to unlock whatever is missing. It's been a tough rally with changing weather conditions, as well as gravel and tarmac stages, so not at all straightforward. We have to keep our heads up and put our full effort into the final round of the season in Australia, and to support the team and Thierry as best we can."
Toyota Gazoo Racing WRT
Ott Tänak (6th)
"Today the driving was very enjoyable. After the tricky conditions yesterday, these were really the typical Catalunya asphalt roads which we had been looking forward to. In the Power Stage I had more or less nothing to lose. OK, we still needed to finish but I pushed very hard as it was my only chance to stay mathematically in the championship fight. I did all I could and we will not give up. We also still have a strong position in the manufacturers' championship."
Esapekka Lappi (7th)
"It has been a tough weekend, but it is nice to finish this rally for the first time, which is important, and I think I learned a lot during the weekend. Today I didn't have much to fight for in the overall standings: I just needed to bring the car to the finish and secure the points for the manufacturers' championship, and in this sense, everything went well."
Jari-Matti Latvala (8th)
"We were too soft with the tyres and with the setup this morning, but the second stage was a lot better and the fight for the win was still on. The car felt really good and everything was going well. Unfortunately, in one corner I turned too quickly and I touched a pillar that was supporting the barrier. It damaged the tyre immediately so we had to drive half the stage with a punctured tyre. I am really sorry for my mistake, but this can happen when you are fighting for every tenth of a second. The result was not what we wanted but I am very happy with the performance this weekend, and I am really looking forward to Australia."
Citroen Abu Dhabi Racing WRT
Craig Breen (9th)
"It was a difficult weekend for us, even though we had great speed at times, especially on the gravel. But we lost a lot of time with our spins. We had nothing to play for today, but we enjoyed ourselves behind the wheel and that was the aim, so we can head for Australia in the best possible frame of mind."
Khalid Al Qassimi (21st)
"With the unpredictable weather, it wasn't an easy race for me. We improved gradually on gravel, on tarmac, I wasn't comfortable on the wet roads yesterday, but I had more confidence today."
What an amazing rally! Five different leaders, and a 79th win for Seb Loeb and Daniel Elena. The other standout performance was Elfyn Evans. He and Dan Barritt put together a really great drive, shading some drivers who have factory seats.
Well, there it is! What a championship finish we are going to have in Australia! The favourites have to be the top two, but I think it's safe to say, we cannot discount Ott Tanak. Seb will have to open the road on Friday, and to keep the gaps small, will need to push hard. Thierry will want to win the rally and take the championship as well! We only have 16 days to go!
Here's the championship standings;
DRIVERS' WORLD CHAMPIONSHIP
Sébastien Ogier – 204 points
Thierry Neuville – 201 points
Ott Tänak – 181 points
Esapekka Lappi – 110 points
Jari-Matti Latvala – 102 points
Andreas Mikkelsen – 84 points
Dani Sordo – 71 points
Elfyn Evans – 70 points
Craig Breen – 61 points
Hayden Paddon – 55 points
MANUFACTURERS' WORLD CHAMPIONSHIP
Toyota Gazoo Racing – 331 points
Hyundai WRT – 319 points
M-Sport Ford WRT – 306 points
Citroën Total Abu Dhabi WRT – 216 points