Just a few months after the 2022 season finished with a victory for Max Verstappen and his RedBull team in both championships in what was their most dominant season ever, the F1 family arrived in Bahrain ready for just 3 days of testing before the new season would begin at the same circuit.
It was a very busy 3 days with the teams trying to get a grip on their new cars and hoping to see improvements from last year.
Testing times are always difficult to read with differing fuel loads, not knowing which engine modes are being used and teams even hiding their hands to not give too much away. However, you can always tell which teams are happy with their winter's work and which ones are confused and wondering where they have gone wrong.
With no big rule changes this year, most cars would just be an evolution of last year's car. The main rule change was the floor being lifted by 15mm, this would mean a loss of downforce but most teams would have recovered this already by the time the test ended. In fact, during the first morning of testing the cars were already beating last year's times.
The quickest times from each day were ;
Day 1 – Max Verstappen – 1.32.837
Day 2 – Zhou Guanyu – 1.31.610
Day 3 – Sergio Perez – 1.30.305
Obviously, this time next week, times will be critical but as this is testing they are not the most important thing to look for. How many laps the teams do, reliability issues, how easily they switch each compound of tyre on, and how easily the balance can be changed are among the things teams will be looking at. With that in mind a summary of each team shows the following.
RedBull – 413 laps (Verstappen – 1.31.650  – Perez – 1.30.305)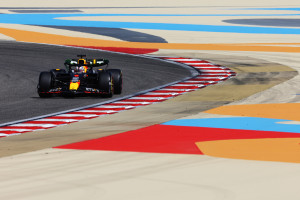 The World Champions may not have completed the most laps but they had seemingly no problems during the three days, in fact, the biggest drama seemed to be when the car fell off the jack in the pitlane during one of the sessions. For the rest of the field, it looks ominous as they ran through 3 days of programmes without any issues and were quick on each compound of the tyre. It was very reminiscent of the early Hybrid era days when Mercedes used to pound round tracks for fun and be fastest even without trying for performance. In fact, Verstappen only used the C3 tyre for the whole test not feeling the need to use any of the softer compounds, yet looking quick at all times and having what looked the easiest car to control. 2023 could be yet another year of domination for the reigning champions.
Ferrari – 416 laps (Leclerc – 1.31.024 – Sainz – 1.31.036)
Last year's runners-up started testing with the hope that stopping the development of last year's car early to concentrate on this year would bring big rewards. To be fair Ferrari are one of the hardest teams to judge following testing. It seemed as if they didn't go for performance runs at all but it also looked as if they took a few wrong directions with different setups during their race runs. There are no real reliability issues over the three days and no stand-out moments during the runs. The car looks fast but have they done enough to catch RedBull up or are they even further away at the start of the new season?
Both drivers seemed happy after the test so only time will tell.
Mercedes – 398 laps (Hamilton – 1.30.664 – Russell – 1.31.442)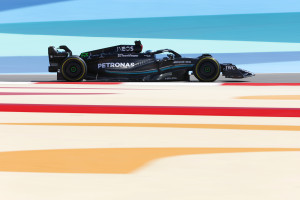 The 8 times World Champions had by their standards a shocking season in 2022 with their striking zero sidepod cars failing to live up to expectations. Going into this test the team have stuck with this concept hoping they have all the data to make the concept work. although the team did set some very competitive times the car looked very much on the edge and it seemed they were pushing harder than any other of the top teams. The test was by no means a disaster for them and they are definitely looking better than at this time last year but from this test, it looks as though they are further behind than at the end of last season when they looked to have clawed a lot of the deficit to RedBull and Ferrari back. If they are not in the top three next week they will be pinning all their hopes on a big upgrade already which is not how they would have wanted to start this season.
Alpine – 353 laps (Gasly – 1.32.762 – Ocon – 1.33.257)
The French Alpine team came to the test boasting of an improved engine and a much-improved car. Although the car looked the most twitchy of all on track and seemed to still be suffering from the dreaded porpoising the team sounded confident and most observers seemed impressed with them and the fact they didn't seem to show their hand too much. This season could see them jump free from the midfield and with two very hungry drivers could be a surprise package this year.
Mclaren – 311 laps (Norris – 1.32.160 – Piastri – 1.33.175)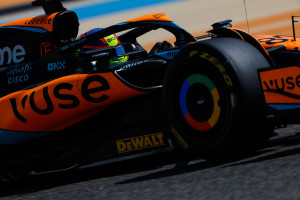 McLaren had another poor test which seems to be the norm for the once-great team. With Piastri joining Norris this season the team had hoped they could move forward after a slightly disappointing 2022. Things didn't start well when the front wheel winglets came loose and the team had to strengthen them before any more running could be done. The team confirmed they hadn't hit their targets in the test and look to be starting the season on the backfoot already. Could they already be hoping a big upgrade coming early in the season would save their blushes?
Alfa Romeo – 401 laps (Bottas – 1.30.827 – Zhou – 1.31.610)
This time last year Alfa Romeo was suffering from reliability issues and was not looking good. Fast forward a year and although they had one major issue causing Bottas to stop on track and cause a red flag they look to be in good shape. Consistent running on all three days and even setting the fastest time on day 2 means the team could be looking at a very impressive start to the season with points a definite possibility at the early races.
Aston Martin – 387 laps (Alonso – 1.31.450 – Drugovich – 1.32.075)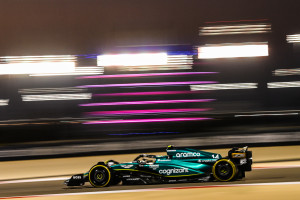 Possibly the biggest talking point of the test was Aston Martin, Just before the test it was announced Lance Stroll would not be taking part thanks to an injury caused by a cycling accident whilst training. The team haven't announced his injuries, but he could miss not only the first race but also a few after that. This would leave the majority of testing to new driver Fernando Alonso with reserve driver Felipe Drugovich also taking part. The missing Stroll didn't seem to stop the team as they look to have made a massive step forward with a revolutionary new car. Not only could they set quick one-off lap times but in fact on Alonso's race run on the final day not only did he have little tyre degradation but his times made him the third-quickest driver over a race distance. The team look to be in a very good place and even with the doubts over Stroll, they must be looking forward to a very competitive start to the season.
Haas – 414 laps (Magnussen – 1.31.381 – Hulkenberg – 1.32.466)
In 2022 Haas made a very competitive start to the season and although they slipped back down the order through the season they moved away from the back end of the field that they had made their own in previous seasons. During this test, the team looked to have maintained their speed with a car performing well with Magnussen and the returning Nico Hulkenberg at the wheel. They will be hoping they can score some early points before teams on the back foot bring upgrades and NPC doubt overhaul them.
Alpha Tauri – 456 laps (De Vries – 1.32.222 – Tsunoda – 1.31.261)
The team that completed the most laps of the three days. Setting some decent times, they clearly used their 2 drivers to test different setups each day which was showed by the difference in their times each day. Obviously, they have a reliable car which was proven by the number of laps they completed. Another team with a new pairing this season but the fact they have 2 drivers who need to outshine each other to move their careers forwards should help the team have some very competitive outings this season. With rumours in the paddock that the team might be sold this season they will be looking to put on an impressive start to the season.
Williams – 439 laps (Albon – 1.32.793 – Sargeant – 1.32.549)
The last few years for Williams have seen them become the team at the back more often than not. This season could see them move forward, Probably not into the midfield but at the very least clinging to their coat tales. They ran reliably over the 3 days which is always a good starting point and Alex Albon has a proven quick driver who is more than capable of solid results. They will need Logan Sergeant to be up to speed immediately if they are to move forward. All in all, it looks like Williams could finally be moving away from the back of the grid this season.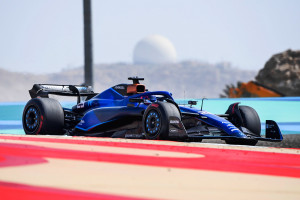 With the first race of the season being held at the same track in a week's time the paddock didn't have the usual rush to pack everything away so will no doubt spend the next week going over all the data and looking where they can find more speed for next weekend and also where to start looking for development.
The longest season ever is ahead of them, so the teams will know they have time to work through developments and make sure they go in the right direction for the season.
With RedBull looking not only quick but reliable, they will be the happiest of all the teams. Ferrari will be hoping to keep them honest and Mercedes could still be in the hunt from the first race. 2023 promises more surprises and entertainment and in just a week's time, we will know who has got it right and who needs to go back to the drawing board.
F1 IS BACK.