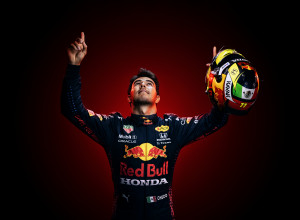 Sergio Perez has won the first sprint race of the season, winning by almost four and a half seconds from Charles Leclerc, Max Verstappen completed the podium in the second RedBull. It was a dominant performance from the Mexican who overtook pole sitter Leclerc as soon as the DRS was activated and never looked back from then on.
The action started straight from lights out with Max Verstappen and George Russell battering for the first four corners with the young Brit coming out on top.
At the front it was Leclerc leading from Perez, At the end of lap one Tsunoda lost his right rear tyre after a brush with the wall causing a Virtual Safety Car. The Alpha Tauri driver seemed to just understeer straight into the wall. After 2 laps of VSC a full safety car was needed to clear the debris. Strangely the team sent Tsunoda back out with the right rear suspension broken and left him to crab round for a whole lap before retiring the car.
At the restart both Mercedes drivers lost positions falling to 4th and 7th.  Verstappen getting back ahead of Russell and Alonso moving un front of Lewis Hamilton.
Leclerc again lead away from Perez and Verstappen.
At the start of lap 8 Perez used the DRS to cruise past Leclerc and take the lead. Behind them Verstappen was stalking the pair with Russell, Sainz and Hamilton all falling back from the leaders.
Further back in the field Oscar Piastri overtook his team mate Lando Norris to move up to P10. McLaren had fitted Norris with soft tyres, a gamble that didn't seem to work with Norris struggling at just over half distance and having to pit, In a sprint race that's a disaster.
With 5 laps left Charles Leclerc was wringing the neck of his Ferrari and making a fight of the sprint race, getting back within DRS range of the lead RedBull. As soon as he did this Perez suddenly upped his pace and increased his lead to 2 seconds with just 3 laps remaining.
The rest of the field looked fairly settled as usually happens in the sprint races.
In fact the last 3 laps went by with very little action. Perez took the chequered flag after 17 laps of the Sprint Race. Leclerc was second with Max Verstappen third. Behind them was Russell who after his first lap battle had a quiet race, then came Sainz, Alonso, Hamilton, Stroll, Albon and Piastri finishing off the top ten.
The Grand Prix takes place tomorrow and hopefully will bring the usual Baku style craziness.