After the inevitable drama in Baku, we move on to Canada for the first time since 2019. RedBull look to keep up momentum while Ferrari will need to investigate power unit issues. Mercedes had serious problems with porpoising on the long straights and want to change that for Montreal.
Ferrari's Reliability Issues
Baku produced its normally unpredictability this year but this time with less safety cars and more reliability issues. We only had two Virtual Safety Cars for the entire race, but each was caused by what looked like a failing Ferrari engine.
It was a Sunday to forget for the team in red when both cars DNF'd with engine issues. Carlos Sainz had technical issues in lap 16 but his teammate had an engine blow up about 20 laps in. This was the second time that Charles Leclerc had been leading the race comfortably this season when reliability became a problem.
For Ferrari though this wasn't just isolated to their own cars, other Ferrari powered cars had to retire with similar issues to the factory team. Magnussen and Zhou both appeared to have engine problems, forcing them to retire from the race. For Haas in particular this was a loss of any points from the race with Schumacher not able to push the car forward.
Ferrari will look to bounce back with extra strength if they want to outperform RedBull, who have a very strong car for the rest of the season. Ferrari have good one lap pace with Leclerc taking pole at six of the eight races this year, but on race pace RedBull have the edge. Ferrari need this to change.
Mercedes Bouncing into Canada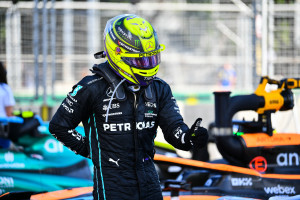 It was obvious that down the main straights Mercedes had the worst of the porpoising in Baku. The set up wasn't right and after the race Lewis Hamilton had to exit his car very carefully with what looked like serious back pain.
Despite a podium, Mercedes and many drivers have spoken about getting the FIA involved with the issue which is now causing a safety concern for the drivers. However, those teams who haven't been as badly effected suggest it's a design flaw which can be dsigned out of the car.
Regardless of what happens with the FIA, Mercedes now have to tackle Canada, with the long straights towards the end of the lap we could see a repeat of the extreme bouncing and bottoming out of the cars. For them they will want to set the car up to get rid of the problem as much as possible without affecting performance.
The Midfield Battle Getting Tasty
It's no secret that the most exiting battles between cars often happens in the midfield where everyone is fighting for the same 5 positions. This year the teams race much closer together with different cars performing well at different tracks.
In Baku Alpine seemed to be the midfield team everyone had to get past. They had impressive race pace, particularly down the straights where they seemed to be able to use DRS to pass cars with ease. Vettel often found himself behind Ocon trying to overtake and had a great, race long, battle with him.
Canada is normally needing a lower downforce set up to have maximum performance, testing the driver's precision around some of the tight walls and corners. This could play nicely into Alpine's hands where we could see them walk away with a large haul of points.
Qualifying starts at 9pm BST on Saturday and the race starts at 7pm BST on Sunday.