Josef Newgarden got ahead of polesitter Alexander Rossi in the first pit exchange on lap 16, partly due to Rossi getting held up by Newgarden's teammate Scott McLaughlin as he came into his pit box as Rossi was attempting to leave. Newgarden then led the rest of the 55 lap race to win the Sonsio Grand Prix at Road America for the second time but and win the one million dollar PeopleReady Force for Good Challenge bonus, half of which would be going to Newgarden's charities of choice.
It was not an assured victory though, as Rossi kept Newgarden honest throughout the stints until a five second gap had been made before pitting in what was a three-stop race for both drivers. In the final stint however Rossi had closed the gap to 2.8 seconds with eight to go.
Newgarden then had to manage two late race restarts after O'Ward's engine failure and Castroneves' 360 spin-and-stall brought out full course yellows. Newgarden's last restart saw him get a big launch over Rossi and comfortably took the chequered flag for his third victory of the season.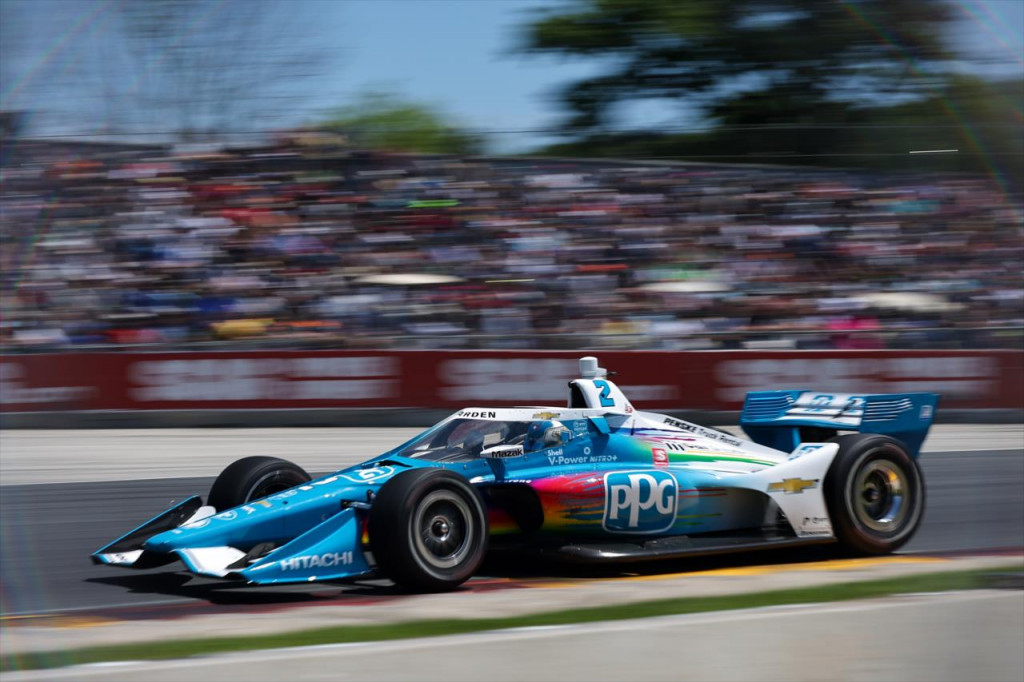 Speaking to NBC's Marty Snider in victory lane Newgarden said: "For me it's just the best series in the world. I just love IndyCar."
When Newgarden was asked about whether he feared he would lose the race on a late race restart like he did in 2017 and 2021 when Scott Dixon and Álex Palou won, Newgarden said he was focused on the road ahead and getting a good launch.
In just the first eight races in the 2022 NTT IndyCar Series championship, Newgarden has completed the PeopleReady Force for Good challenge by winning on each type of race track. To win the one million dollars, a driver had to win on a street course, an oval and a road course within the season.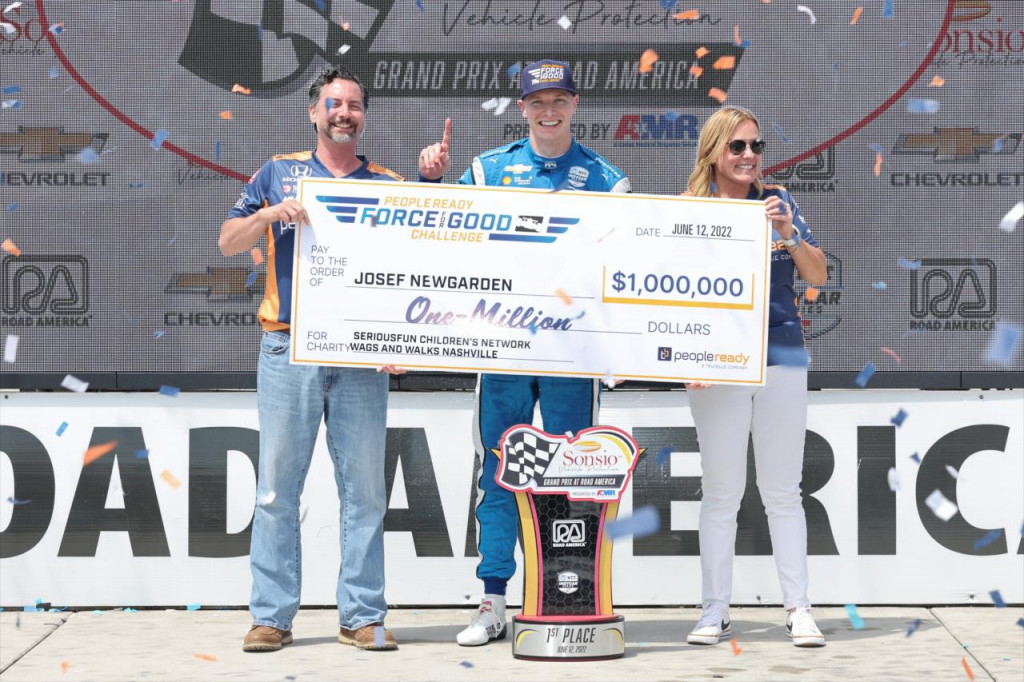 Half of the money is being split between Newgarden's two nominated charities, the SeriousFun Children's Network and Wags and Walks Nashville.
Alexander Rossi would end up finishing third as on the final restart, Rossi would not get as good a launch as he had previously and Marcus Ericsson, the 2022 Indy 500 winner, would charge by him on the front straightaway and clear him going into turn one with three laps to go. Ericsson was unable to chase Newgarden down for the win.
Ericsson had got ahead of Rossi briefly on lap 17 after jumping him in the pit cycle before Rossi got back of ahead of him for second after he dipped wheels on the grass in the turn seven to eight straight.
Ericsson retakes over the championship lead from Will Power after finishing second with a total of 293 points. The runner up position did not come without drama though for Ericsson, as on a lap four restart, Ericsson made contact with Chip Ganassi Racing teammate Palou in turn three. As he went to the inside and turned in, he made contact with Palou's left front tyre, braking the toe link, forcing the defending race winner out of the race.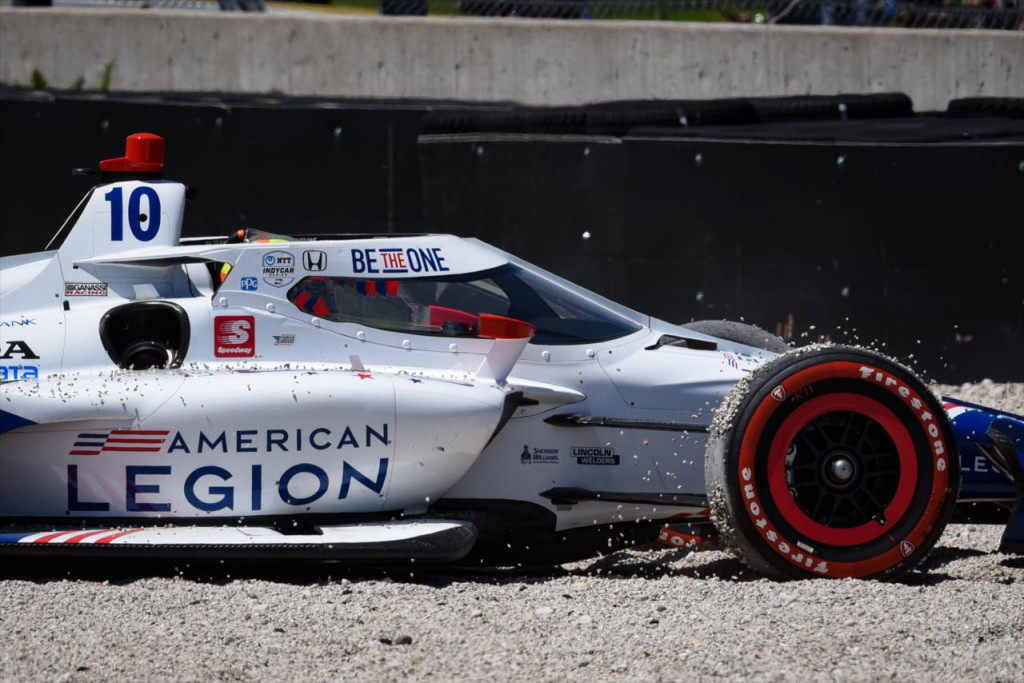 Speaking with NBC's Kevin Lee, Ericsson said he was really sorry to Palou but it was a "nice racing move" and that "it was a really good race, p2, great day for the championship."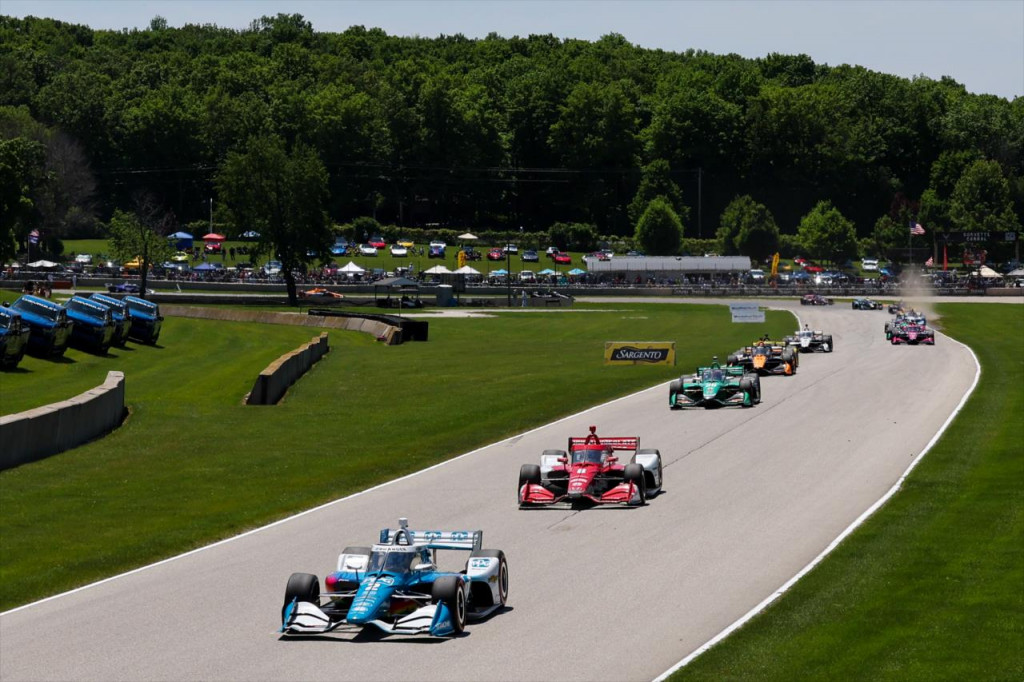 Colton Herta would finish fifth, after running inside the top ten for nearly all of the race and coming through the field from 11th to 6th in the opening stint. With just over a lap to go, Herta had been all over the back of Rossi for third but slipped up in the final corners, allowing Romain Grosjean to get the run on him to take over fourth instead.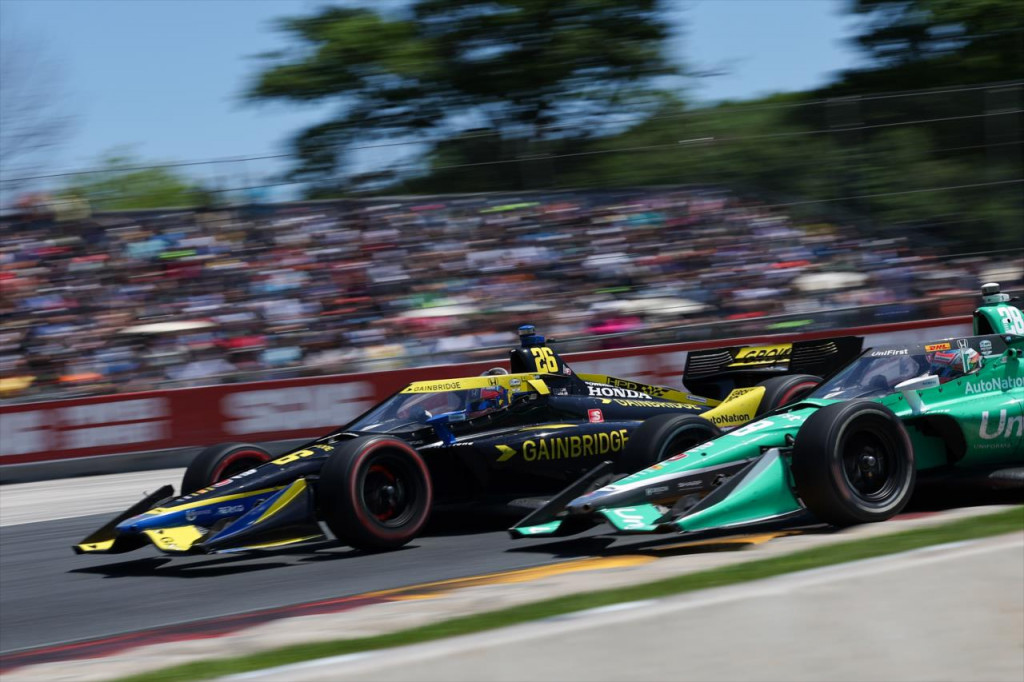 Will Power had a truly challenging race that began with Devlin DeFrancesco slamming into the back of him on lap eight as they headed towards turn three, spinning Power out and ended up losing his front wing as he hit the wall. Power was able to continue, and DeFrancesco received a stop-and-go penalty for the incident.
Power found himself at the back of the pack, and was only able to work his way up to a best of 18th before VeeKay shoved Power off in turn four with two laps to go, relegating him to 20th. Power came home 19th but only dropped one place in the championship, now 27 points behind Ericsson. Power maintained his more composed and mild-mannered approach to the 2022 season when NBC's Marty Snider asked Power about DeFrancesco with Power saying: "he's a young man."
Arrow McLaren SP's Felix Rosenqvist would finish an impressive sixth after completing an alternative fuel-saving two stop strategy. Rosenqvist chose to pit early under the second caution of the day that came out on lap nine for Power's crash, and then stretched his stint until pitting on lap 26 with Graham Rahal also doing the same. With caution laps at the ending stage of the race, and 91 seconds of push to pass, Rosenqvist was able to hold sixth to the checkered flag. Rahal would finish eighth.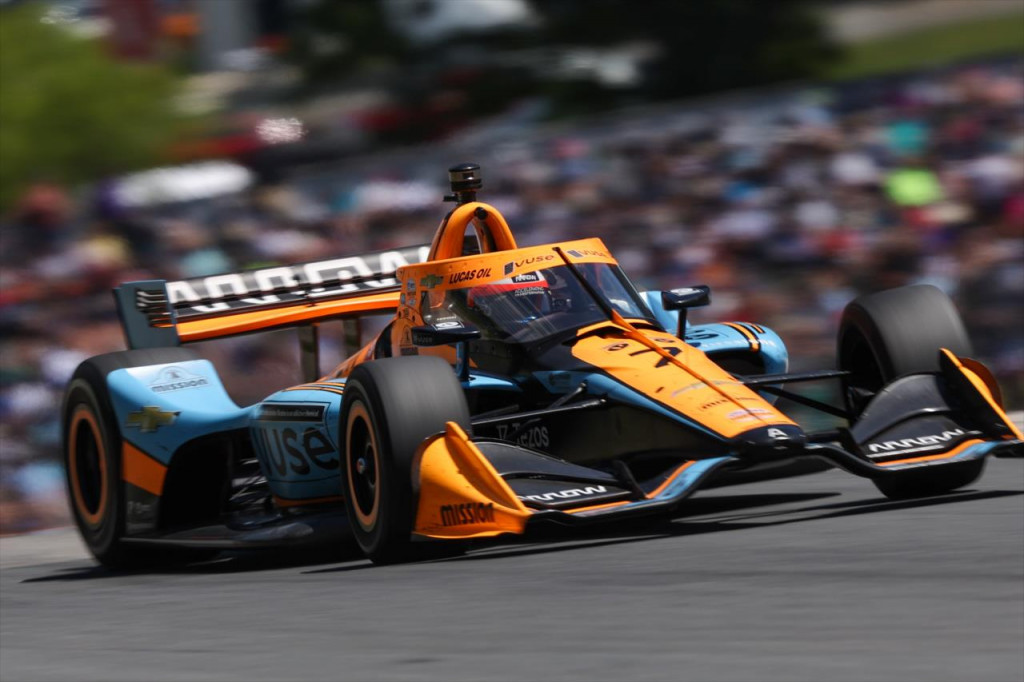 Christian Lundgaard was the highest finishing rookie of the race in what proved to be a strong day for the Rahal Letterman Lanigan organization, with Rahal and Jack Harvey finishing 13th. The first half of the race saw Lundgaard gain several positions with good pace after starting 13th.
The start of the race like the end of the race saw multiple cautions, with Jimmie Johnson bringing out the first on the opening lap after Tatiana Calderón squeezed out Johnson on the run down to turn two as she came up behind her A.J. Foyt Racing teammate Dalton Kellett with Johnson spinning off into the grass. He was able to continue and finished 24th.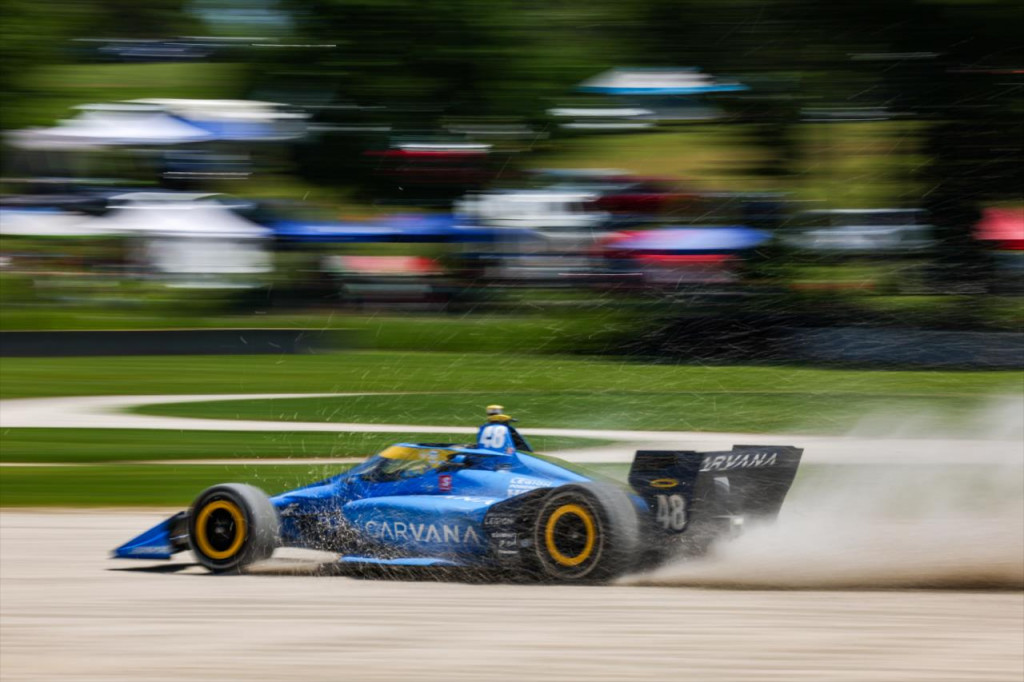 The Sonsio Grand Prix was the first IndyCar race since 2015 to have two female drivers in the field. Alongside Tatiana Calderón , was veteran IndyCar driver Simona De Silvestro, who was doing her first of three races for this season. De Silvestro finished 21st and Calderón finished 25th.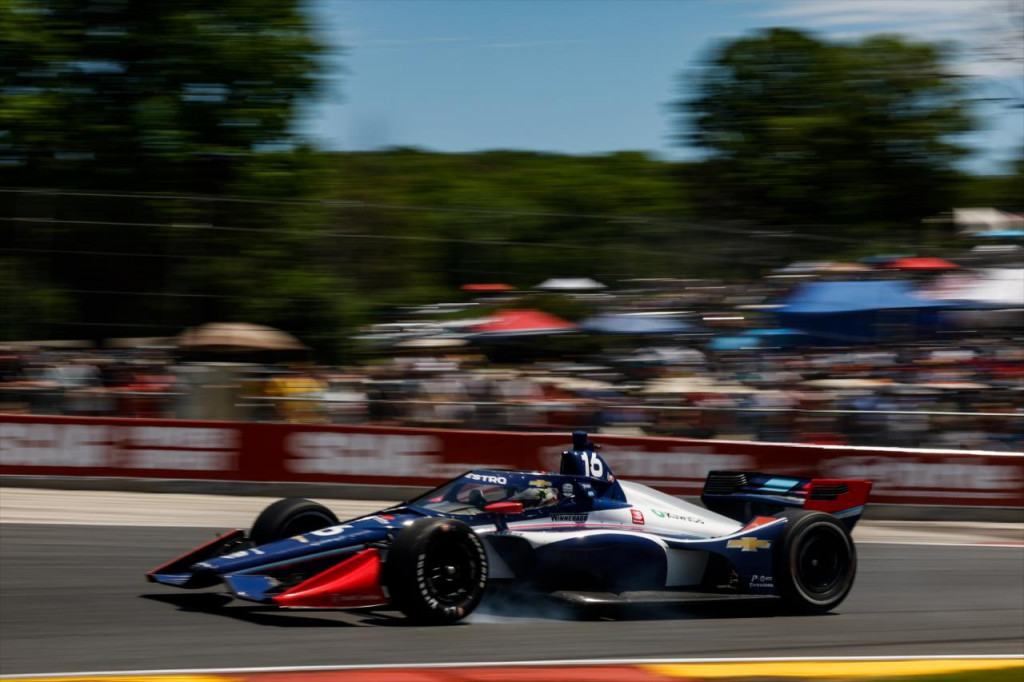 The IndyCar series now takes leave for its summer break before returning on July 3rd for the Honda Indy 200 at Mid-Ohio.
Full race results: 1st Josef Newgarden, 2nd Marcus Ericsson, 3rd Alexander Rossi, 4th Romain Grosjean, 5th Colton Herta, 6th Felix Rosenqvist, 7th Scott McLaughlin, 8th Graham Rahal, 9th Scott Dixon, 10th Christian Lundgaard, 11th Callum Ilott, 12th Simon Pagenaud, 13th Jack Harvey, 14th Conor Daly, 15th Takuma Sato, 16th David Malukas, 17th Rinus VeeKay, 18th Devlin DeFrancesco, 19th Will Power, 20th Kyle Kirkwood, 21st Simona De Silvestro, 22nd Hélio Castroneves, 23rd Dalton Kellett, 24th Jimmie Johnson, 25th Tatiana Calderón, 26th Pato O'Ward, 27th Álex Palou.
Top 10 in points standings: 1st Marcus Ericsson (293), 2nd Will Power (266), 3rd Josef Newgarden (261), 4th Pato O'Ward (248), 5th Álex Palou (246), 6th Scott Dixon (224), 7th Alexander Rossi (218), 8th Felix Rosenqvist (203), 9th Scott McLaughlin (199), 10th Simon Pagenaud (197).
Featured Image: Josef Newgarden celebrates his 2nd Road America win and for winning the one million dollar People Ready Force for Good Challenge (Photo by James Black/Penske Entertainment)