Max Verstappen extended his championship lead with victory in the Azerbaijan Grand Prix, as both Ferraris succumbed to reliability issues.
Sergio Perez came home in second to make it another 1-2 for Red Bull, with George Russell securing his third podium of the season in third place.
The big story of the race though will be the fragile state of the Ferraris, with both Carlos Sainz and polesitter Charles Leclerc retiring before the race distance. Zhou Guanyu and Kevin Magnussen also retired with power unit problems, in what was a worrying day for the Italian manufacturer.
It was Sergio Perez who led in the early stages, getting a superb start from second on the grid to take the lead into Turn One. A small lock up from Leclerc cost him any chance of getting the move back on the first lap one, as the Mexican driver quickly dropped the Ferrari outside of his DRS range.
Things looked to be settling down before Carlos Sainz's retirement on lap nine with a hydraulics failure, which led to a Virtual Safety Car. Whilst both Red Bulls stayed out, the majority of the chasing pack, including Leclerc and both Mercedes, opted to pit, giving themselves the option of stretching out a one-stop, or pushing harder and making the two-stop work.
Baking hot conditions meant tyre management would be crucial in Baku, as the track temperatures reached 46 degrees Celsius at the start of the race. Pirelli were clearly concerned as well, raising the minimum tyre pressures to try and negate the risk of punctures, thankfully, there were none of the issues which plagued last years race.
Strangely, it was tyre management which looked to be Sergio Perez's downfall. His early sprint on the medium tyres took too much out of the tyres, and Verstappen was soon able to catch and overtake the Mexican on lap 15, with Checo being told 'not to fight' into turn one. However, it looked unlikely that Perez would have been able to put up much of a defence even if he wanted to.
After the Red Bulls pitted to go onto a conventional one-stop strategy, Charles Leclerc had a comfortable lead, and it looked as the win was still a distinct possibility, even if there was a concern over how well the tyres would last. By lap 20 though, this was a moot point. The Monegasque driver's engine expired on the pit straight, handing victory to Verstappen and Red Bull.
Further back, it was another solid race from Mercedes, even if they aren't showing the improvements they would have wanted to. George Russell was in no-mans land for the majority of the race, coming home in a lonely third place. His teammate, Lewis Hamilton, had a much more eventful afternoon though. After losing out in the first VSC because of the double stack, Hamilton spent a lot of his second stint stuck behind traffic, with Esteban Ocon being particularly trick to overtake thanks to the Alpine's straight line speed.
After clearing the Frenchman, Hamilton was able to take advantage of the second virtual safety car (triggered due to Magnussen's retirement) to get a cheap pitstop, overtaking both of the Alpha Tauri's to come home in fourth. The heat combined with the vicious porpoising of the Mercedes clearly took it's toll on the Brit, as Lewis struggled to exit his car at the end of the race.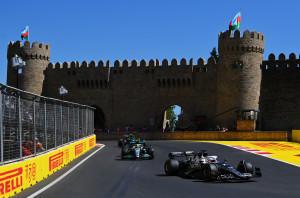 Pierre Gasly finished fifth for Alpha Tauri in what was his best result of the season, and if it wasn't for a broken rear wing (which necessitated a gaffer tape fix), Yuki Tsunoda would have likely come home just behind in sixth. In the end, Sebastian Vettel recovered from an early spin to finish sixth, ahead of Fernando Alonso, the McLaren's of Daniel Ricciardo and Lando Norris, and Esteban Ocon.
Ricciardo and Norris seemed to be inseperable throughout the entire race, with the Australian consistently challenging Norris in the early stages, being told to hold station behind his teammate. The roles were reversed at the end, with Norris clearly unhappy at being told to stay behind Ricciardo. This is a nice problem for McLaren to have, with this weekend looking like one of Ricciardo's best this season.
Although the McLaren team orders may have had an effect on their result, it's doubtful that Red Bull's did. Verstappen's race pace was too much for Sergio Perez, and the Dutchman now has a twenty-one point lead in the championship over his Mexican teammate. Ferrari's double DNF drops them to eighty points behind Red Bull, as their championship challenge has unraveled dramatically over the last four races, which has seen Leclerc take pole in each race but not reach the chequered flag first in either, becoming the first driver to do this since Juan Pablo Montoya twenty years ago.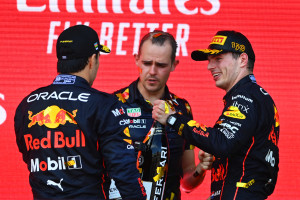 Next, Formula One heads to Canada first the first time post-COVID, with the last race there being remembered for Sebastian Vettel receiving a five-second penalty for gaining an advantage of track, handing the victory to Lewis Hamilton. Ferrari will be hoping that this time around, they don't hand victory to their rivals once more.