Here we are: the final round of the 2021 season. And what a season it's been, ending as always with the Valencia Grand Prix.
Qualifying:
Jorge Martin (Ducati) got a surprise pole with 1:29.936 from Francesco Bagnaia (Ducati) in second, who crashed directly after taking pole just before Martin stole it from him. Jack Miller (Ducati) also finished off the front-row getting third place. Valentino Rossi who finished his last qualifying session before retirement secured tenth place.
Race:
Both the Repsol Honda riders were not to participate in the race as Marc Marquez was still suffering from his last crash and Pol Espargaro took a heavy fall during the qualifying on Saturday – an unfortunate end of the season for Honda.
However, it was a weekend for only one man. A sea of yellow filled the grandstands as audiences flocked to see Valentino Rossi for one last time. With only the hope of finishing in the top 10, would he be able to make it?
Martin got off to a flying start and led from Miller and Bagnaia, however Joan Mir (Suzuki) had other ideas and soon took 3rd from Bagnaia, pushing him back to 4th, leaving him sandwiched between the two Suzuki's.
Lap 2 saw Miller pass Martin for 1st place but Martin was in a fighting mood and took it straight back again, seeing his chance Mir also passed Miller to take 2nd. Pecco didn't want to miss out on a podium place and was side-by-side with Jack on the straight – beginning of lap 3 and managed to take the position from him. Next was Rins' turn to battle Miller, coming out on top for 4th and also claiming fastest lap.
While one Ducati rider was getting beaten up, the other soon took 2nd place from Mir, knowing he had to hunt down Martin, for any hope of a victory. But while on a high, Rins also passed his team-mate on lap 4 of 27.
Could things get any worse for Miller? Fabio Quartararo (Yamaha) was next to pounce, taking 5th place from him. But, the Ducati was unbeatable on the straight and soon took the place back. Fabio chose another place to again pass Jack later on the same lap.
Lap 5, turn 6 saw Takaaki Nakagami take an early exit from his race.
Meanwhile at the front Bagnaia closed down on Martin and kept checking for the right place to pass but Martin proved a difficult one to get a good place to do so. The two Suzuki's also looked like they were ready to fight the Ducati's for 1st and 2nd.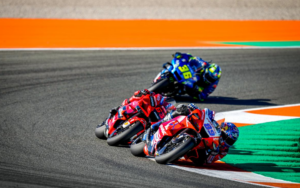 Valentino Rossi (Yamaha) was where he wanted to be, in the top 10, in 10th place but Enea Bastianini (Ducati) passed him to take the spot. Could Rossi do anything about it?
Miller and Quartararo continued to have mini battles for 5th place while Bagnaia continued to watch Martin for any weaknesses. With 18 laps to go Bagnaia attempted a pass on Martin but it didn't stick.
With all front riders on the same tyre set-up (hard Michelin tyres on the front and medium on the rear) it was an even battlefield.
Suddenly on lap 11, turn 6 one of the front riders crashed out of the race. Rins was in the gravel leaving the two Ducati's to battle it out on their own in front and leaving his team-mate to take 3rd position, with only a 0.726 second gap between him and them.
The gap slowly decreased as Mir caught up to the Ducati's, closing the gap down to 0.493 seconds. Was Mir in for a chance of winning?
13 laps till the chequered flag and Bagnaia attempted to take the lead again. This time he was successful and took the lead over the finish line to mark the half-way point in the race. Mir and Miller still followed closely behind.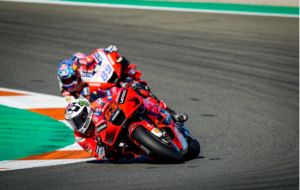 But Bagnaia was soon pulling away from the rest of the field and the gap quickly got to 0.320 seconds. Was Martin starting to feel the results of being ill the night before? Martin had a nice position in 2nd with 1.316 seconds ahead of Miller, who had managed to pass Mir for 3rd with 10 laps to go. The Australian didn't want to stop there though and he picked up the pace to close down on Martin. With 8 laps until the end the gap had decreased further to 1.285 seconds. Miller had said previously that he saw no point in playing it safe in the last round and wanted to get onto the podium and he did just that. He took fastest lap on lap 21 and continued to bring the gap down further still.
With 3 laps to go Miller had clawed the gap down to 0.317 seconds, was he able to pass for 2nd?
Last lap and last dance of 2021 saw Bagnaia leading with a gap increase of 0.914 seconds over the other two Dukes. But there was nothing the two riders could have done to change the results and Bagnaia won from Martin and Miller, who took the last podium place. The same three riders that had dominated qualifying also dominated the race.
Bagnaia took his fourth win in a row and Martin secured Rookie of the Year.
But the weekend was all about one man – the GOAT – Valentino Rossi. Yellow flags waved vigorously as he crossed the line in 10th place and all the riders stopped at the edge of the track and waited for him to come to them. Each one cheering, clapping and receiving a personal hug from the man that transcended the sport and made it what it is today. A very fitting farewell to an absolute legend who marked the end of an era.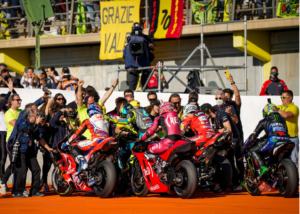 But we also said farewell to another Italian rider – Danilo Petrucci who also left Moto GP and will be competing in the Dakar for KTM. He will also be sadly missed.
Top Ten Race Results:
| | |
| --- | --- |
| 1st | F. Bagnaia |
| 2nd | J. Martin |
| 3rd | J. Miller |
| 4th | J. Mir |
| 5th | F. Quartararo |
| 6th | J. Zarco |
| 7th | B. Binder |
| 8th | E. Bastianini |
| 9th | A. Espargaro |
| 10th | V. Rossi |
Bagnaia wished to dedicate his race win to his Hero Valentino and I would like to say it has been a privilege and a joy to watch the career of the Titan of Moto GP, all the way from those 125cc days to Moto GP.
On behalf of everyone who has been a fan – old or new – we THANK YOU!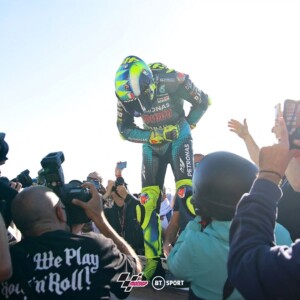 #GrazieVale
The 2021 season may be over but it will all start again in March 2022. Will a new victor emerge? Can Quartararo secure his crown? Will we see old riders come back to the fray? Whatever happens we will be there.
(Featured image: courtesy of: Moto GP Twitter page).