How do you sum up this Entertainer, this Role-Model, this Legend?
He has entertained audiences for the past 26 years, winning races and fans throughout the world, bringing new and old supporters to watch the spectacle that is Moto GP. His undying enthusiasm and passion for the sport that he loves has brought smiles and tears to many. His ups and downs shared and felt by all.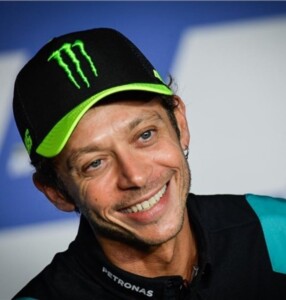 Starting in 125's (now equivalent to Moto 2) on the Aprilia in 1996:
The young boy from Tavullia, Italy, who entered into the 1996 125cc World Championships didn't start off lighting the world on fire, but little did we know he soon would. Starting his pattern of one year to watch and learn and second year to win, he went into 1997 with his first championship title, collecting 4 poles and 11 race wins, which would crown him Champion. It was here that we first saw the entertainer that fans would adore, dressing up as Robin Hood at Donington – one particular celebration that stands out and also adopting the iconic Sun and Moon design that he has carried with him through the years.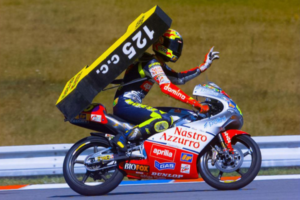 Progressing to 250's (now equivalent to Moto 3) again on the Aprilia:
Rossi took another year to watch and learn and then became champion in 1999. Ditching the name Rossifumi and emerging as Valentinik. He continued to entertain the crowds with his celebrations on track, with the infamous Chicken riding pillion and the porta-loo gag. During the championship winning season he accumulated five poles and nine wins.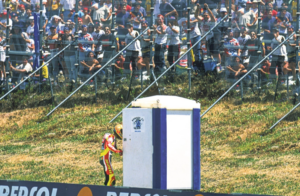 Following the pattern – watch and learn then win the next year, he moved up to the premier class: 500's (now Moto GP):
With the dominating force of Mick Doohan winning everything in the premier-class, the racing was taking a bit of a lull and audiences were lacking in their numbers but even though the dominating force was due to change no-one was quite prepared for just how much!
Enter: The Doctor.
Another name change for Rossi saw him become The Doctor, a name that has become synonymous with him, just as much as the number 46 has.
Rossi teamed up with Doohan's ex-crew chief Jeremy Burgess, who proved to be just what he needed. An impressive rookie season saw Rossi take 2nd in the championship and then in 2001 he became the last 500cc (2-stroke) World Champion. Taking 11 wins and 4 poles and along with that Honda's 500th victory.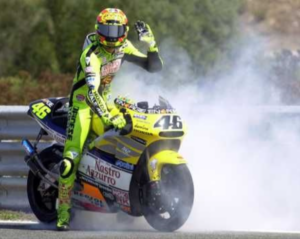 Spectators began to grow in their masses to watch this mesmerizing force that is Valentino Rossi, bringing with them a sea of yellow.
Moto GP – 2002: (the biggest-ever change in technical regulations):
Rossi was on the Repsol Honda – the first year of 990cc (4-stroke) and he pathed his way to glory once again, claiming 11 wins and 7 poles. Remaining with the same team for 2003, but with new team-mate the late Nicky Hayden, Vale again claimed the Moto GP crown with 9 wins and 9 poles.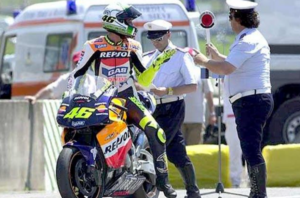 But then when he was on top of the world he did what many people thought was the impossible and decided to do a 'ridiculous move'. Many times we watched in awe at his talent but nothing more than when he switched teams. Why would he leave a championship winning team, one that had dominated for so long and ride for an under-dog team?
The under-dog team = Yamaha. The reason = A challenge.
The relationship between Rossi and Honda had slowly deteriorated, with Honda claiming that it was all the bike and not much to do with the rider. Rossi taking offence by this lack of respect up and left to prove a point and prove a point he did.
Taking along with him his crew chief and most of his team, they went into the 2004 championship with very little testing during the winter period leaving Rossi to ride his first race on the Yamaha in 2004 at Welkom and incredibly he won! Breaking Yamahas longest losing streak and beating Giacomo Agostini's record run of 22 consecutive top-three finishers in the process. Finishing the season with 9 wins and 5 poles.
Many people thought it would be too difficult or nearly impossible to win a race let alone the entire championship. But, Valentino is no normal rider. If people weren't supporting Rossi already then they were now.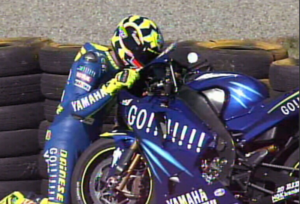 Staying with Yamaha for 2005, Rossi was joined by another American – Colin Edwards. Vale won for a second year in a row alongside Yamaha and clinched  his 50th premier-class win. At Donington he mesmerized us by winning on water and miming playing a violin over the line. He took a total 11 wins (the highest number of premier class victories in a season on a Yamaha) and 5 poles.
2006 was a close year for the title and went right down to the last race in Valencia to see who would be crowned. It was between the reigning champ – Rossi and old team-mate Hayden. Consistency was key for Hayden and he became the only other rider other than Rossi to win the 990cc era. Rossi finished 2nd overall.
Another hard year for Rossi and Yamaha in 2007, saw them finish 3rd in the championship, only securing 4 race wins. Casey Stoner became another new champion. But, not letting any of this get to him Rossi won back his crown in 2008 becoming the most successful rider in the top-class with 69 wins, overtaking Agostini's record total of wins. He accumulated 9 wins for the season, 2 poles and another title under a different formula – 800cc. He became the first rider to become champion on four different types of motorcycle and with that – Yamaha's most successful rider.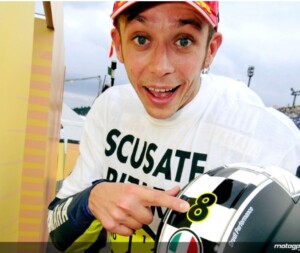 The showman carried on his winning streak and in 2009 remained Moto GP World Champion for the 9th time (in all classes), accumulating his 100th win of his career, 6 wins for the season and 7 poles. In 2010 Rossi announced it would be his final year with Yamaha as he decided he would switch manufactures once again to Ducati. He missed the most races of his whole career during that season after breaking his leg, when he did return though it was like he had never left. He was strong but couldn't quite catch up.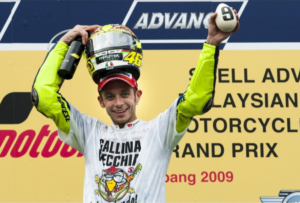 Ducati, as it turned out was not a great career move for the Italian, even though on paper it seemed like the dream team. The Doctor couldn't produce miracles this time and ended up returning to Yamaha after 2 seasons with Ducati and that is where he remained. He finished 4th in 2013, being a runner-up for the crown in 2014/ 2015 and 2016. What could have been 12 championship wins was never to be. In 2017 Rossi was 5th, then 2018 rose back up to 3rd in the championship. He finished 7th in 2019, 15th in 2020 and for his last year in 2021 he finished 10th.
Even though the last few years he hasn't been fighting for those wins we are all used to witnessing, it doesn't matter because he transcended the sport and has become synonymous with Moto GP and can never be replaced. He has made Moto GP what it is today and even though he will leave a hole, we all know the racing will still be just as good as always and of course his VR46 team, with it's young Italian riders will be there to carry the flag.
This living legend, leaves behind a legacy and fantastic memories from fans and riders alike. Ending his illustrious career the way he wanted to, having raced for 26 seasons, finishing 235 times on the podium (more than any other rider in the history of the sport) and accumulating 115 Grand Prix Victories. The stats are truly astounding!
We may never again watch the iconic rituals of The Doctor or the sheer joy of his winning celebrations and the on-track battles but the memories will stay with us forever. Etched in our minds are the fights between him and his rivals – Max Biaggi, Sete Gibernau, Casey Stoner, Jorge Lorenzo and Marc Marquez. Who could forget the moment on the corkscrew at Laguna Seca between Vale and Casey? Which had us all on the edge of our seats, or the last corner at Jerez with Sete? Holding our breath.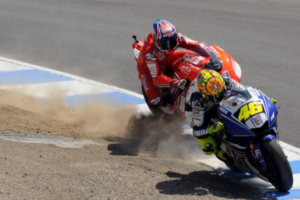 He has inspired so many people, not just celebrities like F1 driver Lando Norris or fellow Moto GP champion Fabio Quartararo, but millions of people around the world. You say Valentino Rossi and people just know. He has a natural ability to make people want to support and cheer him on with his charisma and affection for all his fans. The whole Moto GP paddock admire him and it showed with the last race in Valencia 2021. The whole pitlane came out for him and every rider got a private hug – his popularity is unhinged.
For us that have had the joy to watch his incredible career, it has been a privilege. He has become a Titan of Motorbike racing and we all know God-like status's never fade, his name will be there along with Sheene and Agostini forever.
You have written the most amazing story and you will be missed. But as we all know "it's not the end, it's the next chapter" – Rossi.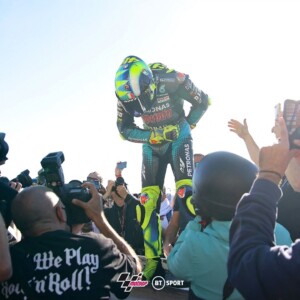 (Featured image. Courtesy of: Moto GP website).
Images Courtesy: Moto GP website/MCN/ The Guardian/ Blogspot and Daily Star.