Sir Lewis Hamilton closed the gap to Max Verstappen to 15 points after an incredible recovery from tenth saw him win the Sao Paulo Grand Prix. The victory was Hamilton's third in Brazil, and perhaps one of his most important yet.
Polesitter Valtteri Bottas was soundly beaten off the start by Verstappen, while contact with Ferrari's Carlos Sainz gave McLaren's Lando Norris a puncture, severely hampering his race before it had even begun.
An intense battle between Sainz and his team mate Charles Leclerc resulted in both Prancing Horses going off at Turn Four, with Bottas doing exactly the same thing in front of them. This opened the door for Sergio Perez to take second place and give Red Bull a temporary 1-2.
Among all the chaos, Hamilton had made his way from tenth, a position he was forced down to after his five-place penalty, up to fifth on the opening lap. He then passed Sainz into fourth, before he was allowed through into the podium places by Bottas.
A clumsy move from Yuki Tsunoda would then play massively into Mercedes' favour, as the Japanese barrelled into the side of Lance Stroll through Turn One. The Alpha Tauri's front wing was therefore shattered all across the track, bringing out the Safety Car. That brought Hamilton onto the back of the Red Bulls, and the race was on.
It took nine laps after the end of the Safety Car period for Hamilton to be able to challenge Perez, passing the Mexican into Turn One, before Perez re-passed him immediately into Turn Four. One lap later however, Hamilton got ahead once more and this time kept the position.
On lap 27, Hamilton stopped onto the Hard tyres, one lap before Verstappen. The undercut gained Hamilton 2.5 seconds, increasing the pressure on Verstappen. Sainz and Norris then went side-by-side into Turn Four, with Sainz staying ahead and there was this time an absence of contact between the two former team-mates.
Some more debris would then fly off the floor of Lance Stroll's Aston Martin, triggering a Virtual Safety Car. This was bad news for Red Bull as Perez had already pitted but Valtteri Bottas had not. He then got a free stop as a result of the full course yellow, getting him ahead of the Mexican.
Verstappen came in again for more Hard tyres, three laps before Hamilton – the undercut increasing the gap to the seven-time champion. Following his stop onto Hard tyres, Hamilton insisted that he should have been on Mediums, while team mate Valtteri Bottas believed that the one-stop strategy was the better option, and that Mercedes had "thrown away an easy one-two."
Hamilton, however, persistently closed on Verstappen, and on lap 48, it all kicked off. Hamilton attempted to move round the outside of Verstappen at Turn Four, with the Dutchman forcing the reigning champion off and even running wide himself.
After noting the incident, Michael Masi declared that it was not worth an investigation, cue fury from the Mercedes pit wall aimed at the Safety Delegate.
But Hamilton would not be denied. 10 laps later, he got a super run through Turn Three, and flew past Verstappen going into Turn Four, prompting a celebration born out of rage and frustration from Mercedes Team Principal Toto Wolff.
Sergio Perez then pitted late on and stole the fastest lap away from Valtteri Bottas, as Hamilton took victory from Verstappen. Bottas took the final podium spot in third.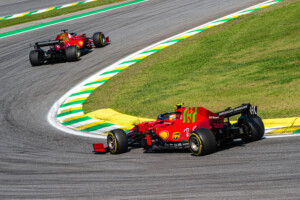 Ferrari capped a fine weekend, extending their advantage over McLaren in the battle for third with a 5-6 for Charles Leclerc and Sainz. Pierre Gasly muscled his way past Esteban Ocon to finish seventh, with the second Alpine of Fernando Alonso behind them in ninth. Lando Norris took McLaren's only point in tenth after a power loss forced team mate Daniel Ricciardo into retirement, while the contact with Tsunoda proved the end of Lance Stroll's race too.
Hamilton showed his remarkable pace, tenacity and skill on Sunday in Brazil, and he and Mercedes have let Verstappen and Red Bull know that they are still very much in this title fight.