In the inaugural Indian Grand Prix, Marco Bezzecchi was simply too good at the Buddh International circuit. Bezzecchi finished the race over 8 seconds clear of Jorge Martin in 2nd and Fabio Quartararo in 3rd place. 
Championship leader Pecco Bagnaia crashed out losing a lot of points in the championship race. We head to Japan next weekend with Pecco only 13 points clear of title rival Jorge Martin.
AS IT HAPPENED
Martin got off to a great start and moved up to first into turn 1, with Pecco up into 2nd ahead of Bezzecchi in 3rd. Only a few corners later, Martin went wide into turn 4 and Pecco got through to take the lead of the race.
Binder was up 4 places into 8th mid way through lap 1. A great start for the KTM rider but Aprilia man Viñales was down 10 places at the end of lap 1 due running wide into turn 1 at the start of the race.
Martin dropped back further into 3rd with Bezzecchi blasting by as Martin opened the door running wide. At the end of lap 1 Bezzecchi went by Pecco and took the lead of the race for the first time at the start of lap 2.
All of the riders with a soft rear tyre had to be careful to not burn the tyre out so early on in the race. Bezzecchi set the fastest lap with Pecco 2nd and Martin 3rd. Martin resisting the pressure from Marc Marquez behind and had a lot of work to do to catch Pecco and Bezzecchi ahead.
KTMs Jack Miller had a disastrous start to the race running way down in 20th place in the early stages.
Martin was desperate to get by Pecco cleanly and get after Bezzecchi as Bezzecchi was 1.237 seconds clear as they come to the end of lap 4.
Martin with the slip steam along the back straight got ahead of Pecco into turn 4. Martin now with 2.159 seconds to make up to catch Bezzecchi. Bezzecchi continued his blistering run of form this weekend and looked to pull even further away at the front.
Yellow flags waved in sector 1 as Marc Marquez crashed out at turn 1. Out from 4th place, but able to re-join and recover into the top 10. A superb performance all around this weekend from both Marquez and Joan Mir.
A third of the way through now and Bezzecchi leads 3 seconds clear of the fight for 2nd place behind. Martin was just ahead of Pecco in 3rd. Fabio in 4th place matched the pace of those in front but a second behind the fighting pair in front.  Pecco swarming all over the back of Martin on lap number 8 of 21.
Lap 9 and Bezzecchi is 3.492 seconds clear of Martin in 2nd and Pecco on Martin's back wheel in 3rd. Fabio and Joan Mir both looked comfortable in 4th and 5th place. Both Fabio and Mir having the best races for some time so far this afternoon in Delhi.
With 11 laps to go and as Marc Marquez went by his old teammate GASGAS rider Pol Espargaro, Bezzecchi is running away with it here in India. Technical problems for Aleix Espargaro saw the Aprilia rider out of the race and with Viñales down in 10th, it was a torrid weekend for the factory Aprilia team.
Coming into the final third of the race and Pecco with so much more inside grip went by Martin into turns 8 and 9 and made it look easy.  Pecco looked to pull away now from Martin with 8 laps to go.
Sector 2 and yellow flags a plenty as Pecco Bagnaia crashed out of the grand prix! Jorge Martin was now just 13 points behind in the championship if Martin manages to hold onto 2nd place. Fabio moved up to 3rd place and was set for a podium for Yamaha.
4 laps to go and as Martin zipped his leathers back up, Bezzecchi was miles ahead in the lead, 6.814 seconds clear of Martin in 2nd. Fabio 3rd and with Mir running wide opened the door for Binder to move up into 4th place.
With a few laps left the top 3 places looked sown up. Yamaha and Honda must be delighted with all of their riders sat in the top 10.
THE LAST LAP 
Onto the last lap and VR46 superstar Marco Bezzecchi was miles ahead of the rest. Bezzecchi started the lap 6.576 seconds clear of Pramac Ducati's Jorge Martin in 2nd and in 3rd place to start the lap was 2021 world champion, Yamaha's Fabio Quartararo.
Martin went into turn 4 and ran wide letting Fabio go by. Martin only to come back round the outside of Fabio at turns 5 into 6. A crazy overtake from The Martinator to get back up into 2nd. Fabio not giving up on 2nd tried to get up the inside of Martin in the following corners.
As Bezzecchi was celebrating cruising along the start straight, Jorge Martin clung on to take 2nd place and crossed the line with Fabio finishing in 3rd.
With 7 races left in the championship and with Pecco dropping the ball into the gravel. Martin is just 13 points now behind Pecco in the championship as we head to Motegi in Japan next weekend.
Race Classification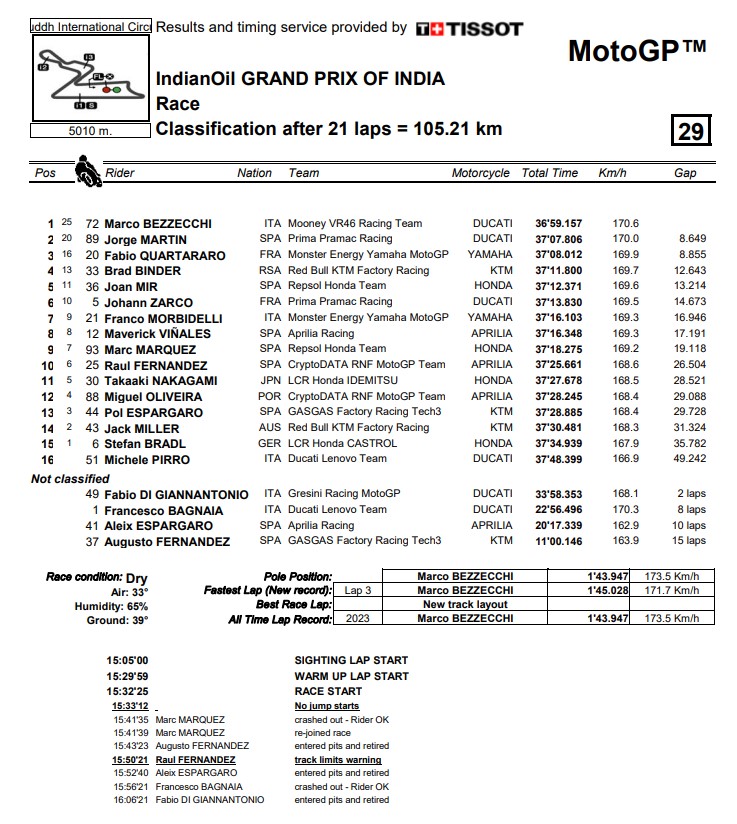 Image Credit: MotoGP
Championship Standings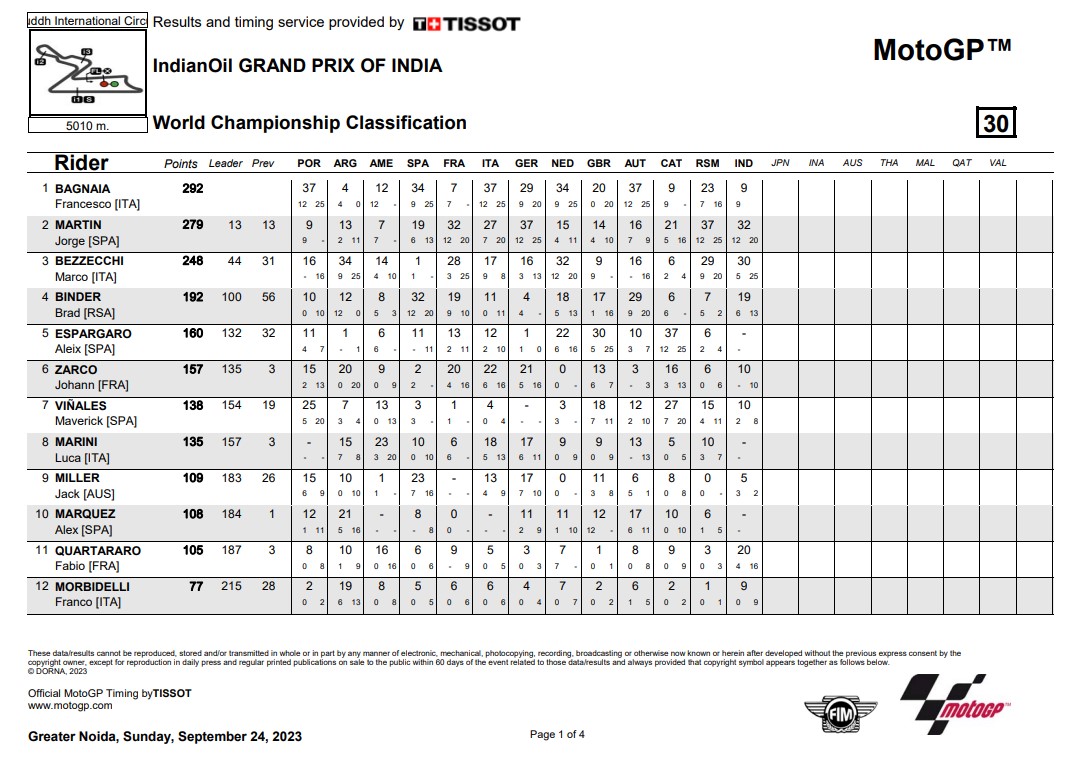 Image Credit: MotoGP