Qualifying:
Moto GP was finally back in Thailand!
But it wasn't the only return this weekend. Danilo Petrucci also returned to the paddock, taking Joan Mir's spot at Suzuki, who was still unable to ride.
Glorious sunny conditions graced the track, which had a nice surprise in store for everyone – 2022 rookie – Marco Bezzecchi (VR46) flew into pole position, ahead of Jorge Martin (Ducati) and Francesco Bagnaia (Ducati), who took last spot on the front row.
Race:
The weather was turned on its head for Sunday. Big black clouds loomed large overhead and with them came torrential rain, which managed to hamper the start of the race, delaying it so far that audiences weren't sure it was even going to go ahead.
Some riders protested against the start of the race while others wanted to go racing. The crowd at the circuit however were determined to not let the weather get them down and they remained in fantastically high spirits.
The race was later declared a wet race and with that, a decision to remove one lap from the race, taking it from 26 laps to 25 in total.
The green lights eventually went out and the race began:
Martin immediately went wide into turn one as did Bezzecchi, but he managed to remain in the lead ahead of Bagnaia and Jack Miller (Ducati).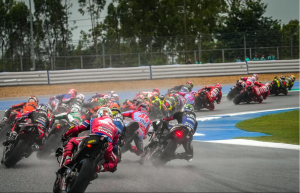 Championship leader – Fabio Quartararo (Yamaha) made a mistake also early on, on the first lap taking him from 11th to 17th place. The championship points changing right before our eyes.
There was heavy spray coming from all the riders, making visibility poor, but one rider who was not perturbed by this was Alex Marquez (Honda), who had the best start, claiming 10 places and was up to 10th position. What could he achieve further into the race?
Lap 2 saw Bezzecchi be told he needed to give a position back due to exceeding track limits (when he went wide) on the 1st lap. Meanwhile, behind him, Miller made a move on his teammate to take him into 2nd. He was in prime spot to take the lead when Bezzecchi would eventually have to let him pass.
Alex Marquez wasn't finished making up places and soon passed Enea Bastianini (Ducati) to take 9th spot on lap 3. On the same lap – Bezzecchi moved out of the racing-line to let Miller pass. Miller then led Bezzecchi, Bagnaia and Miguel Oliveira (KTM). In 6th place, Luca Marini crashed out, but he did manage to later re-join the race.
Sensing he needed to start to break away and gain a lead, Miller soon took fastest lap but it was quickly surpassed by Oliveira. Miguel also managed to pass Bezzecchi to claim another spot and Bagnaia followed, taking his opportunity too.
Miller led Oliveira, Bagnaia and Bezzecchi by lap 6 of 25.
Oliveira threw down the gauntlet for fastest lap, putting in an impressive lap time of 1:39.920. Could he fight for the victory?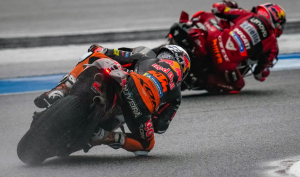 Meanwhile a mini battle for 7th place had started with A. Marquez passing Zarco, only for Zarco to pass straight back.
While that battle raged on, Miller and Oliveira started to create a gap at the front. A. Espargaro (Aprilia) on the other hand was having a bad weekend and was given a long-lap penalty for dangerous riding earlier on in the race. Would this result change the championship standings?
Still on the move – Alex Marquez managed to pass a further 2 riders, placing him behind his brother in 5th place. On the same lap Bagnaia picked up the fastest lap gauntlet and with it threw down a lap time of: 1:39.566. This was a great achievement by Bagnaia as he struggled last weekend in the wet conditions during qualifying. He later claimed that his teammate gave him a 'pep-talk' before this weekend's race, which helped him this round.
The black clouds still gathered above but with them came the thunder. Would there be any further drama during the race?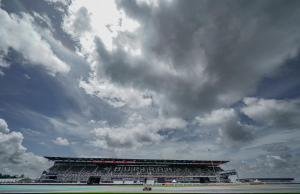 14 laps until the end, Miller still led Oliveira and Bagnaia, with championship leader – Quartararo remaining in 18th place (out of the points). Could Fabio find something extra and manage to gain any valuable points?
2 laps later Oliveira set up a pass on Miller and took the lead. Miller tried to fight back but went wide. He decided to wait until the start-finish straight to use the full power of the Ducati to pass him back but, it came to no avail. Oliveira remained in 1st place.
It was then the turn of Frenchman Johann Zarco to take fastest lap, in 5th place. Not only did he manage it twice in a row but with 7 laps to go he managed to claim it a 3rd time (1:39.185). Could he fight for a podium position?
Only 5 laps until the chequered flag and M. Marquez made a move on Bagnaia for 3rd but couldn't make it stick. In making the move, Marquez helped bring Zarco into the mix, who was looking menacing behind the number 93.
It only took until the next lap for Zarco to pass Marquez to claim 4th position. The podium was now in his sights.
Nothing in Thailand was going to dampen the drama unfolding on track, not even further black clouds and louder claps of thunder.
With 2 laps to go the KTM still led the 3 Ducati's with Marquez's Honda in 5th spot.
Last lap-
Bastianini managed to find some late race pace and managed to get up to 6th, behind Marquez, but he couldn't quite make any move on him.
Oliveira passed the finish line to take the win, with Miller taking 2nd and Bagnaia bagging 3rd. The championship leader remained out of the points. A completely different story from round 16.
The championship still remains open for grabs.
Top Ten Finishers:
| | |
| --- | --- |
| 1st | M. Oliveira |
| 2nd | J. Miller |
| 3rd | F. Bagnaia |
| 4th | J. Zarco |
| 5th | M. Marquez |
| 6th | E. Bastianini |
| 7th | M. Vinales |
| 8th | A. Marquez |
| 9th | J. Martin |
| 10th | B. Binder |
Top Four Championship Standings:
| | | |
| --- | --- | --- |
| 1st | F. Quartararo | 219 points |
| 2nd | F. Bagnaia | 217 points |
| 3rd | A. Espargaro | 199 points |
| 4th | E. Bastianini | 180 points |
Such exciting racing and close positions in the championship – there is now only 2 points between Fabio and Pecco! So, be sure not to miss the Australian round in 2 weeks' time!
(Featured image – Jump for Joy. Courtesy of: Moto GP website).