Valtteri Bottas took pole in sprint qualifying on Saturday afternoon at Interlagos after a blistering start from second place saw him take the lead on the very first lap from Max Verstappen. The Finnish driver, starting on soft compound tyres, had an amazing launch off the line and never looked back after. Verstappen was slow to get off the line and the Dutch driver was visibly distraught, reporting gear sync issues on his radio during the race and had to settle for P2.
The star of the race however was Lewis Hamilton, who started all the way from the back of the grid due to a disqualification from Friday qualifying. The English driver's car was found guilty of a technical infringement of the DRS system and he was punished for it. Saturday was a different story however as the seven-time world champion picked off cars lap after lap as if it were virtually nothing. He eventually finished P5, after making up 15 places in the span of 24 laps but will be starting only P10, thanks to the engine penalty that he will have to serve on raceday.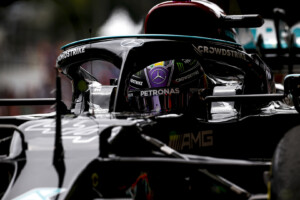 Carlos Sainz put up quite a show besides Hamilton, as the Spaniard had a great start from P5, which put him ahead of Sergio Perez into 3rd. The Ferrari driver then held of the Mexican after a great display of race-craft on soft tyres that were falling off all the time. He will be hoping for more of the same as each and every point for Ferrari from here on would be crucial in the race for third place in the Constructors' Championship. His teammate Charles Leclerc on the other hand had an underwhelming race after he could only manage a P7 finish.
McLaren had a mixed outing on Saturday after Lando Norris managed to make up places to P6 after eventually falling prey to an amazing overtake from Hamilton on the final lap, while Daniel Ricciardo lost places during the race and could only finish P11. The British team have it all to do tomorrow during the race if they are to not let Ferrari get away further ahead in constructor's standings.
Pierre Gasly , who had a brilliant qualifying session on Friday could not repeat the feat for the sprint race after a poor start cost the Frenchman places from P4. He lost three places at the start and come the end of the sprint race, he could only finish P8. His teammate Yuki Tsunoda also went backwards in the sprint race after the Japanese driver could only manage a P15 finish.
It was a decent outing for Esteban Ocon in the Alpine as he made up a couple of places in the sprint race and managed a P9 finish. Fernando Alonso however could only manage a P12 finish. It is not all lost for the French racing team as they can still aim for a decent points finish come raceday. Aston Martin had a slightly better Saturday than Friday after Sebastian Vettel made up a single place to finish P10, while Lance Stroll managed to make up a couple of places to P14.
Alfa Romeo had a difficult sprint race after teammates Giovinazzi and Raikkonen collided on lap 2 and the Finnish driver was spun round at Turn 1. Giovinazzi still managed a decent P13 finish but it was not the case for Raikkonen as he could only recover as far as P18. He will be just ahead of both the Haas cars who are set to start with Schumacher P19 and Mazepin P20. George Russell was finally beaten by a Williams teammate on a Saturday for the first time as Nicholas Latifi held on to finish P16, while Russell had to settle for P17.
Verstappen might have lost out to Bottas for pole but the Dutchman comes out of the sprint race after extending his advantage to 21 points over his challenger Lewis Hamilton. The championship race is not over by any means, especially after the way that Mercedes and Hamilton have performed in the sprint race today. A brief showing of the main event on Interlagos was seen today and the race is sure to be a thrilling event come Sunday.