Guanyu Zhou took the final win of Formula 2's Sakhir weekend, in a feature race dominated by changing tyre performance and a dramatic late collision for title hopeful Oscar Piastri.
Zhou started the race from pole, but it was anything but an easy drive from the front for the Alpine junior. He was slow away off the line and lost the lead to Christian Lundgaard at Turn 1, then dropped to third behind teammate Felipe Drugovich at Turn 4.
After a brief safety car in the early laps when Roy Nissany was spun out by Robert Shwartzman, Zhou then found himself under pressure from Piastri. The Prema driver, who had started on softs as opposed to Zhou's hard tyres, picked off Zhou for third on lap 4 and set off after Drugovich and Lundgaard, while Zhou lost another position to Marcus Armstrong on lap 8.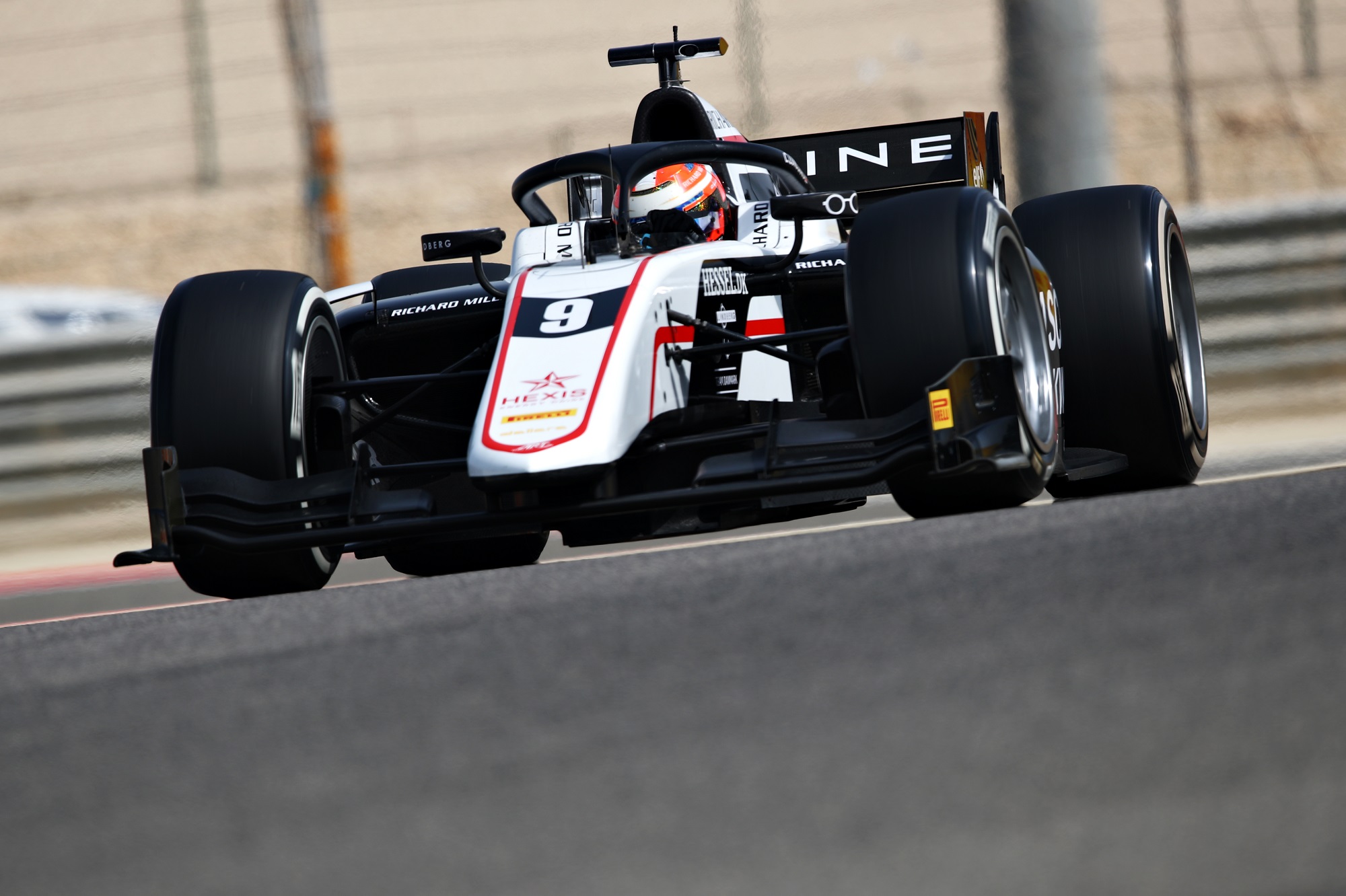 By lap 12 Piastri had passed Drugovich and closed within half a second of Lundgaard, before overtaking the ART for the lead at the start of the following lap. By then the pit window was open and Lundgaard become the first to stop for hards at the end of lap 13, followed by Drugovich on lap 14 and Piastri himself on lap 16. Meanwhile, Zhou made his stop for soft tyres on the alternate strategy on lap 15, and came out of the pits just behind Drugovich.
Another safety car was deployed in the middle of the pit phase when Gianluca Petecof's cockpit fire extinguisher went off and forced him to retire. The timing of this second safety car benefited Armstrong and Richard Verschoor, who had been shuffled to the head of the field and were able to stop while the pack was slowed down. Armstrong came out of the pits still in the lead, while Verschoor emerged in third between Piastri and Lundgaard.
At the restart on lap 19 however Armstrong immediately fell back, as Piastri and Verschoor both passed him for first and second respectively. Lundgaard also struggled for pace and lost fourth to Drugovich at Turn 4, then fifth to Zhou at Turn 10. Drugovich and Zhou then toppled Armstrong from third on lap 20, before Zhou overtook his teammate for the podium position a lap later.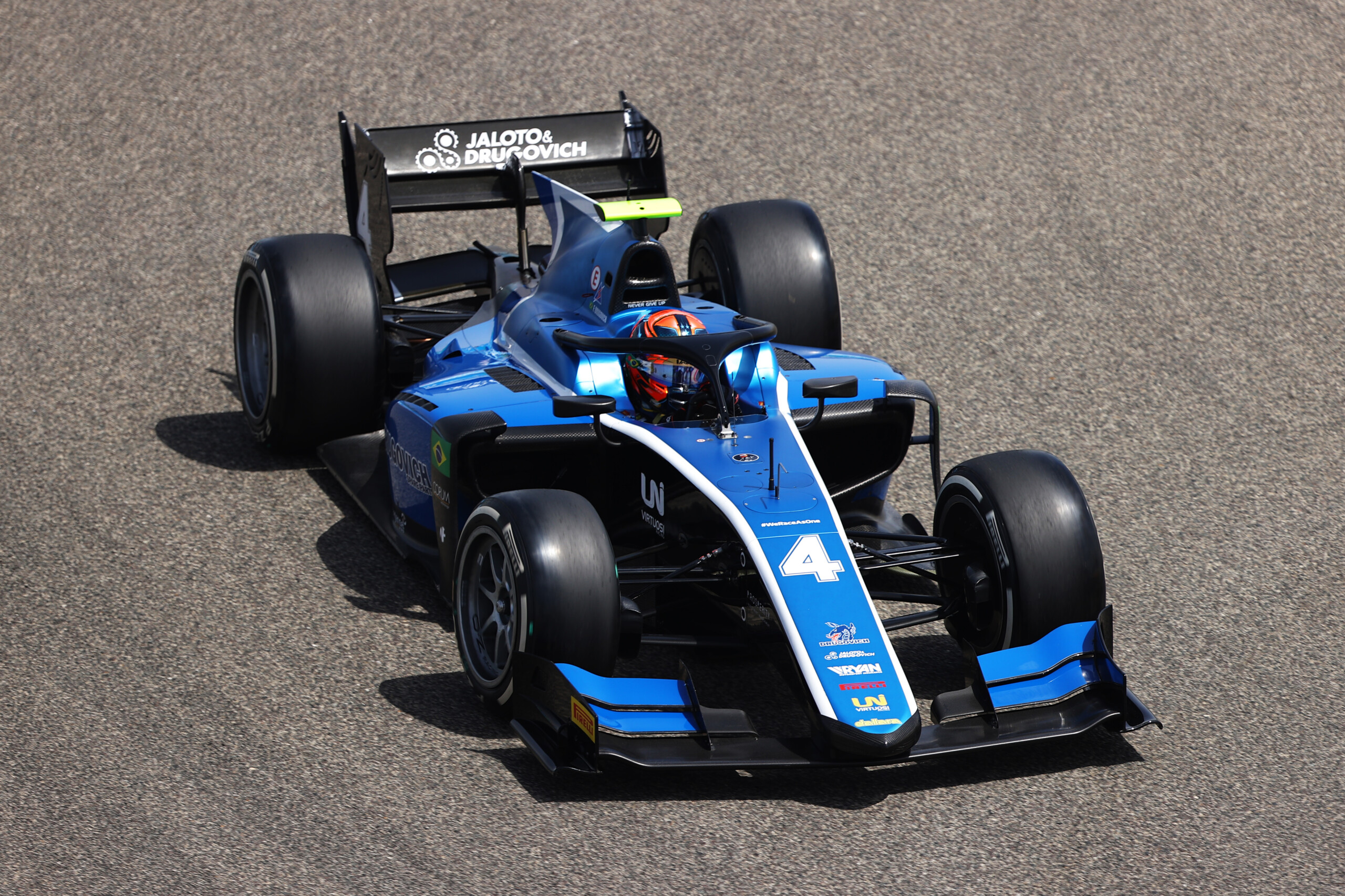 As Zhou returned to the podium positions, Verschoor took the lead from Piastri on lap 20 and set about building a two-second gap as his softs had more initial pace than Piastri's hards. That pace deficit allowed Zhou — as well as Dan Ticktum and Liam Lawson, who were also charging through on softs — to close up to Piastri and challenge him for second.
Zhou took the position from Piastri on lap 23 and started reeling in Verschoor, who was struggling as his softs then started losing grip. But despite being on the same compound, Zhou was able to keep his tyres in better condition than the MP Motorsport ahead and he took the lead of the race at Turn 4 on lap 28.
As Zhou then leaped clear in the lead, Ticktum started challenging Piastri for third as the Prema couldn't find pace on the hard tyres. After being rebuffed at the inside of Turn 1 and the outside of Turn 4 on lap 29, Ticktum was much closer at the start of lap 30. He pulled to the inside and got momentarily ahead, before the two cars made contact and Piastri was spun into a stall and out of the race.
Ticktum continued on in third, and after a brief virtual safety car to recover Piastri he improved to second with a pass on Verschoor. Lawson also overtook Verschoor on the final lap to take his second podium finish of the weekend.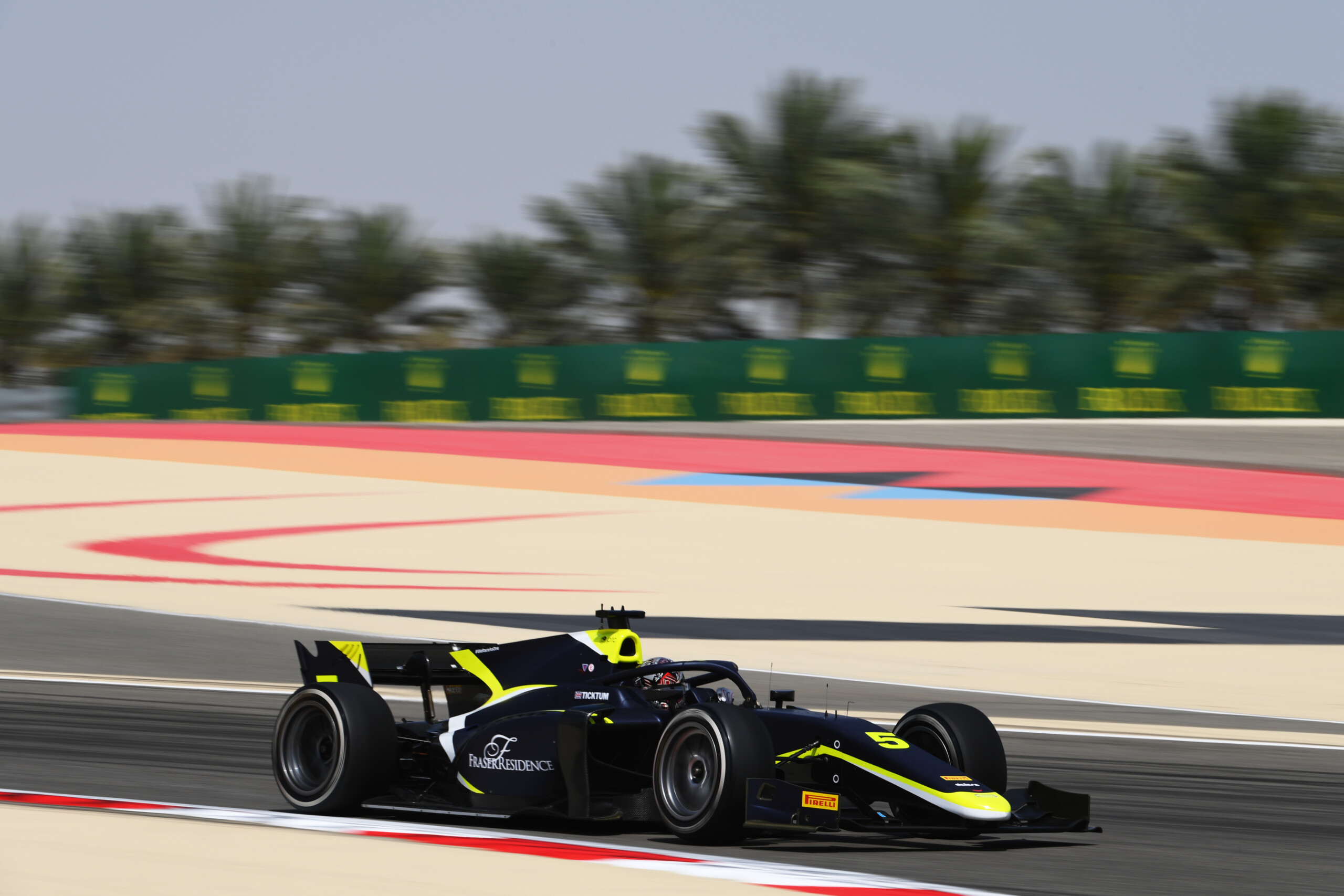 Verschoor was able to hold onto fourth at the flag ahead of Armstrong and Jehan Daruvala. Shwartzman recovered from a drive-through penalty for hitting Nissany at the start to take seventh and the fastest lap, while Theo Pourchaire, Drugovich and Matteo Nannini rounded out the final points positions.
Zhou now leaves Bahrain in the lead of the championship by 11 points from Liam Lawson, and Piastri drops to fourth behind Daruvala. Carlin now lead the teams' standings on 47 points, ahead of UNI-Virtuosi (43) and Prema (37).
Formula 2 returns on 20–23 May in support of the Formula 1 Monaco Grand Prix.