After another impressive season with Mercedes, it seems that nothing could stop five-time world champion Lewis Hamilton from dominating the race track once again on Sunday afternoon in a somewhat dramatic fashion.
Qualifying results meant that Mercedes had a front row lockout, Hamilton taking prime place on pole position followed by Bottas in second, ahead of the two Ferrari's of Vettel and Raikkonen in third and fourth, and the two Red Bulls of Daniel Ricciardo and Max Verstappen in fifth and sixth. The top ten was completed by Romain Grosjean in seventh, an impressive lap time put Charles Leclerc in eighth, Esteban Ocon  was ninth and rounding out the top ten was Nico Hulkenberg for Renault.
As daylight faded and the floodlights dominated the night sky, the drivers lined up on the grid, many facing an emotional race ahead; the likes of Kimi Raikkonen who was about to take on his last race for Ferrari, Daniel Ricciardo's last dance for Red Bull Racing, and of course Fernando Alonso's final ever Formula One race. It was going to be a challenging afternoon in the desert.
Lights out and both Mercedes, followed by both Ferraris and Daniel Ricciardo, got a clean start into turn one, chased by the rest of the pack. Grosjean and Alonso both ran wide but quickly rejoined, with Fernando losing a few places to Ericsson and Gasly. Max Verstappen was strong off the line, however he encountered a problem with a water temperature sensor which temporarily slowed him into turn two, dropping him down the order.  After speaking over the team radio, Max managed to reset the system and the sensor issue was resolved.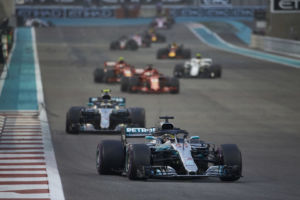 Leclerc shot up the order to sixth followed by Grosjean, Hulkenberg, Verstappen, Ocon, Sainz and Perez. Leclerc was closing in on Ricciardo and the two switched places numerous times, with Daniel eventually fighting his way back up the field.
Meanwhile, Grosjean and Hulkenberg were fighting behind them for position. Grosjean's Haas was on the outside line going into the corner, Hulkenberg right alongside him. Nico attempted to move across in front of Grosjean, however he misjudged the corner and, as a result, the pair locked wheels, forcing Hulkenberg's car to barrel through the air into the barriers, the car coming to rest upside down and with some flames igniting in some of the rear bodywork. The Safety Car was deployed and, thankfully, Nico was unscathed if not a little shaken from the accident.
It was a disappointing race for Kimi Raikkonen whose Ferrari came to a stand still on the start-finish straight at the end of lap seven, the display on his steering wheel going black; a disappointing end to his last race for Ferrari.
Kimi's technical issue meant that Virtual Safety Car was deployed and Mercedes took the plunge, deciding to bring Hamilton in for supersoft tyres on lap eight of fifty-five. He emerged in P5.
Numerous battles were being had across the board, notably between Ocon and Verstappen who had collided in Brazil. This time, Max got the place without any problems. Gasly and Ericsson were having a scrap before Ericsson's car suffered a technical failure, and Ocon and Sainz were scrapping for P7.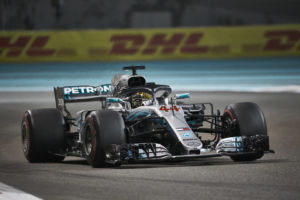 By lap 23, many of the drivers had pitted. However, Red Bull decided to keep Daniel Ricciardo out for a long stint on the ultrasofts, the Australian leading the race before pitting on lap 34 for supersofts, the slower of the compounds. He came out of the pitlane in P5 behind teammate Verstappen.
By lap 35 Bottas was struggling, locking up on several occasions. Sebastian Vettel took advantage of this and managed to steal second place. Both Red Bulls soon closed up on a struggling Bottas and snatched another two places from him, Max up to the final podium spot and Daniel in 4th position.
As the race reached its closing stages, technical issues arose for Esteban Ocon, Pierre Gasly and Marcus Ericsson who all were forced to retire, a disappointing end to each of their seasons.
Despite the drama behind him, Lewis Hamilton had a faultless race, cruising to his 73rd career victory in Formula One. The podium was completed by Sebastian Vettel in 2nd place and Max Verstappen in 3rd, Daniel Ricciardo finishing his 100th race and last for Red Bull Racing in an admirable 4th position.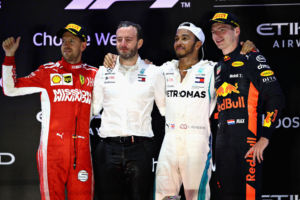 Valtteri Bottas finished in 5th followed by an impressive result for Renaults' Carlos Sainz in 6th and Alfa Romeo Saubers' Charles Leclerc in 7th, both in their final races for their respective teams before moving on to pastures new at McLaren and Ferrari.
It was a well fought but disappointing final race for double world champion Fernando Alonso, who just missed out on the points in P11. At the end of the race, Alonso was joined by Lewis Hamilton and Sebastian Vettel who all performed doughnuts on the home straight for the Abu Dhabi crowds as a farewell to the 2018 season and the legendary Spanish driver, a truly remarkable end to the championship. The countdown is on for 2019!
Featured Image: 2018 Abu Dhabi Grand Prix – Ferrari Media