Charles Leclerc takes pole from Max Verstappen as the Ferrari looks fastest over Qualifying. Perez makes it P3 meaning Leclerc will have to fight off two RedBulls with his teammate at the back of the grid.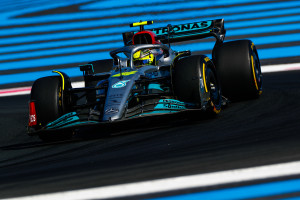 As the first runs in Q1 began it became obvious that the Mercedes were both way down on pace compared to their latest performances against the top two teams. Both cars were down nearly 1.5 seconds from Leclerc at the top.
Down at the bottom though it seemed the same cars were battling to get out of the top 5. A familiar story for Aston Martin who can't seem to find enough pace to improve. Right towards the end of the session Albon spun, right in front of Hamilton, and brought out the yellow flag. This affected Stroll but Vettel made it through.
Haas was struggling for pace and initially appeared to leave Magnussen in the pits, knowing he had an engine penalty to serve. But, in the final runs they sent him out and he managed to put in a great lap time, making it into Q2.
His teammate was hovering around the bottom but drove an incredible lap to put him in Q2. However, just as Q1 ended his lap time was deleted for track limits. He wasn't sure to start with if he could still run, but it was confirmed he was out of Q1, along with Gasly, Stroll, Zhou, and Latifi.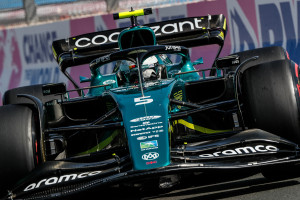 With Q2 underway the Mercedes were first out and setting times of 1:33's, which were quickly broken by Norris with a 1:32:777. Then the top teams came out with Sainz setting a lap nearly one second faster than anyone else.
It appeared that Verstappen may have been having some issues with his car, having some understeer on almost every lap. However, he was able to make this work, staying in the top three for the whole of Q2.
With five minutes left in the session, the second runs were underway, Mercedes very much under pressure looking like they might not make it out of Q2. Their one-lap pace seems to be giving them problems, they are relying on their race pace to bring in good points.
Ocon was the first to cross the line, going P6, Vettel couldn't make it out of the bottom five as Tsundo and Alonso put in faster times. Russell made it out of the drop zone, quickly followed by his teammate, who pushed out Ricciardo and Bottas. Magnussen also made it into Q3, taking the battle for P19 all the way to the end.
Out in Q2 was Ricciardo, Ocon, Bottas, Vettel, and Albon.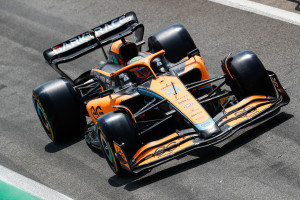 Q3 had Perez setting the initial benchmark, but with Sainz providing a tow for Leclerc, he was able to only just go faster. Verstappen couldn't answer the Ferrari and went P2 by 0.008. It was all the brits after that, with Russell in P4 then Hamilton and Norris. Alonso and Tsunoda rounding out the lap times, with Magnussen and Sainz not setting a time.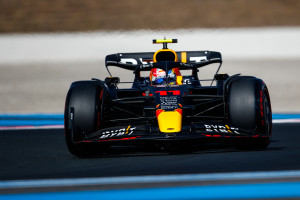 Round 2 with 4 minutes left of the session and this was it. Sainz was back out to provide the slipstream and protect pole for his teammate. The same strategy as before, Sainz provided a tow through turns 8 and 9. Leclerc improved by 3 tenths with Verstappen who couldn't improve so starts P2 behind the Ferrari on pole.
Perez had enough pace to keep P3 while Hamilton made it onto the second row in P4. Norris managed to split the Mercedes in P5, with Russell in P6. Alonso beat Tsunoda for the final times in Q3.
A championship battle on the front row and a battle of the brits behind them. Perez up there to take advantage of the lone Ferrari. All to play for tomorrow.