It's finally here. The inaugural Formula 1 Miami GP is set to be fast and furious as the teams get used to this street track from Friday practice to the race on Sunday.  
After years in the making, Miami, Florida has its own Grand Prix on the calendar. The track has only been finished recently so drivers and teams have had limited data to put into simulators. They can only get a real feel for the track and what it might have in store when we get to Friday.
What we do know is that we have another very fast street track for the drivers to conquer. With a potential 3 DRS zones this is set to give us thrilling flying laps in qualifying. There a long swooping corners after turn 1 which lead to a straight before the first major overtaking spot at turn 11.
Sector 2 does look to be twister making the set up very important for the teams. This leads to the final, very long, final straight before another perfect overtaking opportunity if the turn 17 hairpin. That is set to be the last obvious overtaking spot before heading back to the main straight.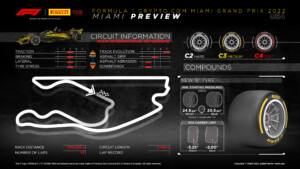 Ferrari 's time to fight back
Ferrari had a weekend to forget last time in Imola after Red Bull dominated the weekend, taking 58 out of a possible 59 points. To make things worse Sainz ended up in the gravel on lap 1 and with Charles Leclerc in prime position to take a podium, he spun out late on in the race, finishing P6.
On their home turf they really suffered, so Ferrari will be looking to bring the heat in Miami. With Red Bull performance still mostly unpredictable after the first few rounds, Ferrari need to capitalise on every opportunity they get.
Mercedes with upgrades
Mercedes are still not even close to where they want to be, fighting for podiums and wins consistently. In fact, McLaren seem to have solved their problems and are now their main rivals or possibly the faster car.
However, all is not lost because they are rumoured to be bringing a large upgrade package to Miami which will hopefully solve their porpoising problems.
It has been evident from the last few races that Mercedes are not the only team to suffer from serious bouncy car syndrome, with Ferrari showing the problem affects them. But it appears to be affecting their handling less when coming into corners compared to the Mercedes.
This is a problem which they are very much approaching cautiously but they are hopeful that they can solve these issues and be up at the front with Red Bull and Ferrari.
Qualifying is 9pm GMT on Saturday and the Race is 8;30pm GMT Sunday.