Max Verstappen took victory with a commanding performance at the Miami Grand Prix after passing polesitter Charles Leclerc early on.
A crash and a hydraulic issue had limited Verstappen's running in practice before he qualified third behind Ferrari, who qualified first and second for the first time since the Japanese Grand Prix of 2019, 48 races prior after they both capitalised on a mistake by the reigning champion in qualifying.
Due to an issue heating the fuel up, Aston Martin's promising looking qualifying was undone as both Sebastian Vettel and Lance Stroll were forced to start from the pit lane.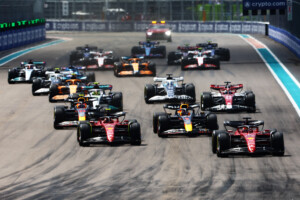 Off the start, Leclerc kept the lead through the first corner as Max Verstappen got round Carlos Sainz at Turn Two, splitting the Ferraris and giving Red Bull a near perfect start.
The Monegasque opened out a second advantage to the reigning champion after the first two tours of the circuit, setting the fastest lap as both of the leaders began to drop Sainz.
Having made a poor start from sixth, Sir Lewis Hamilton was passed by both Pierre Gasly and Fernando Alonso, with the Briton claiming that Alonso had hit him, but he streamed back ahead of the double world champion shortly after.
The seven-time champion then got back ahead of Gasly, regaining sixth and putting him just over two seconds behind former Mercedes team-mate Valtteri Bottas.
Mick Schumacher and Yuki Tsunoda then engaged in an entertaining battle for 11th as the German got past, while Verstappen was beginning to close on Leclerc as Zhou Guanyu brought his Alfa Romeo back into the garage to retire.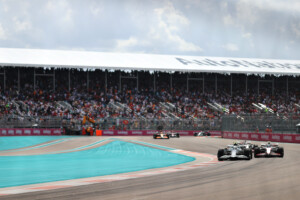 He was told of significant graining on the Ferrari driver's front left tyre, and he duly took full advantage by getting to within a second and passing his fellow 24-year-old into Turn One, and Leclerc then began to fall away while Sainz began to fall into the clutches of Sergio Perez.
The first stops of the race arrived on lap 13 as Tsunoda and then Kevin Magnussen came in for Hard tyres, followed by Schumacher, with the lack of longevity of the Pirelli rubber this weekend being confirmed.
Alonso's stop was intended to gain the undercut on Gasly, but an issue on the front right delayed his getaway, and cost him time to the Frenchman.
Vettel would then engage in an entertaining battle with Williams' Nicholas Latifi after Stroll had cleared the Canadian, with the German and then Magnussen making their way past, as Gasly's came back out of the pits comfortably clear of Alonso as Alpine's misfortune this season continued.
Vettel then narrowly cleared Norris as the Briton exited the pits, before Magnussen followed him through past the McLaren after a slow stop, and Perez began to lose power in his Red Bull, causing him to fall back towards Bottas, but his lap times began to improve as he returned to the pace.
Magnussen had a go at clearing Vettel at Turn 11, but he ran out of table on the outside as the 34-year-old defended well.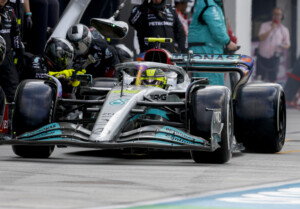 Hamilton came in on Lap 23 and was given a splendid stop by the Mercedes crew, and he re-joined behind George Russell after the 24-year-old's P12 in qualifying left him out of position.
Leclerc then began using the rest of his residual grip on the Mediums as he set the fastest lap, indicative of an imminent stop, but the gap to Verstappen had risen to 4.5 seconds.
Despite his pace, he told his team that the car was "so difficult to drive," and he was shortly thereafter brought into the pits for a set of Mediums.
Red Bull waited a couple of laps to bring Verstappen in as he got a super stop from his mechanics, and came back out ahead of Perez, who had yet to make a stop, with Sainz in the lead for the same reason.
Sainz pitted on lap 27, but had a slow stop as the crew struggled with the front left, but owing to Perez's earlier issues, was able to re-join in front of the Mexican, before Hamilton reported to his team that he was beginning to suffer from overheating tyres.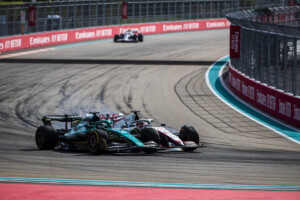 Magnussen, having finally cleared Vettel, now had a face full of Stroll's Aston Martin, and Norris was behind the train involving Schumacher as his slow stop continued to cost him time.
As Vettel's attempt to get back past Magnussen failed, Schumacher gladly took the opportunity to get ahead of the Aston Martin.
That left the Banbury-made cars to battle between themselves as the 29-year-old endeavoured to defend from his younger team-mate.
Schumacher was eventually allowed to get past the Dane, before a Vettel mistake at Turn Seven opened the door for Norris to gain the position.
Russell, meanwhile, had been completing a remarkably good stint, and he told his team he was more than happy to stay out in anticipation of a Safety Car or some rain as Christian Horner began to look nervously at the sky.
Gasly and Alonso made contacted as they continued their squabble as the Spaniard went for an ambitious move down the inside, and the subsequent time loss cost the 25-year-old a place to Stroll, who had yet to pit in another miserable day for Aston Martin.
Contact then ensued between Norris and Gasly, causing a puncture and a spin out of the race for the McLaren and extracting the Virtual Safety Car – an ideal opportunity for Russell to make his stop.
Gasly had been slowing after going off at Turn Eight and, as he re-joined, he turned into the back of the Briton, and the departure of his tyre followed by his stricken car lying out on track brought eventually brought out a full Safety Car.
The subsequent stops put Russell into seventh, while Aston Martin were brought back into the picture, and Esteban Ocon, having started last after being unable to contest qualifying due to an FP3 crash, was placed onto Softs.
Alonso was also given a five-second penalty for the collision with Gasly, who then came in for Softs of his own.
Most importantly though, Perez had put on fresh Mediums, leaving the Ferraris vulnerable to him for when the race restarted, and a neglect on Hamilton's side of the garage to pit him also looked set to leave him at the mercy of Russell.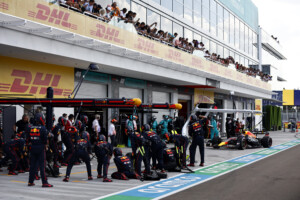 Sainz was immediately forced to fend off Perez on the restart, but Verstappen negotiated it perfectly, remaining ahead of Leclerc as everyone kept it clean on lap 47.
Schumacher managed to clear Ocon for ninth place as he chased his first points finish, and Perez continued to attack the second Ferrari.
Russell tried to make a move stick on Hamilton, but the 37-year-old defended well before a mistake from Bottas allowed both of them to clear the Alfa Romeo, which had made contact with the barrier.
Russell did then manage to clear his Mercedes team-mate after a boisterous battle of the Britons, and Leclerc was sticking within a second of Verstappen as he chased the win.
A highly audacious attempt from Perez into Turn One, and the subsequent lock-up allowed Sainz to get back in front.
Schumacher would then dive down the inside of his friend and mentor Vettel, hitting hi and spinning him at Turn One, allowing Ocon to climb into the points, as well as Alex Albon.
Verstappen opened out the gap to a comfortable margin, and as he crossed the line on the final lap, claimed the 23rd win of his career.
It leaves him 19 points behind Leclerc in the Drivers' Championship, while Ferrari's lead over Red Bull has been cut to six points.