Qualifying:
Sunny and dry conditions greeted the riders at the Spanish circuit (Jerez) on Saturday during the qualifying session.
Francesco Bagnaia (Ducati) set the fastest lap time to take pole position for the race on Sunday, beating Maverick Vinalez's best recorded time in 2020, with a 1:36.170.
Coming second was Fabio Quartararo (Yamaha) and close behind in third was Aleix Espargaro (Aprilia).
Also pushing hard for good results were Joan Mir (Suzuki), Jorge Martin (Ducati) and Enea Bastianini (Ducati), but unfortunately all three riders crashed out during the session.
Race:
The wonderful weather continued into Sunday as the racers lined up on the grid. Would Bagnaia's shoulder injury, from last weekend, be able to withstand the pressure of a full race? Would Quartararo be able to do back-to-back victories?
Bagnaia got a great start from lights out and immediately led from the start, ahead of Quartararo, Jack Miller (Ducati), Takaaki Nakagami (Honda) and Marc Marquez (Honda), in 5th place.
Marquez was quick to pass Nakagami for fourth and A. Espargaro followed suit soon after. Relegating Nakagami to 6th position.
On the same lap, same corner, Martin and Stefan Bradl (Honda) tumbled out of the race, bizarrely in separate crashes.
Marquez also took fastest lap in the process of gaining a position, he was pushing hard, knowing he had to try and catch the leaders before they got too far ahead. Pecco and Fabio had already created a gap ahead of third-place-man Miller. The next lap Bagnaia claimed fastest lap with 22 laps to go, trying to secure his lead.
By lap 6, the front pair had gotten 1.600 seconds ahead. While Darryn Binder (Yamaha) crashed out of 17th place.
Two laps later and the gap increased further at the front to 2.773 seconds from the front two to Miller.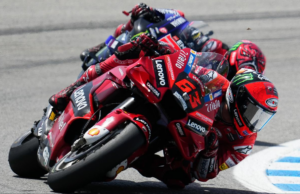 With 17 laps to go Marquez had caught up to the back of Miller with A. Espargaro closely behind.
Suzuki-man Alex Rins ran through the gravel at turn 12 whilst Johann Zarco (Ducati) crashed out of 9th place, turn 5.
For the second time during the race, on lap 11, Bradl crashed again, only this time he couldn't re-enter. Whilst further ahead, Marquez was looking menacing behind Miller. Was Miller holding up the Repsol Honda?
Growing more impatient, Marquez tried to line-up a move on Miller a few times, but couldn't seem to find the perfect spot to do so.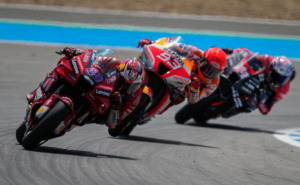 With only 10 laps to go the gap between the leaders and third-place still continued to increase- 6.088 seconds, but would Miller remain in 3rd for much longer?
In front of the 60,000 fans track-side and thousands more watching at home, the battle for third started: Miller, Marquez and Espargaro had managed to create their own pocket, gapping 1.639 seconds ahead of Mir in 6th place. Who was going to take last spot on the podium?
Lap 19 of 25, Marquez continued to follow and watch Miller and on lap 21 he decided enough was enough and took his chance, passing on turn 5, to take 3rd place. It was an odd choice of corner to pass on, but he made it work. Espargaro then took his opportunity and passed both the Ducati and Honda, going from 5th to 3rd in one corner, as Marquez lost control of the front of his bike but he managed an incredible 'Marquez of old' save. Miller also took advantage of this momentary lapse and passed him, taking 4th position. Marquez suddenly was down in 5th, right back where he had started the race.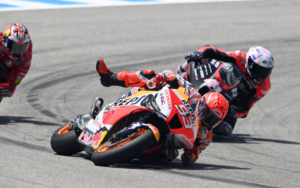 The leaders were then 9.443 seconds ahead of A. Espargaro with only 3 laps until the end.
Espargaro must have felt he had better pace than the two riders behind him as he soon pulled away from them, quickly creating a gap.
Last lap and Bagnaia continued to lead ahead of Quartararo, A. Espargaro, Miller and Marquez. But, Marquez had one more trick up his sleeve. He saw another opportunity and passed Miller two corners before the finish line, claiming 4th place as his own.
Back out in front the Bologna Bullet crossed the finish line to take Bagnaia's first win and podium this season so far.
Top ten finishers:
| | |
| --- | --- |
| 1st | F. Bagnaia |
| 2nd | F. Quartararo |
| 3rd | A. Espargaro |
| 4th | M. Marquez |
| 5th | J. Miller |
| 6th | J. Mir |
| 7th | T. Nakagami |
| 8th | E. Bastianini |
| 9th | M. Bezzecchi |
| 10th | B. Binder |
With his metronomic lap times it was no wonder Bagania dominated the race, even with his shoulder injury which could have hampered his race winning chances.
The top-three finishers ended the race exactly the same order they started in and due to Aprilia's run of continued success this year- gaining yet another podium finish (and their first back-to-back premier class podiums) they now loose their concessions.
Top four in Championship:
| | | |
| --- | --- | --- |
| 1st | F. Quartararo | 89 points |
| 2nd | A. Espargaro | 82 points |
| 3rd | E. Bastianini | 69 points |
| 4th | A. Rins | 69 points |
The championship is still extremely close and is still anyone's for the taking.
Next round is Le Mans – France, Fabio's home-track. Will we see him take victory or will a new winner be crowned?
Featured image: Courtesy of Moto GP website.