When Formula One's new regulations were revealed for the 2022 season, it was with the hope that it would lead to closer, more exciting racing. Two races in, they've certainly delivered.
In Bahrain, it was the Ferrari of Charles Leclerc who came out on top as the Scuderia secured a 1-2, after late race breakdowns for both Red Bulls left them pointless. There were no such issues for the reigning champions in Jeddah though, as Max Verstappen kickstarted his championship defence with a hard-fought, and well-thought, victory.
Once again, the top two toyed with each other when it came to using DRS on multiple occasions. Verstappen made the first move into the final corner, but as we saw a week ago, Leclerc was able to instantly fight back on the next straight. Thus began the cat and mouse games that might define this generation of Formula One. Just one lap later, neither driver wanted to cross the all important detection line into Turn 27 first, with the Monegasque driver catching Verstappen napping, and briefly being able to build a one-second lead. When Verstappen got back within DRS range however, Leclerc was powerless to stop the Red Bull driver marching to his first victory, and first points of the season.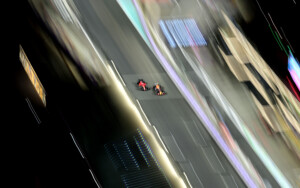 Many expected Verstappen and Leclerc to be stars of the future from the moment they set foot in an F1 car, and it looks like this season will be the first time we get to see them fight consistently against each other at the front. Admittedly, the 'fights' have so far been fairly straightforward DRS overtakes. Albert Park, home of the next race in two weeks time, is usually a much tougher place to pass, so might see Max and Charles get closer than they have done so far this season, perhaps even repeating their antics from Spielberg and Silverstone in 2019.
Those previous battles three years ago might be why we're seeing a tamer Verstappen than we saw last year. He knows that Leclerc isn't afraid to get his elbows out, whereas Lewis was more likely to try and avoid contact at any cost. It would not be surprising if this year's top two send carbon fibre flying on more than one occasion throughout the remaining twenty-one races.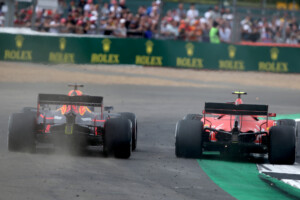 So far, it is one each between Max and Charles, but it could have been so different. Sergio Perez was unlucky with a pit-stop the lap before Nicolas Latifi found the barrier and brought out the safety car, turning a possible victory for the Mexican into a lonely race to fourth. His misfortune promoted Carlos Sainz onto the podium for the third consecutive race, but this was another weekend where the Spaniard looked off the pace compared to his teammate. The battle between the 'number twos' could be crucial in determining the destination of both champions this year, especially on any weekend when one team has a clear pace advantage.
The midfield entertained as always, with both Alpines adding many grey hairs to team principals Otmar Szaufner's head in the opening laps. Kevin Magnussen also pulled off some good moves, but the early safety car meant that anyone that was starting on the hard tyres would be on the back foot when it came to strategy.
This was also the case for Lewis Hamilton, on arguably his most difficult weekend (pace-wise) in the hybrid era. One point will be scant consolation for the seven-time world champion, with George Russell coming home in fifth. Barring any issues for Red Bull or Ferrari, a porpoising fix, or performance found in a 'reliability' engine upgrade, it looks like fifth will be the best the Brackley team can manage over the next few races.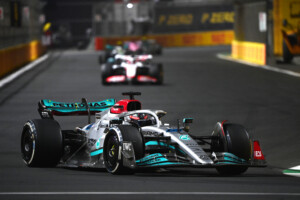 Sunday's race passed without any controversy, which definitely couldn't be said about last years. Once again though, the track proved to be brutally punishing, with Mick Schumacher and Cem Bolukbasi both missing their races after heavy accidents at Turn 12. These crashes, and the missile strike at the nearby Aramco refinery during Friday practice, will quite rightly raise questions about the wisdom of holding a race in Saudi Arabia.
No matter who you support, perhaps the best news from this weekend is that it is over, and everyone is able to leave safely.