What a race! In the jumbled up 2020 calendar that began in July at the Red Bull Ring, the last three races are a triple feast in the Middle East. Beginning with the traditional Bahrain circuit last weekend and ending the season at the Yas Marina circuit in Abu Dhabi but that middle race would be another one at Bahrain. However it would be on the outer circuit which the F1 cars had been lapping at under a minute all through the weekend.
The lead up to the weekend was already packed with action, as Romain Grosjean's horror crash from which he thankfully escaped with just a few burns meant that Haas drafted in reserve driver Pietro Fittipaldi. Then the huge bombshell dropped that world champion Lewis Hamilton had tested positive for COVID-19 which meant Mercedes had to go looking for a replacement driver. That turned out to be George Russell who left a vacant seat at Williams, and that ended up being F2 racer Jack Aitken.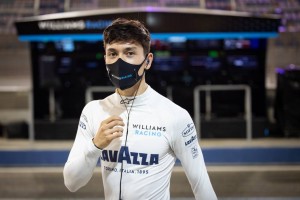 In qualifying, it was Bottas who just pipped Russell to pole by a microscopic margin. Max Verstappen qualified third and Charles Leclerc put in a mighty lap to drag that lacklustre Ferrari to fourth on the grid, and following him were Pérez, Kvyat, Ricciardo, Sainz, Gasly, Stroll, Ocon, Albon, Vettel, Giovinazzi, Magnussen, Latifi, Aitken, Räikkönen, and at the back were Norris and Fittipaldi who had taken grid penalties.
At the start, Russell immediately got away better than Bottas who had to hold off Verstappen's advances, and struggled to get out the first few corners. His compatriot Räikkönen spun in the back of shot and thankfully no awful imagery to worry about like last week at the same corner. But Bottas' eyes were on Verstappen, closing the door on him which left an open opportunity for Pérez to go past the Red Bull.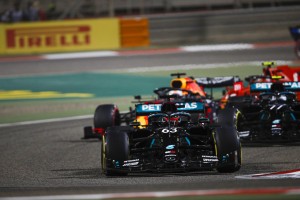 But it was Leclerc who got caught out trying to brake for the corner, smacked into the Racing Point and spun him round, leaving Verstappen with nowhere to go but into the wall and retirement along with Leclerc. Somehow, Pérez was able to continue and pitted, benefitting from the subsequent safety car and was able to rejoin the back of the pack in 18th.
At the front, Russell's massive lead that he got at the start was eliminated, but he wasn't done. The safety car period ended on lap six and Russell eased off whilst Bottas was under pressure from McLaren's Carlos Sainz, who rose to third amid the first lap chaos. He went around the outside of Bottas into turn one, but going through the turn two and three complex, Sainz ran wide and that allowed the Merc right back through.
Whilst Russell was experiencing what it's like to be in the lead in an F1 car, further down the order were two of his mates, Lando Norris and Alex Albon. Lap 20 and Albon made a move stick on Norris, who was then immediately overtaken by Pérez despite the Mexican being spun on the first lap. The following lap, Albon was then passed by Pérez at the same corner.
Back at the front with Russell, he already had a gap of over a second before the DRS was enabled. The Mercs began gapping Sainz, and it was a steady lead Russell held over Bottas which fluctuated as they negotiated lapped traffic. He extended that lead after he pitted, undercutting Bottas after he was left out for a further four laps, and the gap went to the highest it had been all race even in spite of a sensor scare.
Russell's typical Williams teammate Nicholas Latifi pulled off and caused a Virtual Safety Car, and not much changed other than Bottas swiped into Russell's lead. But Pérez was continuing his charge through the field, putting a move on teammate Lance Stroll going into turn four and then the following lap, on former Force India teammate Esteban Ocon. The Mexican was absolutely flying out there. He was now on course for a podium finish with his strategy completely played out.
However, Russell's replacement at Williams Jack Aitken lost the car coming out of the last corner and clattered the tyre barrier, leaving his front wing on the track and he dove for the pits. A Virtual Safety Car was initially called, but that became a full Safety Car, and Mercedes felt the need to cover off Pérez. But man, did they mess up.
The two Mercs double stacked, Russell came in and they put on the tyres, all well and good. Then Bottas came in and there seemed to be some hesitation, and they sent him back out on the same tyres he pitted with, which was a bit odd as to why they did that. Then it became very apparent. Russell had been sent out on tyres which were intended for Bottas, so now he was bunched up behind the safety car with Pérez, Ocon and Stroll behind him and he was called back to the pits to change the tyres.
This was a huge mess-up on Mercedes' part. Russell came back out in fifth behind Bottas who remained on his old set, but looked to have the best tyres out of everyone in the top five. Racing resumed and Russell was a man on a mission, making quick work of his teammate on the old set of tyres pulling off an immense outside move going through the long turn six, then passing Stroll and Ocon with the help of DRS. He then set to work catching Pérez who was a long way up the road.
Russell was eating into Pérez's advantage lap after lap but yet again, disaster. Russell was called back to the pits AGAIN as he had a slow puncture and they put him on softs, whilst the other Mercedes of Bottas just went backwards as he was overtaken by Sainz, Ricciardo and Albon in very quick succession.
But up at the front, a man who for some reason doesn't have a drive in 2021 guaranteed. Sergio Pérez took an incredible first win for both himself, and the team that he's leaving after next week's season finale. Esteban Ocon took second ahead of Lance Stroll, then it was Sainz, Ricciardo, Kvyat had also passed Bottas in the closing stages, Russell recovered to ninth ahead of Norris who scored the last point.
Russell finally got his long awaited first points finish as well as another for fastest lap, although it was little consolation for what was throughout the entire race looking set to be an incredible first win for the guy. He did absolutely incredibly all weekend, and it definitely will not be the last we hear from Russell, who may get a second stab at the cherry this weekend in Abu Dhabi providing Hamilton isn't well enough to participate.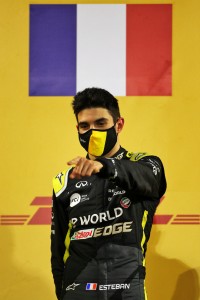 But it was Pérez who after 190 starts, finally took victory and became the first Mexican to win an F1 Grand Prix in 50 years. A win that was perhaps long overdue, especially if we harken back to Malaysia 2012 when he came very close in his Sauber to denying Ferrari's Fernando Alonso a win that day. But better late than never, and hopefully Pérez is not out of F1 for long.