Update – 23/01/2021: Hello again! It's Luca. I left ThePitCrewOnline in the middle of 2021 when I was offered a role with the driving games and esports racing website, and in that time, a lot has happened.
Back in March 2021, I was watching the final round of the VCO ProSIM Series Season 1, and at the end there was an advertisement for an upcoming event by VCO, and it was the Esports Racing World Cup. The best teams in all of sim racing doing battle on three separate simulation titles, those being iRacing, rFactor 2 and Assetto Corsa Competizione from 28-30 January 2022.
Then a year-round set of tournaments will take place, that being the Esports Racing League with a structure that is similar to that of more traditional forms of esports like Rocket League and Call of Duty. All of this happening as a result of the many ideas I expressed here, and CEO of VCO Florian Haasper has accredited me with helping them come up with.
It just goes to show that by networking with all the right people and forging connections, you can make things happen. Tune in to VCO's YouTube and Twitch channels on all three days to see the definitive sim racing event take place!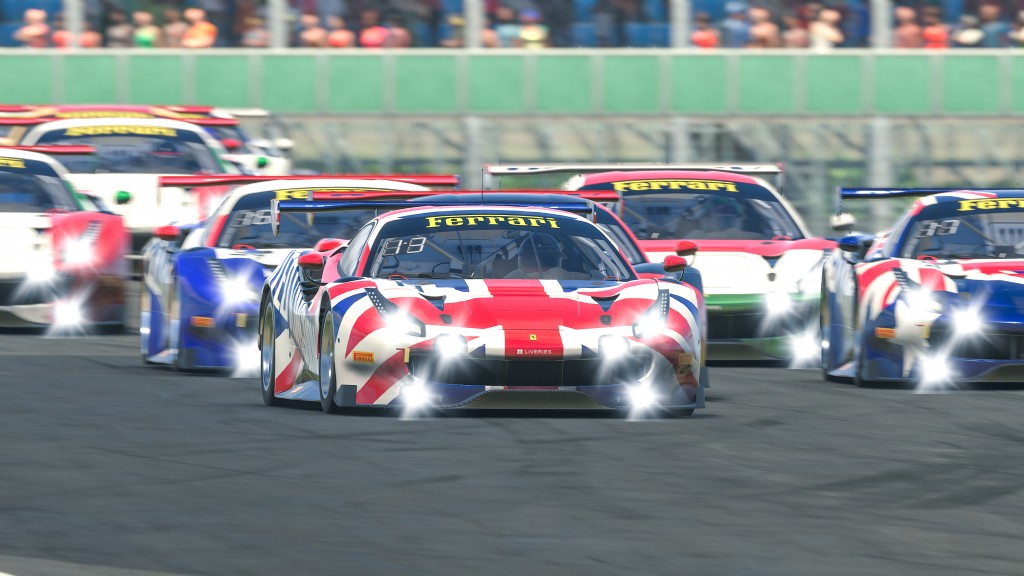 During the beginning portion of this year, we have been treated to some incredible racing in the virtual world. It provided an unprecedented opportunity to showcase the high level of ability from a lot of drivers who do compete in sim racing, as well as the high quality of racing you can witness at the fraction of the cost of the real thing.
We had countless examples of high profile races ranging from sanctioned events by existing series including the likes of Formula 1, MotoGP, Formula E and IndyCar, to completely new originals such as the very popular All-Star Series by The Race.
However Esports racing events are not an entirely new creation, as we have had plenty of championships that existed before this sim racing boom. Such examples include F1 Esports, the FIA-certified Gran Turismo Championships, and iRacing host many sanctioned sim racing series such as the Porsche Esports SuperCup and the eNASCAR iRacing Series. Then we also have the likes of Formula Sim Racing, the Grand Prix Virtual World Championship, league racing championships such as Apex Online Racing and Online Racing League, you get the idea.
So it's not as if virtual racing fans are starved of action, if anything we are spoilt for choice! But with the quantity of races and championships that there is on offer, there's a danger perhaps of a lack of prestige with any one particular championship. Do bear with me on this.
When I started to become interested in video game racing, I like many of you were blown away by the accessibility and thus seeing the amount of drivers who were taking to it in order to make advances in their racing career. Subsequently a lot of teams have popped up to compete and signed a lot of drivers to compete in various championships for them, and it just solidified the brilliance of the Esports racing.
So what is it that really sets apart virtual racing from real racing?
It of course goes without saying that real racing has the physical element which virtual racing could never really have. However because in the virtual world, cars and tracks can be picked from the touch of button, the advantage of that is not having to pay huge amounts of money to ship cars onto a cargo plane to a new track. Therefore whilst the physical factor isn't a huge thing in Esports, there can be a mental factor.
In the week leading up to last weekend's 24 hours of Le Mans, the Le Mans Esports Series had their Super Final which was stretched across a few days. In that, teams and drivers race multiple different eras of Le Mans-style cars on a variety of circuits, which is brilliant of course but I think it was their first season last year which really made me realise what was so brilliant about the format.
Of course this year, everything is being done remotely and thus there are some limitations. But in 2019 when the Le Mans Esports Series had its first Super Final and all the drivers were actually present at the Le Mans circuit for the event, they had about nine races varying from two to three hours long, in a variety of cars on a multitude of circuits, and it all took place within a 24 hour period.
They could just as well have had one race on the Circuit de la Sarthe and driven for 24 hours like the real thing but they didn't. They took advantage of the fact that they could go to all these circuits and compete in all these vastly different cars, and really test the mental strength of these drivers, showing who can quickly adapt and prove their versatility in a short space of time.
What I'm saying is, whilst you could have a sim racing championship that does one circuit at a time with one type of car throughout the season and it would be perfectly legitimate, there are advantages presented by being able to quickly move to another type of car and track combination.  That's why I want to present an example that demonstrated this concept brilliantly.
On the weekend of July 26th, I watched the Cup of Nations, an event that took place on iRacing and hosted by the Virtual Competition Organisation in collaboration with RaceSpotTV and Williams Esports. You can guess by the name that it was a competition held between nations, and you'd be correct in assuming that.
It was won in the end by Team Germany who had the driver with the highest iRacing driver rating in the world Maximilian Benecke, as one of their participants. However as appealing the concept of pitting nations against each other is (demonstrated by the likes of the FIA Motorsport Games and A1GP), it wasn't that which caught my attention.
No, it was the fact that the car and track combinations were so heavily varied. You had the likes of Aussie Supercars, GT cars, Rallycross cars, single seaters and the many different types of race tracks such as ovals, dirt tracks and road courses. The people taking part only knew of the car and track combinations very little time in advance, so it eliminated the element of people getting more practice or even enough of it with a particular car and track combo.
Every driver that took part had to prove their worth in so many heavily contrasting environments. When I said earlier that the virtual racing world is currently lacking that one prestigious championship in which all the major aspiring and established sim racing drivers and the many Esports teams would want to compete in and win, I think this would be it.
I firmly believe that the VCO have showcased a diamond in a huge box already full of very valuable jewels. With some other elements borrowed from many other high profile Esports championships and if refined to iron out some rough edges, this concept would be – and I don't mince my words here – the quintessential sim racing championship.
Picture if you will, the many big names from the real and virtual world both in regards to drivers and teams, looking to win the biggest prize in Esports racing, in the most prestigious championship for sim racers all over the world.
Open to anyone all over the world, teams entering with pre-selected drivers in a Pro driver category or players who qualify through iRacing and enter into an Am category. Either competing remotely in eight events across the year to match up to a total at the end, or entering into regional championships so no one region is left having to drive at 3am all the time. I would leave that up to the experts to decide which format works best.
Either way, it would end at the SimRacing Expo which takes place at the Nürburgring every year to crown the champions.
As far as a name goes, I'm divided between a few. There are the likes of, Sim Racing World Championship, Virtual Racing World Championship, eRacing/E-Racing World Championship.
In any case, I firmly believe that this championship would be incredible. It would not be a long shot to say that whoever would win this would be the world's best sim racing driver or team, and we the viewers would also be major winners as we can see the peak of ability in all of sim racing.