Motorsport is facing a challenge in the years to come to both survive and thrive. It is no secret that racing has a big carbon footprint and we are slowly but inevitably going to have to adapt or die – and it's safe to say that none of us want the latter.
We are seeing F1 begin its transition to biofuels and many alternative energy methods are being tested like electric cars either powered by batteries or fuel-cells. We won't be short of energy methods and many series will be looking to provide a platform to allow development of these cars for many of our road cars in the future.
Not long ago, I was humbled when I was invited to do a one-on-one Zoom call with a man named Mike Rockenfeller. If that name sounds familiar to a lot of you, that's because along with Timo Bernhard and Romain Dumas, he won the 24 hours of Le Mans in 2010. He is also the 2013 DTM champion.
Rocky and I got in touch because I had picked up on a project he had been working on, as he was one of the founding partners of the Racing Concept Cars Organisation which runs the World eX championship. This is a virtual racing series where one real-world professional racing driver teams up with one sim racer and compete in short, quickfire, entertaining races.
In my call with Rocky, he spoke at length about how he hopes to develop the series to potentially serve as a platform to allow manufacturers to test their electric motors on simulation software in the not-too-distant future. After all, eX stands for electric experimental.
Now don't assume for a second that a virtual racing series just because it is not technically using an actual car, can't help develop real life cars. In fact, it's safe to say that manufacturers are using simulators to test their concepts all the time and virtual racing will only serve as a further means and cost-saving effective method to put those theories into practice before putting it on the road.
In their early days of venturing into virtual racing, RCCO ran a few lower profile events and exhibition championships that would plant the seeds of what would become World eX. They competed on Gran Turismo Sport using the Audi e-Tron Vision Gran Turismo, which was an experimental concept car developed by Audi in collaboration with Polyphony Digital who make the Gran Turismo games.
The e-Tron VGT has since been developed in real life and is the first fully functioning concept car that can drive on roads, and also the first which matches the virtual and "on-paper" statistics with the real specifications. It has since gone on to be used for taxi rides in support of the 2018 Berlin and Rome ePrix, and plans suggest it may go on to participate in the 24 hours of Nürburgring, as well as the Goodwood Festival of Speed.
All this from a car that was developed through a video game! It further proves that the virtual world is revolutionising the way we race and develop not only drivers but cars as well. That's exactly what RCCO World eX aims to be, and right now for their first full season as a top level championship, they have an immense baseline with an incredible car called the eX ZERO.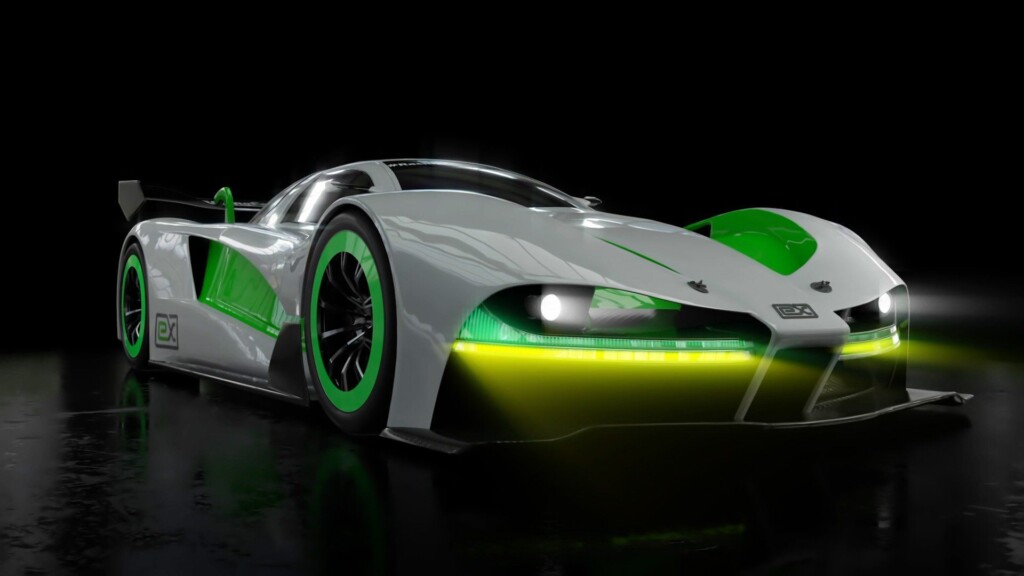 Why is it incredible? Let's give you some performance figures. The car that the teams will use in its fully-fledged inaugural season puts out 1,000 horsepower transferring through all its wheels from its two electric motors and two-speed gearbox. It has a perfect 1:1 power-to-weight ratio as a result of weighing only 1,000 kilograms despite its 100 kilowatt/hour battery.
As a result of all these numbers, the eX ZERO can go from a standstill to 62mph/100kph in a mere 2.3 seconds, to 124mph/200kph in 4.6 seconds and to 186mph/300kph in 9.5 seconds. Plus in its lowest drag configuration it can go on to a mind-bending maximum speed of 239mph/384kph.
The eX ZERO was developed in partnership with Studio 397 who are the creators of rFactor 2, the simulation software that World eX uses to stage its races. When developing the car it was imperative that it was to behave in a way that was true to life, despite the fact it only exists in the virtual world.
Throughout its development, Rocky wanted the car to behave in such a way that it would really test the drivers on the limit, so the car doesn't stick to the circuit by any means and is a tricky little thing to drive. He also is well aware that battery powered electric cars without heavy braking zones to allow a lot of regeneration (like in Formula E) will not last for a long race distance, so they based the format of eX around this fact.
"With today's technology and the amount of power we are deploying, we are limited to up to 15 minutes of flat-out racing," says Rockenfeller. "This fits our unique race format with head-to-head battles and many short races. It would be easy to make the power capacity infinite for the virtual car, but that's not what we want. Battery technology is developing rapidly and we will update the car with any new technology, which will be available in the near future. We are talking to potential partners from the automotive industry that can use our microcosm to promote their progress in the real world. And we are looking forward to seeing car manufacturers developing their own eX cars for our platform."
The World eX will run a unique format in all of its events. It starts out with 22 cars doing 1v1 duels over a single lap. There will be 11 races, with five seeing pro drivers going against each other, another five with the sim drivers and then one race is between the two wildcard entries who qualified through rFactor 2. The winners of each duel automatically progress to the quarter finals, with one slot remaining for the winner of the two-lap repechage that consists of all the drivers who lost their duel race.
The quarter-finals see six cars compete in two races again across two laps, with the pro drivers and wildcard entrant forming group one and the sim racers along with the repechage winner forming the second group. The top four in each group progress to the semi-finals which consist of two races over three laps, with the top three in both races progressing to the four lap final.
After the final is the super final which is a single one-lap shootout between the top two finishers of the final. Whoever comes out on top is the official winner of the eX Prix and will automatically earn an invitation to the final round where that winner will be crowned World eX champion.
RCCO aim to allow manufacturers to develop their own cars for World eX in the not-too-distant future, not only for battery powered electric vehicles but also fuel-cell electric vehicles. I would like to think World eX could potentially lead to battery powered EVs to someday eventually be able to be charged to 100% in 30 seconds and have no wear on the battery as a result. The possibilities are absolutely endless.
However for 2021 at least, all the teams use the eX ZERO which is affectionately referred to as the 'Sustainable Beast', and here are some of the names you can expect to see participating in their first season.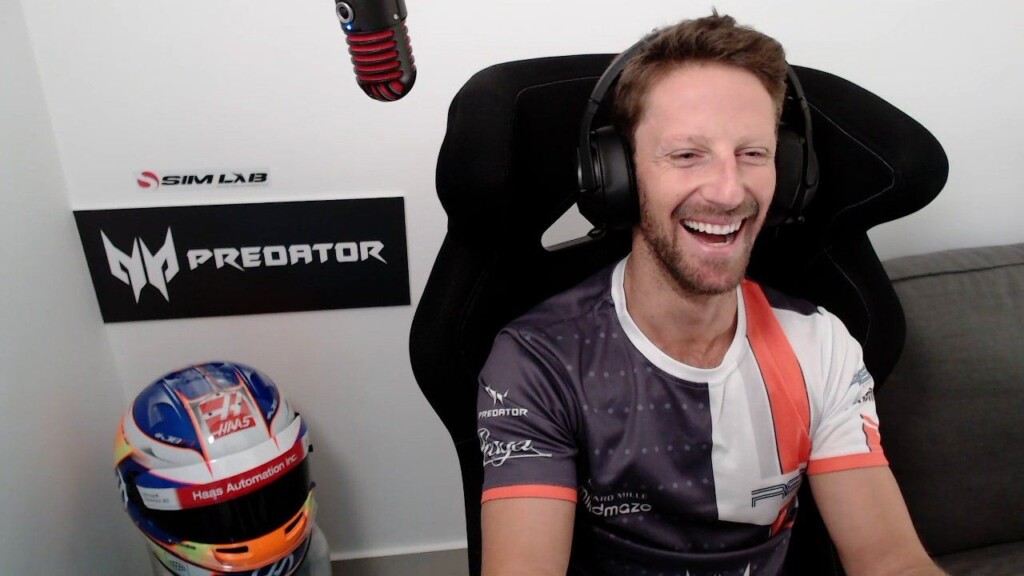 There are nine officially confirmed teams for the first season with vacant slots for guest entries plus two drivers who qualify through the game. There is a mix of established sim racing teams, new faces on the scene and even some real world heavyweights.
First there's Absolute Racing which is real-world racing team competing across Asia in the likes of the Asian Le Mans Series, F3 Asia and the Intercontinental GT Challenge. They have signed reigning EuroFormula Open champion and former Renault Academy and FIA F3 driver Ye Yifei.
He will be partnered with a sim driver called Michi Hoyer, who has competed in the likes of the Le Mans 24 Virtual and The Race All-Star Series. Ye will not participate in the first round however and instead his place will be taken by former Audi LMS Cup champion Alessio Picariello.
BS+COMPETITION will have 2019 W Series runner-up and 2020 W Series Esports League champion Beitske Visser onboard as the sole full-time woman competing. Joining her will be Esports racer Alen Terzic who also competed in the likes of The Race All-Star Series and the Le Mans 24 Virtual.
Next up is Biela Racing, founded by five-time Le Mans winner and multiple national touring car champion Frank Biela who will not only run the team but also compete. His Esports teammate will be a talented German named Luca Kita.
NIANCO Esports is a team founded by Nico Müller who will be juggling his commitments in both Formula E for Dragon and DTM for Team Rosberg alongside World eX. He has selected another Swiss racer by the name of Thomas Schmid to be his teammate.
Patrick Long Esports is next up, founded by the American long-time Porsche factory driver whose name the team bares. A two-time class-winner at Le Mans, his lineup will consist of 2014 Indy Lights champion and 2015 IndyCar rookie of the year Gabby Chaves with the sim racing talent of Liam de Waal.
Undoubtedly the highest profile entry comes from R8G E-Sports Team, the sim racing team of former Haas F1 driver Romain Grosjean. He will be competing as the pro driver with Risto Kappet as his team mate, one of the most accomplished sim racers in its short history.
Next we have TK9 E-SPEED, founded by the driver with the most Le Mans 24 hours wins of all time: Tom Kristensen. His team's entry will feature former touring car champion Lasse Sørensen and Esports racer Andreas Jochimsen.
In its short lifespan, F1 team Williams' Esports division has committed to and found immense success in a plethora of sim racing championships, and RCCO World eX will be no exception! They will have its real world racing representative be ex-Formula E driver Tom Dillmann, while their sim racer will be former Haas F1 Esports driver Martin Štefanko.
Finally for the last full time entry is Esports Team WRT which has made its success in the real world in the likes of World Endurance Championship, GT World Challenge Europe and formerly in DTM. They'll be fielding reigning GT World Challenge Europe Sprint Cup champion Dries Vanthoor together with Fabrice Cornelis. The two teamed up with WRT in the Le Mans 24 Virtual, where they finished seventh.
Also throughout the season, many big motorsport names will be coming in to race as guest drivers. One of the first confirmed is reigning Formula E champion António Félix da Costa, who will be competing in the first round for temporary team NR eSports alongside sim racer Michael Niemas. Later on in the season, a tenth permanent entry will be added.
There will also be regional eX series that will be starting in the second half of 2021, which will be for drivers based in Europe, North America, South America, Africa, Asia and Australia. Each region will host their own races with the winners having the chance to qualify for the World Championship events as wildcard drivers, and will create additional national eX series spreading the series all around the world.
Now for the schedule! All the races will take place on Thursdays, with the first being this upcoming Thursday 11th March.
March 11: eX Prix of Great Britain – Silverstone
April 1: eX Prix of the United States – Sebring
April 29: eX Prix of Malaysia – Sepang
May 27: eX Prix of the Netherlands – Maastricht (fictional circuit)
June 24: eX Prix of Brazil – Interlagos
July 29: eX Prix of Portugal – Estoril
August 26: eX Prix of Belgium – Spa-Francorchamps
September 30: TBC (will be confirmed in due course)
October 29: eX Prix of Monaco – Monte Carlo
November 25: AvD eX Prix of Germany – Nürburgring
Who knows what this series could become in the next few years. They've had a meteoric rise from just playing Gran Turismo Sport with a few mates, to a fully fledged Esports series that will serve as a testbed for manufacturers in years to come.
Further breaking down the barriers between the real and virtual worlds of motorsport, I'd love to see eX become a series in the real-world too. Just like what Extreme E is doing, it should show a new means to transport the cars to new locations and show that racing can be both entertaining and sustainable. For now at least, the racing will remain in the virtual world but it won't lose any entertainment or relevance to this ever-evolving world of motorsport.
So how can you watch? Tune in to Motorsport TV's website to find a dedicated channel for the RCCO World eX that not only includes the live broadcast but also behind the scenes insight and a monthly dedicated show. You can also watch the events broadcast from their Twitch channel @rccoworldex. Formula E pit lane reporter Nicki Shields will host the broadcasts.
To whet your appetite for Thursday's eX Prix of Great Britain at Silverstone, watch this duel between Mike Rockenfeller and Romain Grosjean as they attempt to tame the 'Sustainable Beast' around the Nürburgring. If you have rFactor 2, you can download the eX ZERO via the Steam Network so you can drive it and witness its incredible speed for yourself.