Frederik Vesti took his second feature race win of the season at Monza, as his teammate Oscar Piastri recovered to the podium from 15th on the grid to take back the championship lead.
The race started with a mixed-up grid as nine drivers including pole winner Theo Pourchaire were penalised for driving unnecessarily slowly to set up their final flying laps. Hitech's Liam Lawson inherited pole ahead of Matteo Nannini and Jake Hughes, while Pourchaire dropped to sixth behind Logan Sargeant.
But despite losing pole, Pourchaire leapt back into contention for the win at the start. After passing Sargeant and Calan Williams for fourth off the line, the Frenchman then took third from Hughes in the opening corners. Second place followed on lap two with a pass on Nannini, as Pourchaire set the fastest lap to keep close to the leading Lawson.
Pourchaire caught Lawson on lap 4 and took the lead from the Red Bull junior. Setting another fastest lap in the process, Pourchaire began pulling away from the field with what looked set to be a dominant early lead.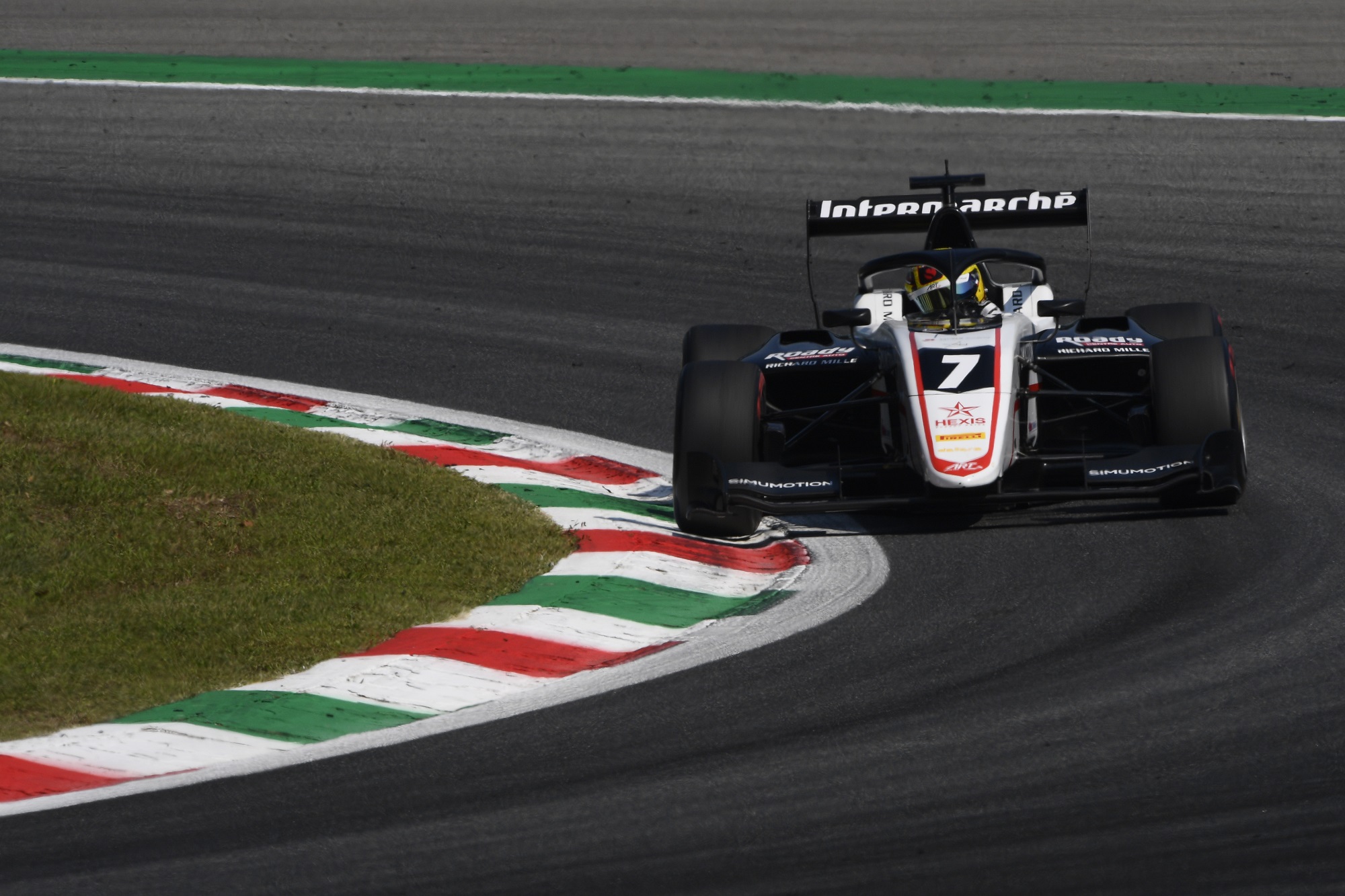 While Pourchaire was lighting up the timing screen in front, Vesti was taking advantage of mistakes from the drivers around him to make steady progress through the field.
Starting from ninth on the grid, Vesti passed his teammate Sargeant for eighth on lap 4 after the American ran wide battling with Alex Peroni. He gained seventh place shortly after when Igor Fraga went off at the Rettifilo, then moved up to fifth when Peroni spun round Williams on lap 7.
On lap 9, Nannini collided with Lawson trying to take away third and retired with front suspension damage. The incident allowed Vesti to close up on Lawson, and on lap 12 he forced his way into third into the second Lesmo.
Vesti's progress was briefly halted when Sebastian Fernandez spun off and brought out the safety car. But at the restart Vesti immediately pounced on Hughes to take second place, with just a second splitting him from Pourchaire.
After cutting the gap down to five tenths, Vesti took the lead from Pourchaire at Rettifilo with three laps to go, and led the ART home until the chequered flag.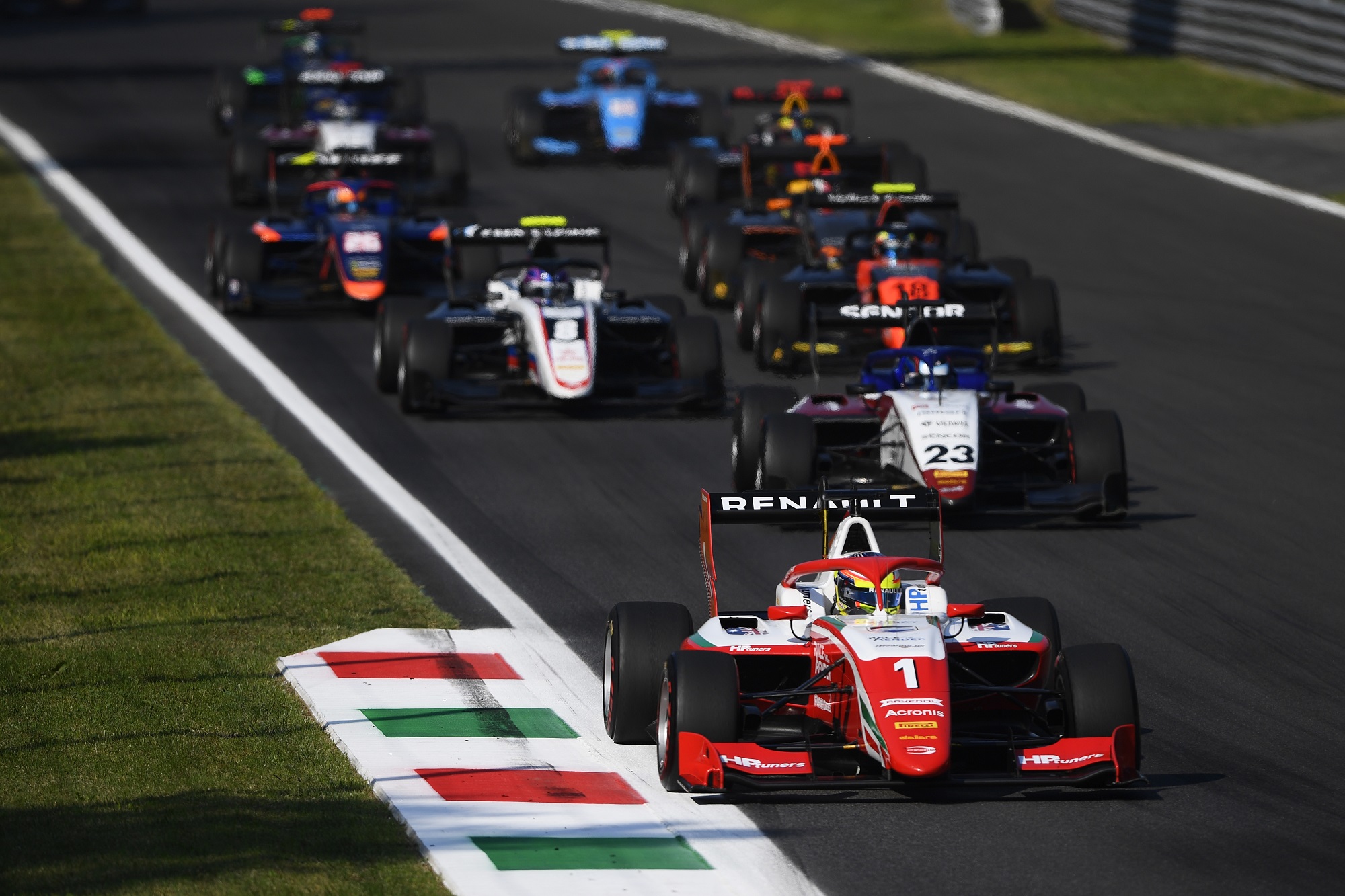 Vesti's teammate Piastri took third place in a race of contrasting fortunes for him and title rival Sargeant.
After the qualifying penalties played out, Sargeant emerged as the luckier of the two as he was elevated to fifth while Piastri remained in 15th place. But when the race began Sargeant seemed to lack pace compared to the cars around him. After losing out to Pourchaire and running wide battling with Fraga in the opening laps, Sargeant then went off at Rettifilo on lap 5 and dropped to 11th, just in front of Piastri.
The two Premas jostled each other for position as they both inched their way up into the lower top ten. After Sargeant fought back to keep ahead of Piastri just after his mistake, Piastri got definitively ahead of the American on lap 10 while they fought over eighth place. Piastri then managed to put a car between him and Sargeant as he passed Lirim Zendelli for seventh.
At the safety car restart on lap 14 Piastri gained sixth place from David Beckmann. But more importantly for the championship battle, behind him Sargeant was tapped into a spin by Clement Novalak at the Della Roggia chicane and dropped right to the back of the field.
With Sargeant's chances of scoring points effectively gone, Piastri's sixth was already enough to return him to the top of the standings. But instead of holding steady, Piastri continued pushing forward. After taking fifth from Peroni on lap 18, Piastri then breezed past Lawson for fourth at the same time as Vesti took the lead from Pourchaire. Finally, Piastri caught and passed Hughes on the penultimate lap to move himself up onto the podium.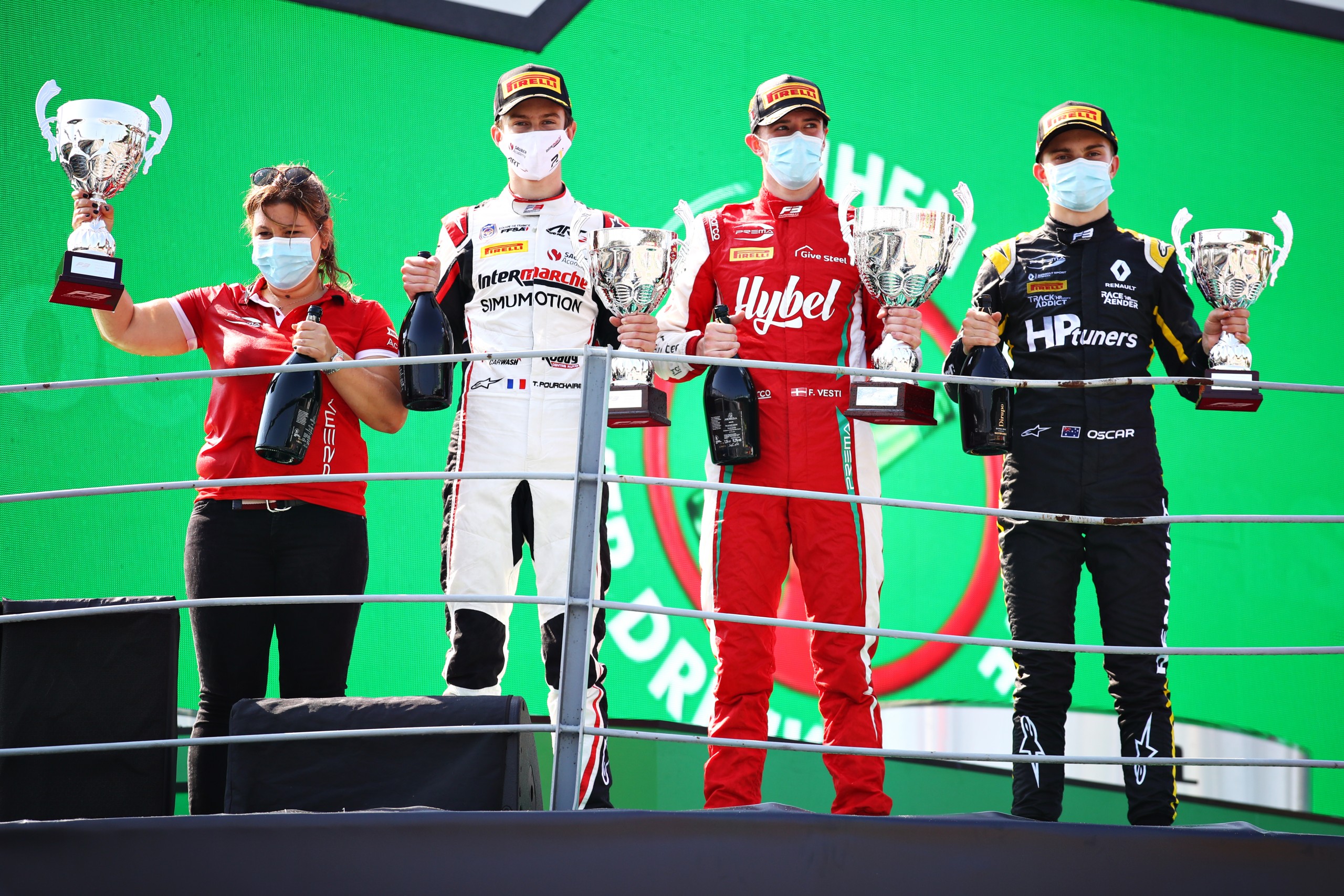 Hughes lost a further place on the final lap, with Beckmann beating him to the line in fourth. Lawson finished sixth ahead of Zendelli, Bent Viscaal and Enzo Fittipaldi. Michael Belov finished tenth for Charouz for his first point in F3.
With Sargeant eventually finishing the race in 26th, Piastri now has an eight-point lead in the standings, which is likely to increase tomorrow as Sargeant will be starting the sprint race well outside the points.
But despite Sargeant's non-score, Vesti's win and Piastri's podium was enough for Prema to wrap up the teams' championship with three races still to go.
Full race result:
| | | | |
| --- | --- | --- | --- |
| Pos. | Driver | Team | Points |
| 1 | Frederik Vesti (FL) | Prema Racing | 27 |
| 2 | Theo Pourchaire | ART Grand Prix | 18 |
| 3 | Oscar Piastri | Prema Racing | 15 |
| 4 | David Beckmann | Trident | 12 |
| 5 | Jake Hughes | HWA Racelab | 10 |
| 6 | Liam Lawson | Hitech Grand Prix | 8 |
| 7 | Lirim Zendelli | Trident | 6 |
| 8 | Bent Viscaal | MP Motorsport | 4 |
| 9 | Enzo Fittipaldi | HWA Racelab | 2 |
| 10 | Michael Belov | Charouz Racing System | 1 |
| 11 | Roman Stanek | Charouz Racing System | |
| 12 | Jack Doohan | HWA Racelab | |
| 13 | Dennis Hauger | Hitech Grand Prix | |
| 14 | Clement Novalak | Carlin Buzz Racing | |
| 15 | Lukas Dunner | MP Motorsport | |
| 16 | Cameron Das | Carlin Buzz Racing | |
| 17 | Alex Peroni | Campos Racing | |
| 18 | Pierre-Louis Chovet | Hitech Grand Prix | |
| 19 | David Schumacher | Carlin Buzz Racing | |
| 20 | Aleksandr Smolyar | ART Grand Prix | |
| 21 | Sophia Floersch | Campos Racing | |
| 22 | Federico Malvestiti | Jenzer Motorsport | |
| 23 | Alessio Deledda | Campos Racing | |
| 24 | Igor Fraga | Charouz Racing System | |
| 25 | Calan Williams | Jenzer Motorsport | |
| 26 | Logan Sargeant | Prema Racing | |
| 27 | Richard Verschoor | MP Motorsport | |
| Ret. | Sebastian Fernandez | ART Grand Prix | |
| Ret. | Olli Caldwell | Trident | |
| Ret. | Matteo Nannini | Jenzer Motorsport | |