Qualifying:
Rainy, damp conditions greeted the riders for their qualifying sessions on Saturday.
But, it was Ducati-man Jack Miller who took full advantage and secured pole, followed by Enea Bastianini and Marco Bezzecchi, making an all Ducati front-row. Second and third place were local-boys, hoping to shine bright at home.
The top two riders in the championship – Fabio Quartararo (Yamaha) and Aleix Espargaro (Aprilia) both qualified on the 3rd row.
Francesco Bagnaia (Ducati) received a 3 place grid penalty which resulted in him starting in 5th, following on from slowing down on the racing line, after he assumed the chequered flag had been waved to end the session.
Race:
A wonderful tribute to the late Fausto Gresini would be done during the race, in the form of the Gresini Racing bikes having their livery changed to remember the 1987 125cc World Championship winning Garell bike that Gresini used. Whatever their outcome for the race, this was a wonderful surprise.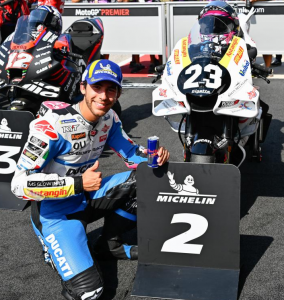 The rain/ damp conditions had passed ready for Sunday with partly cloudy weather, the track temperature though had risen significantly to 43 degrees, come race time. Would this prove to be an issue?
It was finally lights out for the Moto GP race: Miller got a great start, as did Bagnaia. Miller led Bastianini and Bagnaia into the first corner. But behind it was  disaster for; Johann Zarco (Ducati), Michele Pirro (Ducati) and Pol Espargaro (Honda), who all toppled out together. Hopefully, none were injured in the collision.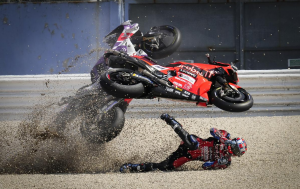 After the news this week, that Bastianini had been confirmed he was to be Bagnaia's teammate next year, there didn't seem to be any future team orders between the pair. Bastianini soon passed Bagnaia to take 2nd place. But on the second lap Miller unexpectedly fell from first (turn 4), leaving 'The Beast' to lead the race.
Bastianini led Marini (VR46) and Bagnaia (Marini had also managed to pass Bagnaia to take 2nd). While one VR46 rider fortunes were in his favour, teammate Bezzecchi's fortunes were not – crashing out also on lap 2.
The new race leader also almost toppled from first moments later, but managed to recover.
The excitement was far from over though. Lap 3 saw Bagnaia and Vinales both pass Marini, pushing him back to 4th, another yellow flag waved but this time for both Frankie Morbidelli (Yamaha) and Fabio DiGiannantonio (Ducati), Bagnaia passed Bastianini for the lead and 'Top Gun' passed 'The Beast' for 2nd.
Bagnaia led Vinales, Bastianini and Marini with Quartararo and Espargaro close behind.
Bagnaia took fastest lap (lap 5) but had mounting pressure in the form of Vinales, who was looking menacing behind.
In 5th place on lap 7, Espargaro made a small error, which Quartararo needed no invitation and passed him to gain another place. Meanwhile in 3rd Bastianini was pushing hard and took fastest lap (1:32.560 seconds).
Now in 5th spot, could Quartararo close the gap on the front 4 riders, their gap had increased to 0.826 seconds, with 21 laps still to go? He knew he had to try. Next lap he took fastest lap. Could he be in for a shout of a podium finish?
Fastest lap soon went to Bagnaia, but was beaten seconds later by 6th place rider Espargaro. Fighting for the championship, alongside Fabio, could Aleix catch him to reduce the points between them? He certainly kept the momentum going – with 16 laps till the end, he secured another fastest lap.
Track limits warnings were coming thick and fast: Vinales was the first to receive one, then Martin then Quartararo. But, Vinales didn't seem perturbed by his warning and soon took 2 fastest laps in a row, all the while, eyeing up a pass on Bagnaia.
With 12 laps to go, Bastianini went slightly wide, letting Marini take 3rd, but Bastianini wasn't having any of it and re-took the position straight back. The gap between number 23 and 12 was 0.615 seconds. Could Bastianini manage to catch up and if so fight for the win?
Setting fastest lap with only 10 laps to go he had managed to claw the gap down between himself and Maverick to 0.471 seconds. With Vinales still trying to get the perfect spot to pass Bagnaia for the lead. But, he had waited too long to make his move and 2 laps later Bastianini attacked and took 2nd place on turn one. Bagnaia now led Bastianini, Vinales and Marini.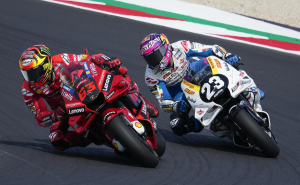 The next track-limits warning went to Bastianini with 6 laps till the end.
But, more drama was about to unfold going onto the last lap:
Bastianini was all over the back of Bagnaia. Would he make a last lap lunge? Surely not – this would be his teammate next year and a championship contender this year. None of this was on his mind though as he went to make a move but had to abort it, in fear of crashing into Bagnaia, which in turn created a small gap between the pair. The gap was severely shrunk down on the start-finish line though making it a picture-finish. Bagnaia had the edge and claimed the victory (with only 0.034 seconds between them) and in the process made history: Being the first-time Ducati have won 4 races in a row!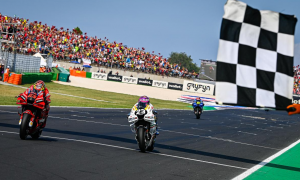 A great ride from Vinales saw him finish on the last spot of the podium.
Top 10 race finishers:
| | |
| --- | --- |
| 1st | F. Bagnaia |
| 2nd | E. Bastianini |
| 3rd | M. Vinales |
| 4th | L. Marini |
| 5th | F. Quartararo |
| 6th | A. Espargaro |
| 7th | A. Rins |
| 8th | B. Binder |
| 9th | J. Martin |
| 10th | A. Marquez |
Top 4 Championship Standings:
| | | |
| --- | --- | --- |
| 1st | F. Quartararo | 211 points |
| 2nd | F. Bagnaia | 181 points |
| 3rd | A. Espargaro | 178 points |
| 4th | E. Bastianini | 138 points |
As seen above, there are some changes to the championship table.
The race was brilliant and had everyone on the edge of their seats. BUT, we can't end there.
For the last 21 years there has been a consistent rider, one who we have had the pleasure to watch come through the ranks: winning the 125 championship, coming close to winning the 250 championship and coming runner-up many times in the Moto GP class.
Ever a gentleman off track but with the heart of a lion on track, he gave us many exciting battles and has raced against many big names in the sport. He won his first-ever race at Misano and decided to end his Moto GP career his way, at the very same track. He has won many fans over the years and the paddock will not be the same without him.
Thank you for the memories Andrea Dovizioso and Ciao! We wish you all the best wherever your future takes you.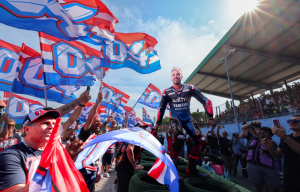 Featured image: Courtesy of: Moto GP website.