Roman Stanek topped the first day of Formula 3's final post-season test at Jerez, pipping Prema's Arthur Leclerc by 0.048s.
Stanek, driving for ART after testing for Prema himself in Barcelona, bucked the trend of the first post-season test by setting his best and the overall fastest time in the afternoon session. The Czech driver was only 11th in the morning session, but in the afternoon he was one of only two drivers to dip below 1:30s with a 1:29.928s.
Leclerc was the other driver to do so with a 1:29.976s. Jonathan Hoggard, driving for Hitech, picked up his impressive display from the first test by finishing the day third-fastest, just 0.086s off Stanek's benchmark.
Jack Doohan, returning with Trident, finished fourth overall after topping the morning session. Dennis Hauger was fifth for Prema and second behind Doohan in the morning.
Enzo Fittipaldi (HWA), Clement Novalak (Trident), Igor Fraga (Hitech), Frederik Vesti (ART) and rookie Caio Collet (Prema) rounded out the top ten.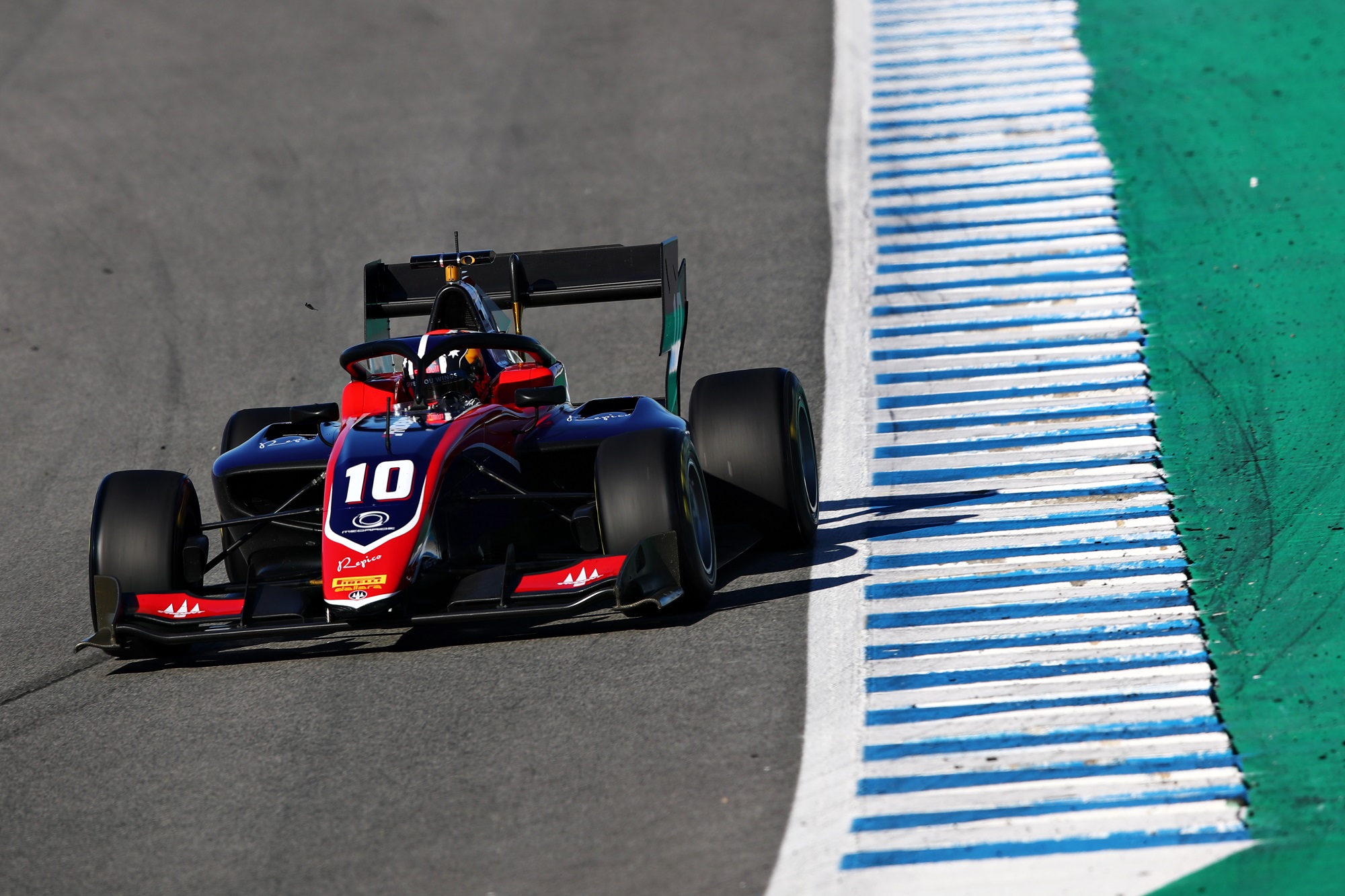 Overall classification:
| | | | | |
| --- | --- | --- | --- | --- |
| Pos. | Driver | Team | Time (best) | Laps (total) |
| 1 | Roman Stanek | ART Grand Prix | 1:29.928 | 67 |
| 2 | Arthur Leclerc (R) | Prema Racing | 1:29.976 | 60 |
| 3 | Jonathan Hoggard (R) | Hitech Grand Prix | 1:30.014 | 67 |
| 4 | Jack Doohan | Trident | 1:30.161 | 54 |
| 5 | Dennis Hauger | Prema Racing | 1:30.199 | 57 |
| 6 | Enzo Fittipaldi | HWA Racelab | 1:30.202 | 63 |
| 7 | Clement Novalak | Trident | 1:30.222 | 60 |
| 8 | Igor Fraga | Hitech Grand Prix | 1:30.297 | 67 |
| 9 | Frederik Vesti | ART Grand Prix | 1:30.338 | 70 |
| 10 | Caio Collet (R) | Prema Racing | 1:30.356 | 61 |
| 11 | David Schumacher | Trident | 1:30.431 | 74 |
| 12 | David Beckmann | Charouz Racing System | 1:30.462 | 42 |
| 13 | Calan Williams | Jenzer Motorsport | 1:30.473 | 65 |
| 14 | Olli Caldwell | ART Grand Prix | 1:30.540 | 69 |
| 15 | David Vidales (R) | Campos Racing | 1:30.541 | 67 |
| 16 | Matteo Nannini | MP Motorsport | 1:30.566 | 63 |
| 17 | Oliver Rasmussen (R) | HWA Racelab | 1:30.576 | 84 |
| 18 | Pierre-Louis Chovet | HWA Racelab | 1:30.585 | 89 |
| 19 | Jak Crawford (R) | Hitech Grand Prix | 1:30.688 | 62 |
| 20 | Cameron Das | Carlin Buzz Racing | 1:30.696 | 54 |
| 21 | Jonny Edgar | MP Motorsport | 1:30.748 | 62 |
| 22 | Nazim Azman (R) | Carlin Buzz Racing | 1:30.927 | 65 |
| 23 | Ido Cohen (R) | Carlin Buzz Racing | 1:31.151 | 62 |
| 24 | Peter Ptacek (R) | Campos Racing | 1:31.159 | 71 |
| 25 | Francesco Pizzi (R) | MP Motorsport | 1:31.255 | 66 |
| 26 | Reshad de Gerus (R) | Charouz Racing System | 1:31.363 | 43 |
| 27 | Alessandro Famularo (R) | Campos Racing | 1:31.390 | 68 |
| 28 | Rafael Villagomez (R) | Jenzer Motorsport | 1:31.454 | 68 |
| 29 | Filip Ugran (R) | Jenzer Motorsport | 1:31.870 | 68 |
| 30 | Konsta Lappalainen (R) | Charouz Racing System | 1:32.037 | 68 |