Title contender Logan Sargeant bounced back after engine problems in yesterday's feature race to take victory in the Formula 3 sprint race at Spa.
Reverse grid polesitter Richard Verschoor held the lead into the first corner, while Sargeant rose to second ahead of Olli Caldwell due to Liam Lawson having a slow start and dropping back to fifth.
But despite getting off the line well, Verschoor was unable to drop Sargeant in the opening laps as he struggled again with straight line speed for his MP Motorsport car. Sargeant stayed within a few tenths of Verschoor until lap 3, when he made the move for first and took the lead of the race.
Meanwhile, Sargeant's teammate Frederik Vesti was moving up through the order from fifth on the grid. After taking third from Caldwell while Sargeant was passing Verschoor, Vesti then overtook Verschoor himself for second on lap 4.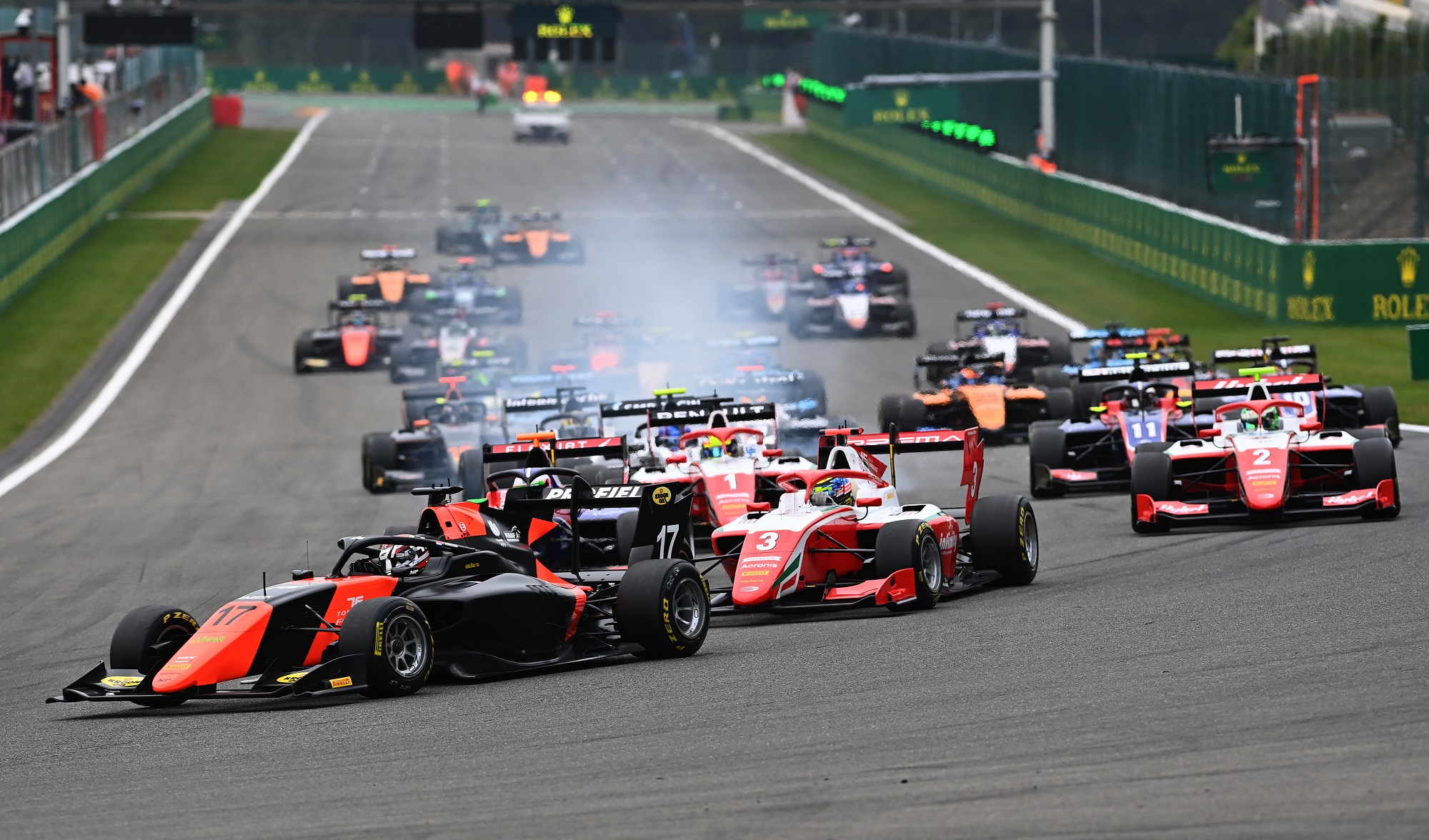 The race was neutralised shortly after when Hitech's Pierre-Louis Chovet went into the barriers and brought out the virtual safety car for two laps. When the caution was withdrawn on lap 6, Verschoor continued to fall down the order. The Dutchman lost third to Theo Pourchaire on lap 9, then dropped behind Lawson, Aleksandr Smolyar and Oscar Piastri in quick succession.
Meanwhile, Vesti was making strong progress to catch Sargeant. After being 2.1 seconds behind his teammate after the virtual safety car restart, Vesti cut the gap down to four tenths by lap 14 as Sargeant complained of fading tyres on the radio.
However, Sargeant was able to regroup in the final few laps and opened the gap back up to a second. Vesti made one final charge on the final lap, but couldn't close up enough to make a move for the lead and finished runner-up across the line.
Lawson recovered from his poor start to finish third behind the Premas. After passing Verschoor for fourth, the Hitech driver put significant pressure on Pourchaire who was struggling with his tyres, and took third away on lap 12.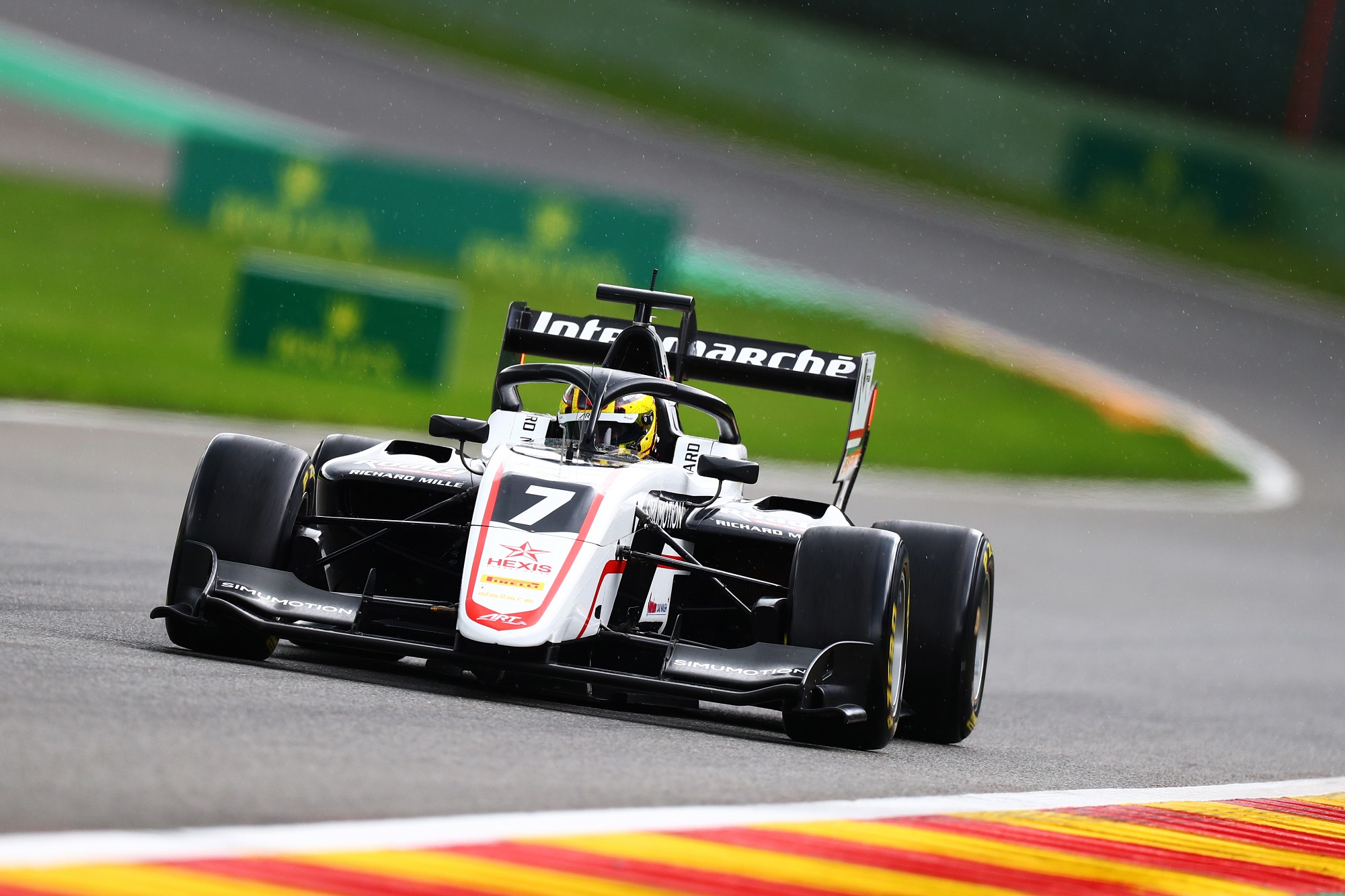 Pourchaire lost another place to his ART teammate Aleksandr Smolyar, who finished fourth for the second race in succession. On lap 15 Pourchaire was also passed for fifth by Oscar Piastri, who was charging forward from his own slow start to minimise the damage done by Sargeant's win.
But just after moving into fifth, Piastri was given a five second time penalty for leaving the track and gaining an advantage when passing Pourchaire, dropping him to sixth behind the Frenchman in the final order.
Verschoor stabilised in seventh place by the chequered flag, finishing ahead of yesterday's race winner Lirim Zendelli. His Trident teammate Caldwell had been running eighth, but fell out of the points after colliding with Alex Peroni. David Beckmann took ninth, and Sebastian Fernandez benefitted from the collision ahead to finish tenth.
After taking 17 points for victory and the fastest lap, Sargeant returns to the top of the drivers' standings by seven points from Piastri, while Beckmann stays third ahead of Lawson by just half a point. Find the full F3 drivers' and teams' standings here.
FIA Formula 3 returns next week at Monza for the penultimate round of the season.
Full race result:
| | | | |
| --- | --- | --- | --- |
| Pos. | Driver | Team | Points |
| 1 | Logan Sargeant (FL) | Prema Racing | 17 |
| 2 | Frederik Vesti | Prema Racing | 12 |
| 3 | Liam Lawson | Hitech Grand Prix | 10 |
| 4 | Aleksandr Smolyar | ART Grand Prix | 8 |
| 5 | Theo Pourchaire | ART Grand Prix | 6 |
| 6 | Oscar Piastri | Prema Racing | 5 |
| 7 | Richard Verschoor | MP Motorsport | 4 |
| 8 | Lirim Zendelli | Trident | 3 |
| 9 | David Beckmann | Trident | 2 |
| 10 | Sebastian Fernandez | ART Grand Prix | 1 |
| 11 | Olli Caldwell | Trident | |
| 12 | Enzo Fittipaldi | HWA Racelab | |
| 13 | Lukas Dunner | MP Motorsport | |
| 14 | David Schumacher | Carlin Buzz Racing | |
| 15 | Clement Novalak | Carlin Buzz Racing | |
| 16 | Bent Viscaal | MP Motorsport | |
| 17 | Jake Hughes | HWA Racelab | |
| 18 | Dennis Hauger | Hitech Grand Prix | |
| 19 | Roman Stanek | Charouz Racing System | |
| 20 | Federico Malvestiti | Jenzer Motorsport | |
| 21 | Andreas Estner | Campos Racing | |
| 22 | Alex Peroni | Campos Racing | |
| 23 | Cameron Das | Carlin Buzz Racing | |
| 24 | Alessio Deledda | Campos Racing | |
| 25 | Calan Williams | Jenzer Motorsport | |
| 26 | Matteo Nannini | Jenzer Motorsport | |
| 27 | Igor Fraga | Charouz Racing System | |
| Ret. | Michael Belov | Charouz Racing System | |
| Ret. | Pierre-Louis Chovet | Hitech Grand Prix | |
| Ret. | Jack Doohan | HWA Racelab | |