The Mexican Grand Prix saw Lewis Hamilton victorious, but not sufficiently so to crown him the 2019 Drivers Champion. Hamilton's win also saw his 100th podium for Mercedes, and saw Ferrari give up the top spot on the podium thanks to poor strategy calls once again.
The opening moments of the race delivered excitement, as Grands Prix often do. With Charles Leclerc making an excellent start, his teammate Sebastian Vettel, Lewis Hamilton, and Max Verstappen jostled for position.
Vettel easily got the best of it (though he made brief contact with Leclerc), retaining second position, while Red Bull's Alex Albon and McLaren's Carlos Sainz got a large boost, climbing to third and fourth respectively. Hamilton fell back to fifth, and while Verstappen initially fell back to eighth he quickly suffered a puncture when making an early overtake on Bottas, leading to an immediate pit stop. He ultimately rejoined the race in 20th.
Don't worry, Verstappen fans – he performed an admirable drive, finishing in sixth and taking the Driver of the Day award. He demonstrated excellent control and patience, regaining several places as other drivers stopped for fresh tyres. When he began overtaking others later in the race, he did so smoothly, with few if any elbows out. Verstappen's choice of hard tyres led to early speculation about the possibility of a one-stop race.
There was a Virtual Safety Car deployed after the initial carnage while the marshals attended to the debris from the opening collisions, but the race then proceeded Safety Car-free.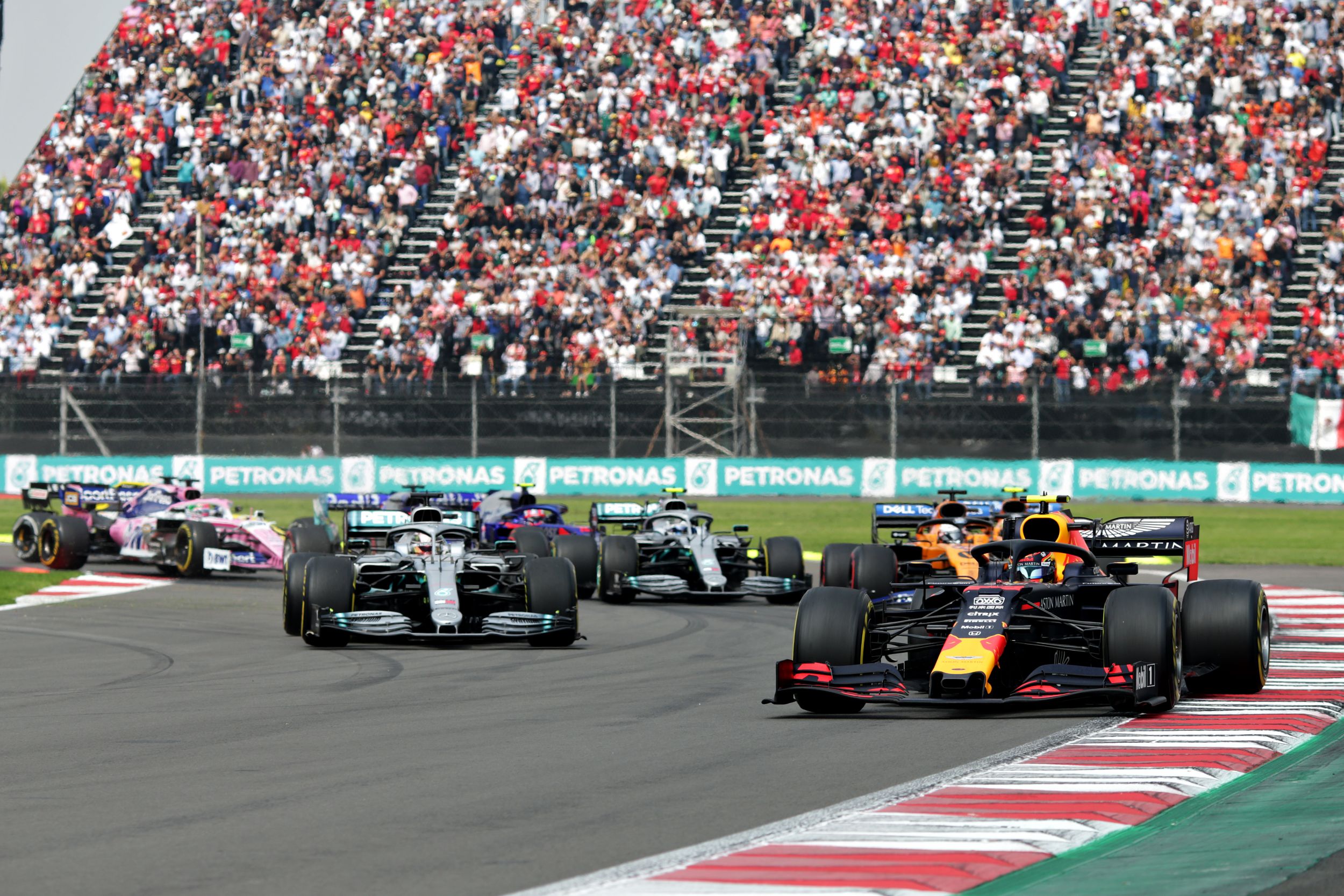 Unfortunately, the opening lap tussles were some of the only exciting moments of the race. While the order changed a bit, the top five drivers throughout the race largely remained Leclerc, Vettel, Albon, Hamilton, and Bottas. The race ended with Hamilton in first, Vettel in second, Bottas in third, Leclerc in fourth, and Albon in fifth.
Though they were few, there were nonetheless some exciting moments. Local hero Sergio Perez (Checo if you're nasty; all apologies to Janet Jackson) made an excellent early overtake on Toro Rosso's Daniil Kvyat, to the delight of the crowd. Daniel Ricciardo made a spectacular, but failed, late overtaking attempt on Perez. He badly overcooked the attempt and was forced to run wide, cutting several corners. While this did allow him to return to the track ahead of Perez, Ricciardo wisely ceded the position back to his rival.
While there was some other overtaking, it was mainly clean and competent with the defending drivers ceding position when it was obvious they weren't able to defend successfully.
There was minimal contact between drivers after the first lap. Verstappen and Kevin Magnussen made brief contact on lap 27, but the stewards declined to investigate further. The most memorable other contact came during the final lap. As Hamilton crossed the finish line, Daniil Kvyat returned to his old form and ran straight into the back of Renault's Nico Hulkenberg, destroying his rear wing and ending his race practically within sight of the finish line. This initially cost the German two places, dropping him from ninth place to eleventh, though the stewards quickly issued Kvyat a 10-second penalty. This dropped Kvyat to 11th, and brought Hulkenberg up to 10th along with its accompanying point.
Pit stops provided some drama. McLaren's Lando Norris was given the signal to exit the pit too early, with his left front tyre not completely secure. While he was able to stop prior to crossing the pit lane exit line and his crew was able to remedy the issue, Norris never recovered from this mistake and remained last until his retirement on lap 48.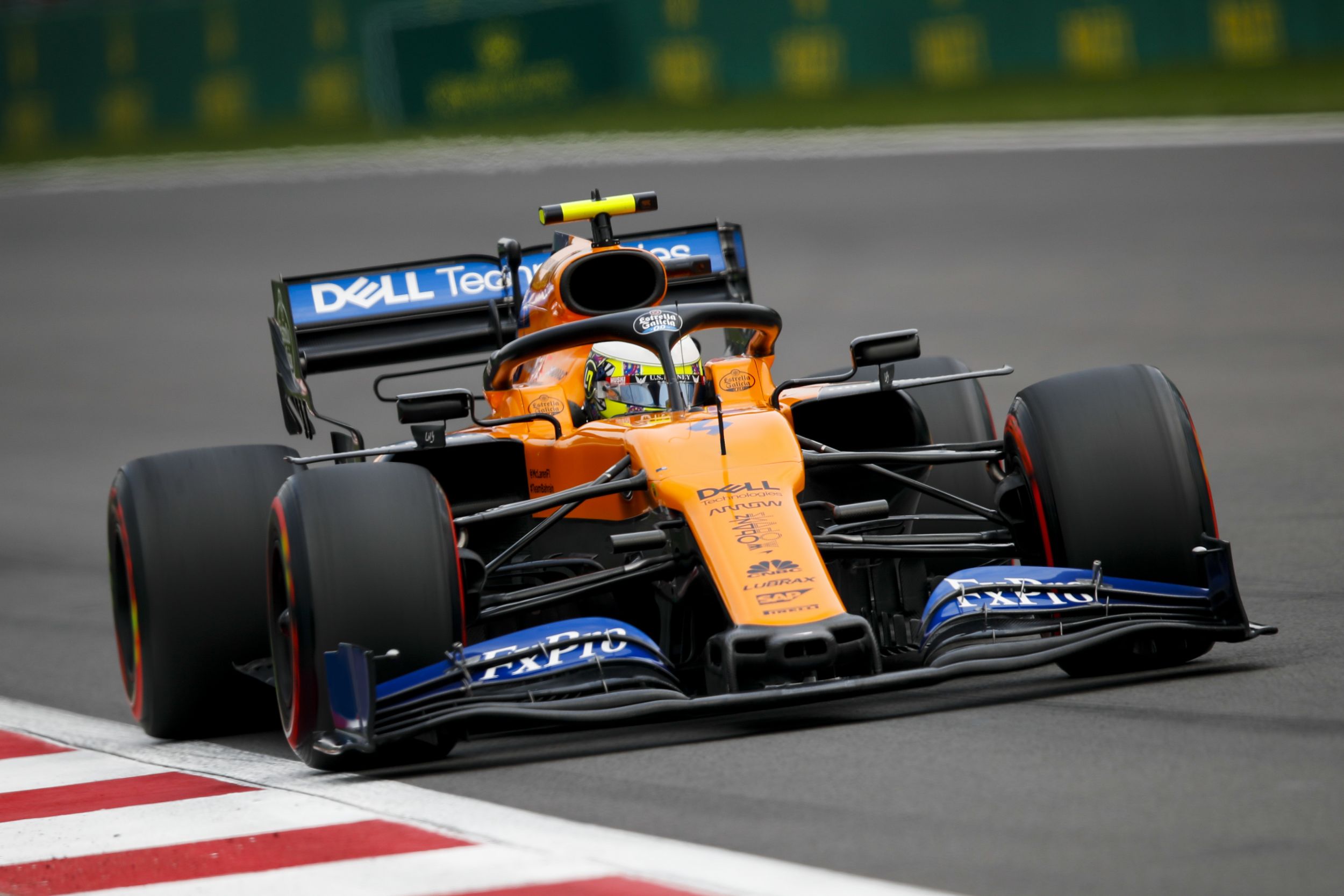 Antonio Giovinazzi's right rear tyre caused him considerable difficulty as well, which was compounded when the jack was released too quickly, before the tyre was secure. Charles Leclerc wasn't immune to pit issues either – trouble with the right rear tyre cost him four precious seconds on his second stop.
Tyre management proved to be key in this race. Ricciardo deserves special mention for his tyre management. He was able to maintain respectable pace for 50 laps on his opening set of hard tyres, maintaining sixth place for the last 30 of those 50. It was this show of durability that likely convinced Red Bull to keep Verstappen out on his set of hards, which lasted him for an amazing 66 laps following his early stop. Perez ran the final 51 laps of the race on hards, and Hulkenberg ran 52 laps on his. Vettel also deserves credit for his tyre management, turning in a respectable 40 laps on his initial set of mediums between qualifying and the race.
Indeed, had Vettel not resisted calls for him to prepare to pit on lap 25, the result might have been very different for him. Ferrari, it seemed, had a very different model of tyre performance in this race and were unable to adapt in time to salvage the win. The pit wall's call for Leclerc's early stop on lap 15 was premature. All of the front runners started their race on used mediums, but the others handily demonstrated that their tyres were good for many more laps – eight more laps for Hamilton, 21 more laps for Bottas, and 22 more for Vettel. Had the Scuderia sent Leclerc back out on hards, his race might've gone very differently as hard tyres amply proved to deliver incredible life.
With three races left, the top of the pecking order is fairly settled. While it is mathematically possible for Bottas to claim the Drivers' Championship, it is not likely. Similarly, while Red Bull could pass Ferrari for second in the Constructors' Championship, it is similarly unlikely.
As has been the case for the past several seasons, it's the midfield where the excitement lies. Toro Rosso and Racing Point are in the fight for sixth and if Renault doesn't finish strongly in the closing rounds it's possible that they could find themselves slipping to sixth or even seventh.
And what can we say about Williams? McLaren has recovered from their slump and is showing a return to form, but Williams remains incapable of finding their way forward. On the other hand, they have managed to score one point. Recent seasons have seen some backmarkers finish with zero, but seeing the once powerful team fall to last over the course of a few short seasons still gives pause.
Formula One returns to Autodromo Hermanos Rodriguez next year for the Mexico City Grand Prix. Same race, different name.
[Featured image – Steve Etherington]