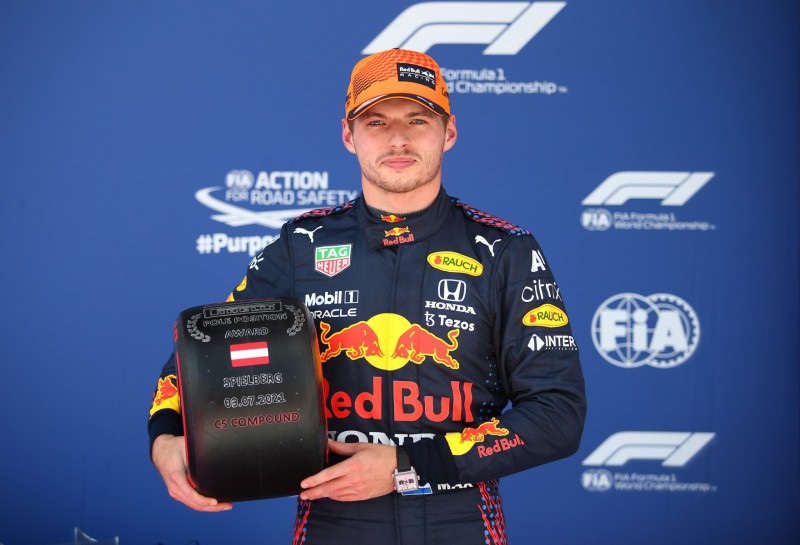 Image courtesy of Pirelli Motorsports
Max Verstappen took his 3rd consecutive pole position of the 2021 season as Redbull continued their dominance in Austria. The Dutch driver continued his excellent form and the pole position never looked in doubt due to the sheer pace of the Redbull.
For once, the other English driver on the front in Austria tomorrow will not be Lewis Hamilton as Lando Norris managed to put together a brilliant lap which was good enough to beat both the Mercedes and Sergio Perez in the other Redbull onto the front row. He was closely following Verstappen in the second run of Q3 which meant that he got a great tow and agonizingly fell short by only four hundredths of a second to the pole position. His teammate Daniel Ricciardo in the other McLaren could not find the similar pace and will only be starting P13.
Lewis Hamilton and Mercedes could only manage P4 and P5 after they failed to make any improvements in their second run in Q3 and will be quickly searching for answers and hoping that their upgrades scheduled for Silverstone will bring about the pace that they have been lacking compared to Redbull.
Another headline worthy story from today's qualifying is yet another one about the Saturdays of George Russell, where this time the English driver managed to put his car into not just Q2 but Q3 and a grid position of P9 on raw pace alone. The Williams team would be overjoyed with the result and Russell himself might be putting pressure on the Mercedes team to give him a shot with a display like today's.
Aston Martin managed to get both their cars into Q3 with Sebastian Vettel set to start at P8 and Lance Stroll set to start at P10. The former however is under the scrutiny after he impeded Fernando Alonso's flying lap at turn 10 causing the Spaniard to lose all the momentum and manage only a P14 starting place for the grid. It is yet to be seen what kind of a punishment would be handed to the German driver.
Alpha Tauri put up a very strong display on a hot track today as Pierre Gasly will be starting P6 and his teammate Yuki Tsunoda will be starting P7 as they will be fancying themselves for a double points finish tomorrow.
It was a day of questionable decisions at Ferrari as Carlos Sainz and Leclerc will be starting P11 and P12 respectively. A second run on medium tyres in Q2 meant that both the Ferrari drivers could not improve their times and could have done so if they went out on the softs. This decision was probably taken based on the race pace data from the last weekend where Ferrari looked fast on the medium and hard compound tyres and the Italian team will now be hoping for a repeat of the same.
Alpine had a qualifying to forget after both the cars could not make it into Q3 with Alonso being unlucky and Ocon not finding any pace in the car in the very first qualifying session itself. A visibly distraught Alonso and Alpine will be hoping for the race to turn around their way tomorrow if they are to score any points from the weekend.
Alfa Romeo's Giovinazzi and Raikkonen will be starting the race from P15 and P16 respectively after only one of them managed to get out of Q3. Nicholas Latifi in the Williams will be starting P18 after he could not get anywhere close to his teammate and both the Haas cars will be starting with Schumacher at P19 and Nikita Mazepin at P20 respectively, which makes up the grid.
An 18 point gap is set to become wider between championship leaders Verstappen and Hamilton unless the Mercedes make a strong comeback in terms of race pace and strategy on Sunday. Sergio Perez starting at P3 means that we have a race on our hands with the battle for the constructors championship heating up as well, which sets up beautifully for a brilliant race in the Styrian mountains.