With just four stages totaling 74km, the startlist looked like this- Meeke, Katsuta, Ogier, Suninen, Evans, Latvala, Loeb, Tänak, Sordo, Neuville.
First up then was SS 14 – Riudecanyes 1 (16,35 km), and Ott Tänak had one goal. To pass Dani Sordo. The Spaniard was on it though, and whilst Thierry won the stage, Dani took the second fastest stage time and with the Estonian just a few tenths behind i20 pilot, the gap opened up a little. Elfyn was finding some pace as well, going fourth fastest and reducing the gap to Jari-Matti.
The first run through SS 15 – La Mussara 1 (20,72 km) was won by Dani, whilst Ott Tänak took the second fastest time and young Finn Teemu was third. Seb Ogier was eighth, complaining of wheelspin at the rear.
Into SS 16 – Riudecanyes 2 (16,35 km) and the Dani and Ott battle continued. The Hyundai pilot won the stage, and had increased the gap to Ott, whilst Seb Ogier's changes to his car improved things, but made other things worse. Elfyn was finding some pace, and had reduced the gap to Latvala to fifteen seconds.
The final stage then, SS 17 – La Mussara 2 Power Stage (20,72 km) and there were some surprises. Elfyn had set the early benchmark time. Dani and then Thierry tried their best to beat it, and then Ott Tänak flew through, like he has on so many occasions this year and took the fastest time, and as a bonus, beat Dani Sordo's time as well by six seconds, thus clinching second place overall. We have a new world champion crew, and the first from Estonia as well! What a drive from Ott Tänak and Martin Jarveoja in their Yaris WRC.
FINAL STANDINGS
Neuville / Gilsoul (Hyundai i20 WRC) 3:07:39.6
Tänak / Järveoja (Toyota Yaris WRC) +17.2
Sordo / Del Barrio (Hyundai i20 WRC) +17.6
Loeb / Elena (Hyundai i20 WRC) +53.9
Latvala / Anttila (Toyota Yaris WRC) +1:00.2
Evans / Martin (Ford Fiesta WRC) +1:14.2
Suninen / Lehtinen (Ford Fiesta WRC) +1:47.6
Ogier / Ingrassia (Citroën C3 WRC) +4:20.5
Ostberg / Eriksen (Citroën C3 R5) +8:24.6 (1st RC2 & WRC2Pro)
Camilli / Veillas (Citroën C3 R5) +8:47.2 (2nd RC2 & 1st WRC2)
Driver Quotes.
Hyundai Motorsport
Thierry Neuville (1st)
"What a weekend! We have been consistently quick on all three days, and we did absolutely everything we could. It wasn't enough to keep the drivers' championship alive until Australia but my congratulations go to Ott for securing the title. Our focus now moves fully onto the manufacturers' battle. We have taken good points this weekend, and increased our lead but there's now a crucial rally to come in Australia to get the job done. The car has proven itself to be quick on all terrains in recent rallies, and we can head to the season finale in a positive frame of mind."
Dani Sordo (3rd)
"I am happy to finish on the podium in my home rally but of course we would have preferred to keep hold of second place. Ott was on a mission today, and we missed out by 0.4 seconds. A podium is always special but it's even better with the support of the Spanish fans. We've had a competitive rally and for the team this has been an important result. Thank you to the team for giving us a car that has worked so well all weekend. These sorts of results don't come just from the crews, it is a full team effort and they've all done a great job."
Seb Loeb (4th)
"It has been a positive rally for the entire Hyundai Motorsport team. While our own performance has been a bit frustrating since Saturday, we took reassurance from Thierry and Dani's pace. The Hyundai i20 Coupe WRC is a fantastic car on all terrains, as we have seen this weekend. We pushed as hard as we could today, but we just could not set the sort of times we'd have wanted. However, this is a team effort and we leave Spain with a lot of valuable points for the manufacturers' championship, which sets things up as nicely as possible for the final round."
Toyota Gazoo Racing WRT
Ott Tänak (2nd)
"It's hard to know what to say in this moment. The pressure this weekend has been on another level. This has been the target of my life. I knew I couldn't make any mistakes, but still I had to do a good result to make it happen. So, it was massive pressure and it was difficult to get used to it at the beginning. But in the end, I was somehow able to relax and do my normal driving. This morning I had a good feeling in the car and could drive with a good rhythm, but Dani [Sordo] was always a bit faster, so I knew it would be hard in the Power Stage to get the points we needed. I pushed hard and, in the end, it paid off. I've had to overcome a lot in my career, so it's nice to finally achieve this. Thank you to the team; they have done a great job."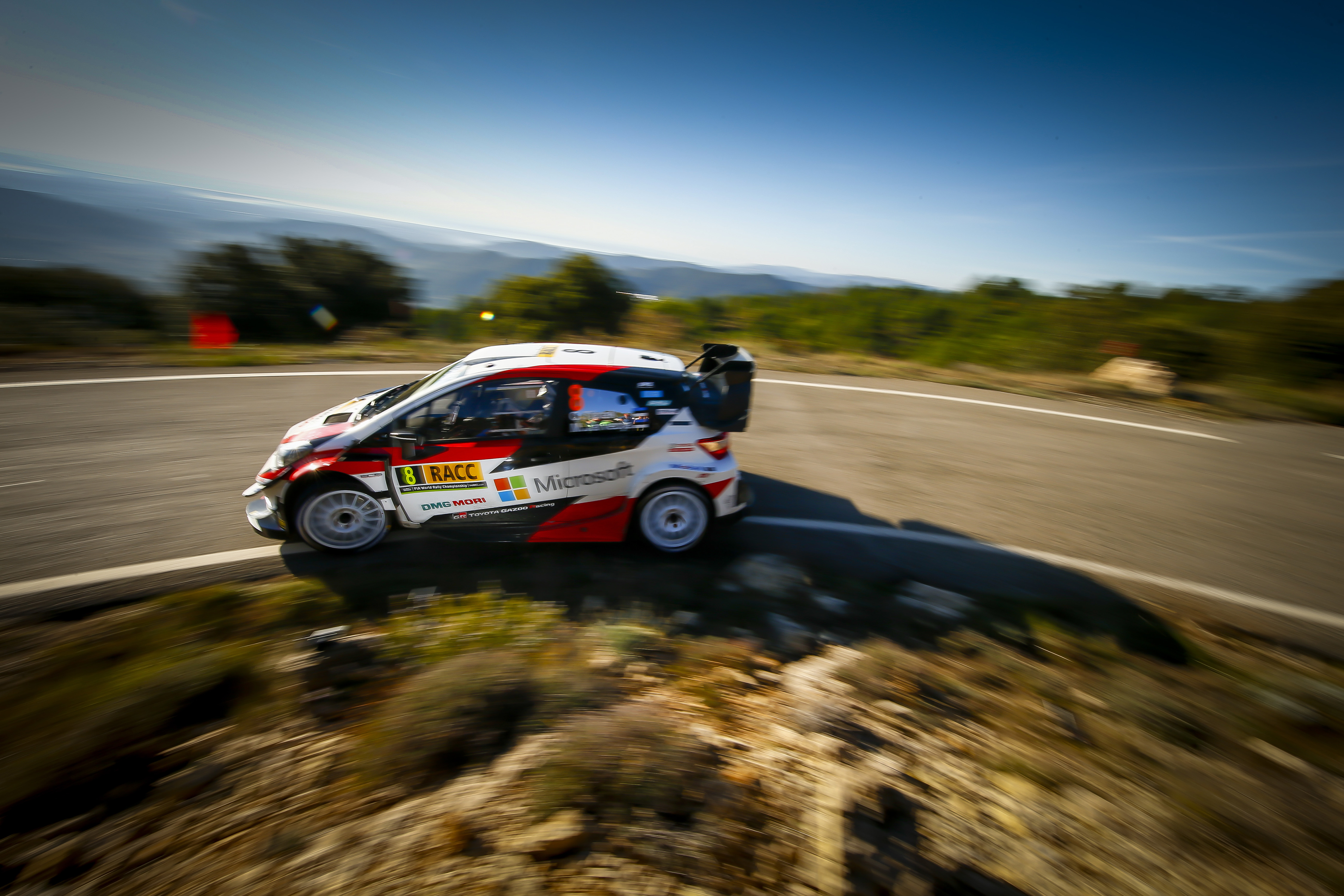 Jari-Matti Latvala (5th)
"I'm happy with my weekend. I think we had a consistent run and we didn't really make any mistakes during the weekend, and the performance was overall at a good level. I was lacking some confidence at the start of this rally so I must be happy with the result and that we could score some good points for the team. Maybe we could have got fourth place today if I had pushed hard, but it would not have benefited us in the manufacturers' championship and this was the most important thing, to keep it open going to the final round in Australia."
Kris Meeke (29th)
"I enjoyed the rhythm back in the car today. We know that the Yaris WRC is really strong on asphalt, and I had a good feeling again this morning. We had to back off in the Power Stage because there was no way in which we could have helped Ott wrap up the championship, and it was important not to get in the mix and potentially take points away from him. We'll go to Australia with something to fight for still in the manufacturers' championship and we'll give it our best."
M-Sport WRT
Elfyn Evans (6th)
"Sixth place isn't the result we wanted this weekend. At times we were able to show the speed we were capable of, but unfortunately, we weren't able to do that all the time and I was struggling with the general feeling. But we made a small change for the Power Stage and I was able to really push. We secured a good result there, and moved up again in the championship which is a positive."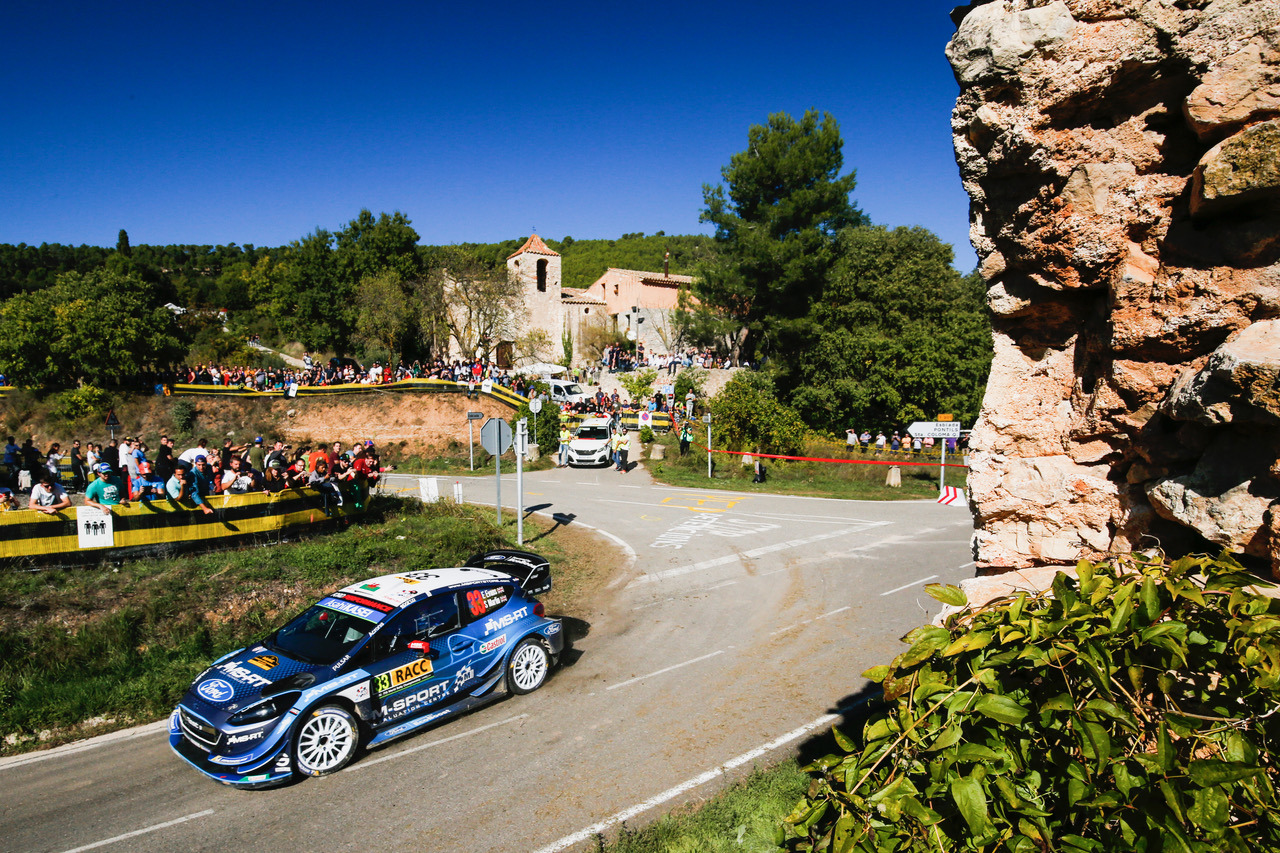 Teemu Suninen (7th)
"I was really pleased with my pace and consistency on Tarmac this weekend, and now we can focus on the next step which is to be even faster with that same consistency. On the Power Stage I knew I could be fast but I braked too late, touched the rock face, and lost a lot of time. Without that, I know I could have scored some really good points there. Still I am really pleased with my performance, and looking forward to the last rally in Australia.
Citroën Total WRT
Sébastien Ogier (8th)
"Clearly, this wasn't the result that we were hoping for coming into this round. We were determined to fight right to the end but unfortunately, it was all over for us early in the weekend. After the issue on Friday, inevitably our adrenaline and motivation levels were never quite the same, but we did what we could to be as professional as possible, to work on the car's tarmac set-up and still try to push hard. Congratulations to Ott and Martin for deservedly winning the titles. They have done it in style."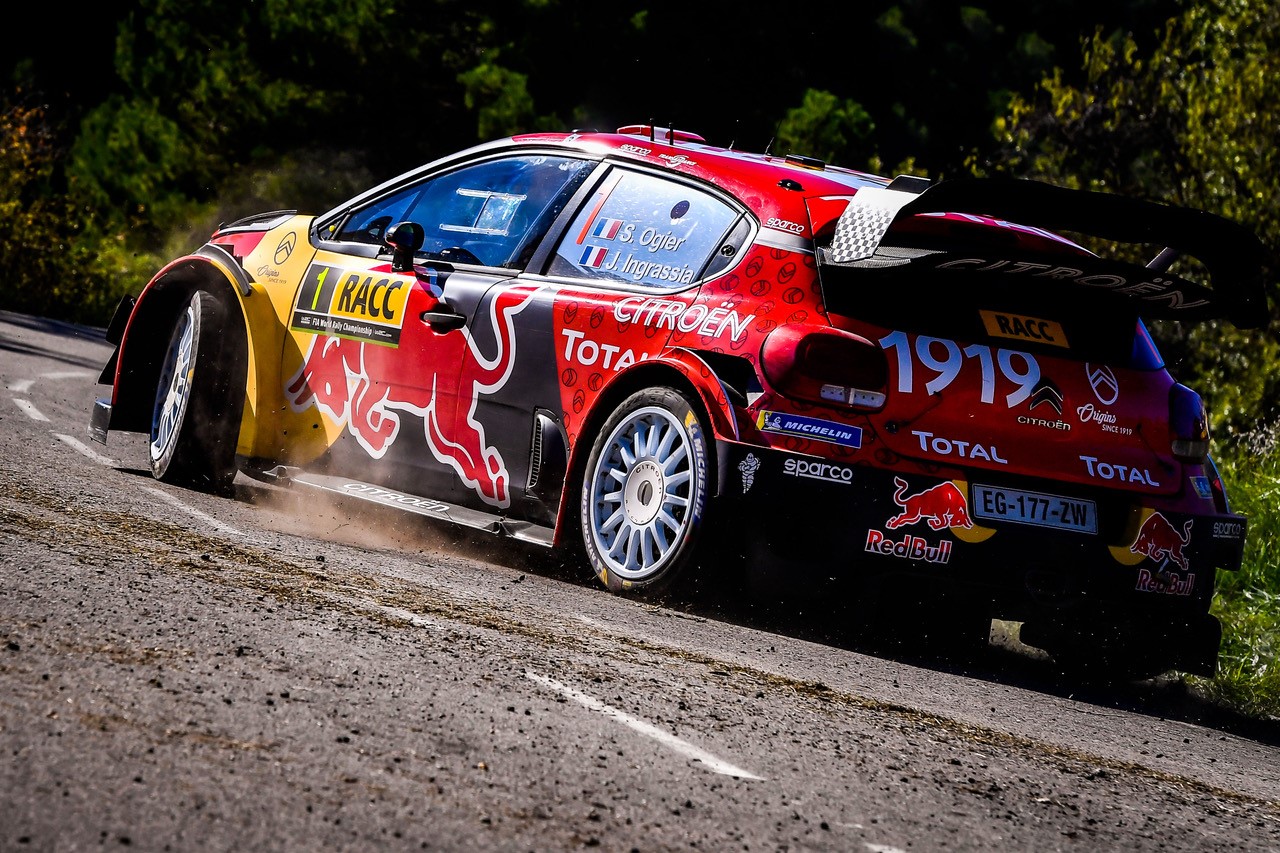 Esapekka Lappi (DNF)
"I'm disappointed that my rally came to a premature end, especially as I had enjoyed a pretty solid and consistent opening leg up to that point, in terms of pace. The gaps were small and we were up for the fight, because I felt comfortable in my C3 WRC. I was looking forward to seeing how much progress we made on tarmac and the times set by Sébastien and Julien suggest that we have definitely moved in the right direction. I will now look forward to Australia and finishing the season on a high with the best possible result."
DRIVERS' WORLD CHAMPIONSHIP
Ott Tänak – 263 points
Thierry Neuville – 227 points
Sébastien Ogier – 217 points
Andreas Mikkelsen & Elfyn Evans – 102 points
Kris Meeke – 98 points
Jari-Matti Latvala – 94 points
Teemu Suninen & Dani Sordo – 89 points
Esapekka Lappi – 83 points
MANUFACTURERS' WORLD CHAMPIONSHIP
Hyundai WRT – 380 points
Toyota Gazoo Racing – 362 points
Citroën Total WRT – 284 points
M-Sport Ford WRT – 218 points
Summary
Well, it's happened at last! We have a new world rally champion crew. Ott Tänak and Martin Jarveoja have secured their first world crown, and finally broken the run of fifteen consecutive French world champions. It's the first drivers' world championship for Toyota as well since Didier Auriol won in 1994.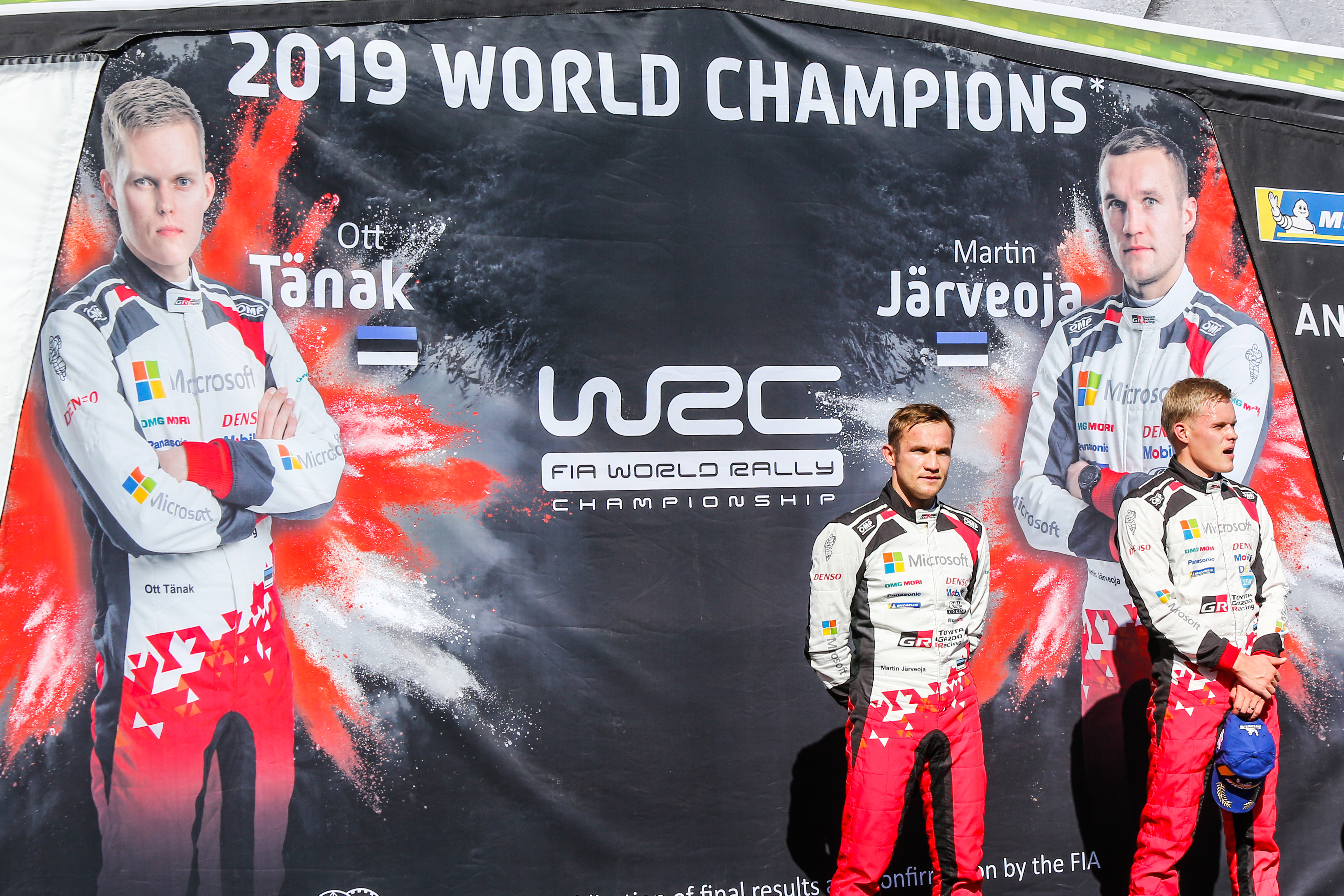 Thierry and Nicolas did their best to hold them off, with a great drive in Spain to their third win of the year. Sébastien Ogier and Julien Ingrassia started well on Friday, but after their problems, they really weren't in the running. They will be back next year, even stronger to gain the title back before they retire.
Elsewhere in the service park, Dani Sordo and Seb Loeb put together some very good drives that have helped Hyundai in their fight for the manufacturer's championship. Their lead over Toyota is eighteen points heading to Rally Australia.
In the M-Sport camp, Elfyn found some pace and came close to a stage victory, only being eclipsed by Ott Tänak right at the end. This result, plus the points that he scored for sixth position have lifted him back into fourth overall in the championship standings, equal with Andreas Mikkelsen. This battle to finish best of the rest in the standings will be decided at the final round next month down under.
We have one round left then, Rally Australia from the 14th to 17th of November. Pop back then for my preview.