Charles Leclerc nurses the car to victory in a dramatic Austrian Grand Prix which saw his main championship rival have grip issues and his teammate retire when his car caught fire.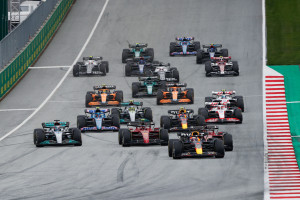 Lights out and Max Verstappen gets a great start to start ahead of Leclerc. Behind them, George Russell was alongside Sainz heading into turn one after getting a good start himself. Through the orange smoke, the two were alongside each other all the way down to turn three, Sainz narrowly getting ahead while Perez had joined in, battling Russell.
On the run down to turn four, the Mercedes was slightly ahead but the pace of the RedBull meant Perez would have to try around the outside of turn four. This didn't work in RedBull's favour as they touch, spinning Perez into the gravel trap. Like a copy of the Hamilton/Albon incident a few years ago, Russell tapped the inside back wheel of Perez. He was given a five-second time penalty which he served at his first stop.
Unlike the Sprint, the Ferrari's didn't battle each other, meaning Leclerc could catch up to Verstappen after he had pulled a gap early on. By lap 12 Leclerc was within DRS range of the RedBull and into turn four the Monegasque made a late move down the inside, clipping the curb on the way out. An excellent move by him and great driving from both drivers. Just a couple of laps later and RedBull decided to pit Verstappen. It appeared tyre degradation would be a problem for RedBull throughout the race.
While that was happening Lewis Hamilton was battling the Haas of Mick Schumacher who had overtaken the Merc at the start. Hamilton made a brilliant move down the inside of turn eight, carrying more speed in the car. One lap later the other Haas came into view but this time it would prove to be an easier overtake down the inside of turn four with DRS help.
Further down the field on lap 24 an epic battle commenced. Having slightly more pace than Zhou, Alonso looked down the inside of turn nine but thought better of it and backed out. This left him vulnerable to Magnussen behind him who was on good pace. The Haas and the Alpine were both catching the Alfa and ended up going three-wide into turn one. Everyone made it through with Magnussen coming out on top and Zhou coming down the inside of Alonso.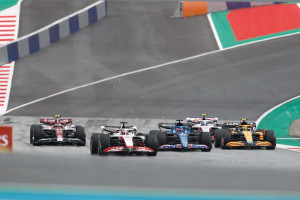 This battle meant that the two cars behind of Norris and Schumacher had caught up and a three-car battle became a five-car battle into turn three. Alonso slots in behind Magnussen but Norris comes from behind to go around the outside and takes the place off of Alonso. Schumacher also managed to get around Zhou as they headed down to turn four. Norris, with more speed, goes around the outside again of Magnussen but goes too wide so has to yield to the Haas.
On lap 27 Ferrari finally decided to pit both their cars, coming out behind Verstappen but importantly having fresher tyres. At this point, it looked like Verstappen would have to make a second stop to keep up with Ferrari.
Hamilton meanwhile was making great use of the newly found pace in his car from Silverstone. On lap 30 he made a great move on Ocon before turn three, showing that even though the Merc isn't as powerful as RedBull and Ferrari, it is definitely quicker than the rest of the midfield.
Three laps later and the inevitable happened. On tyres that were 12 laps fresher, Leclerc overtook Verstappen into the braking zone of turn three. Verstappen didn't really fight it, knowing that he didn't have the pace or the grip at that point. As a result, RedBull brought him in on lap 37 for more fresh hard tyres.
Lap 40, and just as things had started to settle again Vettel and Gasly had contact at turn four, almost a carbon copy of the Russell/Perez incident earlier with Vettel in the gravel. Gasly ended up getting the time penalty to add to the one he got for track limits. Luckily he had already served that penalty, so only five seconds would be added to his time at the end.
LAP 40/71

Gasly and Vettel come together rounding Turn 4 and Vettel goes spinning into the gravel.

The German has got going again. Gasly, meanwhile, has been given a 5-second penalty for the causing the collision.#AustrianGP #F1 pic.twitter.com/UMKVeNL13I

— Formula 1 (@F1) July 10, 2022
Lots of drivers got black and white flag warnings during the Grand Prix, as was the theme throughout the whole weekend. Many drivers, like Lewis Hamilton, came onto the radio to complain but only Gasly and Norris got time penalties.
On lap 50 Ferrari brought in both their drivers again to put on more hard tyres. It looked like the two stops would be the quickest with RedBull not having an answer to the Ferrari pace throughout the race. It only took three laps for Leclerc to catch up and re-take the lead from Verstappen.
However, unfortunately for Ferrari, their reliability issues came back. For Sainz, who had an amazing weekend in Silverstone, his engine actually appeared to explode before catching fire on lap 57. In replays, the bodywork actually shook as the car came to a stop on the hill of turn three. In some scary scenes, the car was in flames quite quickly, and with no handbrake, it was proving difficult for Sainz to get out of the car.
A brave marshal came in with a block and Sainz was able to get out safely. The car was engulfed in flames, but the marshals were able to put it out. This brought out the virtual safety car, meaning both Leclerc and Verstappen pitted for new mediums to take them to the end of the race.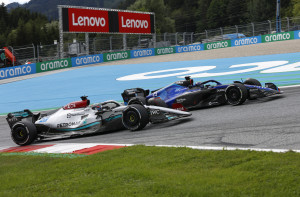 As we went green again Russell was making great moves to bring himself up towards his teammate, now in a podium position. He made a great switch-back move on Ocon heading out of turn three to put himself in fourth place.
It was a tense last few laps for Ferrari fans though as Leclerc came on the radio to say his throttle was sticking. Verstappen was catching him but the degradation was too high so he couldn't make it work and Leclerc was able to nurse the came home to take the victory.
Leclerc needed that victory after the last few races of unsuccessful running and to keep himself in the championship fight. This has now put him back to second in the championship but still 38 points off of Verstappen. Ferrari will be going back to Maranello to investigate their problems and try to resolve them quickly if they want to fight for this championship.