Qualifying:
Sunny conditions in Spain made for a good qualifying session seeing Aleix Espargaro (Aprilia) claim pole with 1:38.742. Narrowly missing out on taking the pole for himself – Francesco Bagnaia (Ducati) took second and Fabio Quartararo (Yamaha), finished the front row.
Marc Marquez (Honda) was not present over the weekend due to having further surgery on his shoulder so Honda's test-rider Stefan Bradl stepped in.
Race:
All eyes were on the Spanish home-riders (which there were 8 on the grid on Sunday). The brilliant weather conditions remained for Sunday and the crowds were ready.
Aleix got a great start and instantly pulled ahead. But into turn one, Fabio took the lead. More action continued on the turn though as three bikes hurled into the gravel behind. It soon became clear that Takaaki Nakagami (Honda) had gone into the first corner too quick and couldn't stop in time, taking himself and Alex Rins (Suzuki) out along with him. But, Rins was not the only rider, as Nakagami fell his helmet knocked against Bagnaia's rear tyre, causing him to also crash seconds later.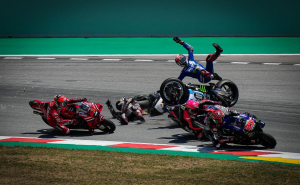 It was an unexpected start to the race. However, perhaps a more expected start was how quickly Fabio started to eke away from both Aleix and Jorge Martin (Ducati), who were in second and third.
Another great start came in the form of the now, sole-running Suzuki – Joan Mir, who had made up an impressive 11 places. Starting 17th on the grid and by the end of lap one had made it up to 6th.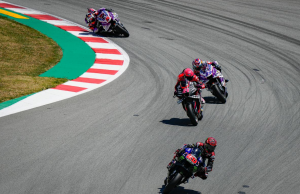 Lap 3 saw Martin pass A. Espargaro for 2nd while Quartararo put in the fastest lap.
Bagnaia managed to re-join the race, but only briefly, having to concede and retire to the pits.
With 21 laps to go, Quartararo got another fastest lap and was 1.627 seconds ahead of Martin. Fabio was pushing hard to get a substantial lead.
On lap 6 Marco Bezzecchi (VR46) ended his race early, crashing out on turn 10.
Another rider who had made his way through the pack was Enea Bastianini (Ducati), who was in 7th place and hoping his luck would fair better than the last race (when he crashed out of 6th place). But, bad luck continued to hamper 'The Beast' as he crashed out for the second time in a row, this time on lap 8 of 24, turn 5.
Back at the front, the lead had increased further to: 2.534 seconds.
The next lap saw last weeks pole-man Fabio Di Giannantonio (Ducati) tumble into the gravel from 11th place.
With 15 laps to go Aleix passed Martin on the home-straight to re-take 2nd place, knowing he had to get the gap down between himself and Fabio. But the Ducati riders – Martin and Johann Zarco had other ideas and managed to keep him with them. But, in doing so helped in extending Quartararo's lead, which was 3.862 seconds with 11 laps till the chequered flag.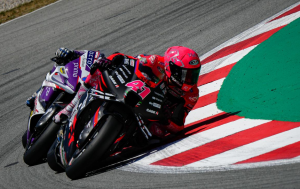 'The Martinator' re-took 2nd on lap 16, wanting to catch Fabio himself, who had managed to add yet another second to his lead. Martin however, had the same problem Aleix had, he couldn't gap the two riders behind him. Meaning all three riders remained in their group 3.420 seconds ahead of Joan Mir (Suzuki), who had managed to pass Luca Marini (VR46) to take 5th position.
4 laps remaining and Espargaro passed Martin again to claim 2nd once more. Both Spanish men wanted to impress at home. But, it would seem no-one was going to be able to catch Quartararo, who was nearly 6 seconds ahead of the group. (Not even chest protector issues would stop him this year).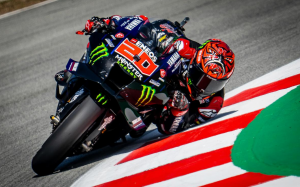 Fabio crossed the finish line with one lap to go, time to really concentrate to bring back the victory. Bizarrely though as Aleix crossed the line moments after he started to shake his head and slow down, seemingly the unthinkable had happened – perhaps he had an electrical fault on the last lap? But, then his hands went up waving to the crowd. He had mistaken his last lap as the last lap of the race. Only to suddenly realise there was still one more lap, rejoining behind Marini in 6th. There were no words to describe the disappointment he must have felt, handing over a solid podium finish. He did manage to pass Marini for 5th place but, it was Quartararo who crossed the finish line to take the win whilst celebrating by 'checking his watch'. Martin finished 2nd and team-mate Zarco claimed 3rd.
Top Ten race finishers:
| | |
| --- | --- |
| 1st | F. Quartararo |
| 2nd | J. Martin |
| 3rd | J. Zarco |
| 4th | J. Mir |
| 5th | A. Espargaro |
| 6th | L. Marini |
| 7th | M. Vinales |
| 8th | B. Binder |
| 9th | M. Oliveira |
| 10th | A. Marquez |
Top Four championship standings:
| | | |
| --- | --- | --- |
| 1st | F. Quartararo | 147 points |
| 2nd | A. Espargaro | 125 points |
| 3rd | E. Bastianini | 94 points |
| 4th | J. Zarco | 91 points |
After two DNF's in a row, it was nice to see Mir claim 4th position. There is now only 22 points seperating the top two riders, even with Aleix's unfortunate mistake, the championship is still very close.
What will happen in round 10?
Featured image. Courtesy of: Moto GP website.