Ferrari's Charles Leclerc took his second successive pole position at Monte Carlo, in a truncated qualifying session after Sergio Perez crashed out at Portier.
Carlos Sainz made it a front row lockout for the Maranello-based team, with Sergio Perez out qualifying his teammate and championship leader Max Verstappen to start third.
Track evolution during the first qualifying session meant we saw a variety of drivers head to the top of the times. Red Bull were fastest early on, before Fernando Alonso and Lando Norris displaced them for the top two.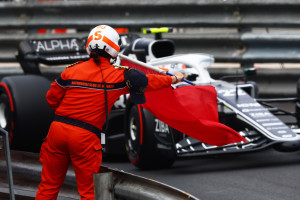 It took a few laps for Charles Leclerc to get into his rhythm, but he was fastest ahead of his teammate Carlos Sainz, before a small tap to the wall from Yuki Tsunoda led to a rogue red flag – allegedly caused by a marshal accidentally picking one up rather than a yellow flag.
Only two and a half minutes were remaining in Q1 after this, and with space at a premium around Monaco, someone was always going to be left frustrated. Ironically, it was Pierre Gasly who lost out the most due to the red flag, dropping out in the first part of qualifying alongside Albon, Stroll, Latifi and Zhou.
Leclerc continued his fantastic pace in the second part of qualifying, becoming the first man to get into the 1:11s. It wasn't all plain sailing though for the Monegasque driver – he missed the weighbridge on the way into the pits, and had to be pushed back by the Ferrari mechanics to avoid a penalty. Daniel Ricciardo's tough weekend continued, as he qualified down in thirteenth place. Tsunoda, Bottas, Magnussen and Schumacher also failed to make it into the top ten.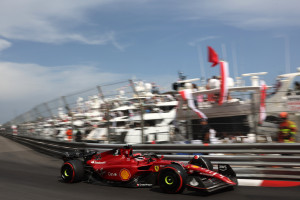 It was only the Ferraris and the Red Bulls who used fresh tyres for the first runs in Q3, which proved to be the deciding laps for the front positions. Charles Leclerc went fastest with a 1:11.376, nearly a quarter of a second ahead of Sainz. As has been the case for the majority of the weekend, Perez looked more comfortable than Verstappen, with the Mexican securing third place ahead of Max in fourth.
Whether he'll be able to start there though, is another matter entirely. Perez crashed on his final run through Portier, losing the car on turn-in, and heavily damaging the rear. Sainz was slow to react to the yellow flags and made contact with the Red Bull, and could well get another reprimand which would lead to a 10-place grid drop.
Lando Norris defied his illness to qualify fifth , ahead of Russell, Alonso, Hamilton, Vettel and Ocon.
Leclerc's 'Monaco curse' has been well documented, as he is yet to see the chequered flag in six races in the principality across different categories. Starting from pole position gives him the ideal opportunity to break this curse once and for all, and retake the championship lead, but the potential for rain on Sunday means victory is not a foregone conclusion for the Ferrari driver.