Finally after 25 years Moto GP returned to Indonesia. The sun was shining and the crowds were cheering. A huge welcome in the form of a procession went through the streets, which included the Moto GP riders and the Indonesian President.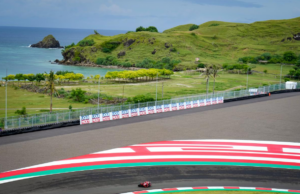 Qualifying:
Surprisingly, Marc Marquez (Honda) crashed out twice from Q1, resulting in him not qualifying for Q2. Going through to Q2 was Francesco Bagnaia (Ducati) and Fabio Di Giannantonio (Ducati).
Pole winner was current champion Fabio Quartararo (Yamaha), with an all time lap record (1:37.067) and teammates Jorge Martin and Johann Zarco (Ducati) finished the front row in 2nd and 3rd.
Pre-race practice:
Bad luck continued to follow Marc Marquez and during the pre-race practice session he had another crash, this time much worse than the previous ones and was taken to hospital where it was concluded that he had severe concussion and would not be fit enough to race. Of course we wish him a speedy recovery.
Race:
The sun did not last however. Lighting struck the track, thunder rumbled through the hillsides and rain poured from the black clouds above. The race was delayed for 2 hours while race direction decided whether or not to go ahead with it. A Shaman from Bali was even brought over to deal with the rain. It seemed to work and within half-hour the rain subsided enough for the pit lane to open. It was decided that the race would in fact go ahead but, would be cut short from 27 laps to 20.
Soon the bikes were lining up on the grid, the clouds still loomed large but at least the rain had eased. It was finally lights out!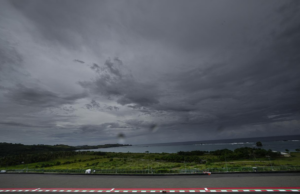 Front the front Fabio got a great start and was leading the pack with Jack Miller (Ducati) and Miguel Oliveira (KTM) in 2nd and 3rd but it was Joan Mir (Suzuki) that made the best of starts going from 18th to 8th.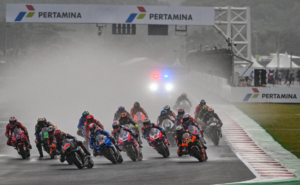 At the start of lap 2 though, Oliveira had passed Quartararo to take the lead. If that wasn't bad enough for Fabio, Miller then decided to steal 2nd from him too. Now flying, Miller took a couple more corners and passed Oliveria for first place as well.
The front three riders managed to quickly create a gap from the rest of the field and Miller immediately put in the fastest lap.
With spray causing visibility issues, Quartararo suddenly found himself being left behind by Miller and Oliveira who were already 1.217 seconds ahead. He was in the clutches of Zarco and Alex Rins (Suzuki). On the straight both riders managed to pass him with ease with 17 laps to go.
Miller once again took fastest lap.
Rins was now in 3rd place but could he catch up with Miller and Oliveira? Who were now 2.340 seconds ahead.
Lap 5 of 20 – Oliveira saw that he had more pace than Miller and passed the Ducati, taking fastest lap in the process.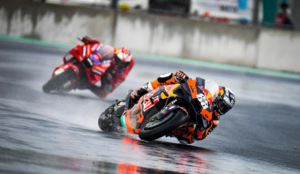 Meanwhile, race-favourite Bagnaia had an almost-crash which resulted in him being pushed back to 12th.
Lap 8 – turn 1 – Jorge Martin (Ducati) crashed out after passing Franco Morbidelli (Yamaha) on the straight, after hitting a wet patch on the track.
The lonely Repsol Honda of Pol Espargaro also had a moment but was extremely lucky and managed to stay on the bike, with only 12 laps to go.
Back at the front, Oliveira was putting the hammer down and got yet another fastest lap. The treacherous conditions did not faze him at all.
Fastest lap however, would not remain his for long as Zarco from 4th place decided he was ready to fight. He took fastest lap and soon after 3rd from Rins and was hunting down Miller for 2nd.
Rapidly the gap between him and Miller decreased with 8 laps till the end and another fastest lap went to Zarco. Could he steal the win?
It was Quartararo's turn now and he too started to push and also passed Rins to take 4th place.
As action appeared at the front, the battle for 8th place was also heating up. Luca Marini (VR46) lead that pack from 8th, the Binder brothers behind him in 9th and 10th and the Espargaro brothers behind them in 11th and 12th all fighting together for those valuable points.
Back at the front and Zarco had caught Miller up, they began their fight for 2nd place. But it was Fabio that had come along with Zarco who stole 3rd from Zarco on lap 15. The two Frenchmen battled for the spot but it was Quartararo who came out victorious. Fabio was not done there though and soon after passed Miller as well for 2nd. Miller found himself once again in the clutches of Zarco.
With all the battling going on behind him, Oliveira was just gathering more and more time between himself and the remaining podium finishers. The gap had increased to 4.443 seconds with 5 laps to go. But did Fabio have another trick up his sleeve? Could he find something even more extra to catch Oliveira?
Fastest lap – Quartararo!
4 laps until the chequered flag and Zarco finally passed Miller to take 3rd place.
Meanwhile, the battle still raged on for 8th position. With rookie Darryn Binder (Yamaha) having taken 8th, A. Espargaro (Aprilia) 9th, Bastianini 10th, P. Espargaro 11th and B. Binder (KTM) 12th. Heating up further still, three-a-breast went into a corner at one point – D. Binder, Bastianini and A. Espargaro, but it was B. Binder that triumphed and took the 8th place, everyone bravely fought for.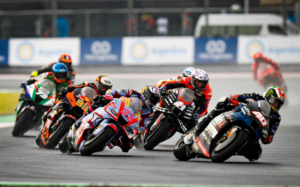 In a league of his own, out in front Miguel Oliveira took his KTM over the line, Quartararo celebrated his 2nd place and Zarco managed to keep the last podium spot, taking 3rd.
Top 10 race finishers:
| | |
| --- | --- |
| 1st | M. Oliveira |
| 2nd | F. Quartararo |
| 3rd | J. Zarco |
| 4th | J. Miller |
| 5th | A. Rins |
| 6th | J. Mir |
| 7th | F. Morbidelli |
| 8th | B. Binder |
| 9th | A. Espargaro |
| 10th | D. Binder |
Last weeks superb winner Bastianini, after battling hard, finished 11th place.
Championship standings:
| | | |
| --- | --- | --- |
| 1st | E. Bastianini | 30 points |
| 2nd | B. Binder | 28 points |
| 3rd | F. Quartararo | 27 points |
| 4th | M. Oliveira | 25 points |
At one point the race didn't look like it was even going to happen, but aren't we glad it did? Some surprising results in Indonesia and a fantastic track to return to. Only two weeks to wait to find out what will happen in round 3!
Featured image courtesy of: Moto GP Twitter