Prema's Arthur Leclerc took his second Formula 3 victory in the opening sprint race at Zandvoort, despite race-long pressure from a rapid Logan Sargeant behind.
Leclerc started the race in third behind Sargeant and reverse polesitter Amaury Cordeel. At lights out Sargeant jumped past Cordeel for the lead, but Leclerc got an even quicker launch off the line to pass both of them out of Tarzan. Cordeel's start went from bad to worse as he was passed for third by Ayumu Iwasa, then spun around by Alex Smolyar through Turn 3.
Sargeant stuck close to the back of Leclerc through the opening stint of the race, rarely lapping more than three tenths behind the Prema. As Sargeant pushed Leclerc and Leclerc set early fastest laps to escape him, they started pulling clear of Iwasa, Jak Crawford and Caio Collet behind.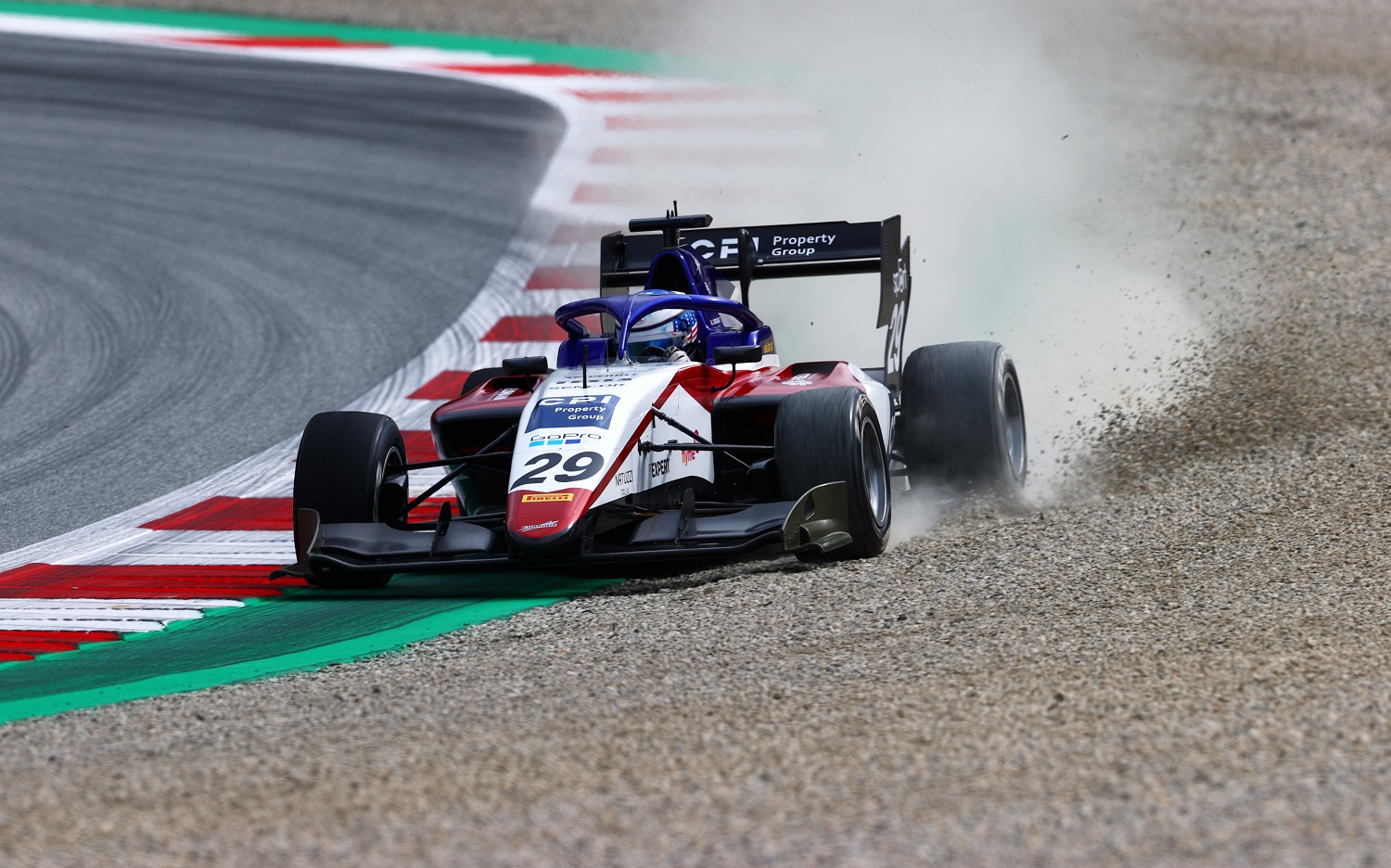 On lap 5 Sargeant closed to just a tenth behind Leclerc as they crossed the line and looked to the outside heading into Tarzan. Leclerc held Sargeant off on that occasion, but the Charouz driver didn't lose any time by backing out and kept up the assault.
Two laps later Sargeant pressured Leclerc into a lockup at Tarzan. Losing pace as he managed the flat spots on his tyres, Leclerc found himself leading a DRS train as Iwasa, Crawford, Collet and Jack Doohan all joined the pursuit of the lead. But despite locking up a second time on lap 11, Leclerc was still able to fend off Sargeant's best efforts at an overtake as he took a better line through Turns 3 and 4 to counter Sargeant's advantage into Turn 1.
Leclerc was handed another problem to manage on lap 16 when Jonathan Hoggard and Hunter Yeany ended up in the barriers to bring out the safety car and the field was bunched up together. But with Zandvoort's tight nature making for a particular difficult recovery of the two cars, the stoppage ended up benefiting Leclerc as it left Sargeant with just four laps to rebuild momentum and make a move.
In the end, Leclerc was able to pull away from Sargeant at the restart as the Charouz had to back out of attacking the lead to defend second place from Iwasa. When they crossed the line four laps later Leclerc had more than a second in hand over Sargeant, the largest gap he'd had all race.
Iwasa finished third for his second podium of the season. Crawford took fourth for Hitech, ahead of Collet and Doohan.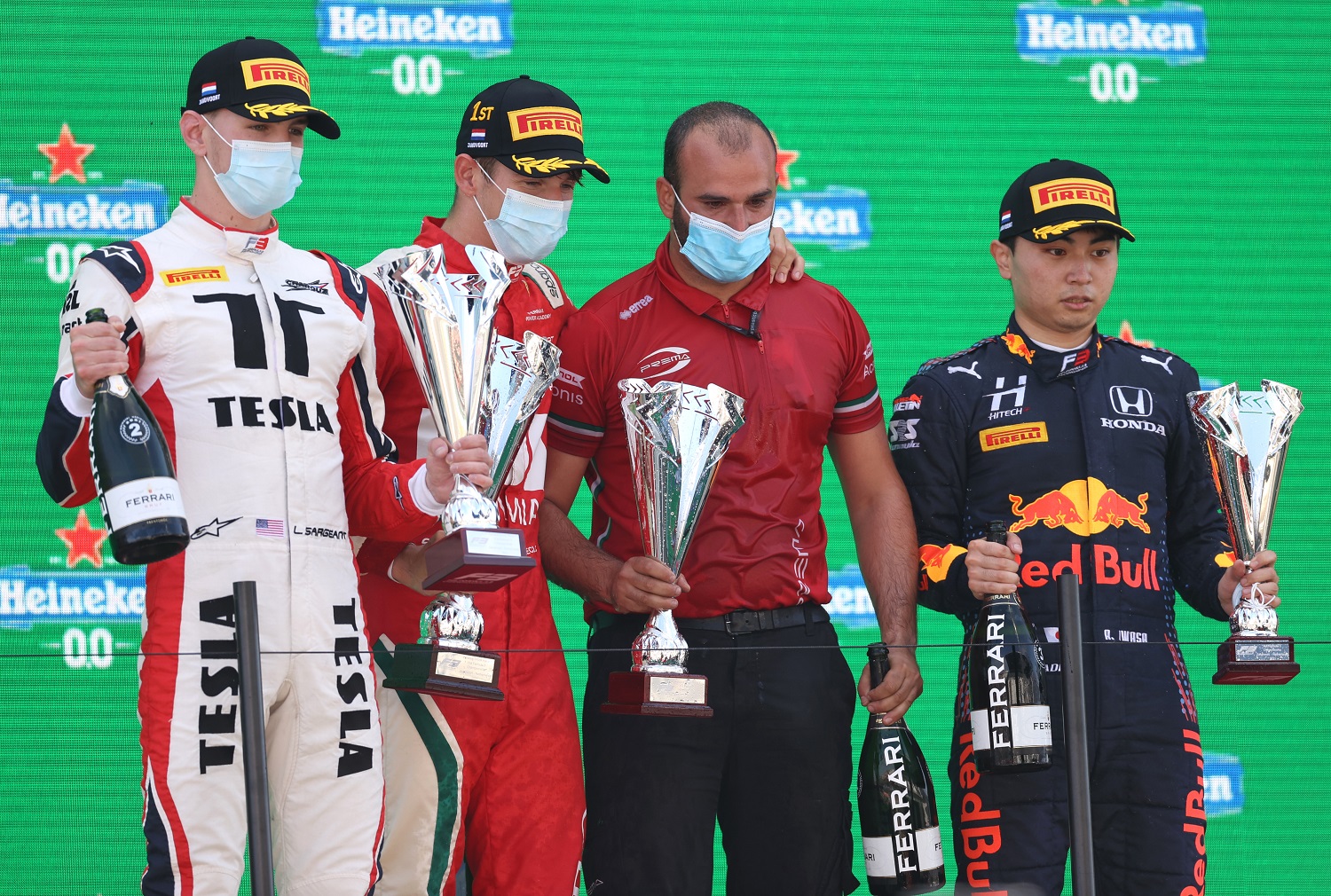 Championship leader Dennis Hauger managed seventh place after starting 12th on the grid. The Prema driver made up places at the start to get into ninth between Victor Martins and Clement Novalak, then spent the rest of the race shaping up to improve.
Hauger momentarily lost out when an attempt around the outside of Martins on lap 14 sent him driving through the gravel and behind Novalak. But he managed to recover the position from Novalak at the restart, before claiming seventh from Martins two laps from the flag. Martins finished eighth, while Frederik Vesti and Olli Caldwell demoted Novalak out of the points in the final laps.