The 2 races in Formula 2 saw drama, conteroversy, safety cars and good, hard, fair racing across many of the young drivers hoping to make a step up to F1.
Sprint Race
Lap 1-Crawford lead from Iwasa and Boschung. Doohan goes off the track as Bearman gets up a place. Iwasa took the lead on lap 2 into turn 1. Zane Maloney lost the rear after coming out of turn 2 and that brought out the safety car. Boshchung and Crawford fought after the restart. Theo Pourchaire went for a lunge which paid off as he made up a place.
Theo Pourchaire made the same lunge on lap 7 but he misjudged it and collided with the Prema rookie of Ollie Bearman and that brought both of their races to an end. Pourchaire was given a 5 place grid drop for that collision. Iwasa lead them into turn 10 and Martins made up a place as the sprint race ended up at 50% distance. Lap 11 saw 3 wide into turn 1 between Doohan, Maini and Crawford. Daruvala went for a lunge into turn 1 against boschung in on lap 13 and went up into the podium places.
Martins got a big tow into turn 1 and went for a lunge and made it stick against Boschung. Daruvala went for the lead of the race on lap 17 but as he went for it into turn 2, Martins took 2nd place from Daruvala. Iwasa took the Sprint Race Victory with Martins finishing P2 and Daruvala P3.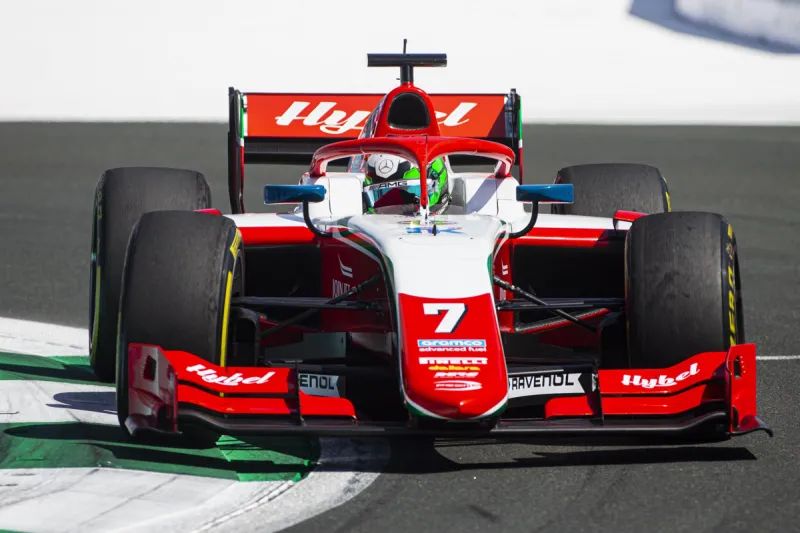 Feature Race
The Feature Race in F2 at the Jeddah Corniche Street Circuit saw Bearman overtake Martins from lights out and into turn 1. Martins was P2 and Doohan P3. Haugher battled with Leclerc as lap 1 went on. Benevides brought out the virtual safety car after Amaury Cordeel collided with him. It was a 7 car battle going into turn 1 on lap 6 of the race There was no collisions. Bearman and Martins came into the pits at the same time but all maintained positions. Bearman and Martins battled into turn 1 on lap 10 for the race lead after all pit stops occurred. Martins tried again on lap 11 after Martins got DRS but Vesti managed to catch up with his teammate and get him. Bearman had a spin on lap 16 which saw him drop down to 11th place. Vesti and Martins battled into turn 1 on lap 17 and Martins spun on lap 17 which brought out the virtual safety car even though he kept the car running but then engine eventually cut out. Hadjar was battling Bearman for the P9. Vesti managed to win the Feature Race with Doohan in P2 and Daruvala in P3.
Featured Image courtesy of Dutch Photo Agency / Red Bull Content Pool