Trident's David Schumacher claimed his first Formula 3 victory, winning the second Red Bull Ring sprint race from reverse pole position.
Schumacher got away well from reverse grid pole, while Roman Stanek filed into second and Jak Crawford jumped Kaylen Frederick and Juan Manuel Correa for third. But as the drivers continued to establish their positions, the race was brought to an early halt as Logan Sargeant and Tijmen Van Der Helm crashed at the start of lap 2 and brought out the safety car.
At the restart Schumacher bolted clear to build an early lead, while Stanek and Crawford battled for second place. As Stanek dropped out of DRS range of Schumacher, Crawford tried a move on lap 8 around the outside of Turn 3 but found himself run out of road.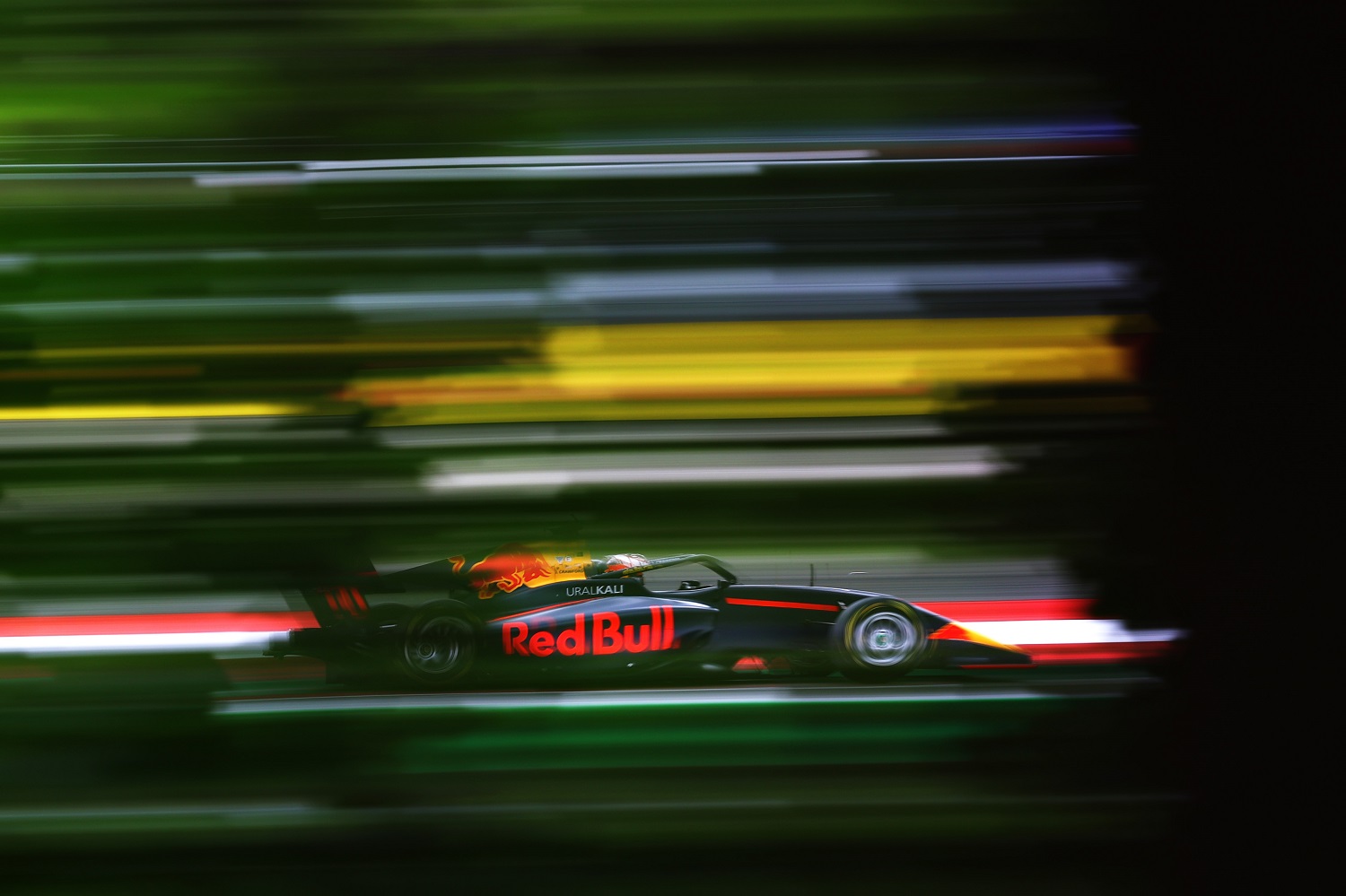 After trying another pass at Turn 4, Crawford eventually got past Stanek on lap 9 and set off after Schumacher. But just one lap later, Crawford pulled off the track with a loss of drive, promoting Correa to the podium.
Correa's time in the top three didn't last much longer, however. On lap 11 he found himself the innocent victim as Frederick in fourth missed his braking point while defending from Frederik Vesti, and ended up spinning himself and Correa around at Turn 3. As Vesti avoided the incident, Victor Martins benefited to move up to third ahead of Jonny Edgar in fourth.
The incidents behind Stanek didn't relieve the pressure on the Czech driver, as he found himself having to defend second from Martins almost immediately. Martins tried three moves around the outside of Stanek at Turn 4, but after being rebuffed he dummied to the inside of the corner on lap 15 and finally demoted the Hitech to third.
Once behind Martins, Stanek then came up attack from Vesti, who tried to repeat Martins' Turn 4 overtake on lap 16. Stanek held off the ART on that occasion, but Vesti came back on lap 18 to take the position under DRS on the run down to Turn 4.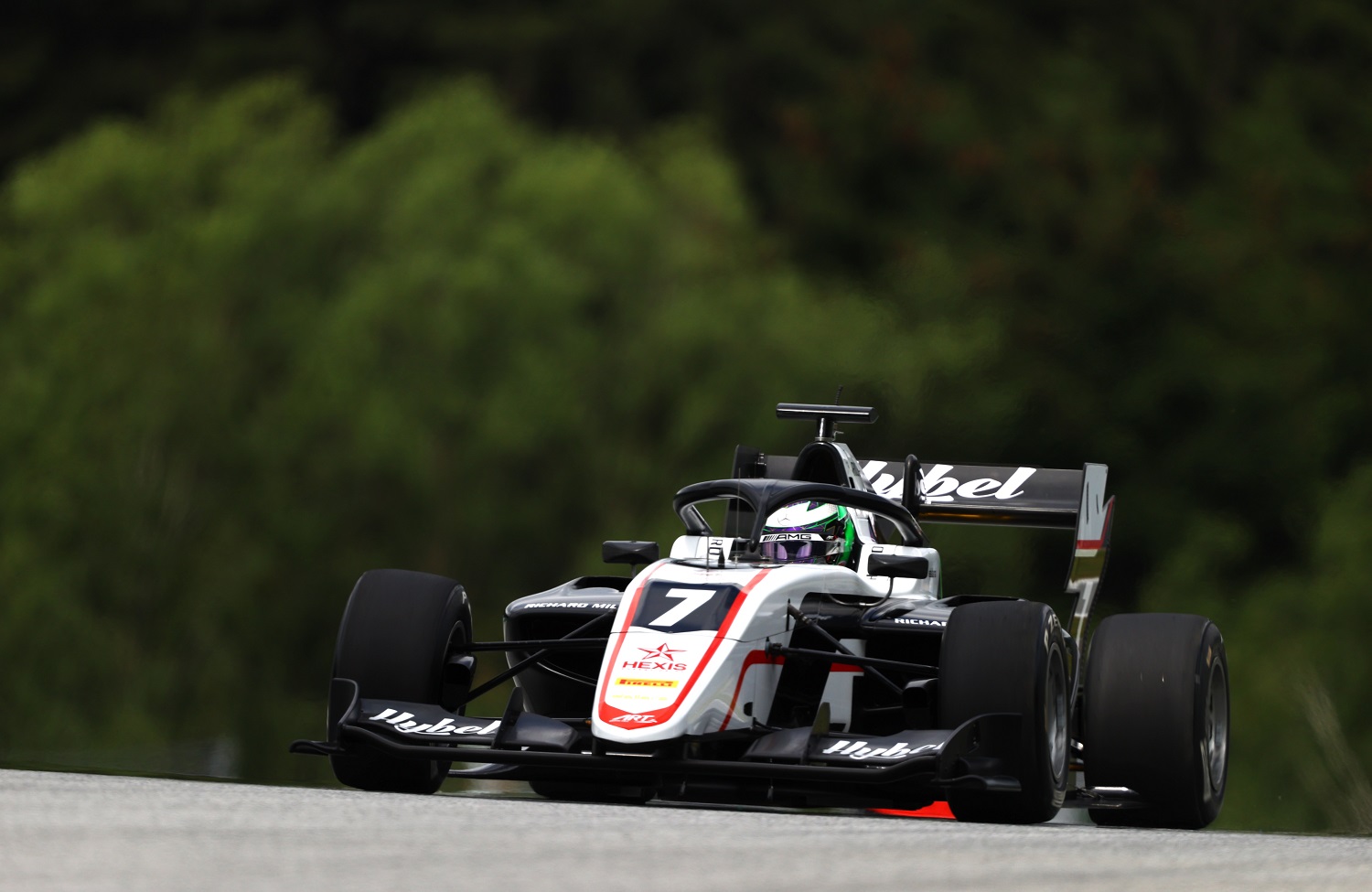 Martins and Vesti then began closing in on the leading Schumacher, eating into his four-second lead as the Trident's tyres started to fall away. But on lap 23, Martins also fell out of contention as he lost power in the same manner as Crawford, promoting Vesti to second with two laps remaining.
With a virtual safety car deployed to recover Martins' car, Schumacher was able to drive through his tyre struggles and keep the lead from Vesti.
Stanek wasn't able to benefit from Martins' retirement to get back on the podium as he was passed by Dennis Hauger on lap 21. The championship leader had driven a recovery race after falling to 14th place at the start, but a series of early overtakes as well as the retirements ahead of him allowed Hauger to complete the podium in third.
Stanek finished fourth ahead of Edgar, and Arthur Leclerc took sixth place and the fastest lap. Jack Doohan was seventh, and Enzo Fittipaldi, Olli Caldwell and Jonathan Hoggard completed the points.