Dennis Hauger clinched the 2021 Formula 3 title with a podium finish in the opening Sochi sprint race, which was won by Logan Sargeant for his first victory of the season and Charouz Racing System's first victory in the series.
Sargeant started the race from second on the reverse grid alongside Victor Martins but seized the lead around the outside of Turn 2. Meanwhile Hauger tried to take third place from Jak Crawford, but after backing out he was forced to defend against Caio Collet in fifth and Alex Smolyar in sixth instead.
But although Hauger's start didn't go to plan, things were much worse for his title rival Jack Doohan. Starting from 12th on the reverse grid after claiming pole for the feature race, Doohan found himself caught up in the middle of the pack and bounced onto the kerbs at Turn 2, which dropped him down to 17th in the order.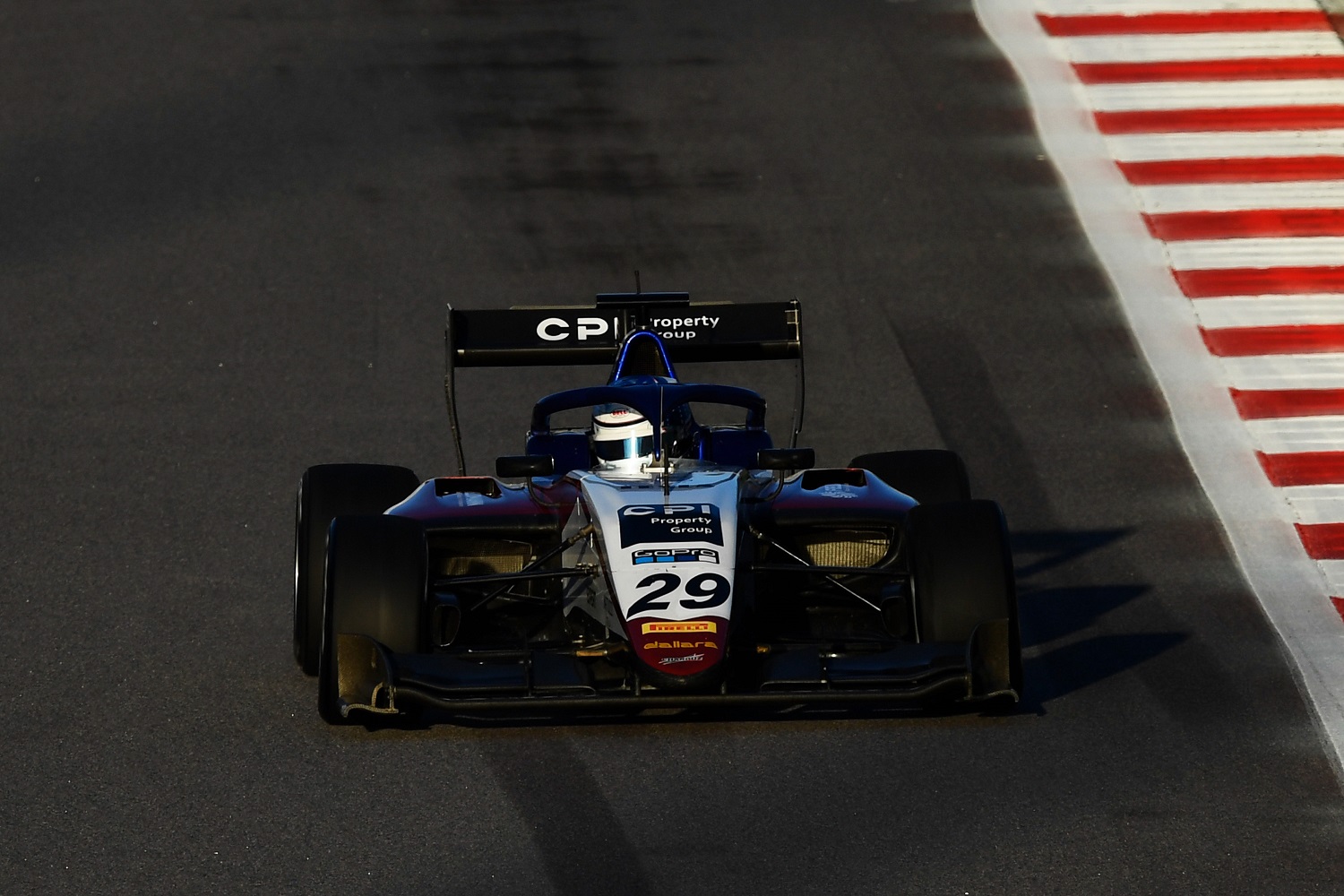 With Doohan out of the points and Hauger only needing six points to claim the title he didn't need to make up any more places in the race. But despite that, Hauger continued pushing forward and putting the pressure on Crawford in third.
On lap 4 Hauger forced Crawford to take a deep defensive line through Turn 2 and used the opportunity to line up a move through Turn 3, putting himself into the podium positions. He then set the fastest lap and started cutting into Martins' gap in second.
By lap 7 Hauger had gotten within four tenths of Martins and tried the same Turn 2 setup as he had on Crawford three laps earlier. But Martins was able to better hold off Hauger through Turn 3 and used Hauger's championship considerations to force the Prema to back out.
But despite coming out on top in that battle, Martins couldn't keep Hauger behind for much longer. On lap 10 Hauger ran within a tenth of Martins as he set up a move, which he then completed to take second a lap later.
With Sargeant little more than three seconds up the road, Hauger set off with the win in his sights. But with half the race done he started to struggle with his rear tyres losing temperature, and found Martins and Collet in fourth filling his mirrors. Meanwhile Clement Novalak, who had taken the fastest lap from Hauger, was rapidly closing on all three of them.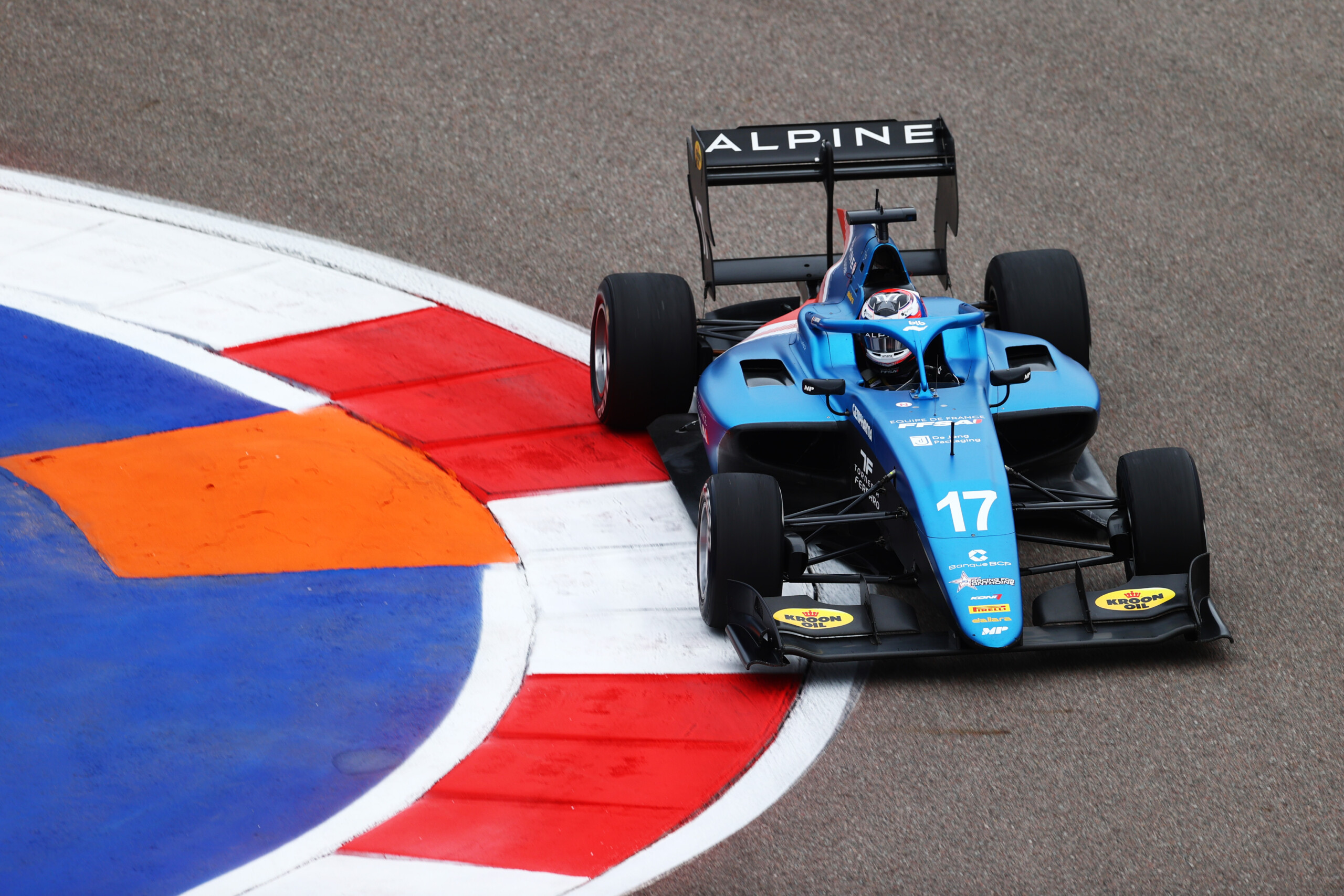 Sargeant ran wide on lap 14 and lost seven tenths from his lead, but Hauger wasn't able to take advantage of the mistake as he had Martins just two tenths behind him. But before Martins could capitalise on Hauger's tyres and reclaim second, the virtual safety car was brought out when Tijmen van der Helm retired on the side of the road with an engine failure.
When the VSC was withdrawn a lap later Hauger was able to get the better restart to pull out of DRS range of Martins, while Sargeant was just under two seconds ahead of him. Hauger continued to cut that gap as Sargeant's own tyres fell off, and he closed to within DRS range of the Charouz on the final lap.
Going through the DRS zone after Turn 10, Hauger closed to four tenths behind Sargeant, but with the title in his hands he held back rather than making a lunge into Turn 13. Sargeant crossed the line just ahead of Hauger, and Martins finished third for his sixth podium of the year.
Novalak come through to take fourth from Collet in the final laps. Lorenzo Colombo took sixth for Campos ahead of Arthur Leclerc, Frederik Vesti, Juan Manuel Correa and Ayumu Iwasa. Crawford fell through the top ten in the latter stages of the race to finish 11th, while Doohan came home in 15th.