The 2020 season has come to a close – at 161 days, it was the shortest since 1966, condensing 17 races into that window which has in previous seasons taken nearer 300. The final race took place on the 13th December. The time has now come to reflect on some of the extraordinary achievements that were made and exceeded in times that happen in every hundred years. Most of these decisions were made by the public using @PitCrewOnline and Twitter Poll. 
We start with our first award, Qualifying Lap of Year, where you get to see the cars at the fastest! Our four options, place they qualified and resulting race are:
Hulkenberg P3 – 70th GP
Gasly P4 – Emilia Romagna GP
Stroll P1 – Turkish GP
Leclerc P4 – Sakhir GP
Winner: Hulkenberg – 62% of Public vote
This was his second consecutive race filling in for Sergio Perez after he tested positive for covid-19, although he couldn't start the British Grand Prix due to a last minute problem with the car. Unlike the latter Bahrain rounds where the track changed to shortened Sakhir track, the 70th Anniversary Grand Prix at Silverstone had no changes from the British event. He qualified a fantastic P3, going faster than Verstappen; he was only beaten by the fastest car ahead of him in Mercedes. He ended Sunday in P7 so managed to score points, but the podium continues to elude him.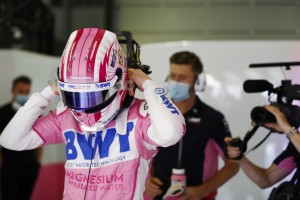 The next award is: Best Start of the Year. the nominees are:
Max Verstappen – P7 to P3 – Hungarian GP
Kimi Raikonnen – P16 to P7 – Portuguese GP
Carlos Sainz – P7 to P2 – Portuguese GP
Sebastian Vettel  – P11 to P3 – Turkish GP
Winner: Kimi Raikkonen – 44% of Public vote
Kimi had a great start at Portimao, gaining 9 places on the opening lap; he even continued to rise to sixth place in the race for a further few laps before others tyres began to get temperature on the unique surface the track had. It narrowly beat Vettel's start which received 33% of the vote at Turkey.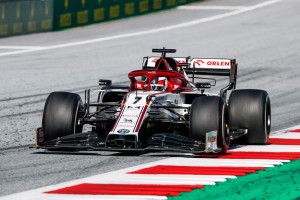 The Third award is: Overtake of the Year. We love wheel to wheel action – even better when DRS isn't involved! Our options are:
Charles Leclerc on Lando Norris – outside of turn 4 – Austrian GP
Alex Albon on Lance Stroll – Outside of Copse – 70th Anniversary GP
Sergio Perez on Charles Leclerc – lap long battle – Eifel GP
George Russell on Valtteri Bottas – Sakhir GP
Winner: George Russell – 77% of Public vote
George Russell took his chance at the Sakhir Grand Prix with both hands but things out of his control prevented a maiden victory. He showed his skills and the pass on his team mate at the beginning of the final stint of the race after a calamitous safety car period for the team was one of these.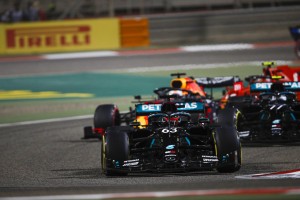 Next is an award for Pit Crew of the Year, which didn't need a poll; a much more statistical thought!
Red Bull
9 times this year they have broken the 2 second barrier, with their fastest time being 1.86 on two occasions – close to the world record 1.82 time. Another remarkable feat was replacing Verstappen's front left suspension in record time after his error en route to the grid at Budapest which led to his fantastic start. They won the DHL Fastest pit stops with 555 points with Williams next to 264. They only failed to achieve the fastest pit stop at Spa and Monza.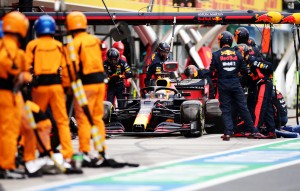 A bit of a hysterical award next! The Dyson Hoover Award
(Other hoover brands are available)
Valterri Bottas – For picking up bargeboards, and getting them stuck in his airflow which ruined his car's downforce. He has also a habit of getting punctures of running over debris – Baku 2018 springs to mind.
Rookie of the Year!
Nicholas Lati… There was only one full time rookie this year? Nicholas Latifi! Solid job on his debut year. He nearly scored points in the inferior Williams at Imola where the unfortunate Russell made his one of his very few mistakes of the season in P11. Next season will be about cutting that deficit at the tracks we visited this year and spending time on the simulator; points in 2021 will be the target! Especially with Montreal looking likely to be one of our venues, Latifi will want better understanding and a better car for that event!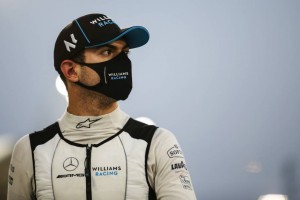 Race of the Year!
Max Verstappen's win – 70th Anniversary GP
Lewis Hamilton's 92nd win – Portuguese GP
Lewis Hamilton secures 7th Title – Turkish GP
Sergio Perez wins after Mercedes fail – Sakhir GP
Winner: Sakhir GP – 38%
The Sakhir GP took it by just 3% over the title securing Turkish event. Sakhir had the action! The lap one drama took out the touted Verstappen and putting the unlikely victor Perez last! Mercedes were the creators of their own downfall, and what if Jack Aitken, technically driving Russell's car, didn't put it in the wall? People questioned the shortened Sakhir layout, but it was great. if anything, another DRS zone before the final corner would have been great.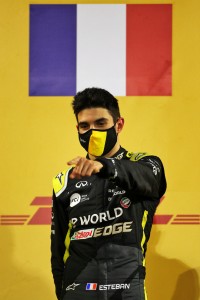 Driver of the Year!
The drivers to the left of the quarter final option were seeded in Championship order and then drawn at random against the other four randomly who had fantastic seasons in other cars. These were the agreed top 8 by Pit Crew census then each went to a 3 hour poll except for the final. That went for a 24 hour poll during Abu Dhabi weekend.
Quarter Finals
Sergio Perez (67%) – Pierre Gasly (33%)
Max Verstappen (52%) – Carlos Sainz (48%)
Lewis Hamilton (57%) – Charles Leclerc (43%)
Daniel Ricciardo (44%) – George Russell (56%)
Semi Finals
Sergio Perez (59%) – Max Verstappen (41%)
Lewis Hamilton (59%) – George Russell (41%)
Final
Sergio Perez (56%) – Lewis Hamilton (44%)
The public decided that Sergio Perez is the 2020 driver of the season! Congratulations to Checo! The season has come to a close, and some drivers are yet to be confirmed. Will our driver of the year get a call from the Red Bull hierarchy placing Albon on the sidelines for 2021?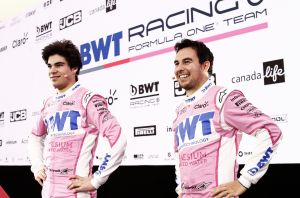 That is the Awards for 2020, with the calendar being arranged on short notice and bubbles being kept to with only a few positive cases it looks like F1 can call 2020 a success. Old friends of Imola and Turkey came to assist whilst Portugal and Mugello came to show what they could do. Vaccines look to be starting to be distributed to assist with the pandemic, so fingers crossed some normality resumes to the world of Motorsport and beyond.